[vimeo 85596568 w=610&h=320]
Step by step, an anthropomorphic sculpture puts one foot in front of the other—and still doesn't get anywhere, you might say. But that doesn't even come close to doing justice to "Walking City" this year's Golden Nica winner in the Computer Animation / Film / VFX category. The sculpture is constantly morphing, and, in doing so, blurring the boundaries between design, animation, sculpture, fashion and architecture—which is what really impressed the 2014 Prix Ars Electronica jury about Universal Everything's work. Matt Pyke, founder and creative director of the UK-based studio, talked to us about how the project took shape and why he finds people and (theoretical) architecture so fascinating.
Your computer animation "Walking City" combines architecture, evolution and movement in an endless walk of a transforming citizen. How did you get to this idea?
Matt Pyke: We've long been interested in radical architecture, since seeing the work of Zaha Hadid, Coop Himmelblau and Lebbeus Woods at art school in the 1990s, to discovering the utopian visions of Archigram. Recently the emergence of biomorphic and generative architecture draw parallels with our studios explorations into CGI procedural forms and animation.
Our studio focus on inventing new forms of moving image lead us to think about how slow and subtle a film could be, revealing barely noticeable changes over time. This is the antithesis of the fast moving low attention span content of advertising; our gradually evolving minimalist narrative creates some breathing space in today's high speed society.
Alongside these influences, we have been exploring the representation of the human form in abstract, unconventional ways. A walking figure is the purest expression of human life and spirit, endlessly striving towards an unseen goal. "Walking City" came as a combination of these influences, architecture + evolution + human movement.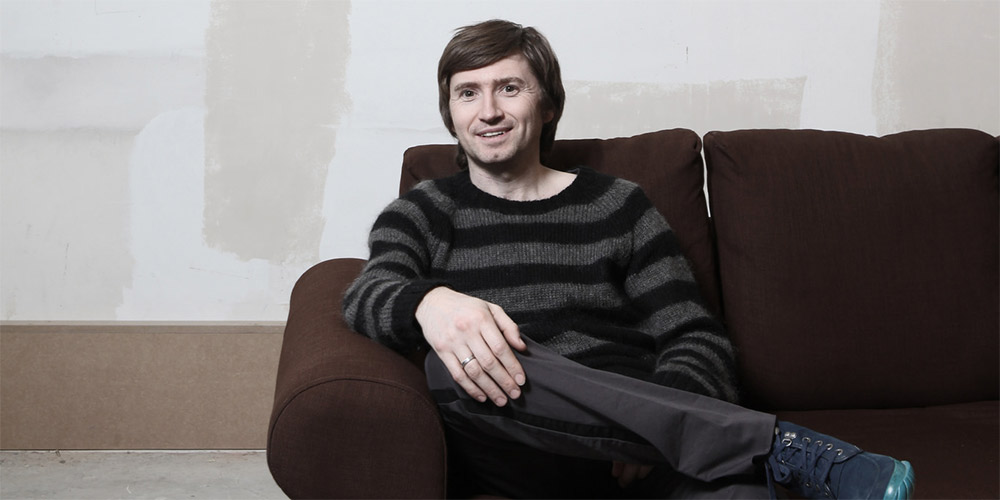 Matt Pyke, Photo: Universal Everything
How did this project evolve – from the idea to the finalization?
Matt Pyke: We had created an earlier walking film "The Transfiguration" for our show Super-Computer-Romantics at digital art museum La Gaite Lyrique in Paris. "Walking City" emerged from our further explorations into procedural CGI techniques, which can grow and evolve forms organically based upon the aesthetic rules we set. It was decided to create a near monochrome aesthetic, to place the emphasize on the movement and form only. We consider the film a "video sculpture", akin to marble being carved and molded in physically impossible ways.
With the title "Walking City" you are referencing to the utopian visions of 1960s architectural group "Archigram". What's the connection between your computer animation and these visions?
Matt Pyke: With theoretical architecture anything is possible – complex forms, abundance of materials, hugely ambitious structures. This is the same for CGI, we can invent things never been built before, without a consideration for the limitations of the physical world.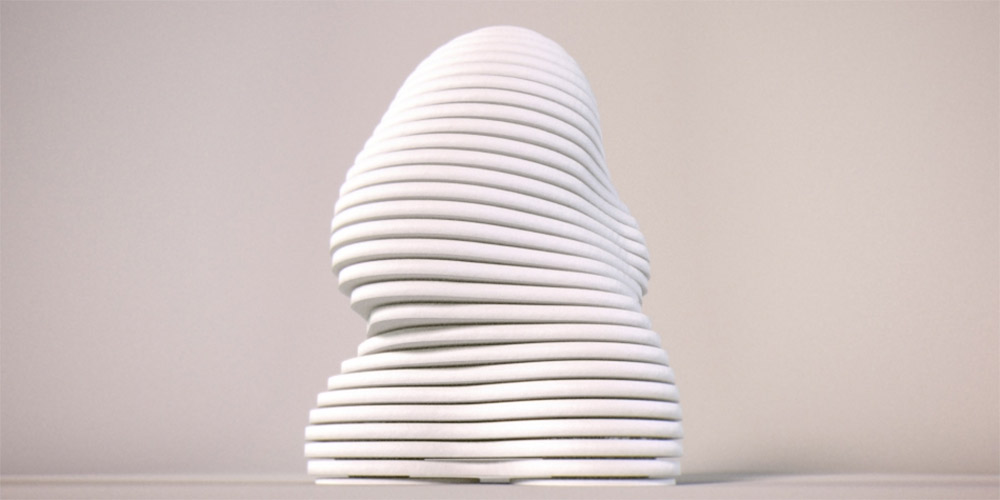 If we look at other artworks by Universal Everything: Why is your studio so fascinated about the movement of the human body?
Matt Pyke: It's a fascination with how the human soul can be revealed within digital forms. Breathing life and love into technology creates a deeper emotional connection with the user.
If you would be asked to create a new definition of the word "animation" – how would you describe it in your own words?
Matt Pyke: Bringing pixels to life to create sensations never seen before.