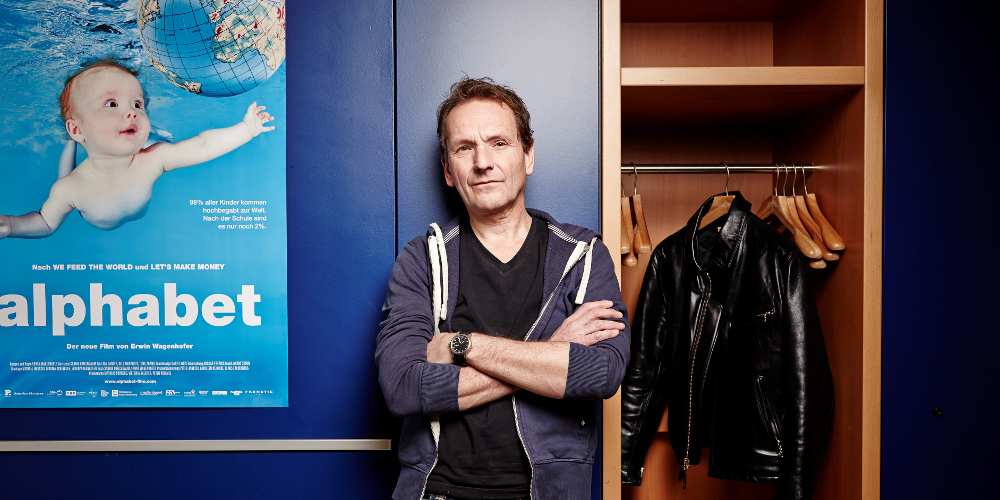 Erwin Wagenhofer shortly before the premiere of alphabet in Zurich
Erwin Wagenhofer is an Austrian author and filmmaker whose critical documentary films have won numerous awards and made a name for him worldwide. His 2005 work entitled "We Feed the World" depicted the catastrophic human and environmental consequences of foodstuff production oriented strictly on maximizing profits. In 2008 in "Let's Make Money," he focused on the finance industry and traced capital flows and the unequal distribution of wealth. Wagenhofer concluded his trilogy dealing with the upshots of globalization with the 2013 release of "Alphabet," a documentary that critically confronted educational systems worldwide.
In conjunction with the 2015 Prix Ars Electronica, Wagenhofer is serving as a juror in the u19 – CREATE YOUR WORLD category for kids and young people under 19 years of age. At the moment, Wagenhofer is hard at work on preparations for the cinematic premiere of "Alphabet" in France on April 22nd, but he took some time out to answer a few of our questions.
You're one of several Austrian documentary filmmakers who have dealt with global catastrophes and thereby gained international acclaim—for example, Hubert Sauper's "Darwin's Nightmare"; Nikolaus Geyrhalter's "Unser täglich Brot" [Our Daily Bread]; Michael Glawogger' "Workingman's Death" and "Whore's Glory". Why do you think that so many Austrian filmmakers take a socially critical approach to real-life issues?
Erwin Wagenhofer: Of course, it's hard for me to speak for my colleagues … but I must say I get this question a lot, mostly outside of Austria. As for myself, I don't deal the least bit with catastrophes. My films have to do with things that go on in normal, everyday life, and all of which is played out within society's prevailing legal framework. In fact, I believe that that's part of the secret of these films' success—the realization by moviegoers that what's supposed to be the normal state of affairs is actually completely crazy! Generally speaking, the documentary film is, obviously, a good genre to call attention to social evils and injustices. It's precisely in this segment that so-called non-fictional narrative filmmaking develops its greatest strength. Why we Austrians have been so successful in this genre? I suppose this has something to do with the special sense of humor in this country, and that there's perhaps no place else on earth where people make such fun of death. And then, of course, there are the phantom pains we've been suffering for almost a century now in the aftermath of the amputation of the Hapsburg Monarchy's sprawling territories, which made Austria the stump that was left over. Maybe that's why global ills rankle us so much.
In your documentary film "Alphabet," you criticize our current educational system. What's gone wrong, and what do you think has to be changed?
Erwin Wagenhofer: Open up a newspaper, any one you like; you'll plainly see everything that's screwed up. And consider that the people who bear responsibility for these developments—I'm speaking now about our rich, Western societies in what we pompously call the First World—all have a very high level of formal education. In the finance centers, for instance, all the key decision makers are people with college degrees. The situation in the management suites of multinational corporations is quite similar. You don't need my critique to get it; you can see this for yourself. In other words: "Alphabet" has less to do with education and is more about attitude. Our attitude has to change if we want to get out of these crises.
We live amidst the dictatorship of capital, and this isn't a natural law. It's the course humankind has chosen to take, and it seems to me we've gone astray. And we're led by people who, for decades now, have been preaching the same old tired litany that there's no alternative, which is such a ridiculous thing to maintain. After all, life always offers alternatives. I mean, that's why it's called life!
You've focused a great deal of attention on the subjects of competition and performance pressure put on youngsters. Now, you're a juror in the Prix Ars Electronica's u19 category, which is, after all, a competition for young people. How do you define your role in this jury?
Erwin Wagenhofer: I've been in situations like this time and time again, and I must say I'm extremely skeptical about the role of judge … even if an artistic or athletic competition has nothing in common with the economic competition that's currently going about ruining this planet.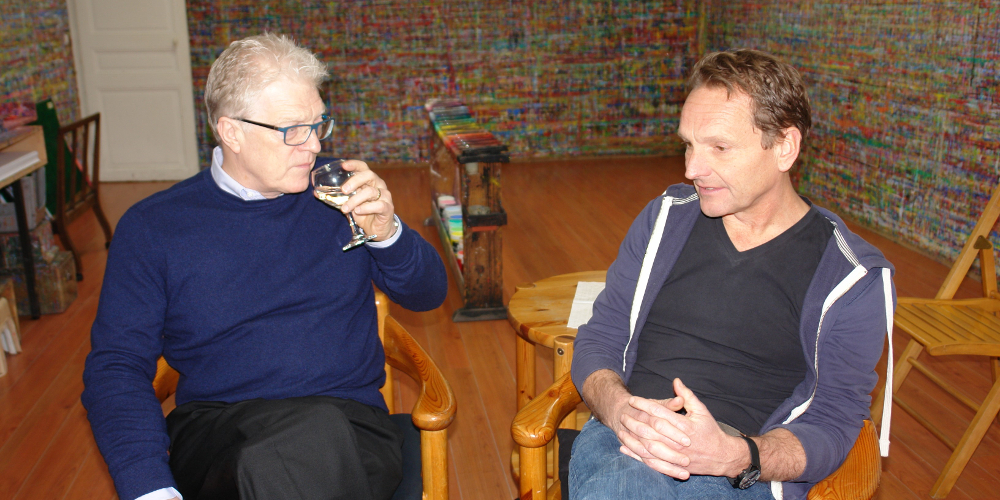 Erwin Wagenhofer in conversation with Sir Ken Robinson in Paris
In the u19 – CREATE YOUR WORLD category, kids and young people have the opportunity to implement and present their conceptions and ideas for the world of tomorrow. What ideas of great future promise would you have submitted if the Prix Ars Electronica had existed when you were a kid?
Erwin Wagenhofer: One of my first short films was entitled "Der stumme Frühling" [The Silent Spring]. Unfortunately, I no longer have a copy of it. In it, we dealt with environmental pollution, and did so at a time when the term global warming wasn't widely known yet. That probably would have been my entry.
Today, as an adult, what are your ideas and wishes for the future?
Erwin Wagenhofer: That we arrive at a new, positive view of humankind, and finally take leave of old-fashioned modes of thinking in terms of absurd competition, artificial rivalries and unnatural growth. The greatest crisis we face today is, if I may quote Stephen Hawking, the crisis of thought. And, above all, I hope that young people will start thinking for themselves, and refuse to let others do the thinking for them! In order to support this, I've accepted your invitation. That's really been my only motivation.
Erwin Wagenhofer during the filming of alphabet
Erwin Wagenhofer

Erwin Wagenhofer was born in 1961 in Amstetten, Austria. He studied telecommunications engineering and electronics in Vienna, and then spent three years working as a developer for Philips Austria. In 1983, Wagenhofer joined the ORF – Austrian Broadcasting Company as a freelance assistant director & cameraman. Since 1987, he's been a freelance author and filmmaker. He has also been a visiting lecturer at Danube University Krems and the University of Applied Arts Vienna. In 2005, Wagenhofer released his prizewinning documentary film "We Feed the World," which he followed up in 2008 with the internationally acclaimed documentary "Let's Make Money." In 2010 Wagenhofer presented his first dramatic feature, "Black Brown White," a fictional work in which Wagenhofer spotlights egregious injustices in the social systems of industrialized countries. In his latest documentary film, "Alphabet," which premiered in 2013, he critically scrutinizes educational systems worldwide.
Informations about the Prix Ars Electronica 2015 and how you can submit your work, you will find on ars.electronica.art/prix!
Online Submission Deadline: March 15, 2015