The Naked Verity project, realized by the Spanish artists Néstor Lizalde, Félix Luque & Inigo Bilbao and Pablo Valbuena for the Ars Electronica Festival 2015, uses memory, interaction and light, and composite and manufactured parts to express feelings and thoughts about technological art at the festival. The "naked truth" from the silent, painstaking and methodical work of representatives of the new creative and artistic wave from Spain, who build a reality for a specified time frame and strive for permanence in the collective and critical memory. Not restricted by a specific topic, each of them is absolutely free to create their own individual work that expresses their own artistic language and materials.
What projects exactly were implemented for the Ars Electronica Festival tells us Javier Galán, project manager of the Naked Veriti Projects.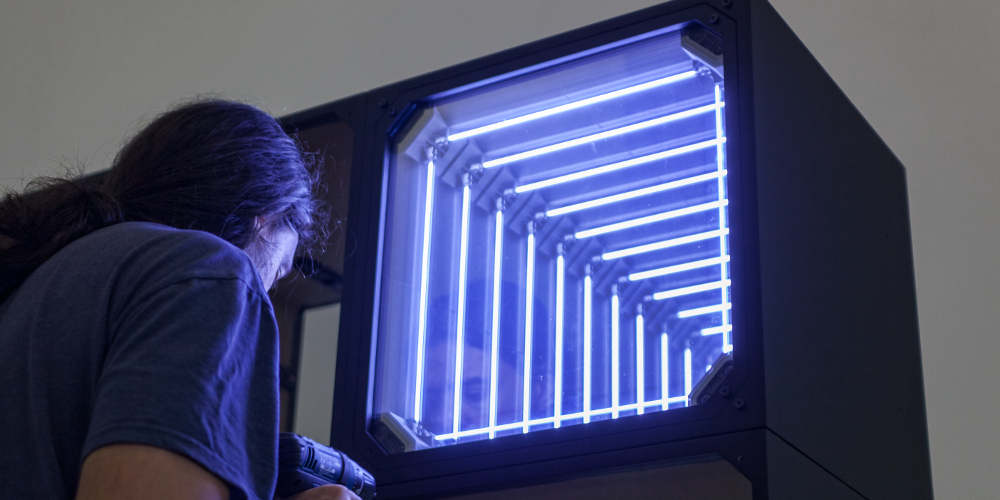 Javier, you are the project manager of "The Naked Veriti Project". Which works will be exhibited at the Ars Electronica Festival 2015?
Javier Galán: Néstor prototyped a reactive sculpture, nearly a canvas, with unlimited possibilities. "Pii" using sets of mirrors, matrices of light and different types of sensors that analyze the environment to computationally generate a light response, thereby creating a variable work that interacts with the audience and its environment. The work explores the aesthetic possibilities arising from the meeting between technological elements with analog visual effects achieved by controlled reflections with calibrated mirrors, enabling the luminous body to expand simulating an infinite spatial depth. The combination of these analog and digital systems creates a variable and reactive sculpture.
Félix Luque and Inigo Bilbao have built a beautiful linear story by using a dot-clouds film system, super magnets and a 3D laser scanning technique. "Memory Lane" is a series of sculptures and audiovisual works that depict the artists' important childhood places. Uptake by 3D scanners and data processing generate a fusion between real environments and their virtual replicas, where some elements appear clearly defined, while others are blurred and merge; light behaves atypically, solid becomes incorporeal and the laws of physics are disrupted. Places are not merely represented – for memories can be distorted— and a surreal atmosphere exists. When reproducing the sets of children's games of the authors, the work seeks to recover the joy and excitement of those moments, which, by having a visionary and dreamy nature, awakened their interest in artistic creativity.
And last but not least with "Time tiling [post]" Pablo Valbuena will literally turn inside out a room of the PostCity by using light. Architecture is a prolific field for patterns in a diverse range of scales: street pavements, tiles, modulated facades, standardized measures or city grids are good examples of a certain sense of order. Order is also present in time-based structures like language, film or music. The rules organizing both levels of order are equivalent, revealing links between still structures and the ones in motion. This site-specific project brings to light a tiled room exploring the intersection of architectural systems and timebased structures.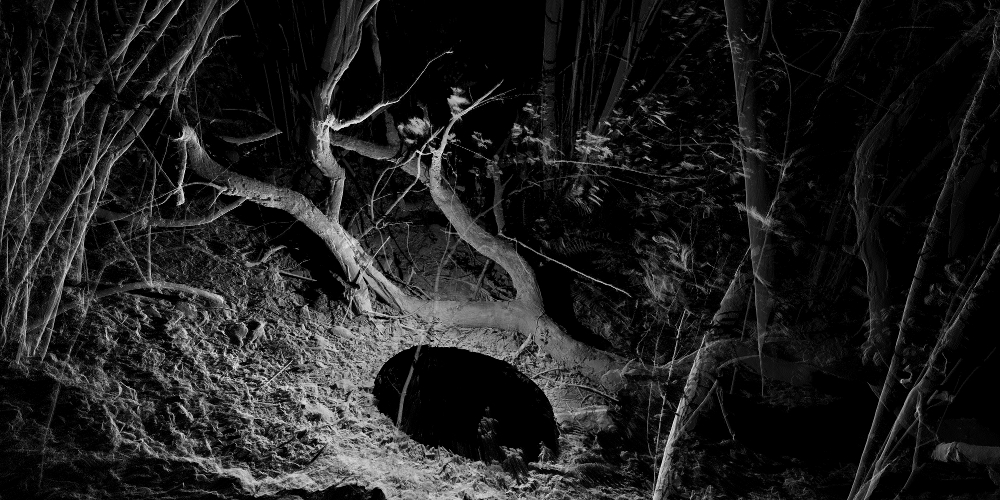 Félix Luque and Inigo Bilbao – "Memory Lane"
Why did you choose these works for the project? What is so special about the works?
Javier Galán: The artists were the chosen ones and not the works. I know it may sound risky at some point but is the truth, the naked truth: There were no works neither projects when we knew that there was everything clear to make this exhibition.
Pablo Valbuena – "Time tiling [post]"
At first glance, the works are very different. What do they have in common and what's it all about with the project title "The Naked Veriti Project"?
Javier Galán: Yes, they are very different and because they have traced their own path with freedom, enough support and a constant dialogue. The main thing they have had in common is what I just said: They were unchained to institutional wills, political desires, curatorial screenplays. Again this is the naked truth, but we wanted to make a wink to the Ars Electronica name (half latin and half spanish) and renamed it Naked Veriti (half english and half latin). Surprised? There were worst names in the shopping list, I swear.
Félix Luque and Inigo Bilbao – "Memory Lane"

Javier Galán, BA in Fine Arts, MsC in Digital Arts, MsC in Cultural Management, was raised professionally in Berlin during five years, working as FX technician, TV cameraman and above all as exhibitions coordinator. He worked then as Expo's coordinator and later as manager of the artistic interventions as well as director of the Telefonica Arst Pavilion at the Expo2008 in Zaragoza (Spain). After that he began to work as in independent arts-pro while working for two european capitals of culture among many other local, national and international institutions. Lately he is taking over from big parties while getting interested in a smaller scale, feasible projects.
"The Naked Veriti Project" will be exhibited at the Ars Electronica Festival 2015, from 3rd – 7th September, for the first time and afterwards in the Ars Electronica Center.