SPARKS is a project to raise the awareness for the topic "Responsible Research and Innovation" (RRI), which plays a vital role in the funding of science in the EU. RRI means including the needs and questions of various stakeholders into the research process. In the context of SPARKS, there will be a travelling exhibition taking place all over Europe and Switzerland, which will actively promoted by a series of events, such as Science Cafés, Hackatons and Science Shops. To make the idea of RRI tangible, case studies in the field of new medical technologies, health and well-being will be put in the foreground. One part of the exhibition will deal with the future perspectives in this particular scientific field, which will be covered by the artists´ visionary projects.
The Ars Electronica Futurelab with its focus on experimenting via new technologies and collaborative working with artists and scientists alike has made a call for having possible residencies, pursuing three projects. In the three months ahead, the artists, the team of the Ars Electronica Futurelab and scientists in the fields of medicine, health, well-being and technology will work together on their projects.
The success of the open call for applications for this residency (https://ars.electronica.art/aeblog/en/2015/09/13/sparks/) amply demonstrates the enormous resonance of the theme and the exceptionally high quality of the proposals submitted. The statistics make this patently clear: 95 submissions from 28 countries were received within a month.
In this interview, former SPARKS project manageress Claudia Schnugg discusses the criteria that were applied to determine the recipients of the residency at the Ars Electronica Futurelab in conjunction with the SPARKS program, and which artists made the most convincing cases with their submissions.
Who are the winners for the residencies at the Ars Electronica Futurelab?
Claudia Schnugg: In an intensive selection process, we decided on Anouk Wipprecht, Lucy McRae and Lea & Jakob Illera as recipients of the Sparks residencies.
Credit: Jamming Bodies Laboratory by Lucy McRae
This was not an easy decision to make due to the broad spectrum of submitted projects and the generally high quality of their substantive implementation. And we received a large number of applications. We were very pleasantly surprised by the fact that many of the applicants had already dealt with this topic or had already conducted extensive research on their project idea. There were a few for whom the concept of medical technology and aesthetics as related to health care were already matters of great importance and had previously dealt with very complex issues in this connection. Furthermore, we received applications not only from artists actively involved in this field but also those who had already worked together with physicians or scientists on a related project.
Credit: Courtesy of Jakob & Lea Illera
So, what does a jury do when individual entries are so qualitatively similar that it just ends up being a coin-toss to determine who's in and who's out?
Claudia Schnugg: We had a few such cases—for instance, projects dealing with wearables. We had shortlisted three or four submissions, and each one was done in an interesting way with qualitatively excellent content. In situations like this, we always got back in touch with our consortium partners to get some insights into how good a fit the particular project would be in the exhibition as a whole, and we also repeatedly queried the artists themselves if we needed to clear up uncertainties. This meticulous attention to detail was enormously important in light of the quality of the proposals.
Anouk Wipprecht's submission in this area impressed us with a combination of several factors. For one thing, she also deals with wearable technologies from a fashion & accessories perspective and not just from a functional point of view. Plus, she brings to the table a considerable amount of experience in projects dealing substantively with interpersonal relationships, non-verbal communication, personal latitude and mental pressure. The proposed project brings together all these components in addressing the use of new technologies as promising approaches in a key area of research on children with autism and Asperger Syndrome.
In addition to that, we also wanted to exhibit approaches covering as broad a spectrum as possible, so we made an effort to include a wide array of technologies as well as various questions from the fields of medicine and the human sciences. Robotics, nanotechnology and ethical issues stemming from direct intervention into the human nervous system or human thoughts and emotions are important fields of research.
Credit: "Zuse" courtesy of Jakob & Lea Illera
Lea and Jakob Illera submitted a project idea that encompasses a whole series of issues in this area. Their artistic vision is of nanorobots that measure bodily functions and values, and then forward the information they gather directly to the nervous system to enable it to better respond in an emergency. Another interesting aspect of this work is that wearable measuring devices will be made obsolete by the miniaturization of technology that can be integrated directly into a human being's biological structure. The ethical discussions of this and the critical discourse that has developed on the subject of such technologies are also fascinating. The discussions revolving around an imaginary device of this sort are most strongly characterized by ethical considerations since an intervention of this kind amounts to a form of personality manipulation. Increasing human efficiency at any price is another source of concern. Many aspects of this thematic complex are controversial subjects—just consider, for example, computer chips that can be used to cure depression.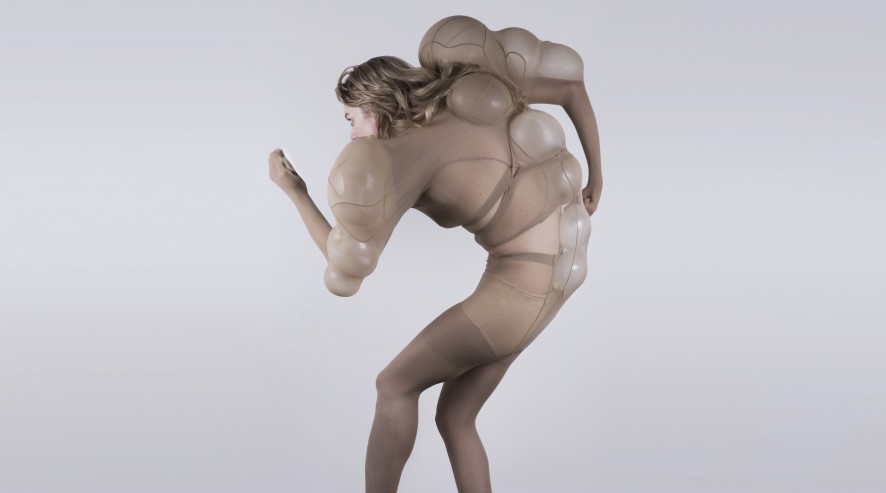 Credit: "Evolution" courtesy of  Lucy McRae
The guidelines governing the awarding of a SPARKS subsidy mentions the aspect of "irritation." To what extent did provocation play a role in the selection criteria?
The central motif of emotionalization by the projects to be included in the exhibition is, of course, a selection criterion in assessing the entries. Here too, we've picked out three totally different approaches. Among the various ways to get this content across is by means of diverse modes of presenting the projects themselves—for instance, presenting one as an imagined product that will be available in the future; another as a hardware & software project available as open source; and the third project is one that employs a powerful visual language to impress those beholding it.
Lucy McRae takes a narrative approach and shows a totally different perspective—namely, from the point of view of an observer. In her video, she addresses the subject of human evolution, of heredity and, at the same time, intentional changes to and development of the human body via human interventions and technologies. The storyboard for the video is currently in development; the first shooting locations have already been designated. But, by all means, this is going to be a so-called observational documentary—that is, a documentary about a scientific institute of the future in which she plays the test subject who is optimized to a higher and higher degree. And the essential question that this raises is: "Where is the human being; what of humanity?"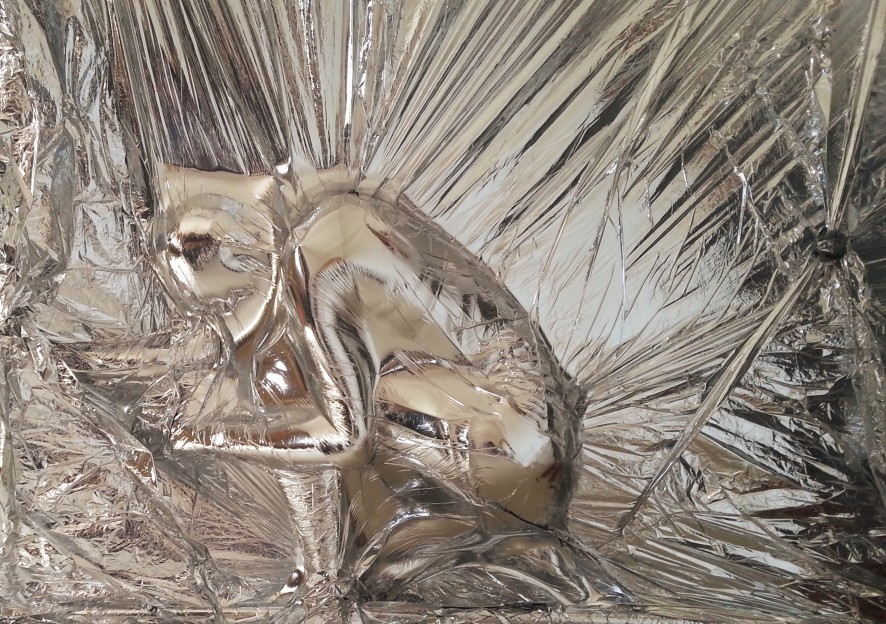 Credit: "Astronaut Aerobics Institute" courtesy of Lucy McRae
Please describe this intensive selection process?
Claudia Schnugg: Independent of each other, we formed a pre-jury panel in which we screened all the submissions in detail. The Jury then meticulously went through the panels' results and we added to the list of prospects those applicants about whom individuals on the panel had reservations so we could reconsider them jointly. The next step was to integrate the staff curators at Science Museum London, one of the consortium members, into the decision-making process in order to jointly draw up a short list of the most interesting project proposals. Since that short list was still quite long, we and the Science Museum curators agreed to take those projects that had already been completed and, in certain instances, could even be included in the exhibition as-is, and forward them directly to the Science Museum as potential exhibition objects. Thus, an essential point was that, when regarding the submissions from the perspective of futurology, we wanted to be confronted by exciting, thought-provoking ideas that have the potential to be developed further.
Claudia Schnugg

As former Senior Curator of the Ars Electronica Residency Network, Claudia Schnugg was responsible for the artistic contributions to the Sparks project, which the Ars Electronica Futurelab will produce jointly with the artists and scientists selected for residencies.