Artist Aoife van Linden Tol works with controlled explosions that make objects which previously had emotional value literally go up in smoke. To do it, she uses black powder, a raw material the purchase and use of which are subject to stringent controls. The Irish artist is already involved in the initial tests required for her performance to even be permitted to take place at Ars Electronica 2016. The festival production crew has also consulted three explosives experts from the Leonding Volunteer Fire Department, who'll also be supervising the small explosions on site.
We were present at the first explosion test and talked to Aoife Van Linden Tol about her project and the safety measures being taken, and she went into depth about her performance and the artistic intention behind the blasts. Martin Honzik, director of the Ars Electronica Festival, explains the collaboration between Aoife van Linden Tol and Ars Electronica, and Klaus Warsmayr, a member of the Leonding brigade, sheds some light on black powder.
And if you'd like to see some emotionally significant object from your past instantaneously go up in smoke, click here to get registered. Aoife van Linden Tol is collecting printed impressions from Linz that she can use in her performance. At the upcoming Ars Electronica Festival, you'll be able to experience—from a safe distance—the sudden transformation of your old books, photos or letters.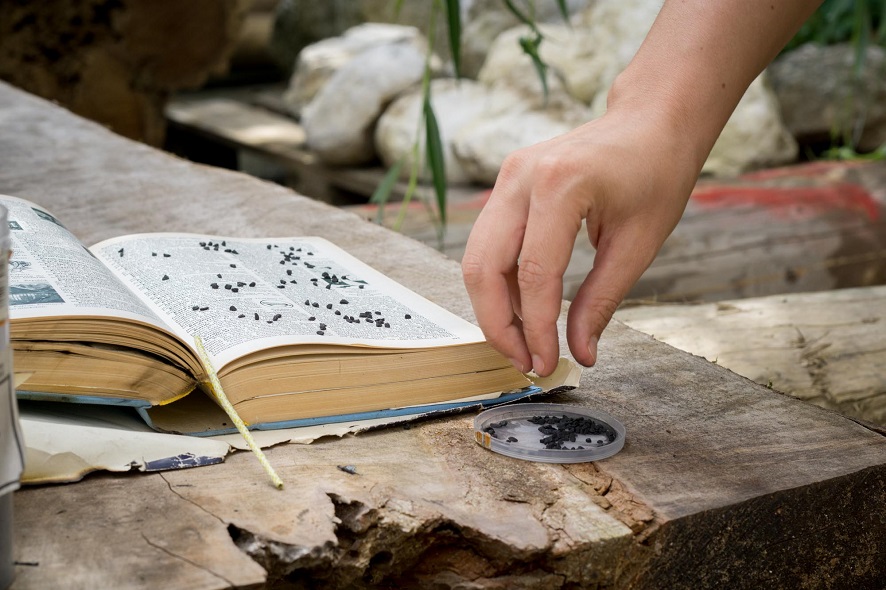 Old books are being treated with black powder. Credit: Vanessa Graf
You'll be performing "Second Story" at the 2016 Ars Electronica Festival. Tell us exactly what this is about?
Aoife van Linden Tol: "Second Story" is a project that I created in Berlin and that I'd like to present in other cities around the world. At Ars Electronia I will spend one day, Saturday the 10th, carefully marking, burning, scorching items that residents of Linz have sent to me. Why the items will be exploded is very much up to the person submitting the item. They will each send in their story. I will use the stories and look at the items carefully to guide how I approach making the explosions using black powders. The project is very much an exploration of people, their minds and emotions, beliefs and ideas and I will try to understand and reflect this in the way I work with each item.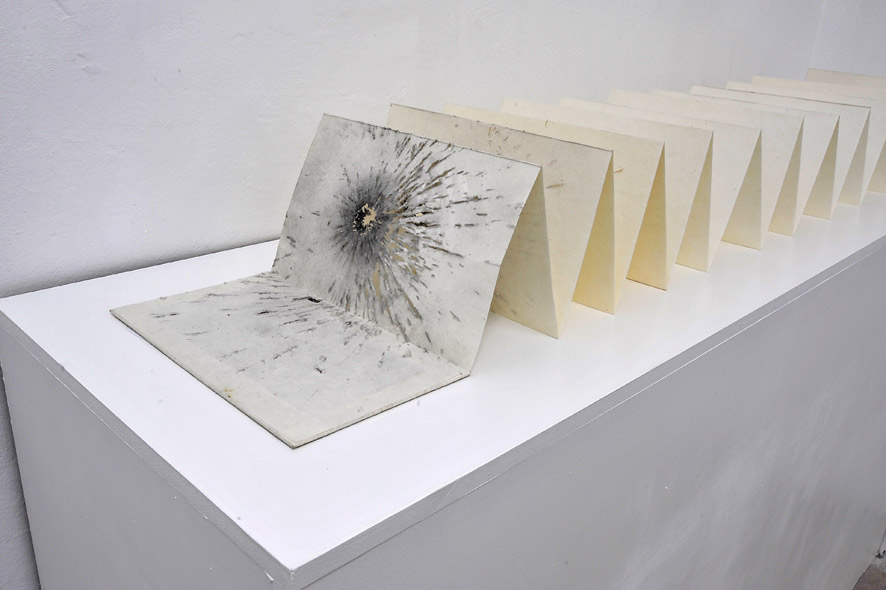 Once Upon A Fraction of Time, another explosive work by Aoife van Linden Tol. Credit: Aoife van Linden Tol
Your work is often based on explosions. How and why did you start to work with explosive force, and what's the artistic intention behind it?
Aoife van Linden Tol: Originally at university in 2000, I wanted to create a powerful, beautiful statement with bombs, dropping them on the landscape in a design to be seen from above, showing that the intention behind the use of an object was the most important statement. You can kill someone with a pencil, you can show love with a bomb. All action has an intention. This was the first idea and this then led to many other ideas relating to working with explosions, looking at perception of time, density, visceral reactions to torn and ravaged materials.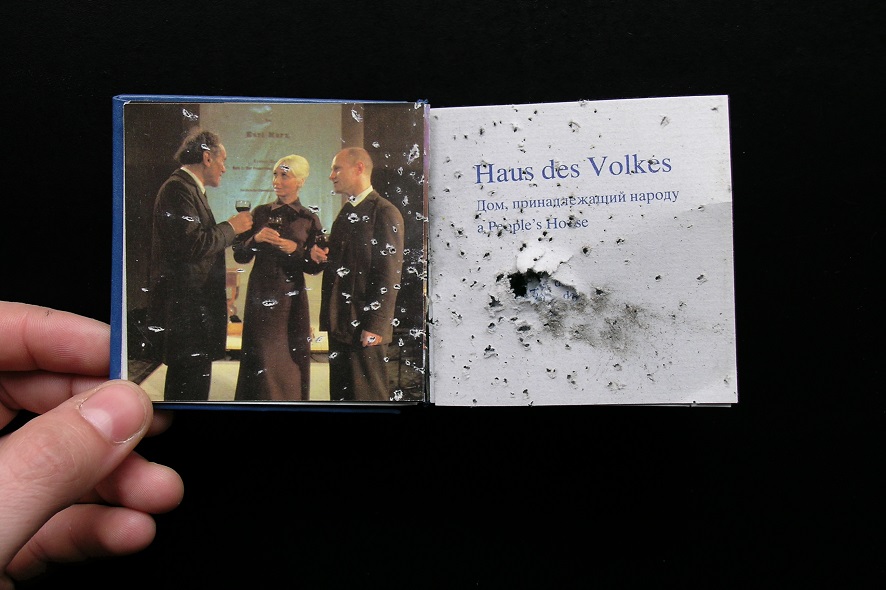 Credit: Aoife van Linden Tol
How did you develop the idea for "Second Story" and what challenges did you face in the process?
Aoife van Linden Tol I developed the idea for Second Story after being invited to take part in an exhibition at NGBK Berlin about the 'explosive power of words and images'. I visited Berlin to meet the curators and think about the project as I like to make site specific work but I realized that I could not make a work about Berlin as I really did not know the city well enough and any work I made would be touristic and shallow. At the same time I also began to understand the emotional impact my previous work with explosives had had on the audiences. They would view at my work and then come and talk to me about their intimate life experiences. I was a bit taken aback by this at first but then realized that this was a gift for people to have shared their feelings so openly with me. So I created the project as one that I would be able to learn about the people of Berlin, their thoughts, hopes, fears, heartbreaks, looses, political views, etc. The project was also to allow people to go through a process with the item. Each one had their own story and process. So many interesting and wonderful things came up and it was a very powerful project. Thus I hoped to continue the project in other cities around the world.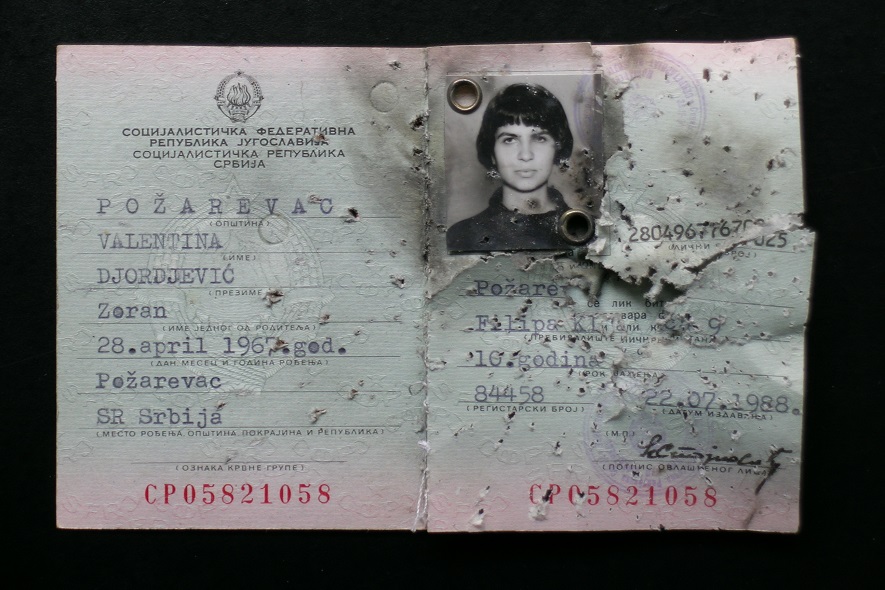 Credit: Aoife van Linden Tol
I am well trained in the use of explosives so the only real challenges in making the project included using the wrong type of detonator. I was working at BAM in Berlin (The Federal Institute of Materials Research and Testing) who were providing the explosives. The detonators had a time delay. The items were not exploding the way I wanted them to and the explosions kept missing the items. I am normally very accurate so I know it was somehow because of the time delay as this was the only variable compared to previous uses. The technicians refuse to believe it as from their perspective the detonators do exactly the same thing, just one second later.
Eventually I figured out that the time delay is created using capacitor which was heating up the detonator to such a degree within that one second delay time that the material I was using to hold the detonator in exactly the right place was being burnt away just before ignition, thus it was exploding in completely the wrong place. The technicians were very embarrassed and we lost a half a day work but we resolved the problem which was great! Other than that it all went well.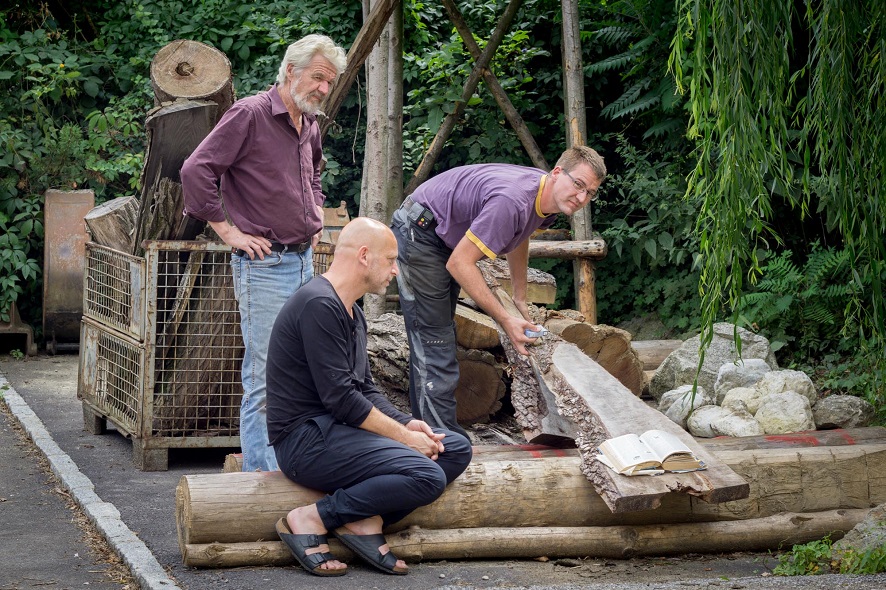 Martin Honzik, in front, with Manfred Mayr and Stefan Dallinger of the fire brigade (f.l.t.r.). Credit: Vanessa Graf
Martin, as director of the Ars Electronica Festival, please tell us how this collaboration with Aoife van Linden Tol came about.
Martin Honzik: There's actually an interesting story behind this. Artist Aoife Van Linden Tol comes from Ireland but she works in Great Britain, and she was the recipient of a residency hosted by the ESA–European Space Agency and the Ars Electronica Futurelab under the aegis of the Art&Science Network. In conjunction with this residency, artists can spend up to a month at one of the ESA's sites—from French Guyana to the Netherlands. And Aoife Van Linden Tol, with her approach to using explosives, obviously struck the right chord with the ESA's staff scientists and convinced them to select her as the recipient from among many candidates. And no wonder! After all, the Big Bang was the Mother of All Explosions, at least as far as the inhabitants of this planet are concerned, and all the launches into and maneuverings around outer space are initiated by controlled explosions.
The scientists are already looking forward to this artist's work, which will bring a breath of fresh air—with a slight scent of black powder—into the ESA research facilities.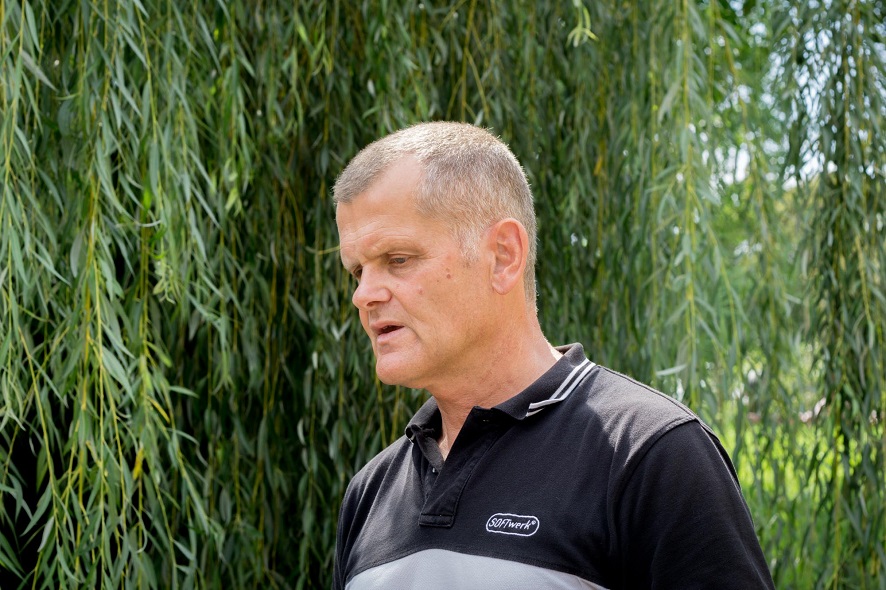 Klaus Warsmayr. Credit: Vanessa Graf
Herr Warsmayr, how did you get to be an explosives expert at the Volunteer Fire Department in Leonding, and what do you have to keep in mind when doing these detonations?
Klaus Warsmayr: All of us in Leonding got introduced to explosives through our work as firefighters. You can take a course at the regional headquarters and, in my opinion, this course is one of the most difficult. Plus, you have to have a spotless reputation, and afterwards, you have to submit to periodic checks. When you buy explosives, you have to show a valid license. First, you have to report your intention to purchase explosives to City Hall; then, you get authorization from the county government. Then, we take our authorization to a retailer who's permitted to store and sell explosives. We store the explosives in a safe at the fire house. The regulations here are very strict. For instance, the detonators are all registered and numbered, so that if something happens and you find a part of the detonator, you can trace it back to the source.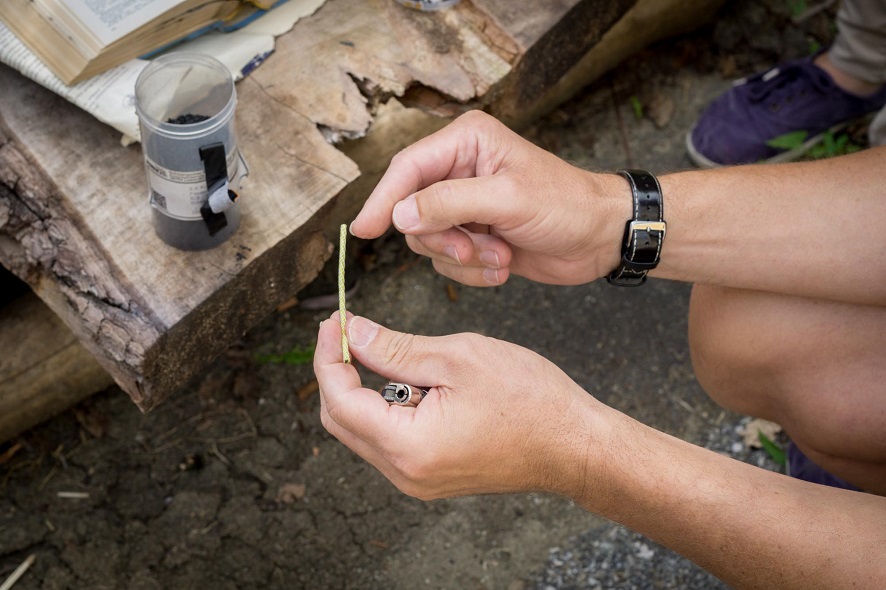 The fuse. Credit: Vanessa Graf
Aoife van Linden Tol works with black powder in this project? How dangerous is this type of explosive?
Klaus Warsmayr: Even if this material just looks like something you would use to season soup, black powder is nevertheless extremely dangerous. If you're burned by black powder, it's the most severe burn injury you can suffer. You really have to think right when you're dealing with this stuff. The fuse also contains explosive material—it's nothing more than finely ground black powder and thin copper wire, all wrapped in a yellow protective coating like a net. The fuse is yellow, which indicates the detonation speed. There are also red fuses that detonate twice as fast.
Aoife Van Linden Tol calls upon the people of Linz to submit objects infused with emotional value. The deadline for registration is September 4, 2016 at Midnight. Objects should be turned in by September 7, 2016 at POSTCITY next to Linz's main train station. To take part, visit the program website: https://ars.electronica.art/radicalatoms/en/second-story-linz/.
"Second Story" will be performed during the Ars Electronica Festival, September 8-12, 2016. For the exact dates and times, please visit the festival website https://ars.electronica.art/radicalatoms/en/.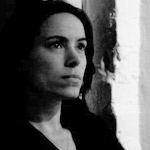 Beginning in 2000 Aoife van Linden Tol's work with explosives fused her interests in nature, cosmology, chemistry and physics. A multi-disciplinary artist, as well as blowing things up, her practice spans sculpture, installation, drawing, photography, film and performance. She creates abstract works which often examine concepts of time, density and matter as well as deep human emotions and motivations. With a timeless minimal aesthetic, an Eastern influenced sense of balance and an appreciation for natural forms, Aoife van Linden Tol's works speak for themselves visually. The explosive medium can result in devastatingly ravaged and torn pieces, evoking strong emotional responses from audiences. Yet her versatility and skill with the medium allows her to make surprisingly small, delicate, and even humorous works. A joy of learning, a constantly questioning mind and a keen analytical nature feed Aoife's scientific process of research, testing and making.Graduating from Central St Martins College of Art and Design in 2002, with a BA Hons in Art & Design, Aoife van Linden Tol has exhibited internationally including at the ICA, London, the San Francisco MOMA, USA and the NGBK Berlin. Aoife has recently worked with Imperial Collage, researching light spectra for a series in neon and was invited by Disney to design a limited edition model Star Wars BB-8 robot which was auctioned by Force for Change charity benefiting Great Ormond St Hospital.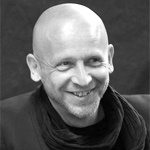 Martin Honzik is an artist and the director of Ars Electronica's Festival/Prix/Exhibitions division. He completed his studies in visual experimental design at Linz Art University in 2001, and went on to get a master's in 2003 in the Culture & Media Management program at Johannes Kepler University Linz and ICCM Salzburg. He was a member of the production crew at the OK Center for Contemporary Art from 1998 to 2001, when he moved to the Ars Electronica Futurelab where, until 2005, he was involved in exhibition design, art-in-architecture, interface design, event design and project management. Since 2006, Martin Honzik has been director of the Ars Electronica Festival, the Prix Ars Electronica, exhibitions at the Ars Electronica Center, as well as Ars Electronica's international exhibition projects.