50,000+ refugees found a measure of security amidst their trek in this former logistics facility in Linz. From September 10, 2015 to May 8, 2016, POSTCITY served as a transit camp for refugees. The Red Cross was one of the main organizations in charge of administering the camp.
Ars Electronica 2016 is making a statement acknowledging these deeds, the organizations that coordinated them and the people who were sheltered here. The main conference hall is being adorned with over 50,000 flowers that Linz's municipal nursery has been cultivating for months now. Each plant commemorates a refugee who spent the night in POSCITY over the last year. Furthermore, the subject of flight will be treated by several projects and conferences. One is the 2nd Helpers Conference on September 10th being organized by ZusammenHelfen in Oberösterreich as a gathering for volunteers and professionals who've been providing care to refugees in this region. The Global Village, a section of the u19 exhibition, features projects by and for refugees. Guided tours are also offered free of charge in Arabic, Farsi and eight other languages spoken by minorities in Austria. One best-practice project is Über den Tellerrand, a Linz community in which refugees and locals cook, eat and paint chairs together.
In addition to the many projects, there'll be a small exhibition about the POSTCITY transit camp that will elaborate on the people who passed through here and what transpired in the past year. Paul Reinthaler, regional director of the Red Cross, helped in gathering the data, facts and photos. Here, he relates his experiences in the transit camp.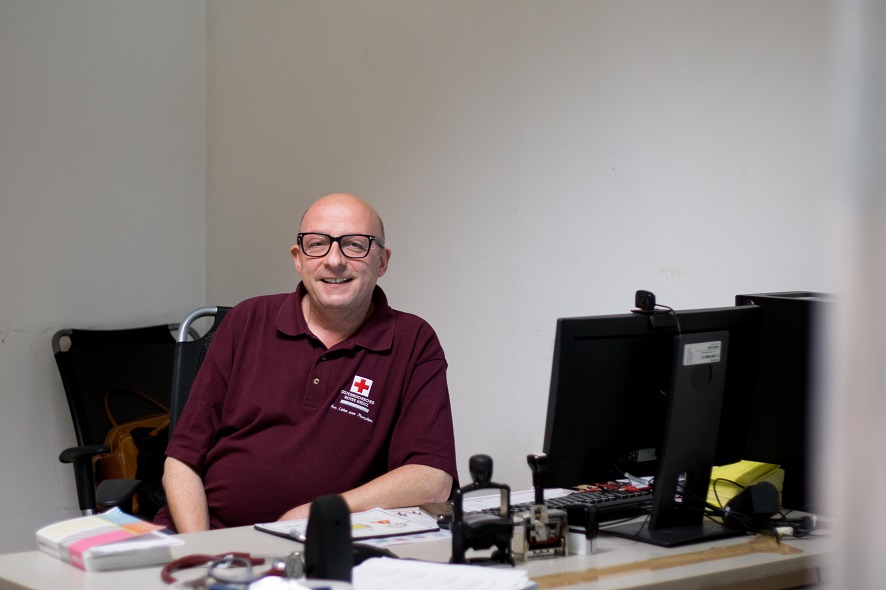 Paul Reinthaler. Credit: Vanessa Graf
We're here in POSTCITY, the old Austrian Postal Service logistics facility that served as a transit camp for over 50,000 refugees last year. How did this come about?
Paul Reinthaler: It all began on September 4, 2015. We were surprised by an acute situation, and assigned the task of setting up quarters for refugees in the Tabakfabrik [former tobacco processing plant] within a day. This was something completely new for us; we had never had non-temporary quarters for refugees-in-transit here in Austria before. The key organizations—the Red Cross, Caritas and Volkshilfe, et al.—more or less by chance convened in Tabakfabrik. For the technical aspects, it was also essential that the Fire Department, a physician-in-charge, and the management of the Tabakfabrik itself were present. Right from the outset, LINZ AG [local utility], the Police Department, of course, and other key organizations were involved in the planning process. The very next day, refugees really began to arrive—towards evening, four or five busses suddenly showed up. But we knew that we couldn't remain in the Tabakfabrik on a long-term basis because, after all, events were already scheduled there. After a few days, we got the word that we'd be relocating to the Post Office's distribution center. At that point, in early September 2015, Ars Electronica was in the process of staging its festival in POSTCITY. Thus, all of a sudden, we had two more associates: POST AG, with their outstanding facility coordinator, Herr Franz, and Ars Electronica. We lent a hand dismantling the festival infrastructure, and on September 10, 2015, we began providing aid to refugees in POSTCITY.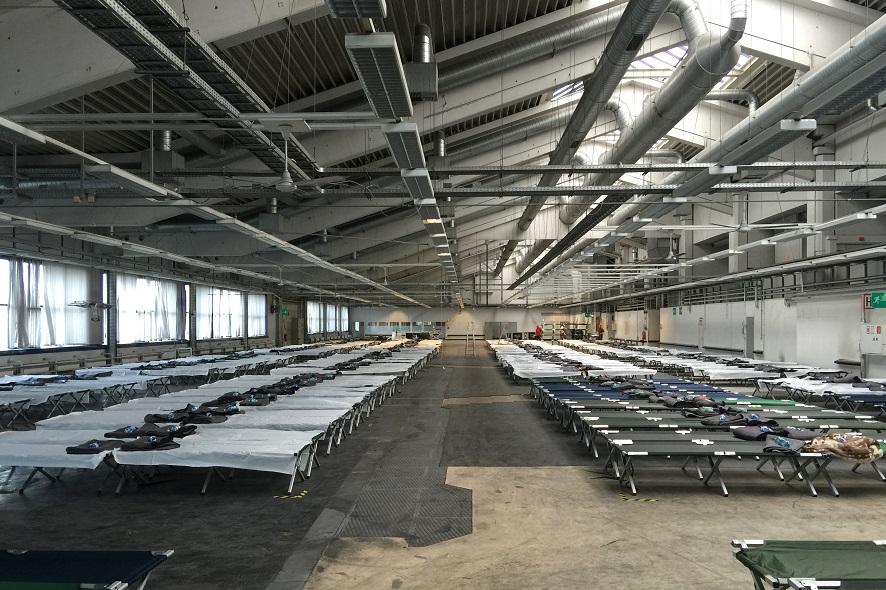 Emergency beds in what is now a conference hall. Credit: Karl Schmiedinger.
Who were the people who arrived here?
Paul Reinthaler: The salient feature was that these were refugees-in-transit who remained for only a single night. Our assignment was to care for these travelers, to provide them with a bed, a sort of zone of security, a possibility to wash up and have something to eat and drink. The logistics of them traveling on were organized by the police in cooperation with the ÖBB [Austrian Federal Railway], a stable and very well-organized partner. The refugees-in-transit usually arrived in the late afternoon from the border-crossing points—Vienna, Nickelsdorf and, later, Spielfeld too. They were distributed among the refugee quarters in Upper Austria, of which we were the largest. They were provided care, could sleep, and continued their travels the next day.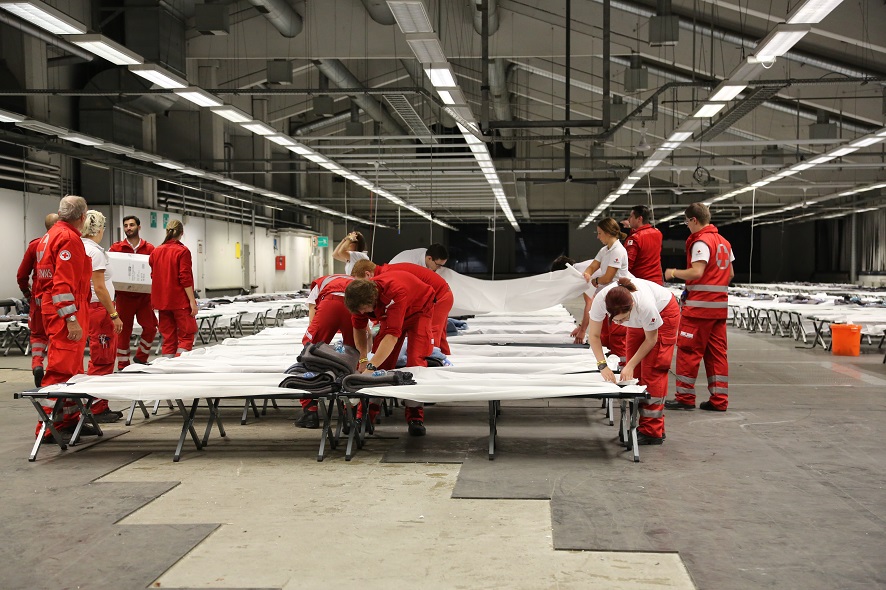 Credit: Rotes Kreuz
Where did most of the refugees come from?
Paul Reinthaler: That's very hard to say, since there were different phases. Of course, if you simply add up all the figures and take average values, you can come up with precise numbers, but you have to keep in mind that the situation during the first few months was totally different than, say, around Christmas, and things changed again in April. At first, there were a lot of people from Syria and many children among them—that is, the classic refugees. Then it increasingly moved in the direction of Iran and Iraq. There was also a very large group from Afghanistan. In the beginning, this country wasn't strongly represented, only about 10%, but by Christmas the people here were almost all Afghans. That's why, of all the people who've applied for asylum here in Austria, 40% are from Afghanistan.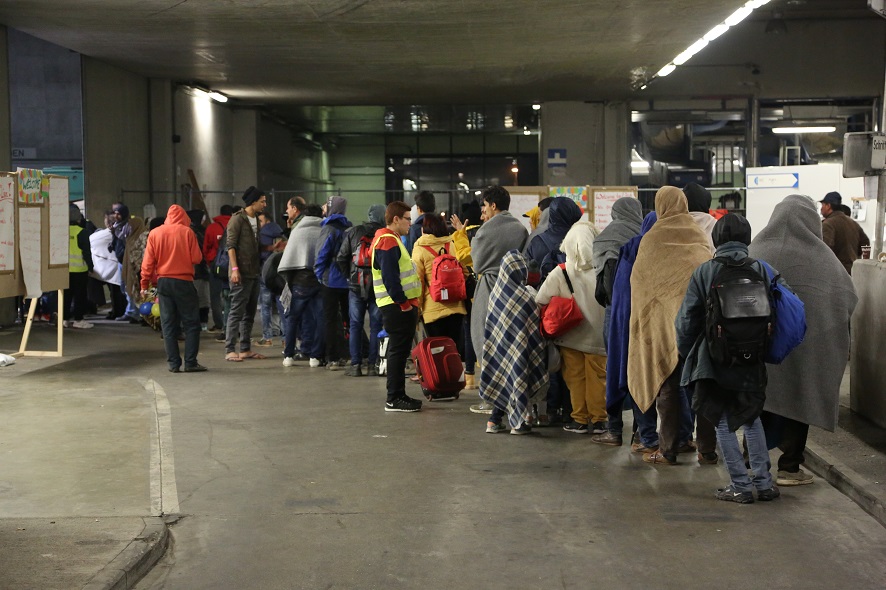 Credit: Rotes Kreuz
How was the transport for the refugees organized?
Paul Reinthaler: Most of the refugees arrived by train. The police headquarters in the State of Upper Austria set up a command post that was staffed on a 24/7 basis over several months. Transport was coordinated there, and a representative of the Red Cross was also on hand, which means that we could constantly exchange information. The ÖBB was also represented in this management team, which is how we obtained a daily list of trains with the arrival times and locations. They also provided information about the number of passengers on board. That was superbly organized—when the trains left Vienna, we could already start making preparations here. The same went for the refugees' departure—the day before, we knew which trains with which capacity would be departing, so we would know when the people had to get up, when they had to have breakfast, and when we had to accompany them to the train station.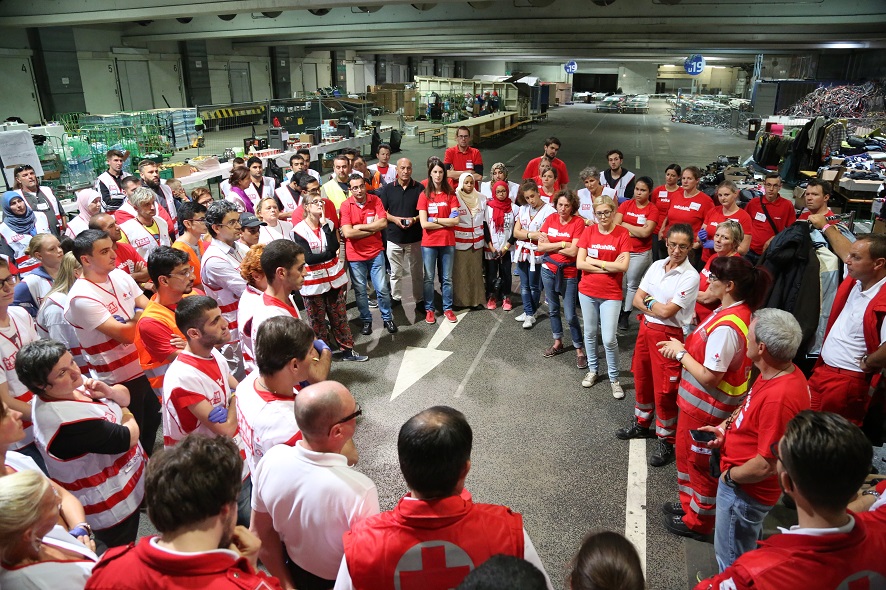 Credit: Rotes Kreuz
What usually happened when a group of refugees arrived at POSTCITY?
Paul Reinthaler: The refugees walked up the access ramps, a throng of hundreds of people—some carrying cloth bags, some with a rucksack, some barefoot. We always made an effort to give them a friendly reception. They were on the verge of panic that they'd be separated, you could see the fear in their faces—these were large families, sometimes entire villages travelling as a group. The parents always kept their children right at their sides. We gave them all a very friendly welcome and initially registered them with a simple head-count. They were also issued a wristband, since it was important for us to be able to tell who in this camp belonged to the group of refugees and who didn't.
Following reception and registration, the people were immediately assigned to their sleeping quarters. At first, we had a huge hall with beds for 900 people; as of November 16, 2015 we reduced our capacity to 700 due to fire regulations. Later, we divided the beds into sections so that we could form smaller units. That way, we could keep people in the same ethnic groups together, and separate ethnic groups that didn't get along with one another so well. Every evening, we served a warm meal that was prepared while the people were arriving. It was interesting that eating wasn't their highest priority; it was personal hygiene. So, the people wanted to wash up before dinner, and we made that possible. After the meal, the people—divided up into men, women and children—could take what they needed from among the articles of clothing we had received as donations.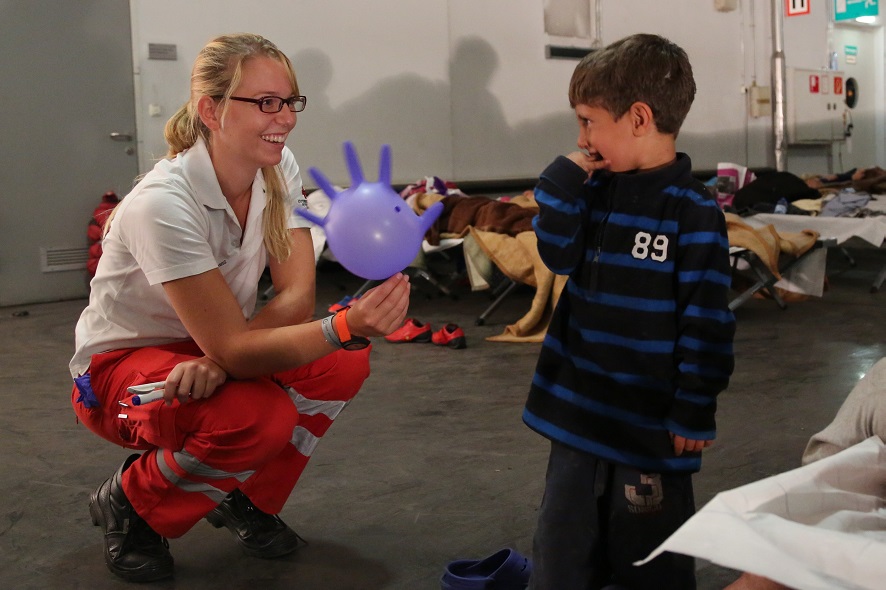 Credit: Rotes Kreuz
Every evening, there was an hour or two of free time. That was really very moving for me, because the people saw that in this room, in this POSTCITY, they're safe. You noticed that immediately—the people became talkative, they laughed again, the children were running around the hall, some playing with balls. The kids enjoyed a feeling of freedom, they could satisfy their urge to engage in activities, and the parents didn't have worry that their children were going to disappear. I can still remember a lady, she was very old, and she came up to me and said: "Inshallah, we are safe." This was something you became aware of; you saw it and felt it.
In the camp, we also operated an infirmary that was open daily, 6-10 PM, and was usually staffed by two physicians and several aides. The people could get treated free of charge, and they gladly took advantage of this since they hadn't had access to medical care for a considerable time. Some had colds, respiratory problems, and blisters on their feet; there were also many war injuries. We rarely had an emergency—out of more than 50,000 people, only 211 were brought to the trauma center. Our infirmary really paid off, since it would have been impossible to treat all these cases in a hospital. What was absolutely lovely was the fact that, in the first week, our infirmary's personnel all worked on a voluntary basis until the Ministry of the Interior finally approved an agreement providing for compensation for services rendered. From that point in November 2015, it was possible to pay the physicians a fee.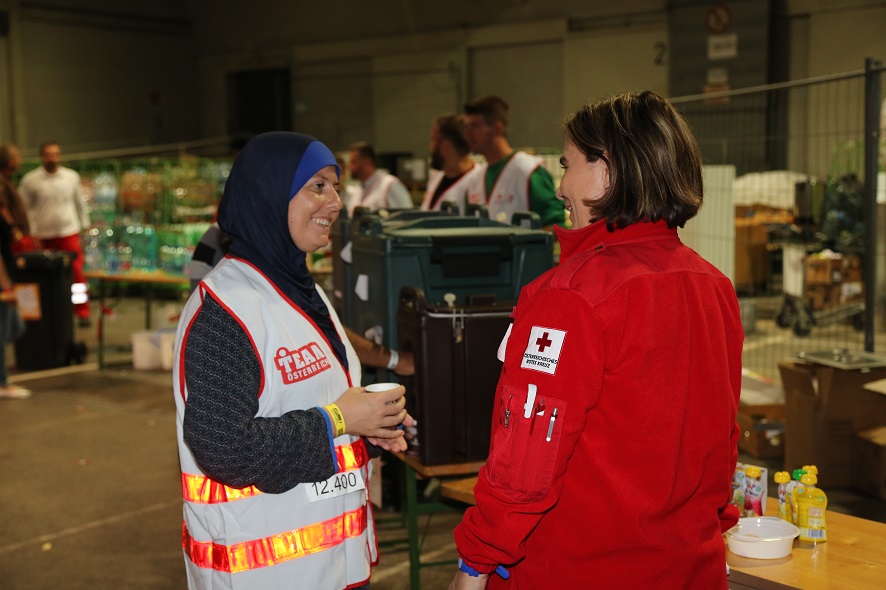 Credit: Rotes Kreuz
How did the collaboration with other organizations work out?
Paul Reinthaler: Our most important partners were Volkshilfe and Caritas. This was the first time that we worked together in this form; it took good coordination for it to work. Here at the Red Cross, our strengths are organization and logistics. Caritas and Volkshilfe, on the other hand, brought a much more dynamic concept to their work and have much more know-how when it comes to the logistics of clothing and other donations. There's no way that we at the Red Cross can call for specific donations, but Volkshilfe and Caritas simple send out the word directly though their networks, or they can even issue an appeal via Whatsapp. Every day, we held a meeting at which we discussed what we needed and the two organizations passed the information along that very evening. Caritas, for example, had a lot of experience caring for refugees during the day—that is, processing applications for asylum, holding German courses, or organizing daytime activities. In that way, the organizations could take advantage of one another's skills.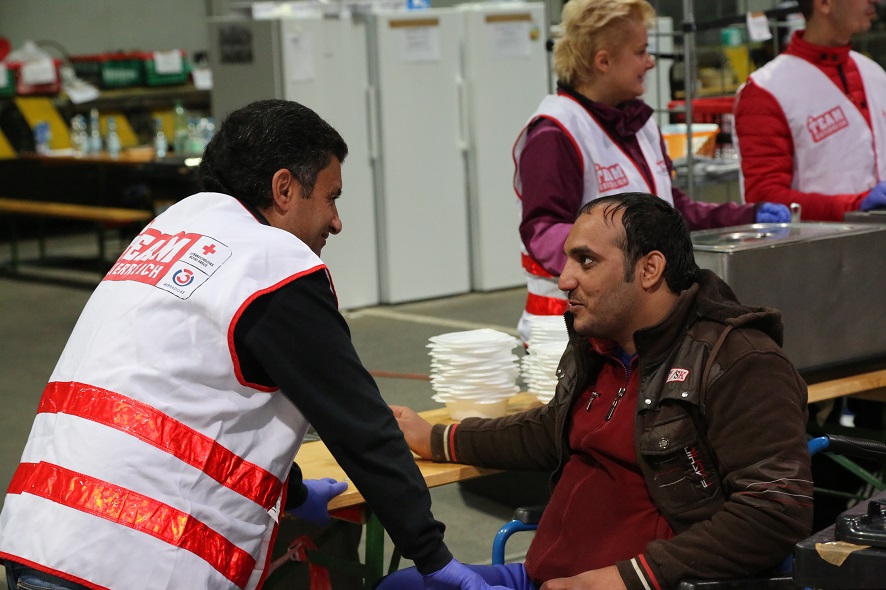 Credit: Rotes Kreuz
Where did all the helpers who cared for the refugees come from?
Paul Reinthaler: One of our most important partner organizations was Team Österreich, a cooperative effort of the Red Cross and the ORF–Austrian Broadcasting Company's radio station Ö3. This platform attracted a tremendous number of helpers over the course of many weeks—people in different age groups, from across the social spectrum, and with all sorts of knowledge and skills. And this, in turn, made the transit camp a really lively place! The aid provided by Team Österreich was phenomenal; we never expected that so many Austrians were ready to pitch in, some for days, weeks and even months. Linz firefighters were a constant presence on site; there were doctors, nurses and aides organized by a first responder exchange. The Austrian Army helped us out a lot; beginning in November, six recruits were on site every day. An association named Migrare was very important to us in connection with a very difficult and touchy area—translating and interpreting. Some of the individuals who responded to the appeal for help were from the Malteser Hilfsdienst. School classes and Boy Scout packs also expressed interest—they came to the camp, received a tour and a briefing, and spent half a day or even a whole day here with us.
The many volunteers who assisted over several weeks were an excellent resource—lots of manpower, lots of womanpower. But not everyone can be here constantly, so the personnel roster thinned out after a while. In November, we succeeded in working out an agreement with the federal government that enables us to deploy a small group of employees.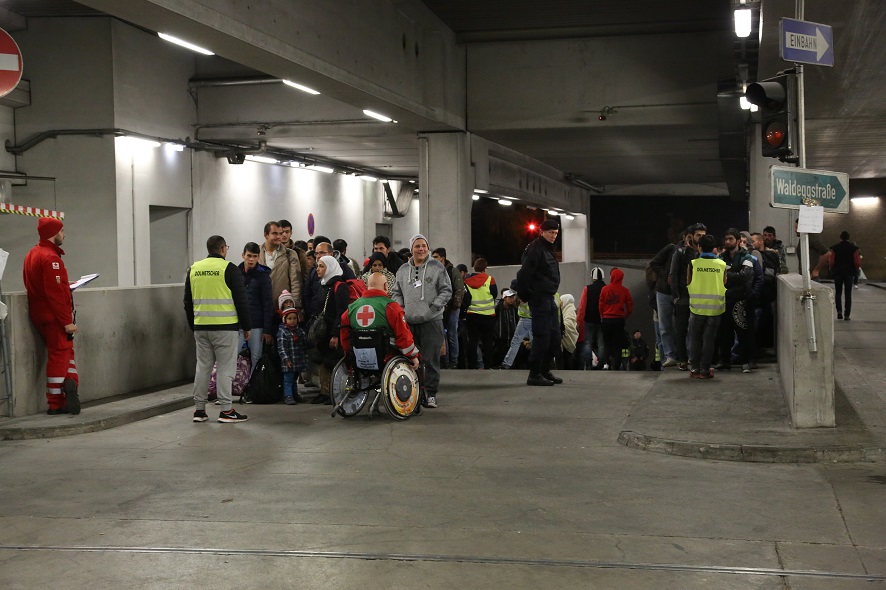 Credit: Rotes Kreuz
What was your personal reaction to the care provided to refugees in the old Postal Service logistics facility?
Paul Reinthaler: It was really exciting, but it was also overwhelming at the beginning. We were really struggling because we simply didn't have the know-how, or enough know-how. We knew what a camp in Syria or Turkey looked like, but not one here in Austria. That was the big challenge. We learned quite a lot in this time. If we would ever have to face such a challenge again, I'd have no fear.
The exhibition about the POSTCITY transit camp will run throughout the Ars Electronica Festival, September 8-12, 2016, daily from 10 AM to 7:30 PM. The 2ndHelpers Conference for professionals and volunteers providing aid to refugees in Upper Austria is being held on Saturday. For information about other festival offerings having to do with refugees, visit https://ars.electronica.art/radicalatoms/en/.