The Internet Foundation Austria (IPA) annually stages a netidee competition to select the recipients of €1 million in subsidies designed to support promising ideas and scholarly degree projects that advance the use of the internet in Austria. Here, we spotlight three projects that were honored in were honored in autumn 2016. A special prize in the Internet of Things category went to the Prometheus framework that supports developers of chatbot software. And the Internet for Refugees special prize was bestowed on Pocket Code, a smartphone app that youngsters can use to create their own games or stories right on their devices. The mesaSolar charging station is another one of the many project ideas that received funding from netidee in 2016. Blossom Thomas Schranz, the Prometheus project director, Matthias Müller of the International Catrobat Association, the enterprise behind Pocket Code, and Matthias Humpeler, mesaSolar project manager at Engineers without Borders Austria, explained their ideas to us.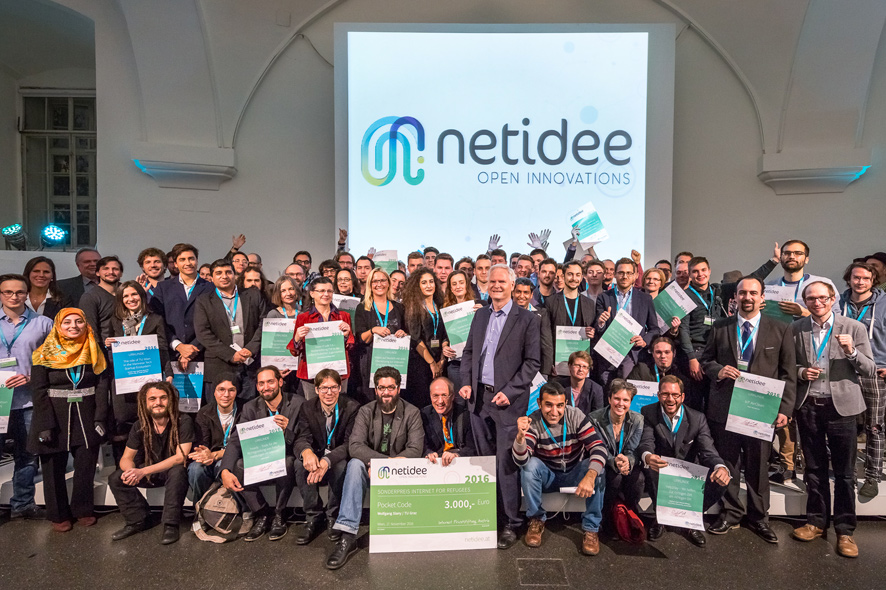 The winners of 2016 netidee. Credit: Alexander Müller | www.alexander-mueller.at
Prometheus received the Internet of Things special prize. What exactly is this?
Thomas Schranz: Prometheus is meant to make it as simple as possible to integrate artificial intelligence into new systems as well as existing ones. The first step is primarily a matter of making available the latest concepts of machine learning now being utilized in R&D. In concrete terms, this has to do with image recognition, mood recognition and language recognition. This is the basis for both making software more intelligent as well as breathing life into things—regardless of whether it's a chatbot, a refrigerator, a door, a bathtub or a vacuum cleaner.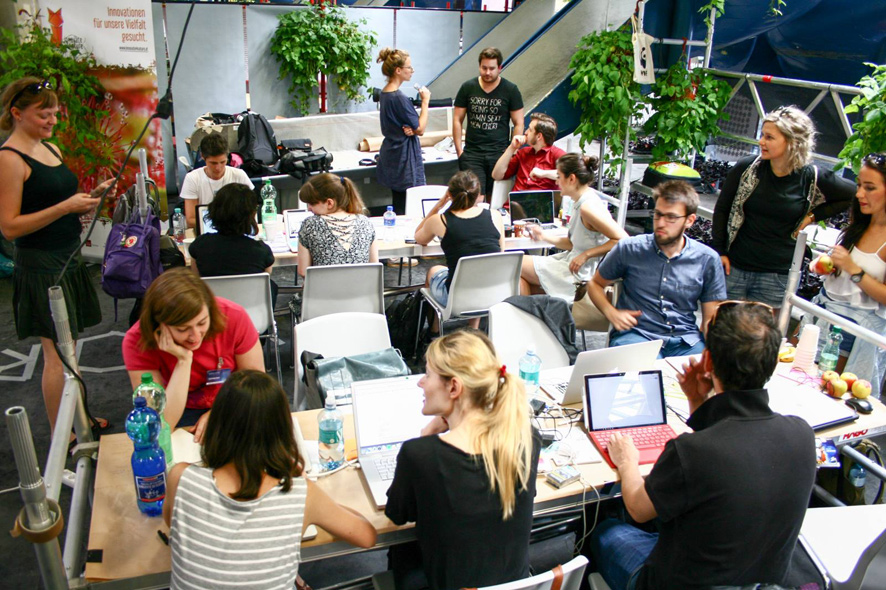 At the 2016 Ars Electronica Festival, participants from the Lemmings event have already developed chatbots together – at that time without "Prometheus". Credit: lemmings.io
How did you come up with the idea to develop Prometheus?
Thomas Schranz: The staff at Blossom noticed that more and more of our Silicon Valley clients had begun to create chatbots instead of conventional apps, and we immediately realized that this is an interesting trend which we definitely ought to look into. Right after that, Facebook announced at its F8 Conference last year that it was opening the Facebook Messenger Plattform to developers. Ever since, people all over the world have been repeatedly reinventing the wheel in developing their chatbots. Just like the way Ruby on Rails radically simplified the development of Web applications a couple of years ago, our aim with Prometheus has been to take best practices having to do with chatbots and intelligent systems and insert them into an easily accessible open-source framework. An early version of Prometheus will be already be used in February 2017 at Lemmings, a series of events having to do with digital art and artificial intelligence. We're really excited and looking forward to see what comes of this.
Another special prize, this one in the Internet for Refugees category, went to software entitled Pocket Code. In what way can this project support refugees?
Matthias Müller: New technologies, especially in the IT sector, have opened up countless new possibilities and opportunities in recent years. The dramatic growth of small firms in Silicon Valley and the rapidly expanding start-up scene in Europe clearly reflect the powerful emergence of this new digital world. Furthermore, decreasing hardware prices have led to the proliferation of smartphones and pervasive internet access, even in disadvantaged regions of the world. But it's also essential to provide offerings that are custom-tailored to the people in these regions—to develop or adapt services oriented on the particular target group and translated into the language of the respective country.
With our Pocket Code app and its development in languages written from right to left, we can offer anyone the chance to get actively involved in this digital world, to learn how it's set up, and to use this knowledge to take advantage of new opportunities. Above all, this is a way for refugees from crisis regions as well as people still living there to simply, quickly and economically learn promising skills, and to do so in their native language. Logical thinking, comprehension of processes, and an innovative understanding of technology are capabilities that are essential to our future, and Pocket Code offers an easy way to acquire them. Moreover, this is a sustainable solution to the global shortage of personnel with technical qualifications as well as to people's urge to have a say in configuring the digital transformation of our world.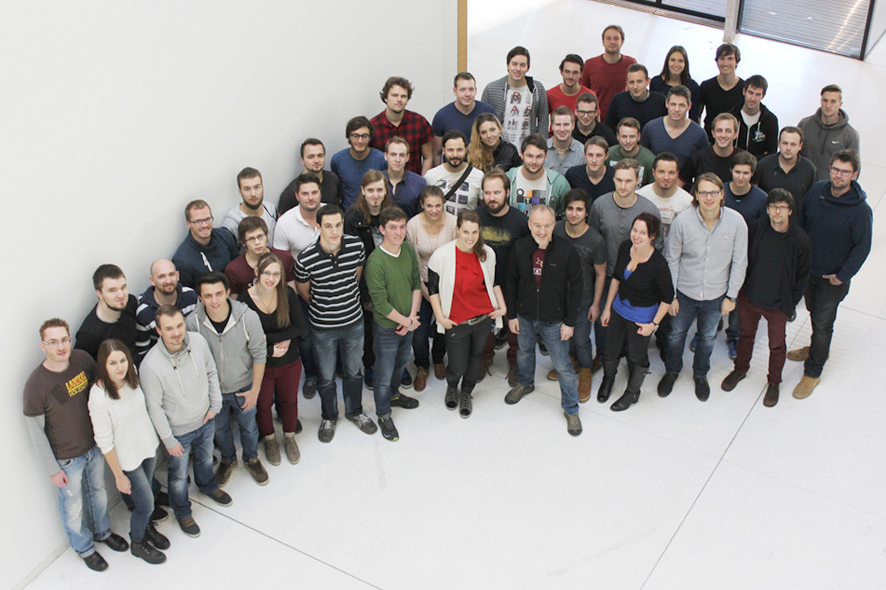 One part of the team behind "Pocket Code" – almost exclusively students and volunteers. Credit: Catrobat
How did you come up with the idea for this project, and how many people have been involved thus far?
Matthias Müller: The project is based on an idea that Prof. Wolfgang Slany of Graz University of Technology had in 2003 when, on various occasions, kids and young people were being taught to program. They had a lot of fun using visual programming environments to create simple games—and thus, not just being users but being developers too. Then, beginning in 2010, this approach was integrated into Pocket Code, our mobile open-source solution that, in contrast to conventional desktop applications, is a cost-effective option for kids and youngsters to use on their portable devices.
In the meantime, this vision has been brought to fruition by over 600 project staffers, more than 150 of whom are now actively at work on the development of these services. Thus, the know-how and ideas of many, many people have flowed into this open-source project, which is being upgraded and enhanced on an ongoing basis. Various hardware extensions, partnerships with corporate associates, and an active user community have led to a wide array of offerings for our users. Using simple graphic blocks, even little kids and novice programmers can create an exciting game, colorful animation sequences and network-linked hardware. Plus, the open-source philosophy is being propagated in over 200 countries among young people who have downloaded our app approximately 500,000 times thus far.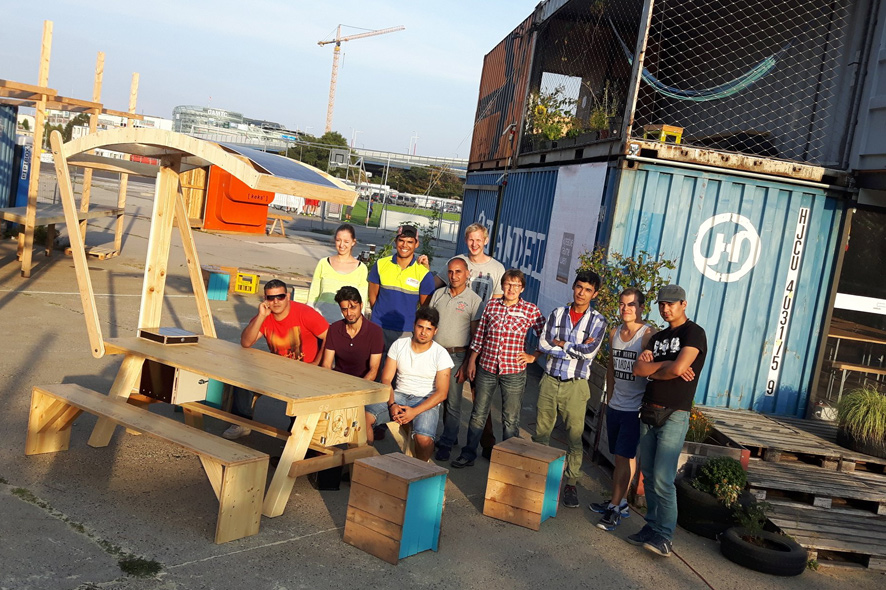 mesaSolar: Recharge to stay in contact. Credit: Ingenieure ohne Grenzen Austria
The issue of refugees is also what motivated Engineers without Borders to develop the mesaSolar loading station. How did this come about?
Matthias Humpeler: During the refugee crisis in 2015, Engineers without Borders Austria set up cell phone loading stations and WLAN hotspots in refugees' quarters and at train stations, and this technology was used by many refugees. Since then, we've developed the loading station further into mesaSolar, an integration project that's designed to be set up and operated by the refugees themselves.
What functions have you integrated into mesaSolar and why?
Matthias Humpeler: mesaSolar is a roofed-over seating arrangement featuring smart functions; it's meant to be set up in a public space. A curved solar module serving as the roof powers a WLAN hotspot and a mobile measurement station providing environmental data. Visitors can also use it to charge their mobile devices.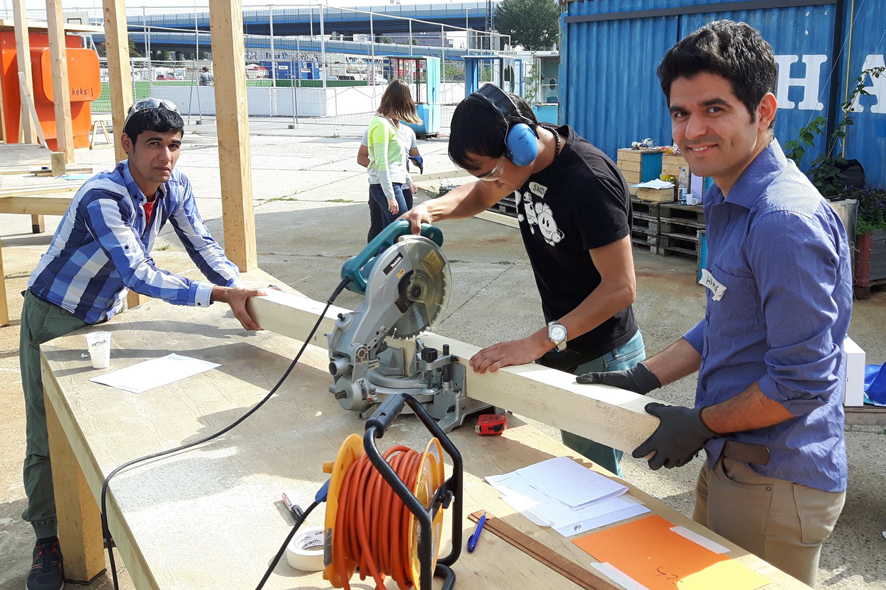 mesaSolar as integration project. Credit: Ingenieure ohne Grenzen Austria
Where has mesaSolar been deployed? How did refugees use this device, and what was the response like?
Matthias Humpeler: The table was set up by and with refugees at OpenMarx, the city lab operated by the Technological University in Vienna's 3rd District. The first passers-by, people from a nearby garden initiative, particularly admired the curved solar module and the artistic ornamentation. The electronic measuring devices, which are still in the development stage, will be added in spring or summer. The developer team is made up of refugees with a background in software engineering and TU Vienna undergrads.

In cooperation with netidee, a special prize will also be awarded in 2017 in the Prix Ars Electronica's u19 – CREATE YOUR WORLD category. Youngsters under 19 years of age living in Austria are invited to submit their internet-related ideas for prize consideration. The 2017 netidee prizewinner will receive €1,000. The entry deadline is March 13, 2017. Complete info about participation is online at ars.electronica.art/u19/prix.