Hand-pressed oils, organic ice cream, homemade marmalade and fresh baked bread—last year's farmers' market got rave reviews from festivalgoers, so BIO AUSTRIA is back for a return engagement in 2017. Amidst all the robots, state-of-the-art technology and works of media art on display in the former postal service logistics facility, Austria's organic farmers will be serving up treats that taste good and are good for you too.
Marlene Wolfsteiner, BIO AUSTRIA's fairs & events manager, gives us foretaste of the extensive menu being served up at the festival, and goes into why organic farming is so important for society.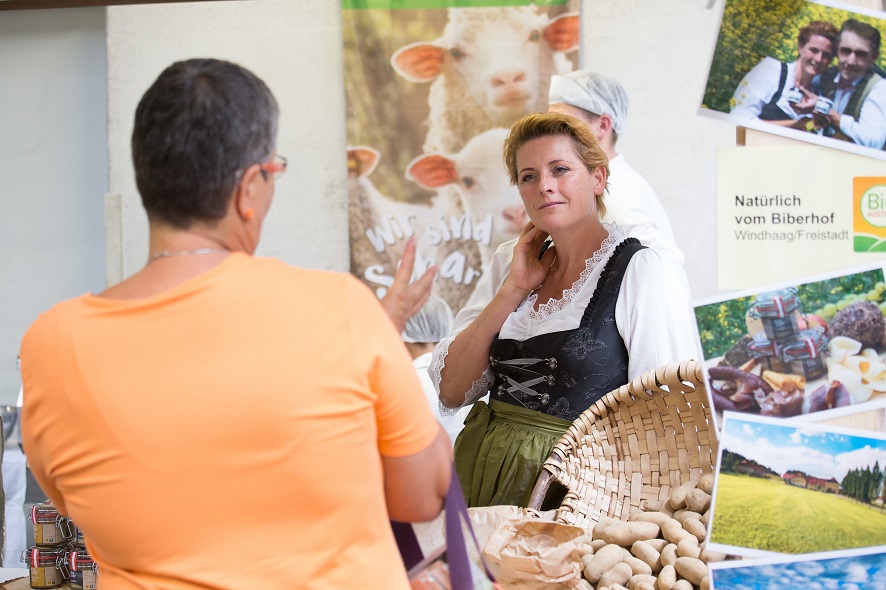 Credit: Tom Mesic
Once again this year, Upper Austrian farmers will be making regional organic products available to festivalgoers at POSTCITY. What can we look forward to in September 2017?
Marlene Wolfsteiner: There'll be the hustle & bustle of a real farmer's market at the Ars Electronica Festival. What's important to us is offering visitors a wide assortment of organic foodstuffs and specialties made by regional farmers. A as in apple, B as in broccoli, C as in cheese … and on through the alphabet. Festivalgoers can snack on the spot or take their purchases home to enjoy later. We also want to showcase the innovative ways that our organic farmers are producing and marketing their foodstuffs. So, festivalgoers can look forward to taste-testing high-quality organic products and also engaging in conversations with authentic organic farmers.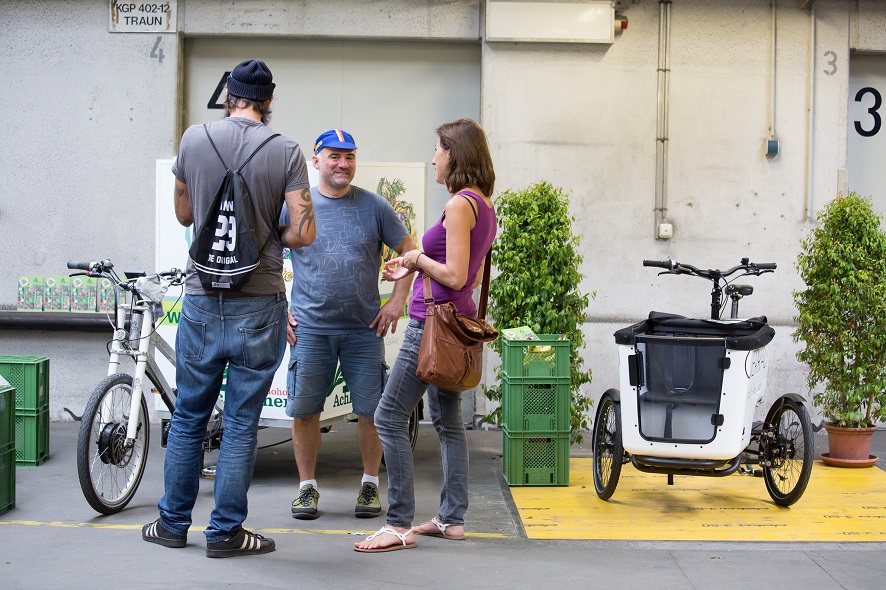 Credit: Tom Mesic
So, at the farmer's market, organic farmers will be on hand personally for some in-depth Q&A with the clientele. Has this up-close-and-personal approach become more important than ever in an age of online shopping, delivery of groceries, and supersized supermarkets?
Marlene Wolfsteiner: Nowadays, the origins of our food are often unclear, since many foodstuffs are sold "anonymously" in supermarkets. But many consumers want to know where the food they eat actually comes from and under what conditions it was produced and processed. By engaging in a one-on-one conversation with an organic farmer and personally visiting an organic farm, consumers become aware of interrelationships and get the big picture. Now, by no means does this imply that some of our farmers don't also sell their products online or in supermarkets. But purchasing organic products directly from farmers also strengthens the regional economy and reestablishes a close interrelationship between agrarian producers and consumers.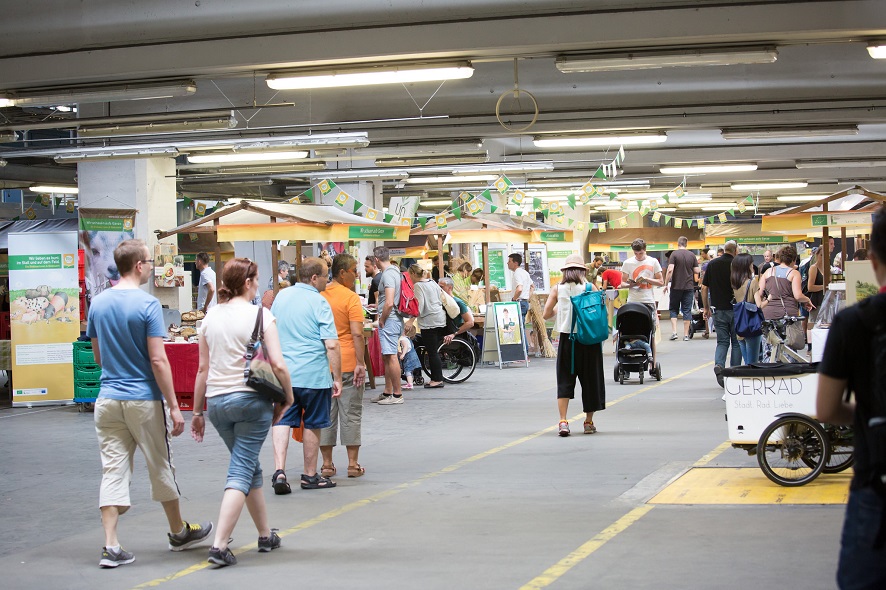 Credit: Tom Mesic
BIO AUSTRIA has established association guidelines that are stricter than the EU's minimum organic standards. But, besides high-quality foodstuffs, doesn't organic agriculture also yield other benefits for society?
Marlene Wolfsteiner: BIO AUSTRIA farms produce foods of particularly high quality since BIO AUSTRIA association guidelines are stricter than the EU's minimum organic standards in over 170 points. The differences range from obligatory operation of the entire farm on an organic basis to stricter guidelines with respect to raising and feeding animals, maximum herd size, and fertilizer use. For instance, BIO AUSTRIA is the only organic association that has established obligatory rules mandating that all members raise organic laying chickens as well as their brother roosters [instead of killing male chicks], and permit milk cows to graze on pastureland.
BIO AUSTRIA takes a holistic approach. Organic farming is more than a production standard; it's valuable for the whole region—our culture, our countryside, our diversity and our society. Organic farmers' mode of agriculture protects the atmosphere since we've been reducing CO2 for decades. The accumulation of humus-rich organic soil binds large quantities of CO2 and dispensing with fertilizer containing nitrogen drastically cuts back on the use of petroleum.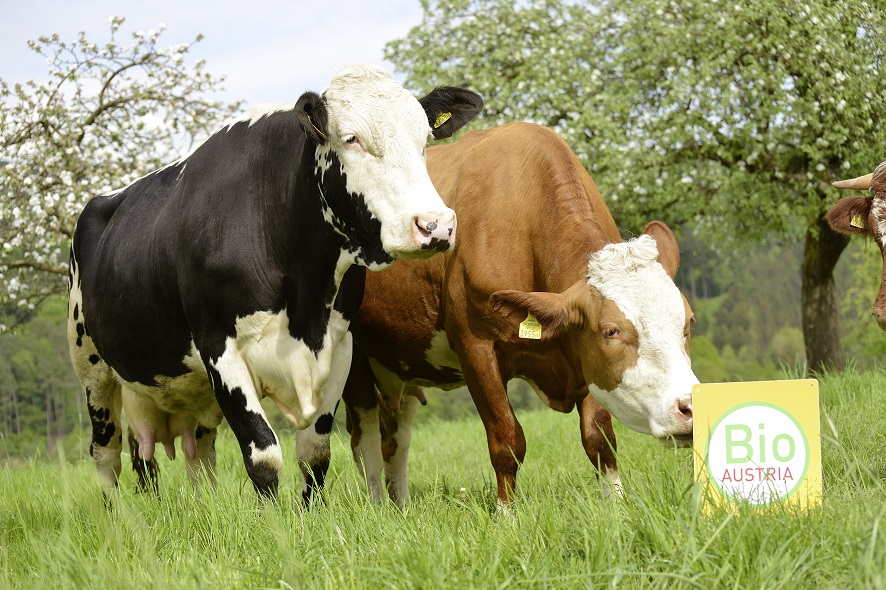 Credit: BIO AUSTRIA
Healthy, robust animals and plants assure nutrition for all. Organic farmers foster genetic diversity. They have always cultivated animal and plant species that are well-adapted to their environment and the local climate. This guarantees a tasty diversity of organic foodstuffs. Unadulterated, high-quality ingredients are part of a balanced diet and contribute to everyone's wellbeing. Organic farmers forgo not only genetically modified plants and animals; genetically engineered additives are also prohibited in animal feed production and in food processing.
The quality of our drinking water as well as of our rivers, lakes and oceans is heavily dependent on what kind of agriculture is going on. Organic farmers protect our water—the very basis of human existence—by refusing to apply chemical-synthetic pesticides, herbicides and easily soluble mineral fertilizers. This also protects the diversity of our natural environment's flora and fauna.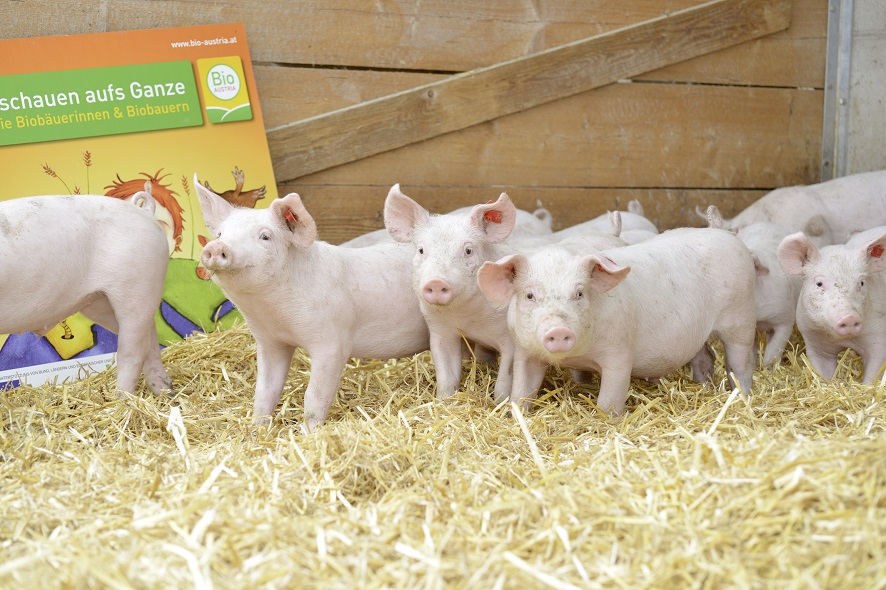 Credit: BIO AUSTRIA
Diverse landscapes offer relaxation, recreation and wellbeing to everyone. The diversity of our cultivated landscape is essential to organic farmers. Organic fields make up a habitat in which birds and insects play useful roles in naturally protecting plants. This is nurtured by planting hedgerows, strips of meadowland and woodlands bordering cultivated fields.
To make it possible to provide enough food for the whole world's population in the future too, protecting our natural resources is an urgent necessity. Organic farming brings in good yields while, at the same time, protecting our water, our climate, our soil and our biological diversity.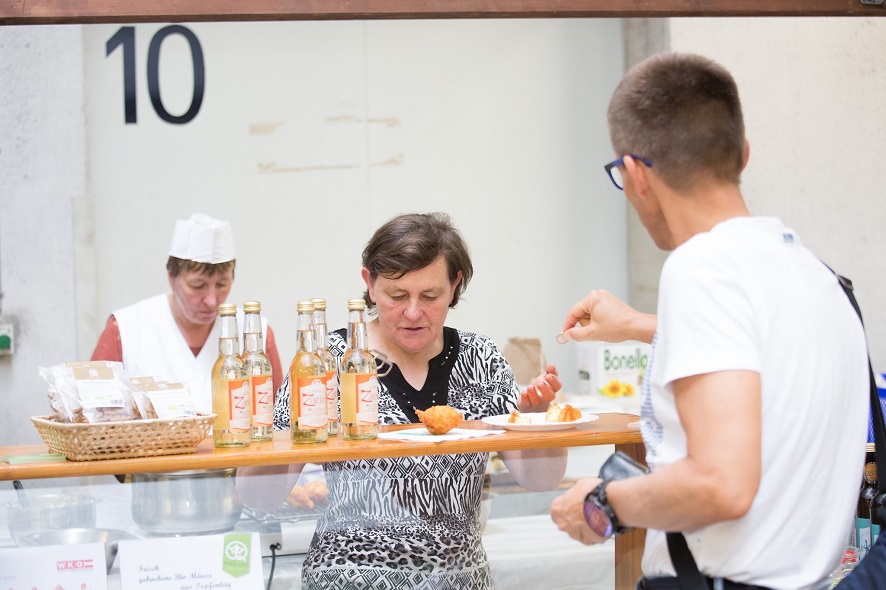 Credit: Tom Mesic
Artificial intelligence is the theme of the 2017 Ars Electronica Festival. How much technology can organic farming actually stand?
Marlene Wolfsteiner: Organic farming is the most modern form of agriculture because it protects the climate, soil, water and biological diversity. In organic agriculture, technology and machines are deployed to an intelligent extent. Organic farmers give intense consideration to the very basis of their existence—the soil. They nurture the organisms that inhabit the soil and gently work the soil with machines. The deployment of other technologies such as milking robots has also become something taken completely for granted by organic farmers. But organic agriculture also calls for people, since the very cornerstone of this is a feeling of closeness to humankind's domesticated animals and our environment. Technologies and machines are intelligent aids—no more and no less!
Have we whetted your appetite? You'll be able to taste and purchase delicious goodies produced by BIO AUSTRIA organic farmers at this year's Ars Electronica Festival!
To find out more about the Festival and the farmer's market, follow us on Facebook, Twitter, Instagram & Co., subscribe to our newsletter and check out our website: https://ars.electronica.art/ai/en/.