The world's largest media art festival has a jam-packed lineup of exhibitions, events, conferences and lots more. The 2017 Ars Electronica Festival September 7-11 is a five-day showcase of media art's many facets. But with so much to see and hear at so many locations, it can be difficult to find your way. And this is even more of a challenge for those who aren't native speakers of German and for people with handicaps.
That's the reason for WE GUIDE YOU, a wide array of guided tours that provide concise information about the exhibits and an initial overview of the festival—the Highlight Tours spotlights featured attractions; those in the know contribute their insights in Expert Tours; Kids Tours take in the sights of greatest interest to youngsters; and there are Community Parcours in several foreign languages. In addition to tours of POSTCITY, the former postal service logistics facility adjacent to Linz's main train station, we'll also be offering tours of other venues such as the Ars Electronica Center and the CyberArts exhibition at the OK.
Sonja Schachinger, director of the Festival's community art mediation program, gave us an overview of WE GUIDE YOU and the individual tours.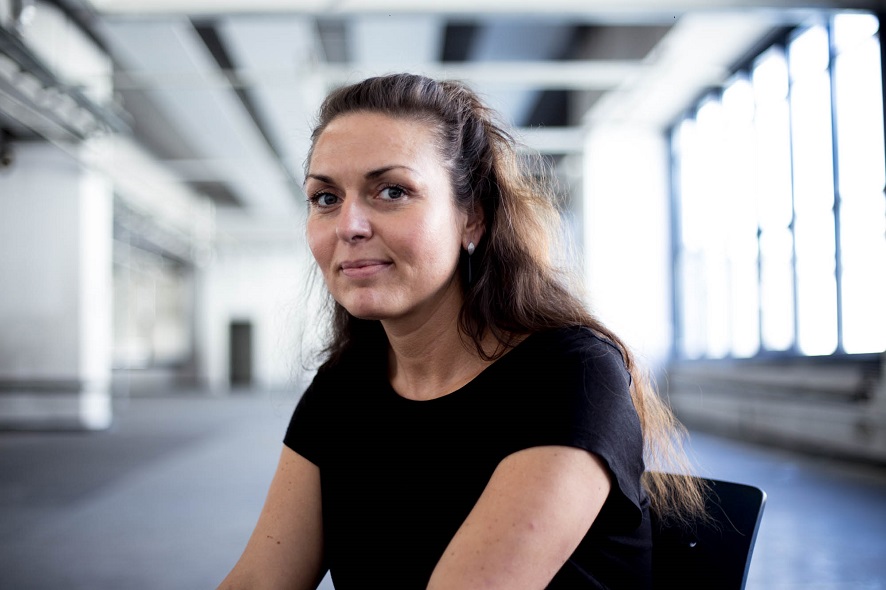 Sonja Schachinger. Credit: Vanessa Graf
Sonja Schachinger: The Highlights Tour that's been so popular in recent years will be offered at least three times a day, both in German and in English. There will be Kids Tours once again as well as the Community Parcours, which are free-of-charge—all thanks to our patron, the Economic Chamber of the State of Upper Austria's group for business consultants, accountants and IT specialists. A special themed tour entitled "Future Mobility" is sponsored by the ÖBB–Austrian Federal Railways; this will likewise be in German and English and offered daily at 3:30 PM. The works featured in this tour all have to do with sustainable development and secure mobility. They're highlights from all areas of the festival that are relevant to mobility in the future.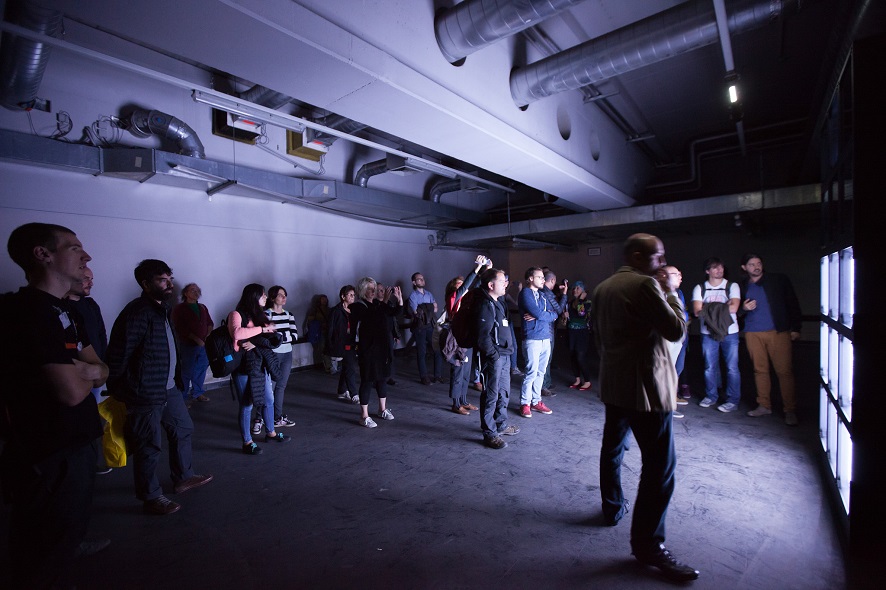 Credit: Florian Voggeneder
The Community Parcours are especially for minorities in Linz and Upper Austria. Which will be offered this year?
Sonja Schachinger: We're offering tours in Italian, Russian, Romanian, Turkish, Arabic, Farsi (Persian), Serbo-Croatian and Polish. New this year is German as a foreign language. A sign language interpreter will accompany tours for people with hearing impairments; they'll be held Saturday and Saturday at 1:30 PM.
Why is it so important to offer Community Parcours at a media art festival?
Sonja Schachinger: The Ars Electronica Festival stands for art, technology and society. The social space that the Festival opens up for all of the world's cultures and social classes manifests Ars Electronica' sense of responsibility, and that goes for the integration of minorities too. What we have here is the world's largest media art festival. And we're pleased to offer these free guided tours to enable local communities to take part in this international event. They're many folks' first encounter with the great Ars Electronica Festival community. Now in their fourth year, the Community Parcours are a beloved tradition, and satisfied visitors from previous years have already made reservations.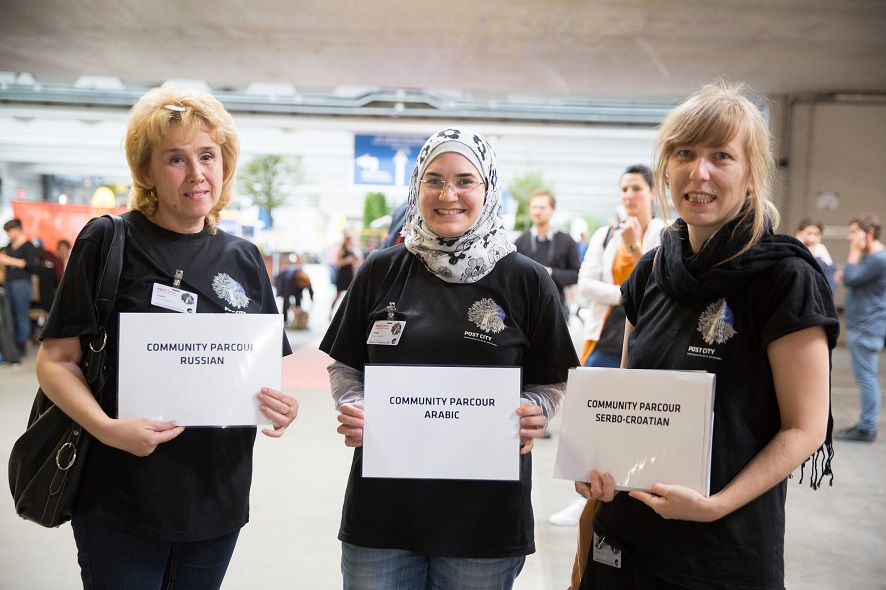 Credit: Tom Mesic
The Community Parcours are always conducted by native speakers from the respective communities. Who are this year's guides?
Sonja Schachinger: Most of the guides come from the community, and many of them are art or technology students. The tours in Farsi will once again be led by Pooneh Yekta, who studies Time-based Media at Linz Art University. For the Russian tours, we've engaged Elena Selgrad, a state-certified tour guide. Jerneija Zavec is very active in the Linz cultural scene; in addition to handling the Serbo-Croatian tours, he's also producing a series of broadcasts for Radio FRO on the subject of art and science at the Ars Electronica Festival. Monica Vlad, an undergrad in Linz Art University' Interface Cultures program, will conduct the tours in Romanian and Italian. Plus, at the festival's Nightline, she'll give a live performance entitled "Lost, but not lost forever." The sign language interpreter, Ulrike Graf, is very well-versed in media art, and regularly accompanies tours for the hearing-impaired at the Ars Electronica Center and the Lentos Museum.
There will also be Expert Tours. What's special about them?
Sonja Schachinger: The Expert Tours give festivalgoers the opportunity to benefit from the knowledge and experience of experts in art and science. Artist Refik Anadol, who has twice exhibited his own work at the Festival, will lead a themed tour on artificial intelligence. From the STARTS [science, technology and the arts] field, we're delighted to have with us Anna Dumitriu, who'll be focusing on materiality, smart materials and art & science, and whose tour includes her own work, "Controlled Commodity." By the way, holders of a Festival Pass are entitled to join an excursion to Kremsmünster, where Chico MacMurtrie will present his kinetic sculpture "Pneuma Fountain." Christophe de Jaeger and Simone Furtlehner will conduct the tour through the Ars Electronica Gallery Spaces that are debuting this year. Another very interesting tour is Expanded Body in which Manuela Naveau and Christl Baur will show works about transformations of the human body. Which mutation processes are gradually taking hold and becoming everyday phenomena? There are several works of art that deal with precisely this issue and technologies such as skin interfaces and tissue engineering. In his Botanical Intelligence tour, Friedrich Schwarz of the city's botanical garden will elaborate on the limits of our knowledge. What is biodiversity? What is sensate existence on the part of botanical life? There will also be a guided tour on both Sonic Saturday and Music Monday. And this year's featured artists, Time's Up, will give a tour of their installation at the Lentos Art Museum.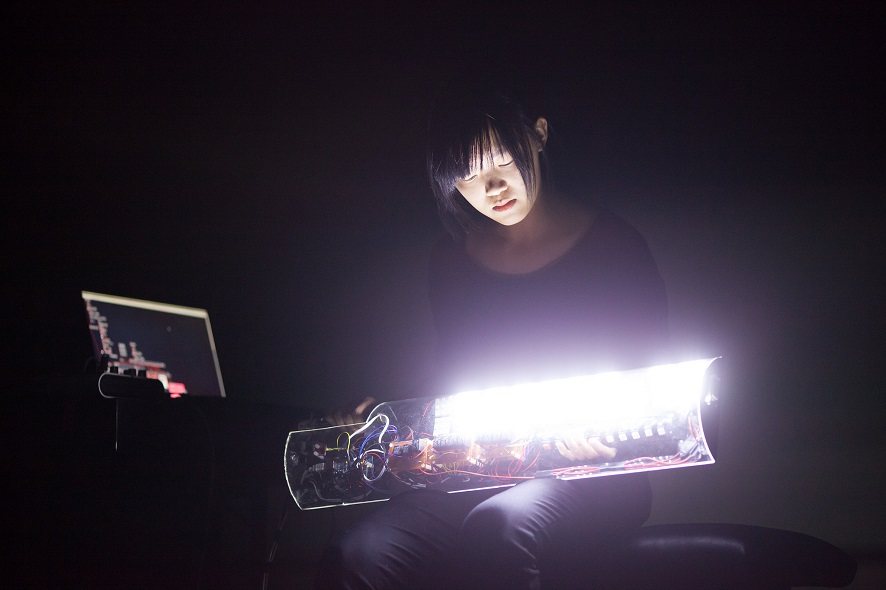 Yen Tzu Chang. Credit: Florian Voggeneder
The Expert Tours will also take in a workshop and a unique live performance…
Sonja Schachinger: The Fraunhofer Institute for Medical Image Computing is holding a workshop that includes a live remote hookup to its MRT lab in Bremen. Artist Yen Tzu Chang will be on hand to explain artistic uses of machines. She'll show her work "Whose Scalpel" and give an impression of how encounters of medicine and art can work. Artist Aoife van Linden Tol will stage a magnificent, poetically explosive live performance meant to evoke stars' magnetic behavior and light production.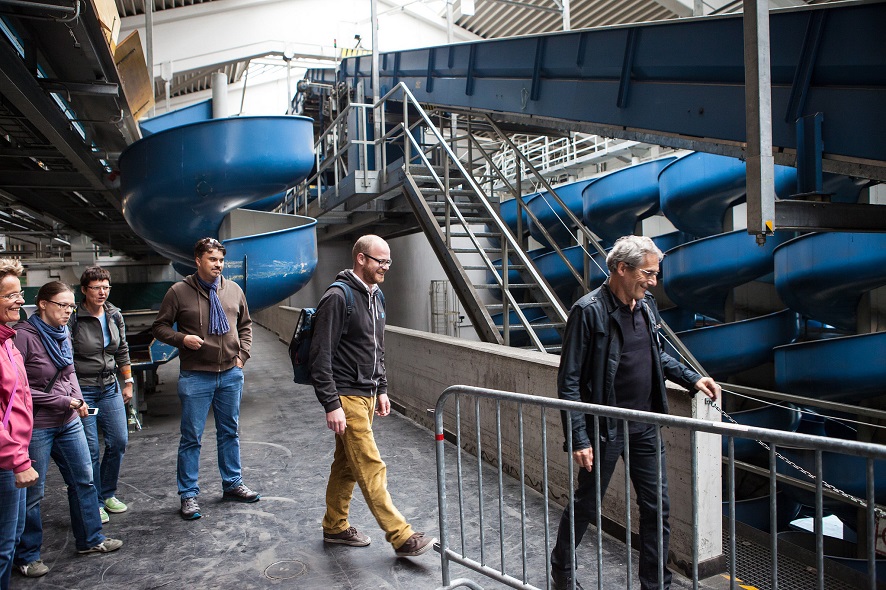 Credit: Florian Voggeneder
What do these tours bring out that people who go off on their own just might miss?
Sonja Schachinger: Guided tours provide orientation and convey behind-the-scenes insights. Tour group participants are presented with opportunities to recognize interrelationships among works of art that they might not realize if they go it alone. In addition to the festival's main theme, Artificial Intelligence – The Other I, there are several other featured topics that guided tours do a great job of interrelating. How is artificial intelligence making its presence felt in the art & science field; how is it connected with brain-computer interfaces? In any case, taking a Highlights Tour to get an initial overview makes it considerably easier and more efficient to spend a day or half-day at the Festival. What you can take away from a tour are issues to subsequently consider in detail. Furthermore, you get acquainted with works of art in different ways—for instance, in the Future Mobility tour, we'll discuss how various works artistically approach the matter of sustainability.
Festivalgoers are cordially invited to take one of our guided tours, which will most certainly be the starting point of new dialogs. A single object is beheld by very diverse visitors—in fact, this multiplicity of perspectives is precisely what this is all about!
Credit: Magdalena Sick-Leitner
So this isn't only about the meaning of the works of art themselves, but also of mediating the encounter with them and exchange among the tour group members…
Sonja Schachinger: Media art strongly emphasizes interactivity and integrating each individual. Everyone has their own personal way of looking at things, their own feeling, an individual interpretation, and people can reciprocally enrich one another. It's not necessarily the way an art historian would go about this, very affirmatively identifying particular elements in a work of art. In media art, only the technical aspects can be strictly identified—for example, one can ascertain that this is a computer with a particular processor, but anything beyond that calls for "mediation." English has an apt expression for this—it's not art education but rather community art mediation.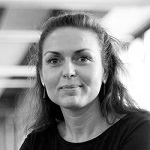 Sonja Schachinger gained extensive experience with international exhibitions in her work at the Messe Frankfurt trade fair. She did her post-graduate studies at Danube University Krems, completing the Department for Image Science's Media Art Histories program. She was an assistant producer of the BIO-FICTION Festival and Biofaction KG's synth-ethic exhibition. She gained experience in community art mediation at Kunstmeile Krems, and community culture mediation with the Mauthausenkomittee Österreich's denkmalwien project.
The diversified tours on the WE GUIDE YOU lineup will take place during the 2017 Ars Electronica Festival September 7-11 in POSTCITY. Holders of a One-Day or Festival Pass are automatically entitled to take the Highlight and Expert Tours. Tickets for other tours can be purchased on site. Community Parcours are free of charge; please make a reservation on our website. For more information about the tours and to register for the Community Parcours, please visit our website.
To learn more about the festival, follow us on Facebook, Twitter, Instagram et al., subscribe to our newsletter and visit our website at https://ars.electronica.art/ai/en/.