Personally experiencing the European Space Agency (ESA) headquarters, attending speeches by experts imparting insights into scientific work on outer space, and getting a pre-publication look at the latest classroom instructional material on scientific and space-related subjects top the lineup of activities at the annual ESA Teacher Workshops.
Twice a year, the ESA invites teachers from all member states to a multi-day event in The Netherlands. The focus is on ways to use the subject of outer space to encourage young people's interest in the natural sciences, engineering and computer science.
In this interview, ESERO Austria Manager Andreas Leeb discusses the subject matter at ESA Teacher Workshops and what role ESERO Austria plays. And elementary school teacher Veronika Goller talks about this year's autumn workshop in Leiden, The Netherlands.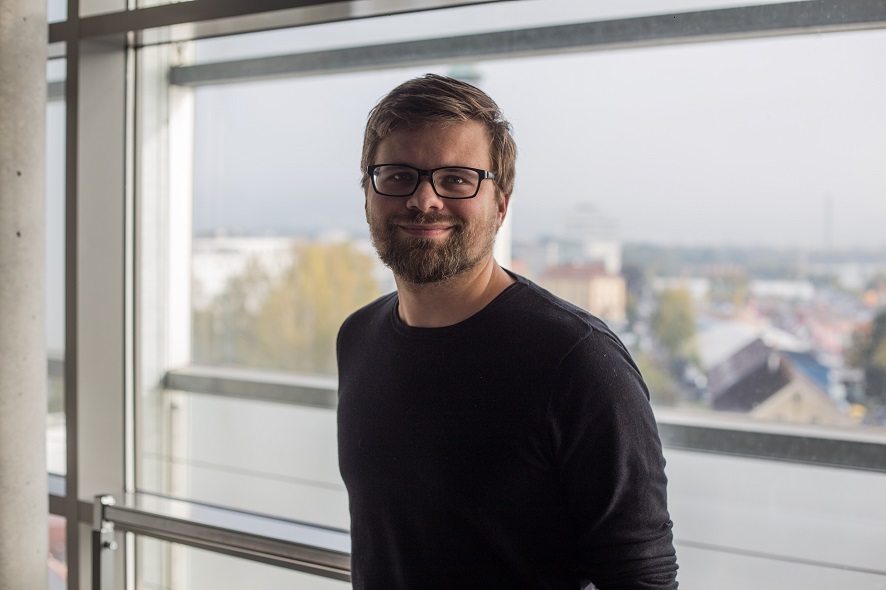 Andreas Leeb, ESERO Austria Manager. Credit: Vanessa Graf
So let's begin by asking what ESERO actually is!
Andreas Leeb: ESERO stands for European Space Education Resource Office. This bureau is financed by the ESA together with Austrian partners: the FFG—Austrian Research Promotion Agency and the bmvit–Federal Ministry of Transportation, Innovation and Technology. ESERO has established bureaus in 10 European countries as a means of employing outer space to foster classroom instruction in science and technology. Here, we're talking about the so-called STEM disciplines (science, technology, engineering and mathematics). The ESA's agenda is for its ESERO bureaus' offerings to nurture and support the process of providing interesting classroom instruction in scientific subjects.
What's your opinion of the education Austria currently provides in the STEM disciplines?
Andreas Leeb: There's a trend you can trace throughout Europe—it's getting harder and harder for kids to get enthused about the natural sciences, physics, chemistry, engineering and computer science, and fewer and fewer of them can imagine working in these fields some day. What's more, scientists don't have good prospects for earning a high salary, which is another reason why few young people are interested in these subjects.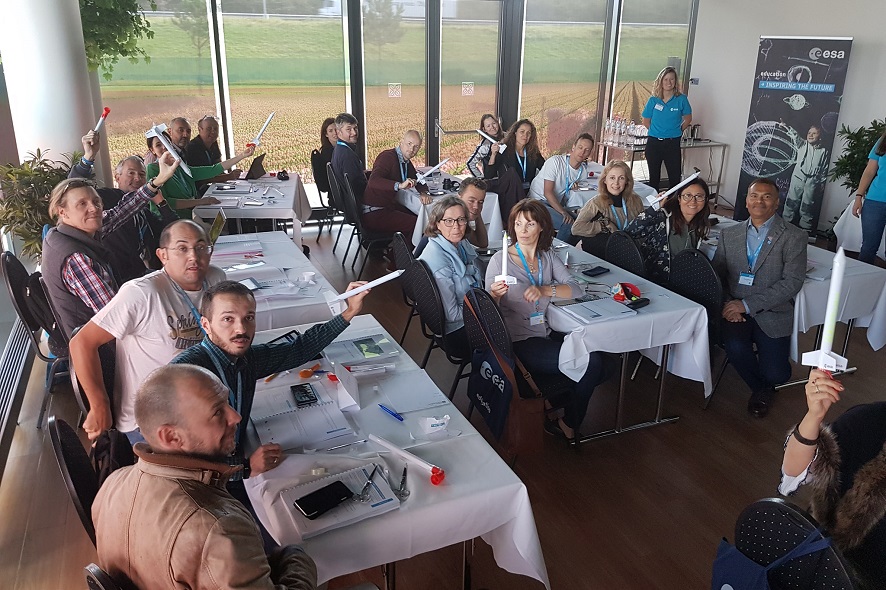 Credit: ESA
What makes Ars Electronica the ideal partner for ESA's Austrian ESERO bureau?
Andreas Leeb: We at Ars Electronica provide artistic and cultural facets that enrich the scientific perspective. In fact, the STEM acronym, which has been very widespread in English-speaking countries, has now been expanded into STEAM, whereby the A stands for arts. This is one of many strong points in favor of locating the ESERO bureau in the Ars Electronica Center. Many of the other candidates lacked an artistic and, above all, a creative approach, which is extraordinarily important.
So, the aim is to enlist the help of teachers in getting school kids interested in the STEM subjects. What kinds of resources do ESA and ESERO make available to teachers?
Andreas Leeb: The ESERO bureau's mission is to provide continuing professional education for teachers and to develop instructional material. The advanced training courses are developed in cooperation with local teacher training colleges, so we can offer officially certified courses. Our offerings mainly target primary and secondary school levels, but there's even a course for elementary schools, so the offerings are very comprehensive.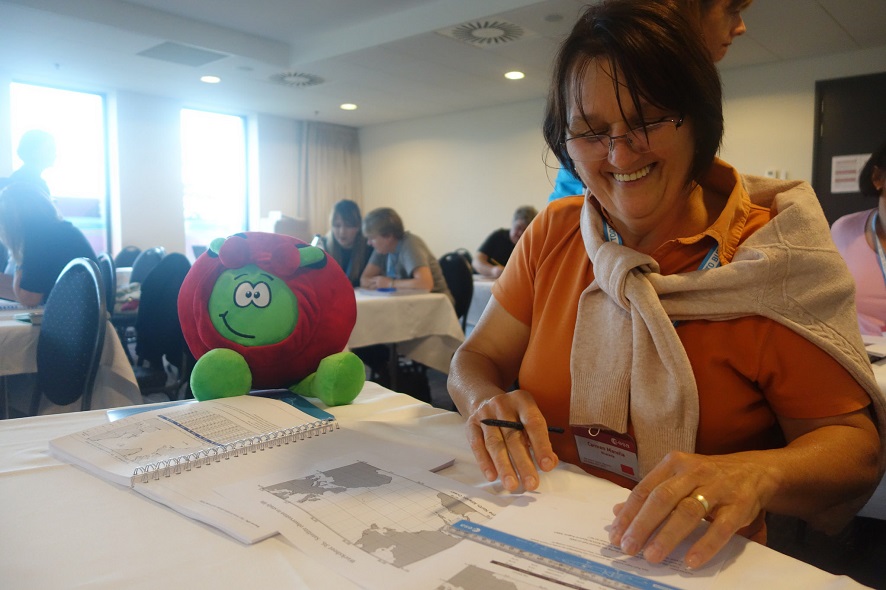 Credit: ESA
What kinds of continuing professional education courses do you offer?
Andreas Leeb: Our primary level course, Spaceship Earth, deals with the planets, the Sun and stars, and the cosmos—a general treatment of how to approach the subject of outer space in classroom instruction. On the secondary level, we offer two courses: Human Footprint and From the Face on Mars to Black Holes, both of which have to do with Earth observation, satellite images and how they're used. Cosmic Distances, a course designed for upper level students in high schools or technical schools, is about measuring distances. Data from the Hubble Space Telescope and terrestrial telescopes are used to measure the cosmos, and this course teaches how mathematics is employed to calculate distances. This is a wonderful example of how various mathematical tools can be used not only in standard computation problems but also practically in everyday life.
These four continuing professional education courses make up our current curriculum. Each course should have a certain level and a certain quality standard; otherwise, it can't be offered. The ESERO Austria bureau was set up last year, and we're gradually developing new teaching materials.
In addition to the CPE courses, you also offer multi-day workshops …
Andreas Leeb: The workshops aren't offered by ESERO Austria directly, but rather by the ESA itself—actually its educational division, ESA Education. These ESA Teacher Workshops are for teachers from all ESA member countries. They're very open; teachers in all school grades can apply. This year, the first workshop took place in summer and the second in autumn, and two teachers from Austria attended each one.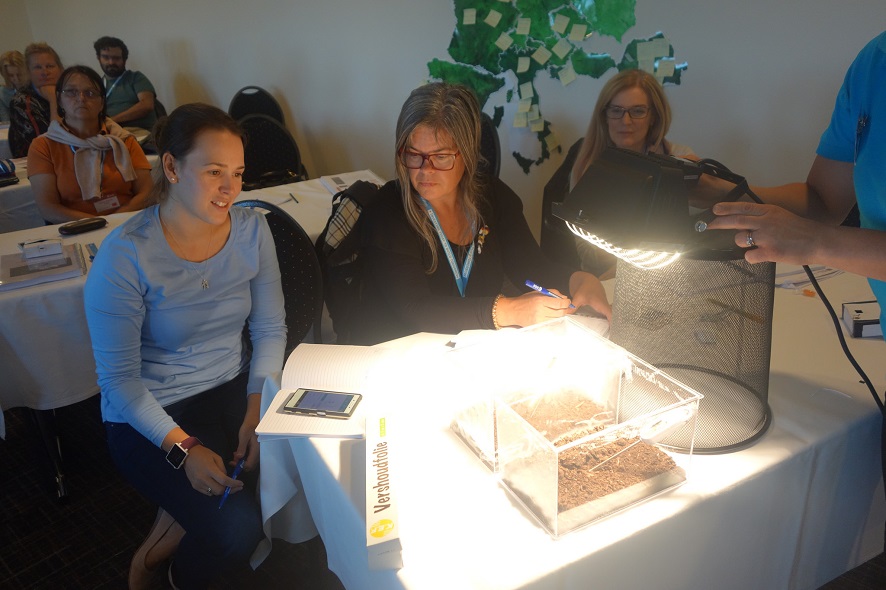 Credit: ESA
What exactly happens at these workshops?
Andreas Leeb: Those attending the ESA Workshop first get a tour of the European Space Research and Technology Center. This close-up look at how space research is actually done is definitely a fascinating experience for teachers. You get to meet lots of experts, who deliver speeches on all sorts of space-related subjects including research and technology. Plus, teachers receive classroom instructional materials developed by the ESA, which they can try out right on site, and also get acquainted with teaching materials still in the development pipeline.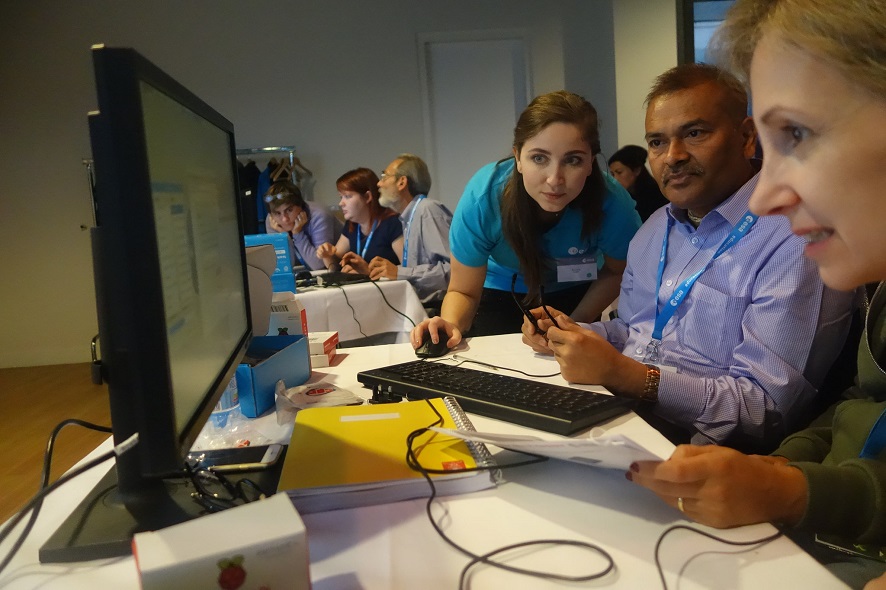 Credit: ESA
Ms. Goller, you took part in this year's ESA Teacher Workshop. What motivated you to apply?
Veronika Goller: Never stop exploring—that's my motto, both in private life and my career. Together with a heaping helping of curiosity! When I heard on Ö1 [ORF–Austrian Broadcasting Company radio station] that the ESA holds workshops for teachers, I was immediately interested, and I accessed the seminar description & application paperwork online.
And I was delighted to learn that they offer a seminar program for elementary school teachers, since the continuing professional education offerings in the STEM subjects are usually oriented on secondary school instruction. But it's essential to start doing this when children are very young, so we can lay the foundation for their curiosity about and enjoyment of science.
And to tell you the truth—I also hoped to learn a lot of new things to help me do a better job. Especially in the field of space research, there have been many achievements and insights that are difficult to comprehend and thus to teach properly. The seminar location in Leiden, The Netherlands, the opportunity to engage in a process of exchange with other European teachers, and the accommodations in a very nice hotel were highly conducive to a successful experience.
Credit: ESA
What impressions did you take away from the workshop?
Veronika Goller: First off, I want to mention that I learned a tremendous amount on the substantive level. The mix of speeches by experts and presentations of didactic concepts was brilliantly conceived and executed. The ESA Education staff packed a great deal of content into a short timeframe and could thus captivate a very heterogeneous group. So, congratulations on the seminar design!
The theme of the opening day that we spent at the ESTEC campus in Noordwijk was Bringing Space to Earth. This was a perfect opportunity for me to review all the new classroom instructional materials and, with the help of the exhibits on display, get a solid background briefing on the ESA's current research program and the subject matter of the experts' talks.
I'm really looking forward to teaching pupils about outer space a lot more authoritatively than I could in the past and implementing the classroom instructional materials provided.
Credit: ESA
Could you tell us a little about what you learned in the workshop?
Veronika Goller: The theme of the first day was Satellites and Rockets, which was my first encounter with material science and the research being done in that field. The information about the various rockets, their launches, orbits and missions, was explained very clearly and understandably.
Taking the Pulse of Our Planet was the program on Day 2. I was very interested in—and even touched by—insights into what satellites can see and how they do it, since these images very clearly show the environmental changes taking place, which, in turn, is an ideal foundation for teaching subjects like climate change, sea level rise and acidification, wildlife monitoring, environmental protection and agriculture.
Space Exploration was a totally new subject for me. So, Day 3 involved us in programming Astro Pi, the Goldylocks Zone and the exoplanets, terms that were completely new to me and which I'm now comfortable using.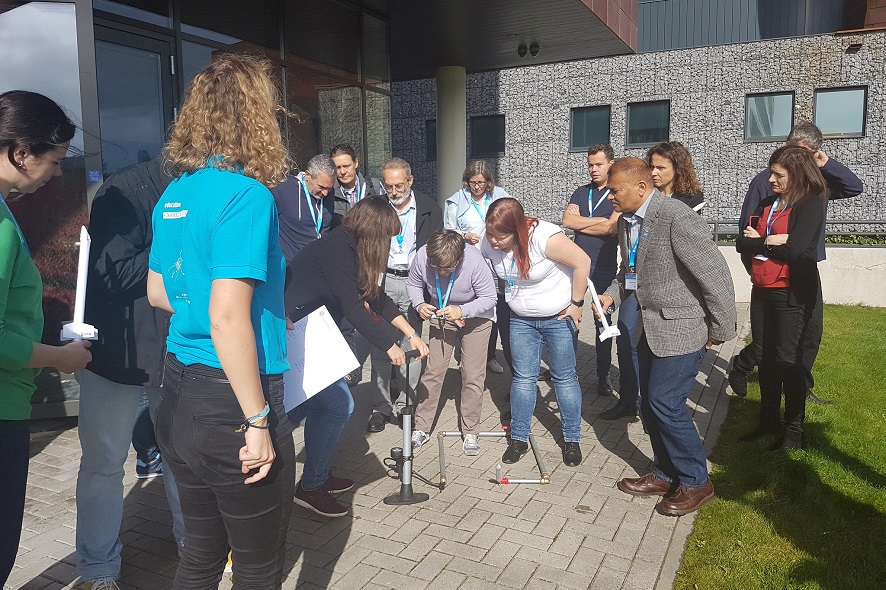 Credit: ESA
Why, in your opinion, is it worthwhile for teachers to attend an ESA Teacher Workshop?
Veronika Goller: If a teacher is enthused about a subject, s/he can convey that to others.
And this is precisely the basis of the teacher workshops' success. An inspired ESA Education Team succeeded in getting me and my colleagues fired up about outer space! I have a solid command of the fundamentals and thus can better get across the facts about space. My curiosity was piqued and I'm positive I can pass this on. Plus, there's a lot of material that I can use in classroom instruction on an everyday basis.
Another facet of no small importance is the process of exchange with European colleagues. The coffee breaks, a social dinner and the outings offered many opportunities for conversations. Comparisons with other European school systems and give & take about teachers' everyday life in the workplace was absolutely fascinating for me and triggered a process of self-reflection. This, in turn, was a source of greater appreciation for what we're doing right here in Austria, and also motivated me to try out some new things.
Veronika Goller teaches at Wolkersdorf Elementary School in the Weinviertel region of Lower Austria.
Andreas Leeb studied biology and was trained to teach mathematics and biology. He has worked at the Ars Electronica Center since 2009—first as a general infotrainer, and then a specialist assigned to specific exhibitions, for the conception and execution of training sessions for infotrainers and guides, workshops, guided tours, etc.). Since 2016, he's been a member of the ESERO Austria staff; since May 2017, manager. Thus, he is chiefly responsible for the implementation in Austria of ESERO's mission: providing continuing professional education and classroom instructional materials for teachers.
To learn more about Ars Electronica, follow us on Facebook, Twitter, Instagram et al., subscribe to our newsletter, and check us out online at https://ars.electronica.art/news/en/.