Improvement, propagation and expansion of internet usage in Austria, both qualitatively and quantitatively, is a concise statement of netidee's mission. Austria's largest initiative to advance open source projects is organized and financed by the Internet Privatstiftung Austria, a private foundation. Not only does IPA, via its firm nic.at, administer all .at domains in this country; it also makes available €1.5 million in annual funding to support interesting open-source projects, provide grants, and since 2017, finance major scientific undertakings.
Of the 23 open source projects that were each granted up to €50,000 in funding in 2017, we're spotlighting two here by young developers who have been singled out for recognition with special prizes in the Blockchain and Privacy by Design categories. The Bürgerchain application pairs blockchain technology with Austria's Bürgerkarte [citizen's card] to implement secure online voting. Combinary brings personal data from social media channels back to users' own computers. "These are two extremely exciting projects," said Ernst Langmantel, a member of the foundation's board and director of the netidee initiative. "Whoever would like to discover more will find plenty of information about all the netidee projects we're subsidizing at www.netidee.at, as well as monthly updates about how the respective projects are coming along!"
Both of your projects were recipients of a special prize in 2017 from the netidee initiative. So, let's start with you describing your projects' objectives.
Nico Grienauer: Social media content is normally stored on the servers of third-party providers, many of them outside the European Union. If you want to use this content yourself—for instance, display it on your own website—you'll need to run scripts that are dubious from a data protection standpoint, and you're at the mercy of conditions dictated by these third-party providers (i.e. API limits). We want to change this. Our tool, Combinary can be used to aggregate, analyze and deliver social media content to your own server or some other server you trust. No third-party services are loaded. Combinary is open source; thus, it can also be used as the basis for many other services.
Michael Faschinger: The result of the Bürgerchain project will be a Web application people can conveniently use to organize e-Voting, petitions and signature drives. The Bürgerkarte provides the signature, and the blockchain technology is used to store the votes and to prevent manipulation. The primary target groups are political parties and associations who want to integrate members more directly in decision-making processes. A secondary target group includes organizations and citizen activists, who can use Bürgerchain to easily gather signatures—for example, for declarations of support or plebiscites. Of course, it's important that everything done with this technology is in compliance with applicable laws and regulations, and that it's recognized by regulatory agencies and oversight committees. Our aim is definitely not to suggest that Bürgerchain be used for parliamentary elections or elections to other legislative bodies.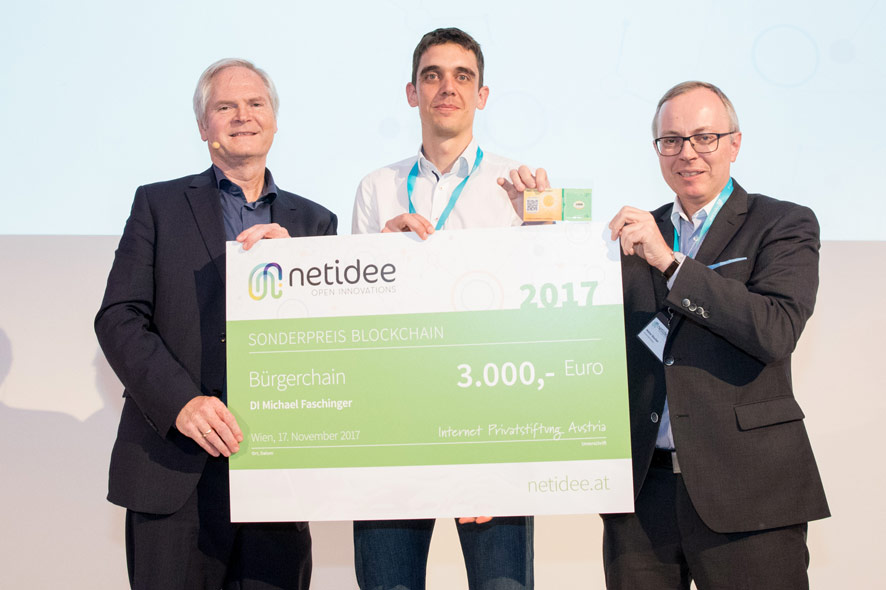 Bürgerchain: Michael Faschinger (middle) and Ernst Langmantel (left). Credit: netidee
Bürgerchain's objective is to make e-Voting and petitions more secure. Is that even possible? And is this compatible with the secret ballot concept and transparency?
Michael Faschinger: Of course, security is a very broad term, especially in connection with e-Voting. It should be certain that my vote is counted correctly. It should be certain that my anonymity is assured. It should be certain that subsequent manipulation is ruled out, that only authorized persons can cast a vote, etc. The correct deployment of the Bürgerkarte and blockchain provides security in a couple of these areas; for others, this project will be implementing corresponding cryptographic concepts such as so-called pseudonym systems. This will make it possible to guarantee anonymity while simultaneously delivering transparency. Combining all of these security features together with user-friendliness is certainly the biggest technical challenge this project faces. After all, even if the final result is totally secure—if such a thing even exists—if using the system is just too complicated, then we've failed in our effort.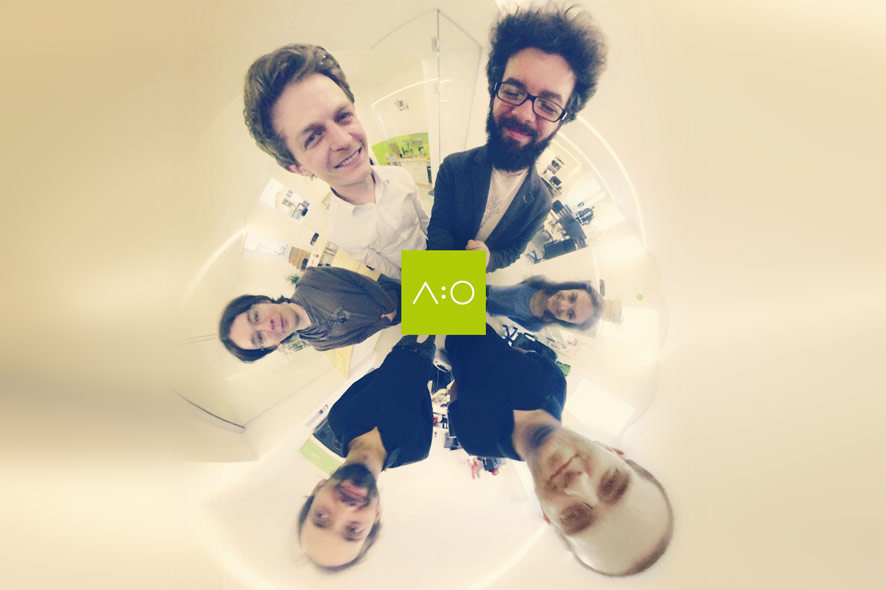 The Combinary team. Right top: Nico Grienauer.
Combinary retrieves a user's private data from his/her own social media channels and returns them to the user's own server. If the data are already stored on server farms worldwide and can be shared from them and used further, why is it so important for you to be able to copy them back again?
Nico Grienauer: The data protection aspects are of primary importance to me, as well as the possibility of me being able to analyze my own data. Since you can deliver the data yourself, you don't have to load any third-party services, which, as we all know, are very hungry for data and like to phone home! This confronts these practices of, above all, social media services, and shows them who's the boss. And you can still display the aggregated content. As for search engines, it's not a bad idea to provide the contents yourself instead of having them delivered by some unidentified service.
You two were honored for your internet ideas a couple of months ago. What kind of progress have you made since then, and what are the next big steps you have to take?
Nico Grienauer: We already have an initial prototype of a social media aggregator. Since our aim is to implement a scalable, open system but, above all, one that's based on the latest concepts and a suitable technological foundation, we still have a long way to go. We're now in the process of finding a partner with whom we can create an initial tool in co-creation. If there are companies with several brands out there that would be interested in an application like this, please get in touch with us (combinary@acolono.com). The next step after that will be an effort to build up a small community around the tool since there are a lot of tools that could use Combinary as a basis. Why not combine forces instead of always having to invent everything from scratch …
Michael Faschinger: It wasn't until last week that I began to completely devote myself to this project, since I had been involved in an employer-employee relationship until then. At the moment, I have quite a long to-do list. I'm in contact with parties and citizen activists in order to develop use-cases for them as potential "clients." Once the use-cases are defined, I'll collaborate with a UI designer to come up with the use concept for the Web application. I'm going through the texts of various pieces of legislation on the federal and state level to determine together with government agency officials whether and in what form they would accept, for example, electronic signatures in conjunction with declarations of support for parties or signature lists for referendums and plebiscites. For me as a techie, this is rather tedious work, but at the same time it's fascinating and instructive. And I'm selecting the technologies that will be used to implement the project—normal server or cloud; which programming language for the backend; which technology for the frontend; which blockchain, which libraries? When that's all cleared up, we come to the next big step—implementation. Meanwhile, our constant companion is public relations work, which can't be neglected either, of course. Otherwise, the final result will be a great product that nobody knows about.

In collaboration with netidee, the 2018 Prix Ars Electronica will once again award a special internet-themed prize in the u19 – CREATE YOUR WORLD category for young people in Austria under 19 years of age. The netidee 2018 prizewinner will also receive €1,000 in cash. The extended entry deadline for u19 is March 19, 2018. Details are available at ars.electronica.art/u19/en/prix.