One ticket, four days, nine museums—that's Museum Total. This long weekend dedicated to art, culture and the spirit of discovery is being staged February 22-25, 2018 for the fifth time this year. And the Ars Electronica Center is again one of the institutions welcoming museum enthusiasts with a program especially for the young and young-at-heart.
The lineup includes fun activities for all age groups—special behind-the-scenes tours, a highlight-filled program in Deep Space 8K, lots of hand-on educational fun in the Kids' Research Lab, and interesting workshops. Nicole Grüneis, director of Ars Electronica's Education and Cultural Outreach department, tells us more in this interview.
Museum Total 2018 kicks off an evening earlier than in previous years with a very special opening event…
Nicole Grüneis: Museum Total is celebrating its 5th anniversary this year so we're holding a sort of birthday party the evening before the actual program starts. Representatives of all participating cultural institutions will be gathering in Deep Space 8K to give a preview of their respective programs. The great part about this is that you can get a complete overview of the lineups in all nine institutions over the four days. And it's an example of something else I really like about Museum Total—that the cultural scene in Linz is an alliance and not so much a matter of competition. It's a friendly, cooperative, congenial association. Especially when you consider the current political situation, the initiative recently launched to rescue this region's cultural landscape, and the precarious state of our cultural institutions—strength through cooperation is the only possibility!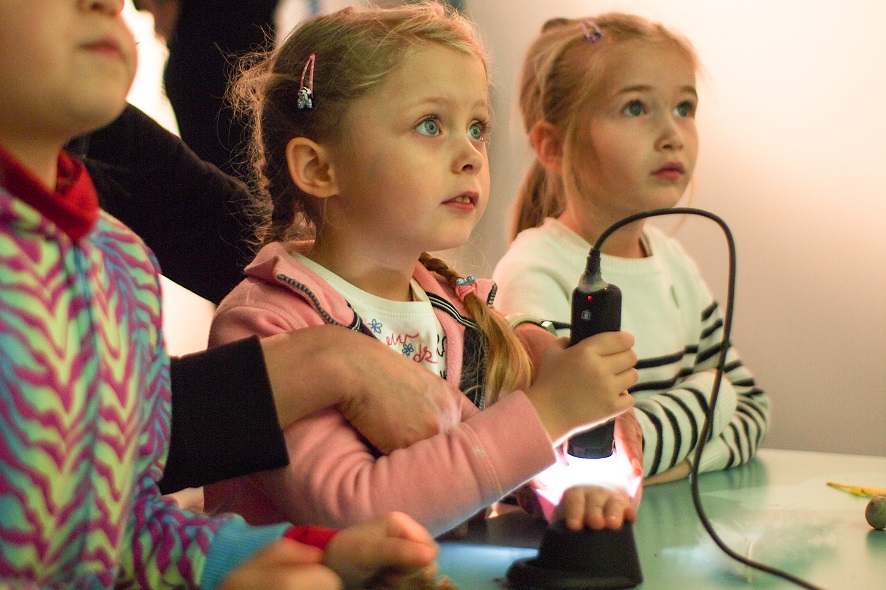 Kid's Research Laboratory. Credit: Martin Hieslmair
What awaits us in the Ars Electronica Center over the subsequent four days?
Nicole Grüneis: The Kids' Research Lab will be open and staffed on all four days. We'll also offer a special program with, for example, a behind-the-scenes tour. Here we'll not only be showing what the Ars Electronica Center's LED façade can do; we'll also provide some background: Where do the cables run? What does the server room look like? We'll literally walk through the façade and get a glimpse behind the curtain. We also have a special program lined up in Deep Space 8K, where the accent will be on astronomy.
Throughout Museum Total's run, we'll be staging Family Days with an "On to Mars!" theme, which dovetails nicely with the discussions we're hosting in conjunction with the ÖWF–Austrian Space Forum's simulated Mars mission in Oman. And this also provides the theme for our program especially for kids in Deep Space, "Playground Milky Way," in which young astronauts can travel virtually through outer space and to our neighboring planet, Mars, and thereby bring their bodies and movements into play to save the world from an attack by aliens.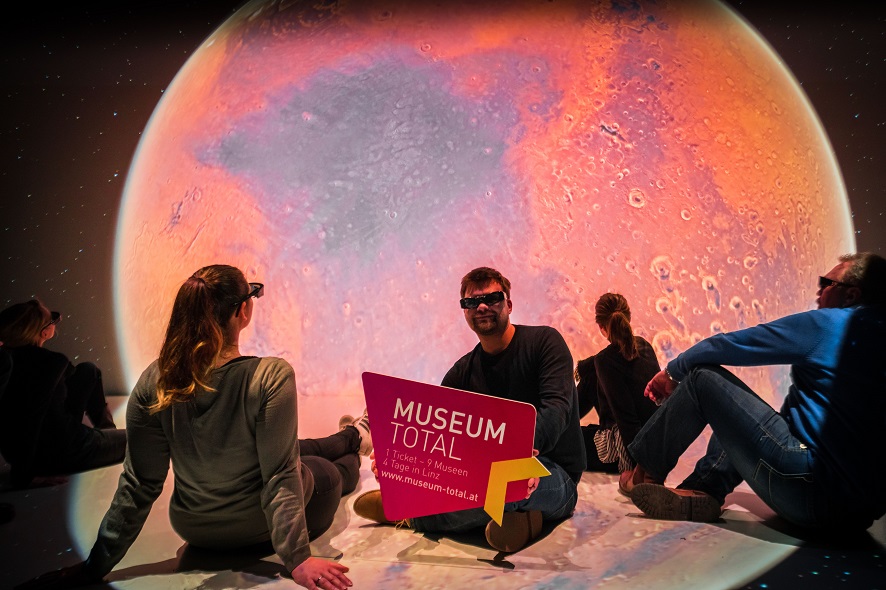 Credit: Robert Bauernhansl
A few workshops are also planned…
Nicole Grüneis: Yes indeed, there are also space-travel-themed workshops. For example, we're offering an "It's (Not Exactly) Rocket Science" workshop from our school program, in which kids can test which materials are required in outer space, learn how spaceships and satellites are actually built, and which materials they're made up of. Another workshop is entitled "On the Trail of the Men from Mars" in which the big question is where we human beings could resettle if we destroy our own planet. So, where could humankind survive in such a huge cosmos? Where can life develop? Where could a Genesis or evolution occur like they did on Earth? Many scientists suggest Mars because the climatic conditions seem to be similar to those prevailing on Earth. In this workshop, participants will investigate this question by performing a couple of experiments.
On Tuesday evening during Museum Total, there'll be a Deep Space LIVE entitled "Linz during the Time of Kepler." What's that all about?
Nicole Grüneis: Maria Altrichter of the Municipal Archive will shed some light on Linz when it was the hometown of Johannes Kepler—that is, in the early 17th century. This was by no means a peaceful time; the Counter-Reformation was in full swing and Peasant Wars were raging. She'll elaborate on this epoch to provide an idea about the conditions amidst which Johannes Kepler lived.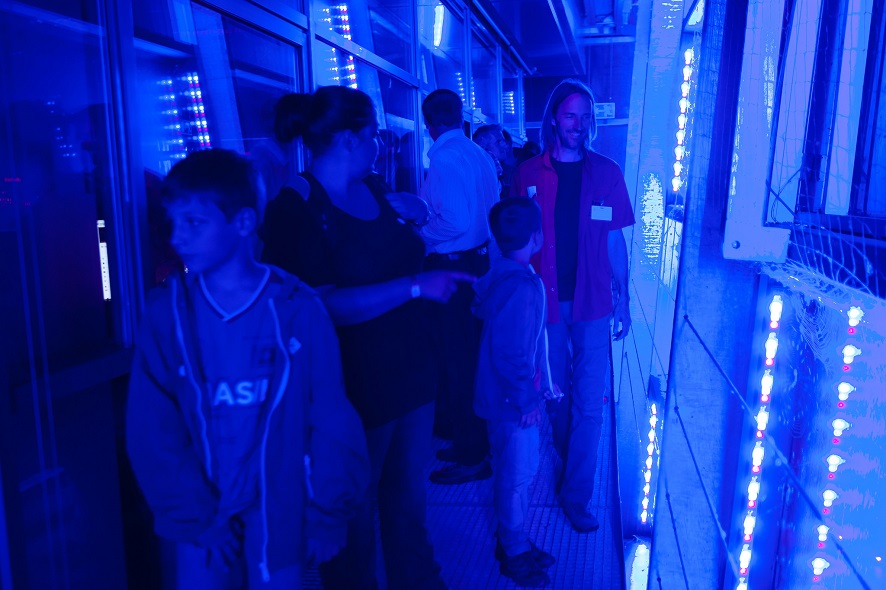 Credit: Florian Voggeneder
Describe Museum Total's target audience.
Nicole Grüneis: Basically, it's a family-oriented program with activities for visitors of all ages. We offer Family Tours of the Center, which stages an inter-generational program. In the workshops too, parent are encouraged to accompany their children and work & play together with them. And the other museums will also be offering activities—from children's workshops to guided tours—that grown-ups are cordially invited to attend.
What's your own personal highlight at Museum Total?
Nicole Grüneis: I find the entire program extremely interesting, but for me, the highlight is the ease of access to all these institutions. That's not really an item on the schedule of activities; I simply like the idea that you can visit nine museums over the course of four days. It's not like at other events when you're really in a hurry to see as much as you can in a very short while. Here you have lots of time over the course of four days, and thus a real opportunity to take full advantage of the program. So, an all-in-one offer that provides sufficient time to enjoy it all—for me, that's the highlight of Museum Total.
Nicole Grüneis is head of the Education & Cultural Mediation Department at the Ars Electronica Center. She is responsible for the development of exhibition content and the conceptualization of the museum program. She has been working at the Museum of the Future since its re-opening in 2009, where she gained some first insights in the active art and culture mediation of the Ars Electronica Center. Her career goal, to help as many people as possible to think outside the box, is also at the center of her studies. With the individual curriculum in "Psychology and Art", Nicole has enabled a trans-disciplinary approach to cultural Production.
Museum Total in Linz is set for February 22-25, 2018. The complete program at the Ars Electronica Center and the eight other participating museums is available here.
To learn more about Ars Electronica, follow us on Facebook, Twitter, Instagram et al., subscribe to our newsletter, and check us out online at https://ars.electronica.art/news/en/.