12 festival locations, more than 500 events, a broad spectrum of exhibitions, open labs, workshops, performances, theater, conferences and much, much more …. With so many options on the Ars Electronica Festival program, it's tough to make choices. So, whoever wants to start with a general overview or go into great detail on a selected topic with an expert in precisely that field is best off joining a group. WE GUIDE YOU provides the guidance you need September 6-10, 2018 at the Ars Electronica Festival—Spotlight Tours for an initial impression, Expert Tours to focus intensively on specific topics, and free-of-charge Community Parcours in 11 foreign languages.
Sonja Schachinger, manager of the Ars Electronica Festival's approaches to mediating visitors' encounters with the program, told us about the tours' contents in this interview.
The Ars Electronica Festival encompasses 500+ events, there are several exhibitions, many open labs and workshops, and a seemingly endless assortment of presentations to discover. How do you guide visitors through such an extensive festival?
Sonja Schachinger: This year, we provide an initial overview with the Spotlight Tours. In selecting the guides, we emphasized recruiting people who have a background in art & culture education and can effectively get across the festival's various themes. The main themes, in turn, are the subjects of the respective Expert Tours that are more specific and thus can go into greater detail. Our Spotlight Tour guides take various routes through POSTCITY Linz and thus explore the festival from different angles. When you take a Spotlight Tour, you never know in advance what the itinerary is going to be because each tour is different. So, when you book two tours, each with a different guide, you'll have a different experience each time! The group doesn't stop at individual works; the focus is on the big picture. In this way, you get an excellent initial overview and you also get a feeling for the entire festival grounds in POSTCITY Linz, including the roof garden (which otherwise charges admission) and the basement spaces that are the sites of the theme exhibition. If you're a first-time visitor to the festival or need a basic introduction to media art, then a Spotlight Tour is just the thing for you!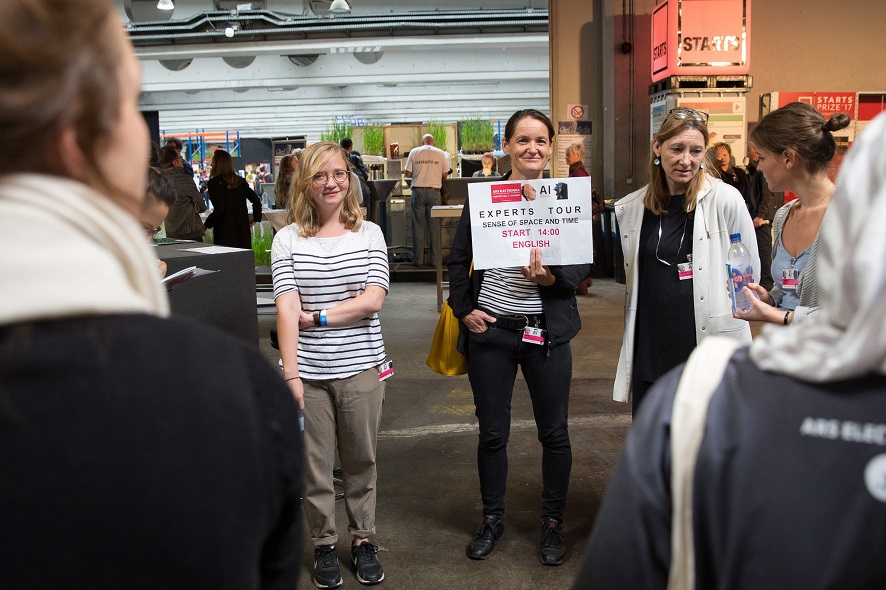 Credit: Tom Mesic
You also mentioned Expert Tours. What do you have lined up here?
Sonja Schachinger: This year, each of the Ars Electronica project managers will give an Expert Tour about their particular field! And that means that you really get solid background information. How was a work of art set up in POSTCITY? How is something like this even done? This is definitely of interest to curators, museum staffers, experts who, perhaps themselves, work on larger or smaller projects, and anyone who'd like to take a tour that really goes into depth. You engage in a dialog with men and women who've worked long and hard on an exhibition. And a profound encounter like this just isn't possible with a Spotlight Tour.
We're offering 18 Expert Tours. In addition to our project managers, we've invited outside experts in several fields. Ars Electronica project manager Florina Costamoling and Christiane Luible-Bär, director of Linz Art University's Fashion & Technology program, will conduct the tour of the STARTS projects. Journalist Ariana Dongus, one of the Theme Conference speakers, will lead a tour entitled "Who decides what the norm is?" taking in various festival features pertaining to this topic. Her work deals with migration, the Near East Conflict and Digital Divides, so this tour may well draw upon her conference remarks or some of the other issues she's involved in. Xin Liu of the MIT Media Lab will give a tour entitled "Art & Space – Humanity in Space" that will also undoubtedly go into how humankind can develop both socially and in response to technological challenges.
"ERROR – The Mutation of Botanic Intelligence" has to do with mistakes as the driving forces of evolution. And in "The Imperfection of Humanity," artists Isaac Monté and Susana Ballesteros will elaborate on how humankind could be—or is already being—transformed. And those are just a few examples!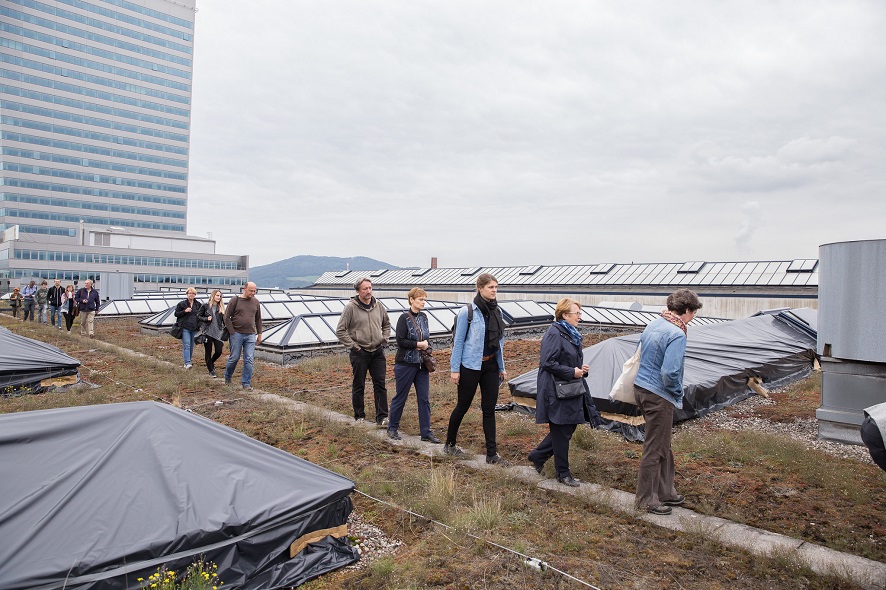 Credit: Florian Voggeneder
WE GUIDE YOU's third category is Community Parcours. What can festivalgoers look forward to?
Sonja Schachinger: Community Parcours are tours offered free of charge and given in the foreign languages most commonly spoken in Linz so that people who aren't fluent in German or English can experience the festival too. We're up to 11 languages this year, and we also have an Inclusive Parcours for which we're bringing in a trained pedagogue and a certified educator in art & culture. Unfortunately, POSTCITY Linz isn't 100% barrier-free, since it's actually a decommissioned postal service logistics facility. Now, we're delighted to be able to stage the festival in this building, but it just wasn't designed for this purpose—the bunker structures aren't barrier-free and, due to safety regulations, we're not allowed to build ramps all over. But we're doing what we can, and the Inclusion Tour is a way to assure that all of our visitors can see as much of the festival as possible. Maybe our guide will bring additional media into play to deliver an even better experience of the exhibitions.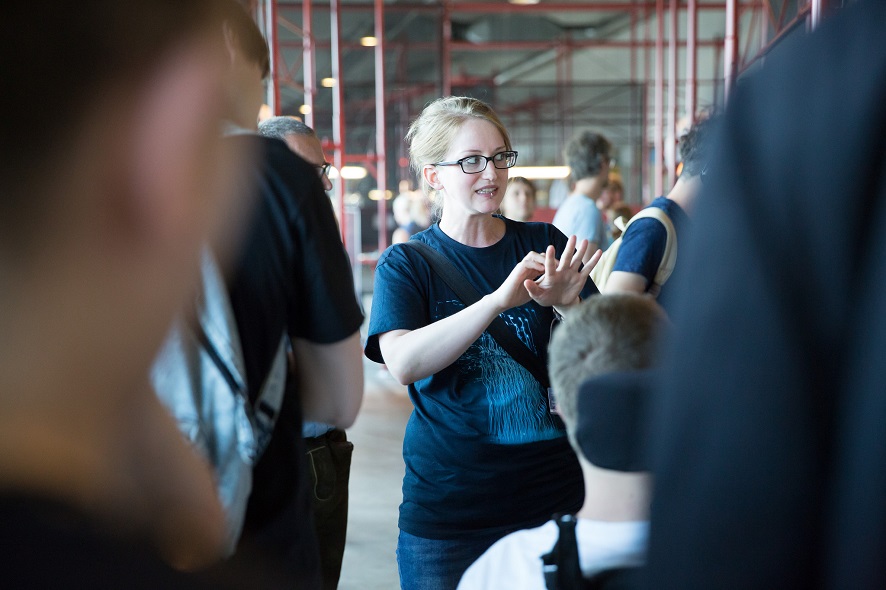 Credit: Tom Mesic
What are your personal recommendations for festivalgoers?
Sonja Schachinger: If this is your first time at the festival, I advise you to visit our website and get an initial overview. The festival is really huge and you shouldn't come with the idea that you can drop in at 5 o'clock and take it all in by 7. What invariably happens is that going on a tour motivates you to discover lots more! Another good idea is to take a tour at the end of the day to review what you've already explored alone and to discuss it together with a group. You definitely need five days to see the entire festival, which, of course, isn't just limited to POSTCITY Linz; there are more venues throughout the city. And even then, you won't have seen every single thing! But for a first impression, a Spotlight Tour is definitely the way to go. Start off by reconnoitering the interior of POSTCITY. But to discover every nook & cranny in the bunker, you're in good hands with a guide.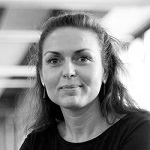 Sonja Schachinger has many years of experience working with international exhibitions at the Frankfurt Trade Fair. She completed her postgraduate studies in Media Art Histories at Danube University Krems' Department for Image Science. She previously worked on the BIO-FICTION Festival and was a member of the production organization of Biofaction KG's synth-ethic exhibition. She's on the art education team of Kunstmeile Krems and is actively involved in Mauthausen Committee Austria's denkmalwien cultural education project.
Full details and an overview of all WE GUIDE YOU Tours—the Spotlight Tours, the various Expert Tours and the free-of-charge Community Parcours—are on our website.
To learn more about Ars Electronica, follow us on Facebook, Twitter, Instagram et al., subscribe to our newsletter, and check us out online at https://ars.electronica.art/news/en/.