On Stadtkai in downtown Leoben, there's a very unique bench—one that's a skilled conversationalist. When one of several available stones in placed on its built-in scale, the bench begins to tell stories to its audience or serenade them with songs. The playback depends on the weight of the stone; as a whole, the selection of audio samples provides an oral history of the City of Leoben.
This Plauderbank—the chat bench's official name—is just one of the projects that Ars Electronica Solutions implemented for Kunsthalle Leoben. In this interview, Susanne Leitner-Böchzelt, director of Kunsthalle Leoben, and Ina Badics, Ars Electronica Solutions' project manager, told us more about their collaboration and the installations that emerged from it.
How did Ars Electronica Solutions come to implement several projects for Kunsthalle Leoben?
Susanne Leitner-Böchzelt: We first got in contact four years ago, when we paid a visit to see for ourselves the interesting things that are happening in Linz. Once, we attended the Ars Electronica Festival and were impressed by what was going on in the big, wide world. Then, we decided that we definitely wanted to go in this direction too.
Kunsthalle Leoben opened in 2004—and this can be seen as indicative of the desire to enhance the city, to create new attractions. It was also important for us to make a statement in the public sphere, and to make the inner city more attractive. So we formed a small working group and gave some thought to what we would like. Then Ars Electronica Solutions came up with these ideas, which we could implement within the framework of a project.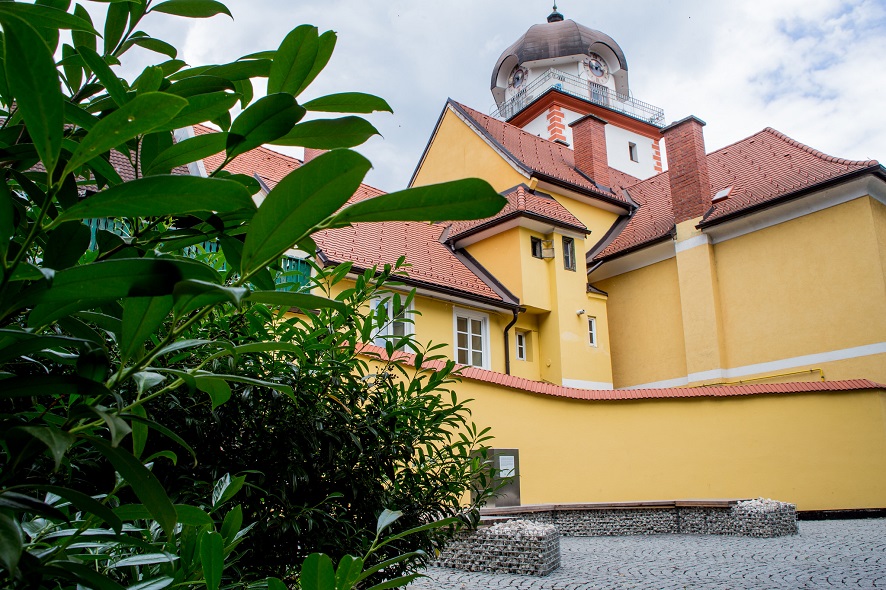 Credit: Vanessa Graf
What are those exactly?
Ina Badics: One of them is the Plauderbank, a bench on Stadtkai in the heart of downtown. The essential idea is that the bench tells stories about Leoben, but also that people can tell their own stories that played out here. On the bench is a scale on which you can place a stone, the weight of which determines which story is told. Plus, people can come to Kunsthalle Leoben and use an audio station there to record their own story that can then be played on the Plauderbank for all to hear. Another installation is the GeoPulse Space in which you can discover and explore Leoben. Users see the major sights, churches and hiking paths round about Leoben in digital form. Finally, there's the Gigapixel that shows the city right up close and lets you zoom in on every attraction. Certain major sights are also highlighted so you can click on them and get detailed info. The stories recorded at the audio installation can also be played back in this space.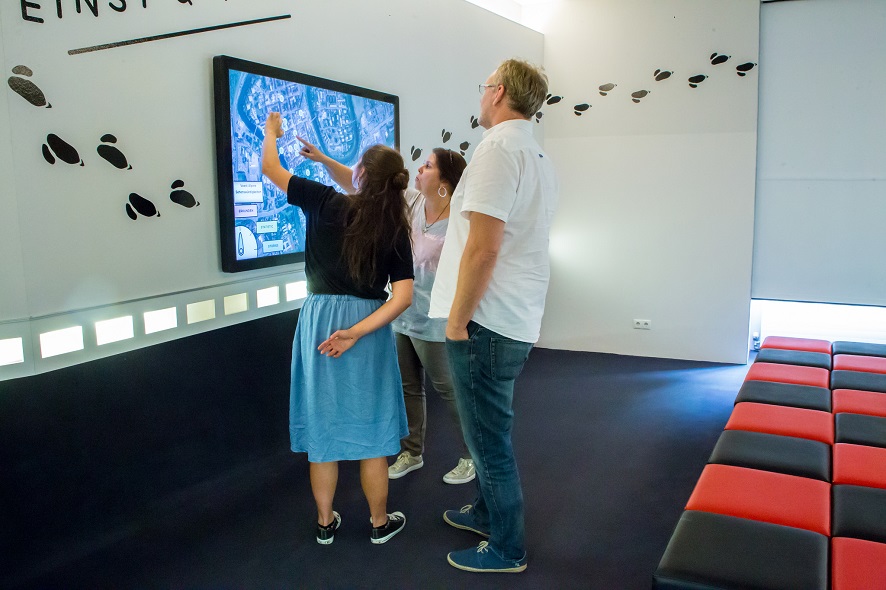 Credit: Vanessa Graf
Susanne Leitner-Böchzelt: Of utmost importance for us was to create a link between outside and inside, and to portray not only the past but the present as well. Another aspect of the Plauderbank's mission is to bring in a bit of oral history. During the planning phase, we talked to a lot of people in Leoben and recorded their accounts. They talked about the last 50 or 60 years, a timeframe from which there are no objects in the museum, just these stories. And these accounts will be lost if we don't talk to the people now. It was important for us, on one hand, to present these narratives to the populace, but, on the other hand, we also want to prompt them to tell their own stories. On the Plauderbank, people can also hear old tunes, miners' songs and various other things.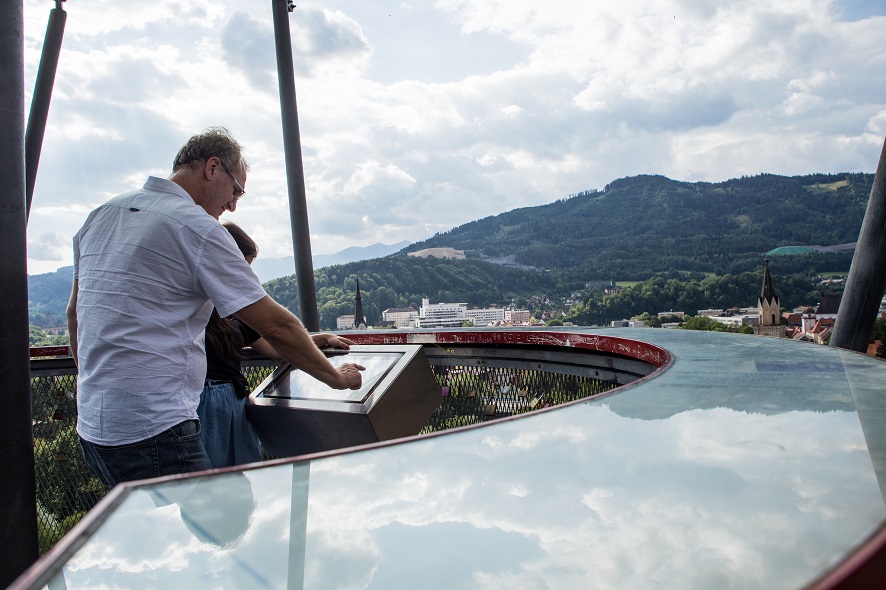 Credit: Vanessa Graf
How do the implemented projects build a bridge between Kunsthalle and the City of Leoben?
Ina Badics: As I mentioned, installations were not only set up inside Kunsthalle Leoben; there are also outdoor installations that call attention to this facility. The Plauderbank, for example—its location on Stadtkai in the heart of downtown Leoben makes it ideally suited to serve as a meeting place and a setting for encounters. People on the bench can hear tales of Leoben, and they're also cordially invited to come to Kunsthalle and record their own stories. Once they've done so, their account is available to others who visit the Plauderbank. In this way, everyone can be part of Leoben's history!
And how do you do this in a way that such high-tech projects don't come across as foreign bodies in this small city in the mountains?
Ina Badics: In going about this, it's always important to have a specific local focus. The Plauderbank, for instance, was developed especially for a city like Leoben. And the wonderful thing about it is that the technology is so great that it's unobtrusive. The interaction occurs manually with little stones. When you place one on the scale, stories about Leoben are played back—the weight of the particular stone determines which one. Also the materials that play a role in the bench's form—stones, wood and iron—reflect Leoben's physical surroundings.
Credit: Vanessa Graf
Have you already gotten reactions to the installations?
Susanne Leitner-Böchzelt: Yes, and they've been very positive! What would please me even more would be for the people to get more active. In the initial phase, we simply attempted to make certain parts of town more attractive. The spot where the Plauderbank is situated is, after all, not one that immediately suggests itself as a prime location, but it has nevertheless turned into a gathering place—a nice spot to enjoy some ice cream, for instance. Maßenburg, a fortress with an observation platform, is the setting for the second part of the Gigapixels project that lets people conveniently see all the interesting things to discover around town. And the GeoPulse Space adds a contemporary element to the museum. It encourages people to take a modern approach to exploring the city. And it's the primary gateway to the museum—when people are done with their tour, perhaps they say: Let's take a look inside; maybe there's more cool stuff in there!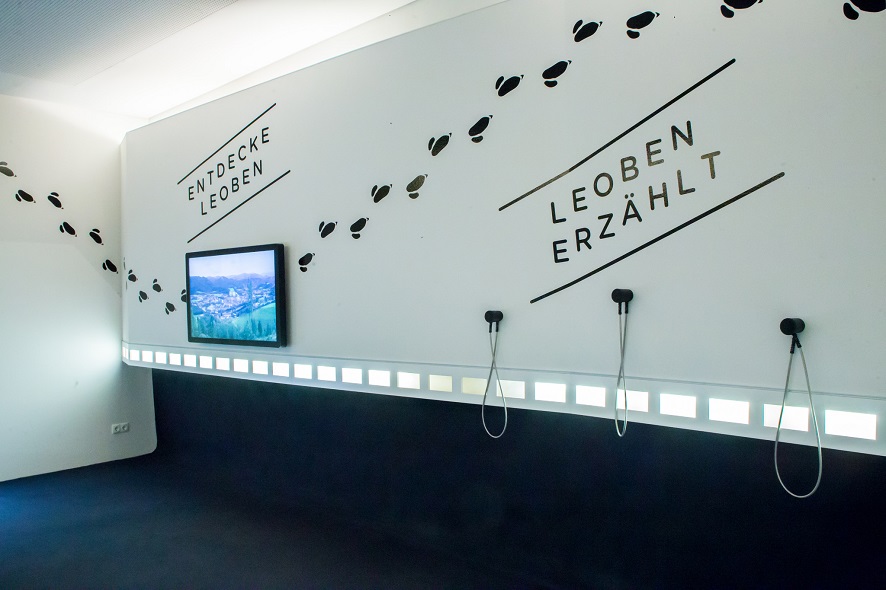 Credit: Vanessa Graf
Susanne Leitner-Böchzelt: It was easygoing and pleasant, I must say. The relationship went quite well right from the start, and I hope it stays that way with whatever comes up in the future. I mean, certain things from Ars Electronica are prototypes, so for this reason it's not always simple for us and probably not for Ars Electronica either.
Susanne Leitner-Böchzelt: This was important for us. We opened the museum in 2004, though it might not look that old. We want to repeatedly give the local population various forms of enticement to visit the museum. Whether they're exhibitions or other sorts of actions or attractions, you simply have to do this.
Ars Electronica Solutions' installations are on display in Kunsthalle Leoben and at several locations throughout the Leoben cityscape.
To learn more about Ars Electronica, follow us on Facebook, Twitter, Instagram et al., subscribe to our newsletter, and check us out online at https://ars.electronica.art/news/en/.