Create your own compass, envision the future: That's the aim of the new Art Thinking School, taking place for the first time at the 2019 Ars Electronica Festival (September 5 – 9) in Linz, Austria. Building on Ars Electonica's 40 years of in-depth experience with Art Thinking, the new initiative will guide visitors through the sprawling festival with an Art Thinking attitude, as well as give them enough space and time to think about the inputs, questions, and inspiration they have found on the way.
We sat down with Hideaki Ogawa, initiator of the Art Thinking School and key researcher at the Ars Electronica Futurelab, as well as Carla Zamora, project manager at the Ars Electronica Festival, to find out more about the new initiative – and how to participate in it.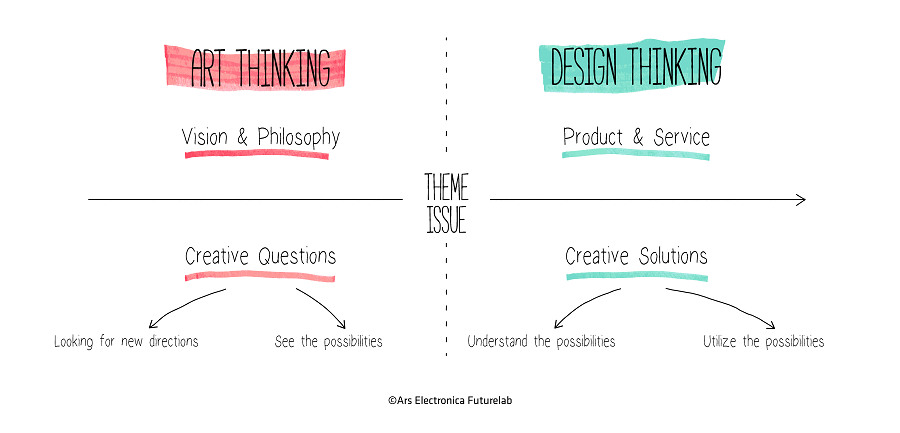 Credit: Ars Electronica Futurelab
The Art Thinking School is new at the Ars Electronica Festival – why was it created?
Hideaki Ogawa: The Art Thinking School is a new initiative of Ars Electronica to open the discussion of the role of art and also apply art to different domains, such as Art and Science, Art and Society, or Art and Education. We are showcasing many projects at the festival that create new encounters between art and different sectors; the Art Thinking School highlights them. Why we create this now is of course because our festival theme this year is "Out of the Box" – we are not talking about Art inside the normal frame here. We want to use art to foster dialogue and emotions. Art can be very effective in helping to create your own compass and envision the future. As Ars Electronica, we have been doing this for 40 years now: Art Thinking is our foundation.
40 years is a long time – how has this changed over the years?
Hideaki Ogawa: Art, Technology and Society has always been our main focus. We have been looking at how the digital revolution has shaped and is still shaping our society for the past four decades now. Our driving force was and is art, as a catalyst for shaping a better society, but of course this has changed over the years. What was the role of art 40 years ago? What was the role of art 20 years ago? And what is the role of art today, in 2019? We have been working on creating a discussion environment for exactly this question, and the answer is always different because of technological and societal changes.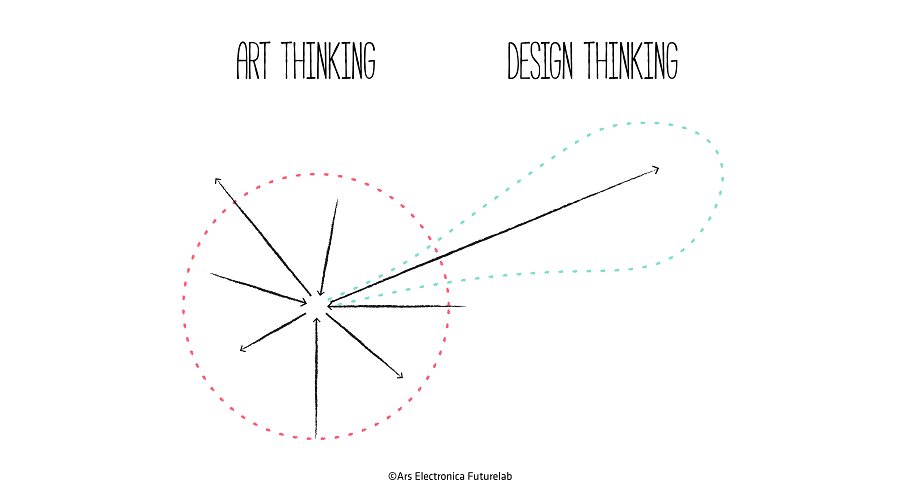 Credit: Ars Electronica Futurelab
How is the Art Thinking approach different to the more commonly known Design Thinking?
Hideaki Ogawa: Design Thinking is effective for creating and shaping creative solutions for the future. On the other hand, art is effective for observing the many possibilities and issues from a 360-degree-perspective. Design is a solution to shape a service or product, it is like a direction. Art is a compass. Quite often, we tend to forget the fundamental question: What is the design for? What is the direction for? And this is where Art Thinking comes in. We are discussing fundamental, essential questions as a starting point for tomorrow. We need to create a compass for where we are standing, and we need to look at which possibilities we have to move forward. Art Thinking is not a methodology, but an attitude – it helps to open up our senses like artists. We want to see society in different ways, and Art Thinking allows us to have our own compass, to see society from a critical perspective, in different ways. Art Thinking and Design Thinking are different forces, but the most important part is how to connect them. We don't just need a direction and we don't just need a compass – we need both.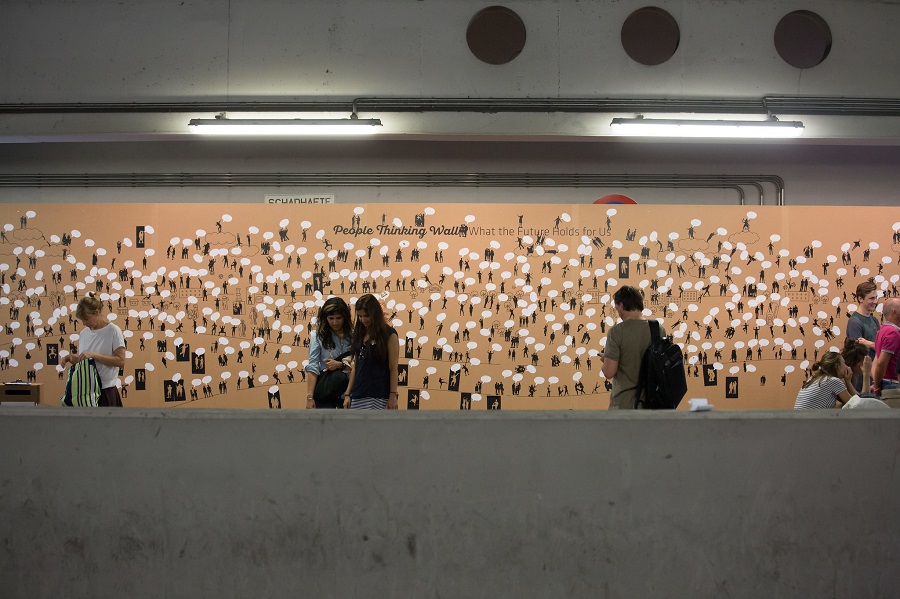 Credit: Tom Mesic
So how will visitors be able to create their own compass at the Ars Electronica Festival this year?
Carla Zamora: At the festival, we are, for the first time, hosting an Art Thinking School – a physical place at the Ground Floor of POSTCITY Linz. We began this line of thinking with the Future Innovators Summit (FIS), an Art Thinking workshop which was initiated in 2014 and is now taking place for the 6th time already. We felt it needed a frame, a physical place to reflect its importance as the only discussion workshop within the Ars Electronica Festival . The Art Thinking School which is now introduced will be the umbrella for the FIS on the one hand, but also be completed with more program points. The Art Thinking School is a physical place for ideas, a laboratory for questioning.
The FIS will be represented, but there will also be a People's Thinking Lab by our partner Hakuhodo , in which they are working on ways to find creative questions and ideas with visitors. It is almost like an ideation lab. In total, the Art Thinking School will provide space and room to think. We want to give our FIS innovators and also festival visitors time and space to discuss important questions.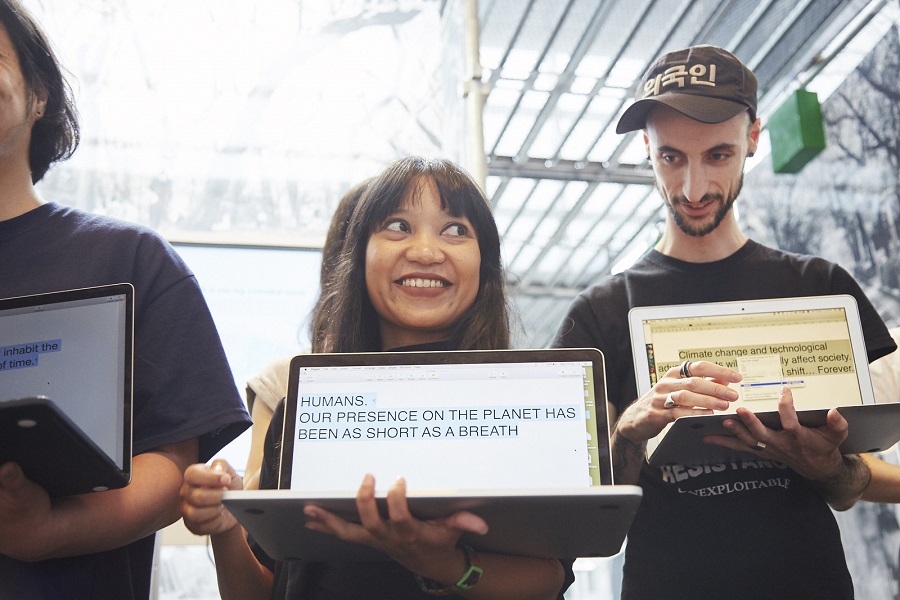 Future Innovators Summit Tokyo, 2018. Credit: Tsukuru Ozaki / Ars Electronica Tokyo Initiative
The Future Innovators Summit is a program that you have to apply for, whereas the Art Thinking School will be open to all festivalgoers. How can visitors take part?
Carla Zamora: We are preparing Art Thinking School tours, which are suggestions how to experience the festival. We are focusing on five topics, which I would say are amongst the core topics of Ars Electronica: Society, City, Education, Science, and Industry. For each of the topics, we find artistic projects and create a compass tour, so to speak. Visitors can follow this tour and find their very own creative questions, they can explore what Art Thinking means for them and how they could apply it in everyday life.
Additionally, since the Future Innovators Summit is an open workshop, visitors can always pass by during the discussions on Friday and Saturday to listen in. There will also be two workshops in which we really focus on finding creative questions, where we also invite visitors to take part. On Saturday, we will host a Future Scenarios workshop, where we are looking for speculative answers or corresponding scenarios to the creative questions our Future Innovators come up with.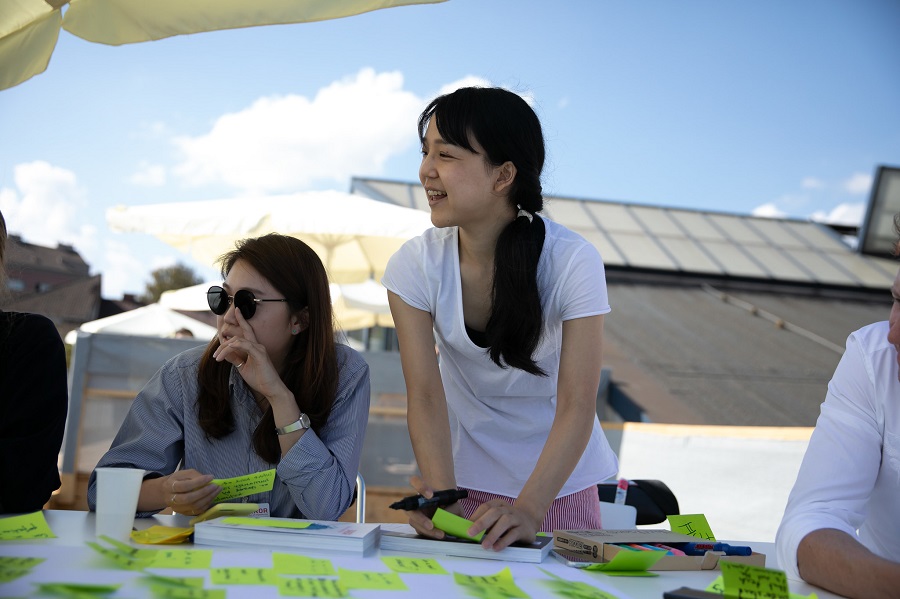 Future Innovators Summit, Ars Electronica Festival 2019. Credit: vog.photo
Hideaki Ogawa: Within these scenarios, you will still find hints of the creative questions. Our three FIS groups this year, Future Trust, Future Body and Future Humanity, will present the scenarios and their creative questions on Sunday. This year, under the umbrella of the Art Thinking School, visitors can really access these discussions and findings. It is a new type of classroom, so to say.
The Art Thinking School environment itself will be full of questions. Visitors can put up their own creative questions in a Question Room, where cardboard models of question marks will be displayed. Together with the People's Thinking Lab and the rest of the program, the Art Thinking School will really occupy a unique position within the Festival, offering room for thought.
What is the creative question that makes you think the most at the moment?
Hideaki Ogawa: For me, it is a question from one of the past Future Innovator Summits: How can we become more human?
Carla Zamora: For me, it is also one of the previous creative questions which I think has become my agenda for everything I do now: How can we trigger inborn curiosity?
These are some good questions.
Hideaki Ogawa: And isn't it interesting how we can appreciate this fact? We really appreciate good questions. We are also very happy to get the feedback "Good question"!  And still this is something that is not taught in the traditional school system. In all of the tests we did in school, did we ever create our own questions? We are not taught how to question, we only learn how to answer. It is a missing skill. But for surviving or being resilient for tomorrow, we need to learn curiosity, we need to learn how to question, and we need a compass to find the right direction. If not, I think it's very hard to survive in this complicated world.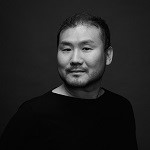 Hideaki Ogawa, Creative Catalyst, Artist, Curator and Key Researcher at Ars Electronica Futurelab. He has realized many projects for innovation with industries such as Honda R&D, Toshiba, Toyota and Hakuhodo etc. Specially, his focus is about Art Thinking to catalyze innovation. His leading project, Future Catalysts, is a creative and innovation base jointly-developed by Hakuhodo and Ars Electronica. Through "synergy" with distinctive worldwide innovators in the fields of art, science, and technology, the project produces new concepts, ideas, and strategies that serve as answers to various "creative questions". In addition to the artistic innovation research, Hideaki Ogawa has realized international projects for festivals, export programs like Ars Electronica in the Knowledge Capital and the Ars Electronica Center. His special theme is about "Creative Catalyst" and "Robotinitiy – what is the nature of being a robot". Hideaki Ogawa is also a representative and artistic director of the media artist group "h.o.". He searches for witty new ideas depending on current social contexts, and is realizing artistic expressions with the speed of technological progress.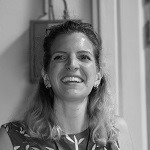 Carla Zamora has a background in music and documentary film. She sees herself as a cultural worker and has been 'project managing' at Ars Electronica for four years, mainly focusing on the workshop Future Innovators Summit during the festival, and international exhibitions within the Ars Electronica Export department during the year.
The Art Thinking School will take place at the 2019 Ars Electronica Festival, September 5 – 9, at POSTCITY Linz. You can find out more about the Future Innovators Summit here, or check out the festival program for more information and the complete schedule for the accompanying Art Thinking School activities. To learn more about Ars Electronica, follow us on Facebook, Twitter, Instagram et al., subscribe to our newsletter, and check us out online at https://ars.electronica.art/news/en/.