You love new technologies, are interested in artificial intelligence but still critical of it, would like to know where you can exchange ideas with like-minded people at the festival and have always wanted to take part in a hackathon? Then here we have the best festival tips for techies and gamers for you!
This year again, the Ars Electronica Futurelab and its partners in the "Open Futurelab" will be showing what projects and initiatives have emerged in recent months as a result of collaboration between industry, education, art and research. The Ars Electronica's research and development engine sees itself as a studio and laboratory at the same time – the exhibits, lectures and performances presented at the Ars Electronica Festival illustrate exactly what this means.
Above all, SwarmOS Research Demo: Swarm Arena is interesting for you techies: This is the latest result of joint research work by the Ars Electronica Futurelab and the Japanese telecommunications giant NTT. The collaboration began in 2017 with the goal of using unmanned aerial vehicles and ground vehicles (UAVs and UGVs) as means of communication. While the first project, Sky Compass, and the subsequent Swarm Compassproject were mainly focused on navigation, public signage, traffic facilitation and swarm intelligence, the Swarm Arena is now shifting the research question to a completely new audience experience at sports events. The festival demonstration gives an insight into the possibilities this new technology offers through a physical demonstration with drones and ground robots equipped with displays. This combination enables the creation of a new medium of artistic expression that is not bound to any screen, but seamlessly stretches from the earth to the sky.
The "BR41N.IO Hackathon" by g.tec neurotechnology has already become a focal point of the festival for hackers and those who still want to become hackers. It deals with prototypical applications for interfaces between the human brain and the computer, for Brain-Computer-Interfaces (BCI). The participating teams of developers, technologists, engineers, students, artists and scientists have exactly 24 hours, from Saturday of the festival to Sunday, to develop concrete solutions. The aim is to explore the potential of BCI and to break new ground. The Austrian company g.tec neurotechnology itself will demonstrate the enormous potential of this technology: With the system "recoveriX" one already achieves great success in the field of stroke therapy, with the system "mindBEAGLE" one works on communication with coma patients. Both can also be seen in the new Ars Electronica Center.
Also in the STARTS and Art & Science area in the POSTCITY there is a lot to discover for technology enthusiasts with free admission. The initiative S+T+ARTS = STARTS is a programme of the European Commission to promote synergies between art and technology in order to support innovations in industry and society. It is precisely at this interface that the exhibited projects are located.
Take for example Project Alias, winner of the STARTS Prize 2019: Alias is an adaptive "parasite" designed to give users more control over their intelligent assistants, both in terms of individualisation and privacy. Using a simple app, users can train Alias to respond to a user-defined wake-up word. Alias can then take control of the Home Assistant by activating it for you. As long as the Wake Word is not used, Alias interrupts the assistant's microphones, ensuring that the assistant is "paralyzed" and cannot listen.
This allows Alias to act as a middleman, designed to take possession of and control voice-activated devices. Equipped with speakers and a microphone, Alias is able to communicate with the Home Assistant and manipulate him as soon as he is placed on it.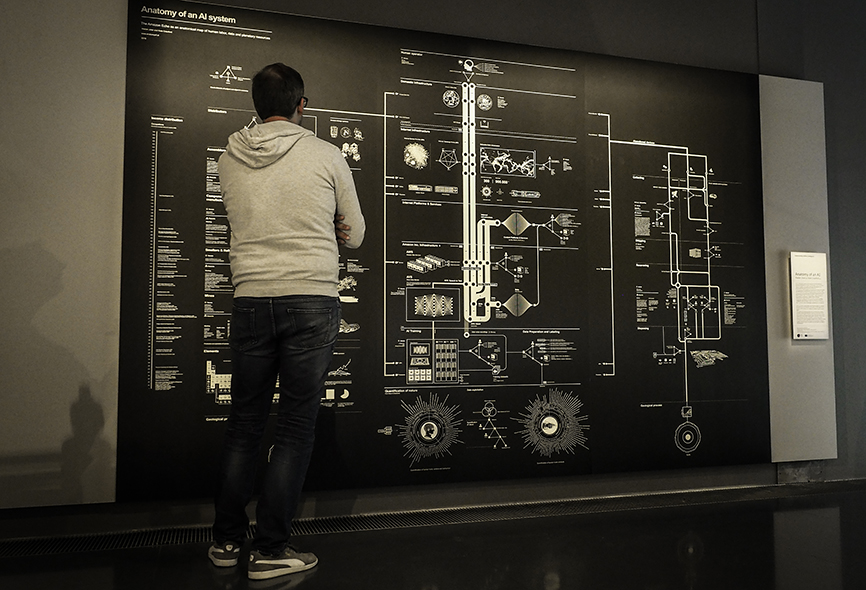 Anatomy of an AI, which is part of the European ARTificial Intelligence Lab at the Ars Electronica Center, deals with a similar topic. Using Amazon Echo as an example, Anatomy of an AI shows the countless components and factors behind the production of artificially intelligent systems. However, this process is so complex that its full extent can hardly be understood at present.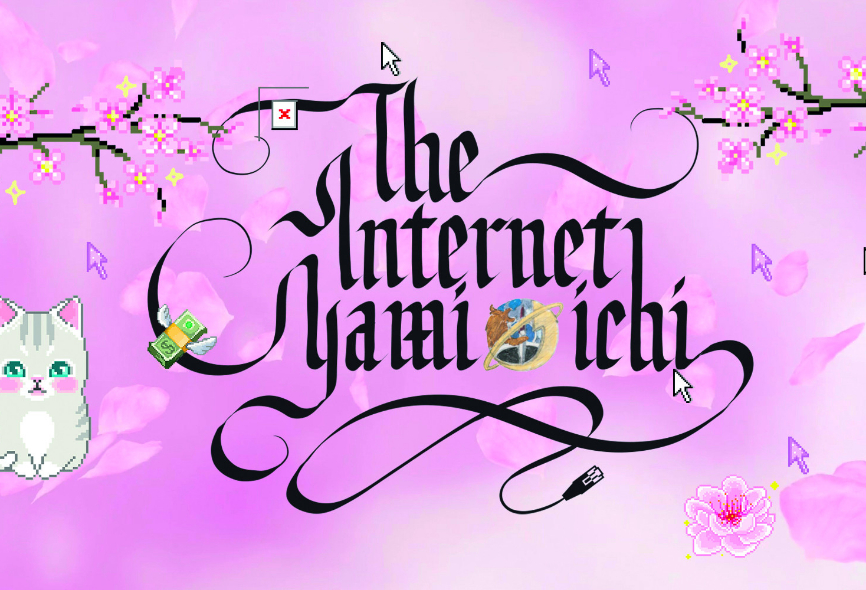 From meme-cookies, bracelets made of hard drive cables to 3-D prints of your own chessmen collection to scratch cards that promise a prize of 25,000 Twitter followers; such treasures can be found at Internet-Yami-Ichis, humorous, quirky flea markets for Internet-related things. The Internet Yami-Ichi, a Japanese term ("Internet black market"), is a flea market where people can share and buy Internet-related things in real life. In this quirky market, visitors can browse through the stalls and find both the amazing and the useless – in an ironic and humorous atmosphere reminiscent of the early Internet era. The Internet Yami-Ichi was created by the art collective IDPW, which first took place in Tokyo in 2012. Since then, it has organized many editions in various cities, including New York, Seoul, Moscow, Madrid, Berlin, and others.
Every Thursday from 17 to 21 o'clock live streaming takes place in the FM4 Spielekammerl. Sometimes the Spielekammerl also goes on tour and streams live from the Ars Electronica Festival, for example. The FM4 video game team constantly plays various games – current and classic – and conducts interviews with guests from various fields. Video games and video game culture are the main focus, but it doesn't stop there. Communication, entertainment and a relaxed atmosphere are at the forefront of the FM4 games room.
This wasn't enough and you are looking for more events and exhibitions? You can find the whole program on our website.
To learn more about Ars Electronica, follow us on Facebook, Twitter, Instagram et al., subscribe to our newsletter, and check us out online at https://ars.electronica.art/news/en/.