The Prix Ars Electronica's u19 – create your world category sees itself as a talent development platform. In two subcategories, the ideas and projects of Young Creatives, i.e. young people up to the age of 14, and Young Professionals, young people up to the age of 19, are rewarded with a total of 7,000 euros in prize money. In addition, there is the MIC Special Prize worth 1,000 euros, sponsored by MIC – managing international customs & trade compliance – an award for innovative ideas and projects in the fields of IT, programming, game design, web and internet. The YOUNG PROFESSIONALS also have the chance to take home the Golden Nica, the winning statuette of the electronic arts. These following five young artists, inventors and filmmakers already own one in their cupboard and who knows, maybe it is exactly YOU who will be next?
Golden Nica 2019: JUNGLE / Alex Lazarov
"JUNGLE" is a web series in five episodes – to be seen on Youtube – which describes the last day of summer in the lives of various teenagers in Vienna. There are no boundaries between genres and stylistic influences. Sequences that seem like rap music videos, surreal dream scenes underlaid with orthodox choral sounds, found-footage thrillers and coming-of-age films of the 1980s: all this and more is formed in the web series into a complete work in which Alex Lazarov and his team saw an opportunity to try out as many new things as possible without trying to be perfect. "How scrolling through the Instagram feed" is how the movie should feel, he told us in the interview. Alex Lazarov, then 19 years old, a young creative filmmaker and YouTuber from Vienna, received the Golden Nica in the u19 – create your world category of the Prix Ars Electronica in 2019 for JUNGLE.
"Alexander Lazarov convinced us all with his coming-of-age series JUNGLE, because his project went one step further than other film submissions. He designed his five-part mini-series especially for mobile phones (…). Mobile phones and social networks are also omnipresent in the storylines and partly link them. (…) The visual language, the living environments and the aesthetics of the Instagram medium provide an authentic insight into the attitude to life of his generation."
Golden Nica 2018: Levers & Buttons / Five Hours of Sleep, Lorenz Gonsa, Martin Hatler, Samuel Stallybrass, Vincent Thierry
"You are one of a kind. At least that's what they tell you. In reality, you're a clone of a certain alien species that's particularly good at cleaning up. That is your destiny. Clean the spaceship you're assigned to, with the help of your partner who sits in the control room and pulls the levers and pushes the buttons… But this time everything is different! The ship has caught fire that must be extinguished immediately to save the passengers! That shouldn't really be a problem for such a well-rehearsed team like yourselves, should it? Use your cooperative skills and become the heroes among the clones!"
With their video game, the four teenagers Lorenz Gonsa, Martin Hatler, Samuel Stallybrass and Vincent Thierry, who call themselves Five Hours of Sleep, have made it: they received the Golden Nica for "Levers and Buttons" in the category "u19 – create your world" in 2018. Levers and Buttons is a video game, more precisely, an asymmetrical, cooperative VR puzzle for two players. While one person controls a character in two-dimensional space, the other acts in virtual reality using VR glasses and controllers. The team Five Hours of Sleep implemented Levers & Buttons as part of the final project of the HTL Spengergasse, Vienna. The team was formed around Vincent and Martin, who have been friends for 13 years and dreamt of a jointly developed game at an early stage. Their education laid the foundation for the successful implementation, but it was only through their passion and the joy of developing that the game could be realized to this extent.
Golden Nica 2017: nonvisual-art / Lisa Buttinger
"nonvisual-art" is an image that visually does not seem to exist at all, but on closer inspection it represents a magical world: a hidden world that only comes to light through light. The image is created by the refraction of light in the surface of elements made of cellophane foil and in air bubbles enclosed in an adhesive. Lisa Buttinger challenges the physics behind these banal everyday trash. She has researched the light-refracting properties of these materials experimentally, thus making "natural science" into a pictorial tool, so to speak. A polarizing filter breaks up the "invisible" into colors, and if one then views her work with 3D glasses, a spatial gradation results that literally sucks the viewer in. Every small change in positioning on the surface leads to a change in the invisible image: she literally builds up her colourful magic world.
For this work Lisa Buttinger has not only won the Golden Nica in the u19 – create your world category in 2017, but has also been awarded an Honorary Mention of the STARTS Prize. Since the redesign of the museum in 2019, her artwork can also be seen and experienced as part of the exhibition.
"You never know where the next groundbreaking idea will come from. What will trigger the next artistic trend? And where might it lead? When the STARTS Prize jury was presented with the project nonvisual-art from the competition category "u19 – create your world", they immediately agreed that it deserved a recognition prize. It convinces with its curiosity and thirst for research; the handmade aesthetics are both meticulous precision work and playful openness. Lisa not only created magical images, but also invented a new medium from everyday materials."
Golden Nica 2016: Die Entscheidung / Jonas Bodingbauer
"The day of – let's call him – Ulrich begins on a bright sunny Monday morning. He spent the weekend preparing for today's presentation in the office – after all, a lot depends on whether he can convince another major customer to finance one of his projects once again. But that's not the case – Ulrich collapses during the presentation after a few minutes in the meeting room. What Ulrich does not know is that metastases have formed in his body in the meantime and that he will have to deal with an even greater challenge in the coming weeks – or even just a few days: cancer."
"Die Entscheidung" is a computer game for two players playing against each other on two computers. They get different information and have different tasks to fulfill. Player 1 is a husband/father facing a very important day in his professional career. Player 2 is a malignant tumor, which is supposed to kill the man suffering from cancer. One person experiences a story that he has to cope with, the other one has to follow strict rules, thus extending the capabilities of the malignant tumor. In the end, the patient survives – or dies. Both participants are confronted with the result and are asked to exchange their experiences of the process. The idea behind this game is partly based on the Milgram experiment, in which participants received ethically questionable instructions. Although they were aware that their actions would cause pain to test subjects, they followed the instructions without considering the consequences.
With "Die Entscheidung" 17-year-old Jonas Bodingbauer convinced the jury of the 2016 Prix Ars Electronica and was awarded the Golden Nica in the "u19 – create your world" category. With his work, he has succeeded in sensitively devoting himself to the life of a person suffering from cancer and at the same time – inspired by the famous Milgram experiment – in expressing criticism of those computer games whose primary goal is to virtually kill people or destroy entire states. "At the moment I'm dedicated to game programming, maybe I'll develop a – small – game next", Jonas Bodingbauer had announced years ago in one of our interviews when he received an award for his "Smart Watch".
Golden Nica 2015: Inside & Between / Gabriel Radwan
"Now listen to me carefully. My film is not a copy! It does have similarities with the work of William Kentridge, and I admit that. He has often shown that the combination of painting / drawing and film can have a special effect. Because of my love for film and the fact that I'm at least a bit good with charcoal, I had the idea to make a stop-motion film like that, too. You also have completely different possibilities if you have everything that should happen on paper under control. The pictures were created by coloring A3 sheets of paper and then erasing them to create light effects. After each change that is to be shown in the film, I took a photo with a camera attached to a tripod. But unlike Kentridge, I don't want my work to point out problems in society. It's much more an attempt to stimulate the imagination in all of us and communicate my thoughts."
Gabriel Radwan is the 2015 Prix Ars Electronica winner in the u19 – create your world category. The 19-year-old student created a stop-motion film entitled "Inside & Between". The short film consists entirely of charcoal drawings that have been etched and redrawn over and over again. He captured every change, no matter how small, in the form of a digital photo. In the end he combined all the photos into a stop-motion animation. The resulting film is about an artist, or more precisely a painter, who loses himself in his self-created illusion to such an extent that he forgets everything around him.
"[…] Gabriel Radwan makes poetry in its purest form with both playful and skilful refinement of image and sound. The film develops its emotional impact not from a superficial narrative, but from within and in between. So was the jury's statement on Gabriel Radwan's artistic work.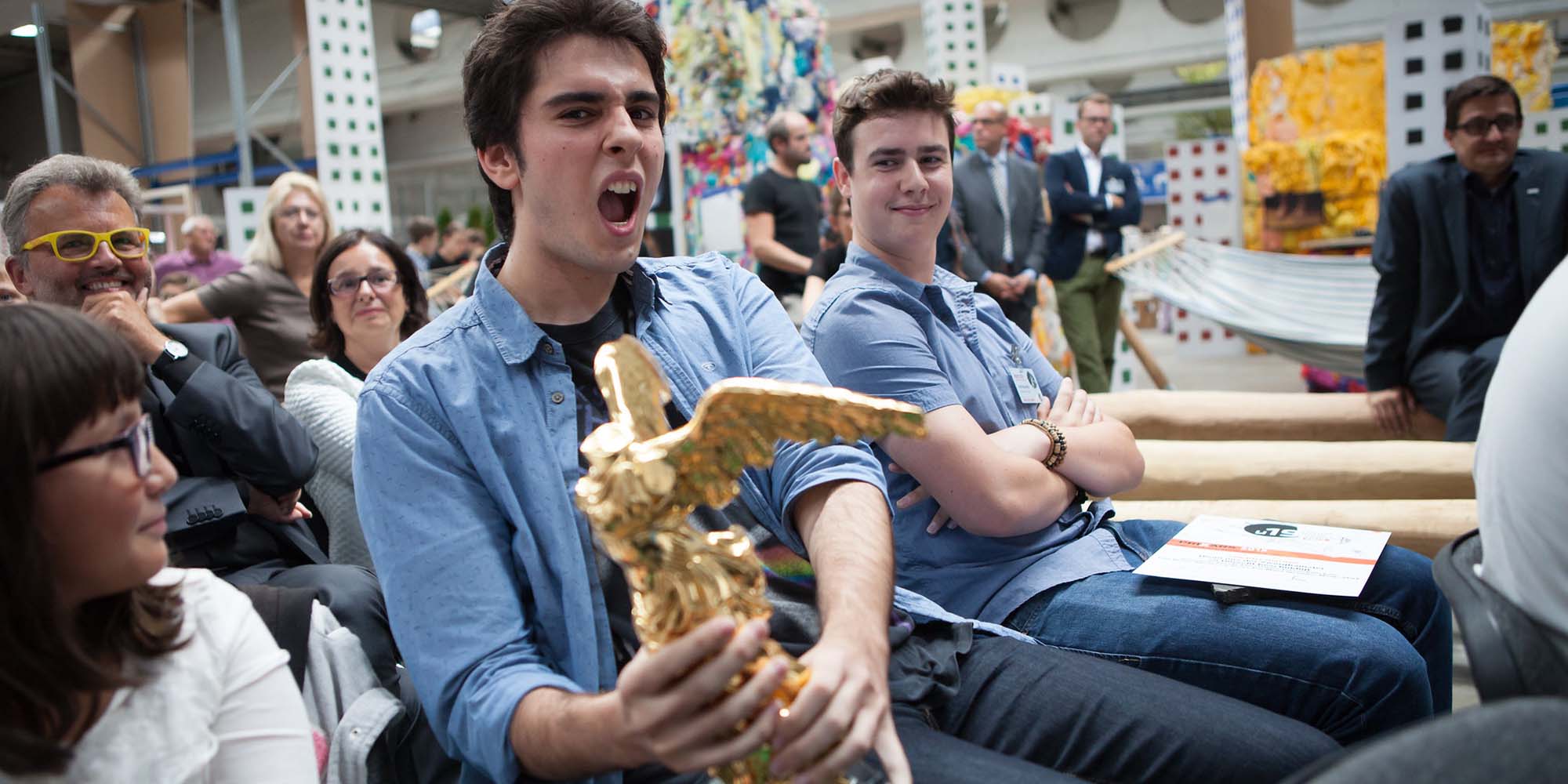 If you are between 0 and 19 years old, you are strongly invited to participate in the Prix Ars Electronica u19 – create your world. You can submit your projects, your ideas, paintings, models or anything else you can think of here.