With an incessant whirring sound, a remote-controlled drone glides a thick bristle brush saturated with copious amounts of light blue acrylic paint across a large-scale canvas on the floor. With a digital drawing pen in his hand, Peter Holzkorn directs the drone via tablet through the large studio in the basement of the Ars Electronica Futurelab. The viscous liquid slowly trickles out of a tube that is attached above the shaft of the brush and thus automatically provides the bristles with paint.
"Our idea was to translate the traditional technique of painting into a future language, to see how it can influence the artistic process."

Peter Holzkorn, Ars Electronica Futurelab
Not only the direction in which the remote-controlled painting tool moves, but also ductus and paint application are precisely controlled by artist and researcher Holzkorn with the help of the tablet's highly sensitive software. This is made possible by a combination with the SwarmOS control software that Holzkorn's team has been developing and optimizing for many years in the lab. A state-of-the-art tracking system that captures the entire space along with the drone's coordinates is another important component of the complex setup: the painting drone can thus be tracked and controlled in real time.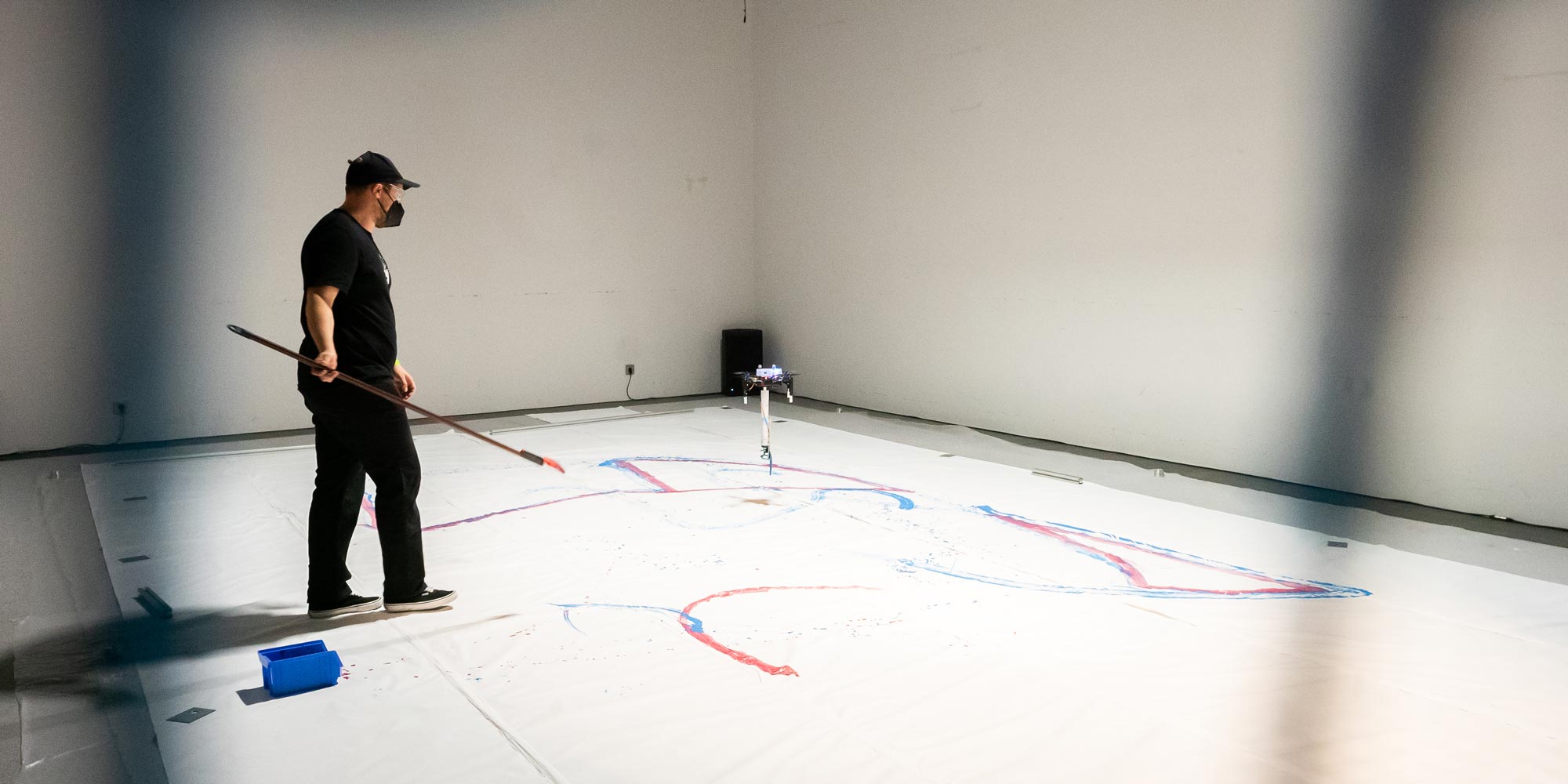 Inspiration for this project comes from interesting experiments with murals sprayed on facades by remote-controlled drones. What is being created here – as well as in a handful of other labs and studios – is seen as an important contribution to a new era in the history of art: paintings supported by cutting-edge technology in creative collaboration between man and machine.
Space Ink: Paintbrush is the title of this research project at the boundary between art and technology in which the Ars Electronica Futurelab is working together with pen and tablet manufacturer Wacom on the future of new forms of artistic expression. After experimenting last year with light paintings developed from the traces of luminous drones in space and projected onto the wall, unique art works are currently being created on a large scale: works, which are reminiscent of Jackson Pollock's action paintings, are achieved by combining one of the most traditional artistic techniques with the Ars Electronica Futurelab's advanced drone technology and Wacom's high-end input devices.
What role do technology, randomness, and human intention play in this form of artistic expression? How can artists and creatives take advantage of this innovation in the future? Space Ink: Paintbrush – one promising future for art? Stay tuned!
Learn more about Peter Holzkorn and his key research "Artificial Collectives", Future Ink, the creative research collaboration between the Ars Electronica Futurelab and Wacom that aims to get to the bottom of the future of ink: Wacom | Journey to Future Ink