Eine Materialsammlung.
Das Thema des In-flight Calls am 1. Juni 2021 lautet Nachhaltigkeit in der Raumfahrt. Hier finden Sie Unterrichtsmaterialien, Videos und Webiste dazu.
Die Inhalten sind meist ab der 7. Schulstufe geeignet. Die Inhalte sind auf Deutsch (deu) oder Englisch (eng).
Thomas Pesquet und Mission Alpha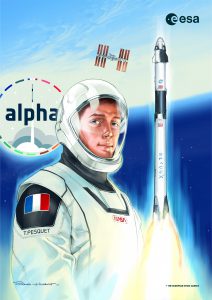 Moon Rover – Building a solar-powered rover (eng)
Water on the Moon – Filtering "lunar ice cores" to extract water (eng)
Videos: Nachhaltigkeit in der Raumfahrt
Paxi Video – water and air on the ISS (eng)
Blog: Recycling water in the ISS (eng)
TedTalk: 3D printing in space flight (eng)
Bei Fragen oder Anregungen wenden Sie sich bitte an esero@ars.electronica.art.