The competition was open to Chilean artists living in Chile or abroad to propose innovative projects at the nexus of art, science, and technology. The wide range of disciplines that could be considered include interactive art, digital music and sound art, computer animation, film and visual effects, digital communities and social media, hybrid art, bio art, and digital design. The selected projects will be presented during the 2023 Ars Electronica Festival in Linz, Austria.
---
Winners 2023
---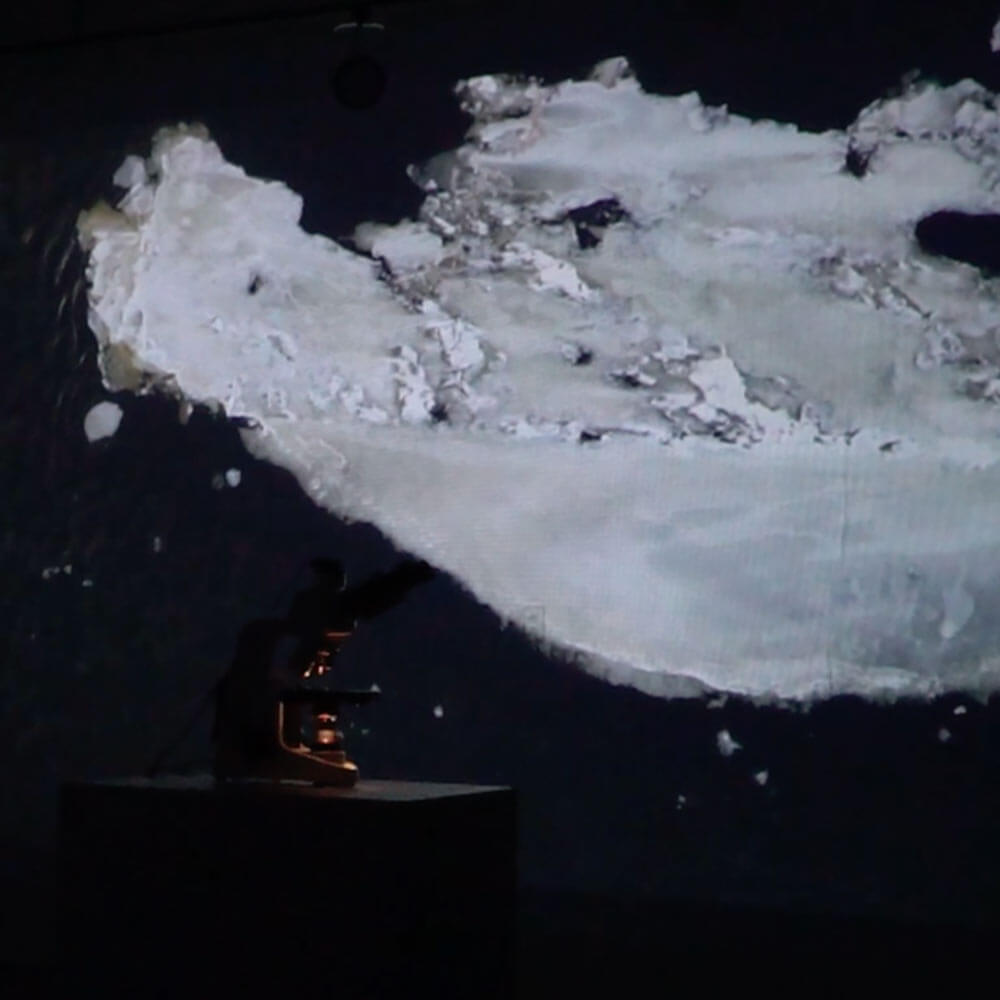 Cristo Riffo (CL)
Sistema Cinco: Non-Human Determinations
Sistema Cinco explores through technology the interdependencies and relationships of microorganisms, opposing nature's molecular technologies with the human made ones.
It consists of a hacked microscope with robotic components that allow movement and exploration of vectors over microbial samples. The images that are projected live from the microscope are in opposition to the mapping of large terrains with the use of drones, where viewers can find connections and similarities between the microcosmos in manners of scale, forms and shape.
The microscope is connected to A.I to imagine realities of cybernetic management with algorithmic governance. Control algorithms will be based on Stafford's Beer Viable System, a non-hierarchical organization structure inspired by the nervous system of biological organisms. The Viable System was the heart of the project Cybersyn, used for the management of Chilean state companies during the government of President Salvador Allende, from 1971 to 1973.
Cristo Riffo explores memory, light, politics, and biology through kinetic installations and A/V performances. Using robotics and biology he hacks and modifies technological devices.
Cristo has exhibited internationally in Buenos Aires (AR), Montreal (CA), Bogotá (CO), and Berlin (DE). He has received grants from the Fund for the Arts (CL) in 2014, 2016, and 2018. In 2019, his work was featured at the XIV Biennial of New Media in Santiago.
Currently he is pursuing an MFA at Concordia U. (CA)
---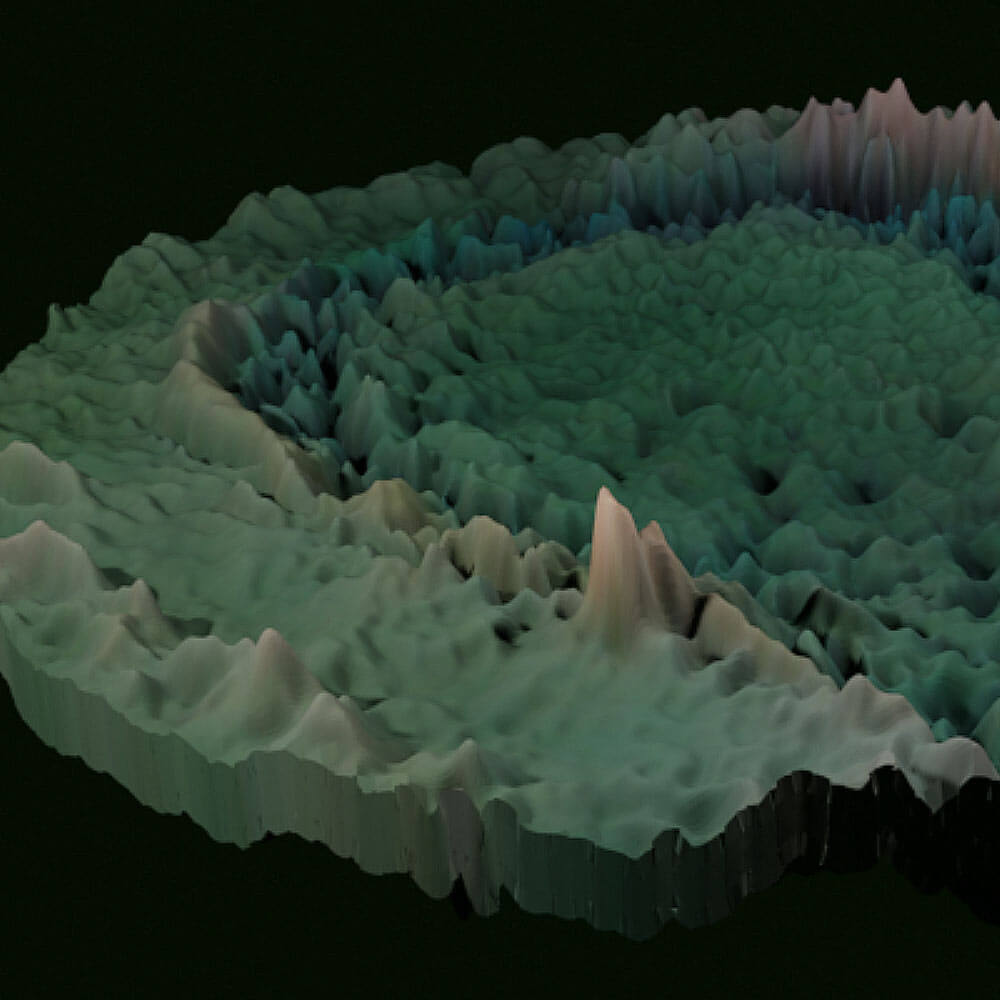 UC Chile (CL), University of Chile (CL), National University of Tres de Febrero (AR)
FUTURE ANCESTORS
PRISMA – Art, Science, Technology
Matter is empowered in performative acts: objects exercise forms of power and intra-material actions produce different materializations of the world. The emergence of alternative paradigms for thinking about the problem of materiality has many expressions in contemporary art. This exhibition displays those that recuperate ancestral techniques from today's poetic, scientific and technological imaginaries. Particularly, crossovers between technologies belonging to different temporal and spatial spheres entail a recurring practice in the electronic arts produced in Latin America.
The three works stage a series of transformation processes of matter from the natural world into new materials that intertwine ancestral ways of making and contemporary technologies. Their artists investigate the encounter of macro and micro worlds through combinations of scales, modular constructions and alternations of different views on objects, materials and processes: Fragments of the Jungle by Angel Salazar proposes the coexistence of satellite views of geoglyphs and volumetric data visualizations; in Holobiont, Diego Silva combines the general structure of the installation with the infinite details of the symbiotic colony of bacteria and yeasts on a large scale; in WEAVES, Vivian Vergara´s minimal repetitive gesture of weaving is materialized and multiplied, amplified from a machine that is located between the serial and the handicraft.
The study of our ancestral cultures presents itself as a respectful approach towards our natural environment but is also a reminder of the challenges that we face in this new and hardly classifiable era that we often refer to as the Anthropocene, where almost every practice instantly becomes obsolete.
The UC Chile presents PRISMA: Art, Science, Technology: PRISMA consists of an inter-institutional initiative based in Santiago de Chile dedicated to promoting the investigation, production and exhibition of different kinds of works located at the intersections of art, science and technology with particular interest in nature. PRISMA has been founded in 2019 by the Pontifical Catholic University of Chile and invites the master's in Media Arts University of Chile and the master's in Electronic Arts at the National University of Tres de Febrero (Buenos Aires, Argentina) where incorporated into this network.
www.instagram.com/prisma_arte_ciencia
Credits
Artists / Works:
Diego Silva (CL): Holobiont
Ángel Salazar (ARG): Jungle Fragments
Viviana Vergara (CL); WEAVES: From Humans to Living Machines
Curator: Jazmin Adler (ARG)
General Coordinator: Valentina Serrati (CL)
UC Chile (CL):
Dean of the Department of Arts: Alexei Vergara. Director of Arts & Culture: Miryam Singer.
Vice-counsellor of Research: Pedro Bouchon.
University of Chile (CL):
Dean of the Department of Arts: Fernando Carrasco.
Director Master in Media Arts: Monica Bate.
Director of the Center for Mathematical Modeling (CMM): Alejandro Jofré.
National University of Tres de Febrero (ARG):
Chancellor Emeritus: Aníbal Y. Jozami
Chancellor: Martin Kaufmann
Vice Chancellor: Diana Wechsler
Electronic Arts Master's Direction: Mariela Yeregui
Assistant Director of the Master's Degree in Electronic Arts: Leo Nuñez
The participation is the result of a collaboration between Ars Electronica and the Ministerío de las Culturas, las Artes y el Patrimonio and the Ministerío de Relaciones Exteriores | Gobierno de Chile.
The following three works are presented in the frame of the Future Ancestor Exhibition, hosted by UC Chile (CL), University of Chile (CL), and the National University of Tres de Febrero (AR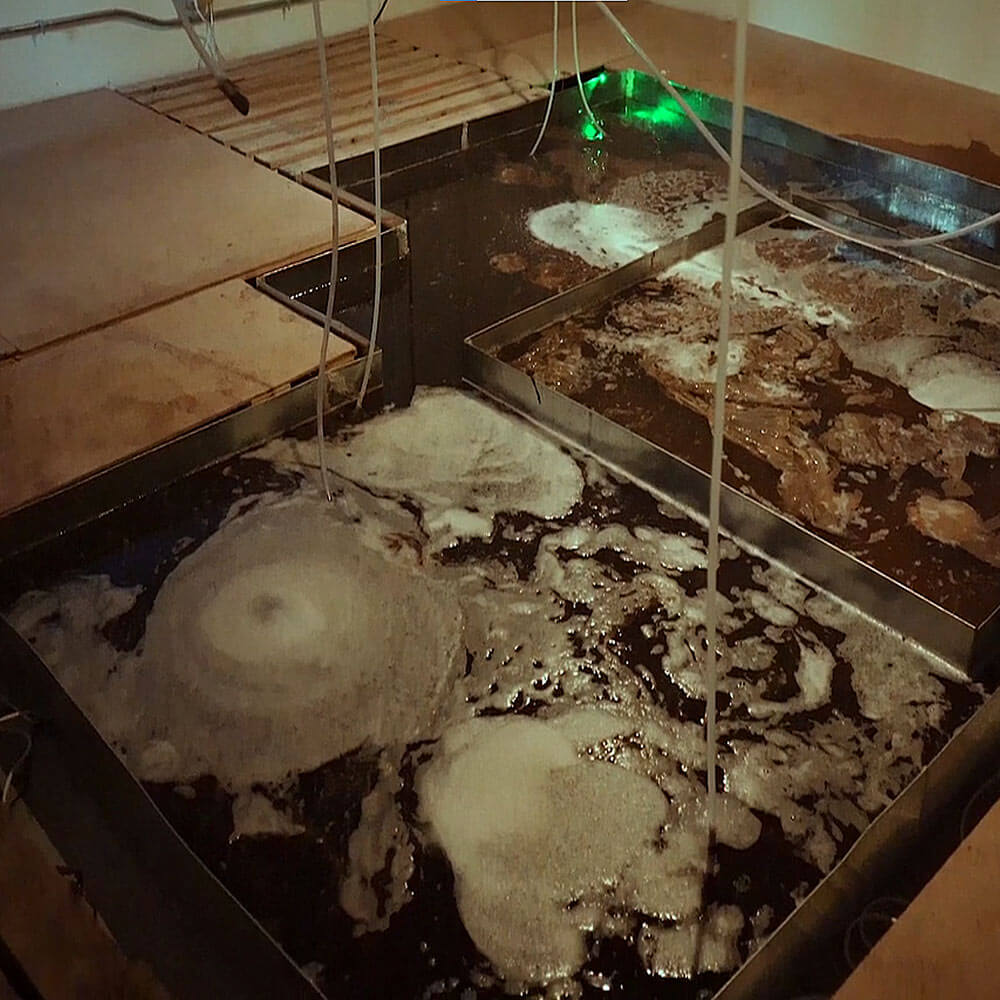 Diego Silva (CL)
Holobiont
Site-specific installation made up of two wide tin pools, which contain a SCOBY crop (a symbiotic colony of bacteria and yeasts). The exhibition space is entirely connected to various sensors controlled by Arduino. While the public walks around the room, a series of water pumps and sounds are activated as response of the crop to those space stimuli. The Holobiont concept refers to beings formed by the association of different species, which in this case give rise to techno-ecological relations. Holobiont´s main objective is to build a space where different degrees of living and technological complexity coexist and interconnect with each other.
Diego Silva (CL) graduated from UC Chile recently, in 2022. He has participated in collaborative and interdisciplinary art and science projects. He has also worked as an assistant to professional artists working in the fields of art, science and technology. He has a special interest in the exploration of art in cybernetic navigation, sustainability, ecology and new materialisms.
---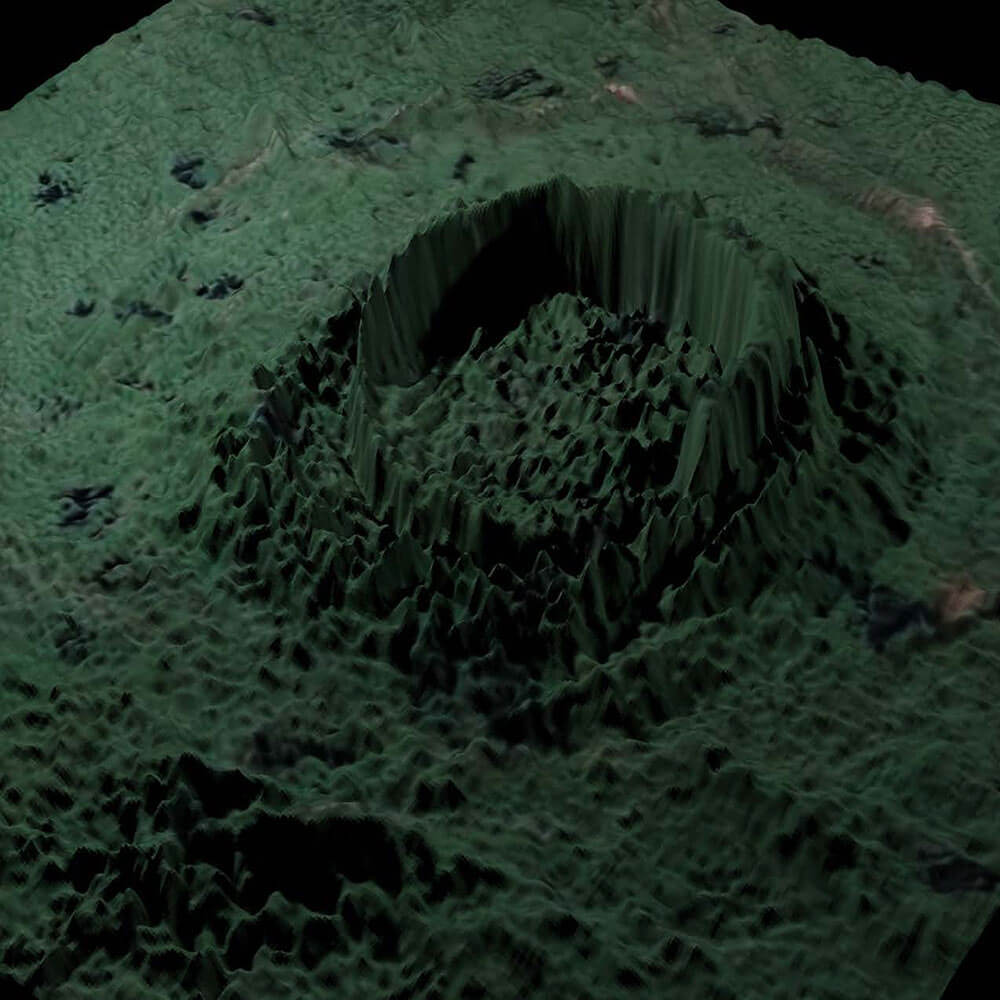 Ángel Salazar (AR)
Jungle Fragments
Installation that consists of a series of 3D objects and audiovisual displays that are based on aerial images of the geoglyphs. These images were made by civilizations of the Amazon in different areas of the jungle and later discovered from the massive deforestation of these territories. The ancient geoglyphs, understood as Biodesign's of ancestral Latin American thought, are converted by the artist into visualizations of digital volumetric reconstruction -"speculative reconstruction", in the words of Salazar-. The creative process comprises learning patterns of the forms found in the jungle and the production of sculptural objects using digital fabrication techniques.
Ángel Salazar (AR, 1988): Artist, teacher and cultural manager. His work is developed in a transdisciplinary way between art and technology, exploring various narratives around the idea of post-nature from local worldviews and based on the speculative use of artificial intelligence tools through interactive devices, digital objects and sound compositions.
---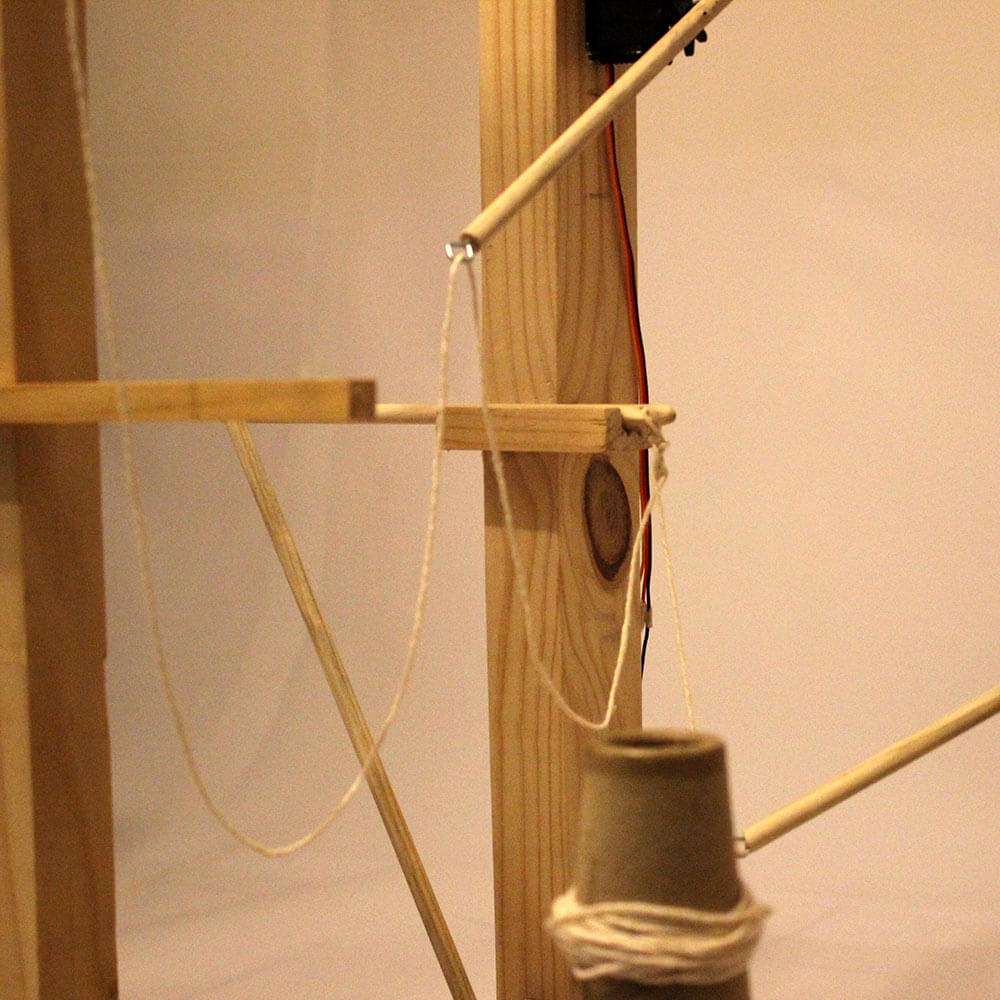 Viviana Vergara (CL)
WEAVES: From Humans to Living Machines
Weaving bio machine in which craft techniques rooted in different pre-Hispanic cultures come together with scientific and technological knowledge. The artist uses mechanisms built based on biomaterials to design a machine that produces a fabric over time. The work is made up of two main articulations: one that weaves and the other that winds; each of them comprises a series of interlocking mechanisms that configure the main action of each work cycle. In this way, Vergara investigates the materials, techniques and biotechnological relationships involved in human-machine associations.
Viviana Vergara (CL, 1984): Media artist and professor, her interest in research-creation aim to reflect on the concepts of Crafts, Science and Technology, topics that start from the need to question the limits and ways of doing everyday activities such as weaving. The search for answers to these concepts has allowed her to link techniques that in themselves speak of popular knowledge and everyday life such as weaving, embroidery, electronics and recently biomaterials.
---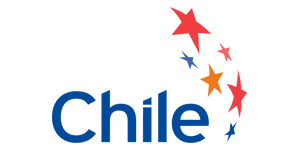 The presentation of the projects is a collaboration by Ars Electronica Linz GmbH & Co KG with Ministerio de las Culturas, las Artes y el Patrimonio and Ministerio de Relaciones Exteriores de Chile.