2021
Temazcal (Javier Álvarez, 1984)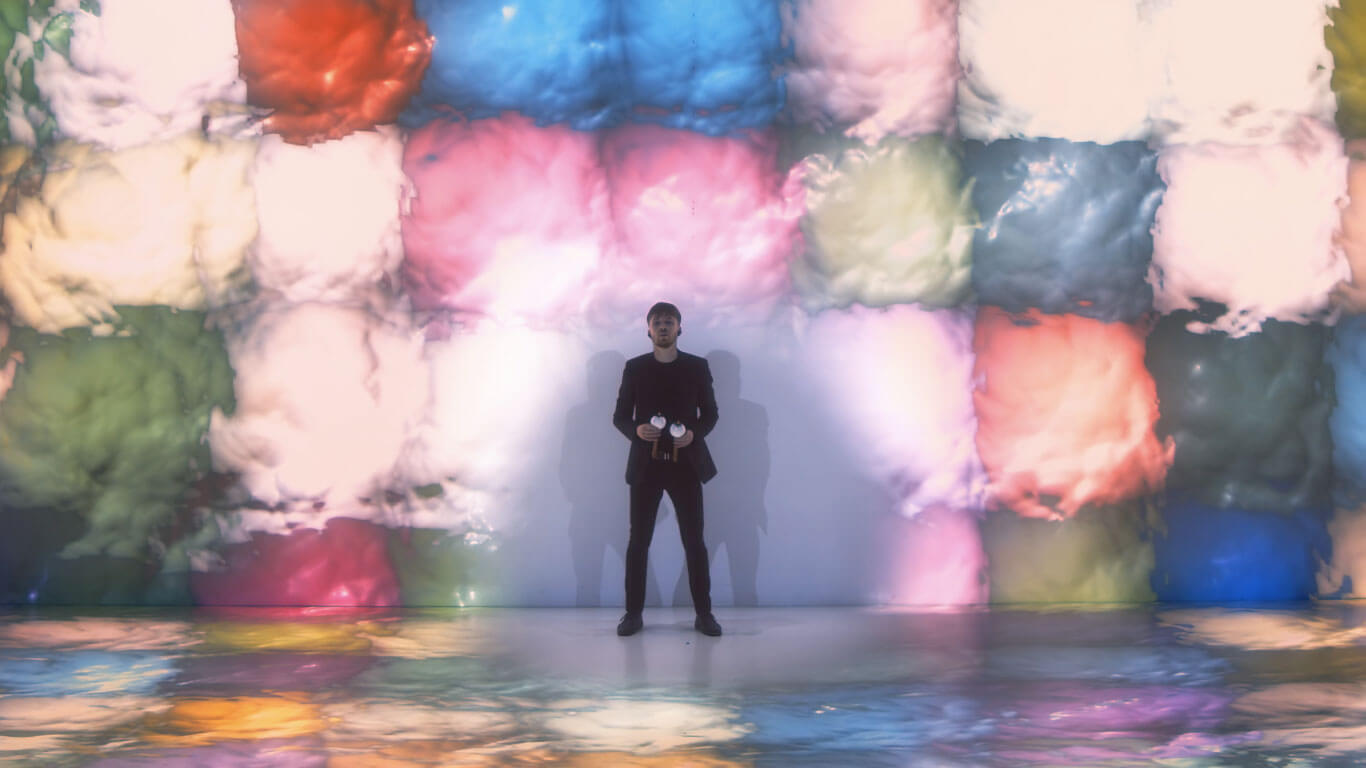 Credit: Bernhard Pusch
Visualized Percussion Performance
by Elliot Gaston-Ross (UK/IE) and Florian Berger (AT)
"Temazcal" is a contemporary piece of percussion music composed in 1984 by the renowned Mexican composer Javier Alvarez. It was the first piece ever written which requires the performer to play traditional Venezuelan maracas as a soloist in a contemporary western music setting.
Award winning Percussionist Elliott Gaston-Ross teamed up with Ars Electronica Futurelab key researcher Florian Berger to create a unique representation of "Temazcal". The result was an immersive acoustic, digital and visual experience in the Deep Space 8K of the Ars Electronica Center.
Alvarez created a score for the maraca part which requires the player to largely improvise to a set backing track created using an electroacoustic soundscape, ensuring no two performances of the piece would be the same. With this in mind, the idea of making a video recording in the Deep Space which would be accompanied by visual effects designed specifically for this unique interpretation of the piece was born. 
Since the title of the work comes from a Nahuatl (ancient Aztec) word meaning "water that burns", Elliott felt it fitting to include scenes of nature, moved by the elements. Thus, the opening scene depicts thunder clouds and lightning over the mountain tops while the finale shows ocean waves and psychedelic colours.
The Deep Space 8K provided an ideal setup for filming the performance. Its vast dimension made it possible to create immersive shots placing the performer directly in the scene. The software runs on a Futurelab in-house-developed engine (FLEngine) written mainly in C++ (OpenGL). Raymarched distance fields enable rendering complex global illumination lighting scenes of a thunderstorm, while a very flexible particle system provides a basic main theme which is easily directed to follow certain pathways, form shapes or move freely. It also provides many possibilities to react to changes or tension in the music, as well as shaping completely different scenes all at once such as a giant ocean wave.
---
Futurelab Day – Night Performances
Thursday, 9. September 2021
21:30 – 21:45
Ars Electronica Center