Ars Electronica is part of SPARKS, an EU funded communication project that reaches out to all European countries. SPARKS is an engagement project on the topic of technology shifts in health, medicine and wellbeing. It aims to raise awareness and communicate the concept of Responsible Research and Innovation (RRI) to citizens in all European countries. The activities aim at gaining common understanding of RRI applied to technology shifts in health, medicine and wellbeing. Sparks has organized an interactive touring exhibition and 230 innovative participatory activities such as science cafés, pop-up science shops, incubation activities and scenario workshops. Creative disruptions —in the form of artistic inputs and questioning— will help it to engage more stakeholders.
Sparks is an awareness-raising project to show Europeans that they can get involved in science and that various stakeholders share the responsibility for scientific research and innovation.
Four artists – Anouk Wipprecht, Lucy McRae and Jakob and Lea Illera – who are working in the field of new media and technology had the opportunity to spend time as artists in residence at Ars Electronica Futurelab to contribute to the planned activities. Each selected artist produced an artwork that is shown as part of the touring exhibition between 2016 – 2018 in 29 european countries.
The Exhibition was showcased from March 29 – June 5 2015 at Ars Electronica Center. You find all relevant activities around and about the exhibition on the Ars Electronica Center website.
During their residencies the artists created a vision on technology in medicine, health and wellbeing to envisage and produce compelling visual representations of innovations in order to provide a disruptive point of view about the impact of science and research.
Anouk Wipprecht (NL) – Agent Unicorn, 2016
Laser-sintered polyamide prototypes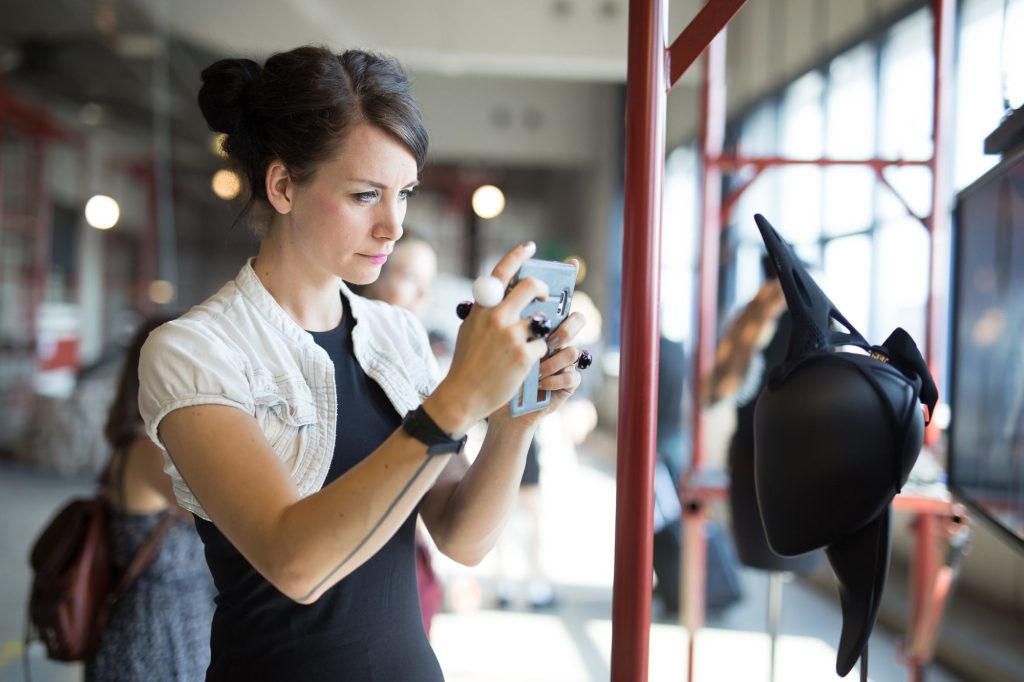 How can design and new technology be used to improve mental health therapy? Anouk Wipprecht's 3D-printed headsets, which take the form of unicorn horns, are designed for children with ADHD (attention deficit hyperactivity disorder). Electrodes within the headsets measure activity in the brain, triggering a built-in camera that starts filming when the wearer's attention level spikes. This creates a visual record that children can watch to gain a better understanding of what interests and distracts them.
Credits: Developed in co-operation with Ars Electronica Futurelab (Claudia Schnugg, Roland Aigner, Michael Platz, Erwin Reitböck und Christopher Lindinger). Special thanks to Christoph Hintermüller (G.Tec), Christoph Guger (G.Tec), Dimitri Diakopoulos (Intel), Dominik Laister (klinischer Psychologe, Barmherzige Brüder Linz), Igor Knezevic (Alienology), Aduén Darriba (Studio Aduén), Shapeways und FlyWire.
More information about Anouk Wipprecht: http://www.anoukwipprecht.nl/
Read more on Agent Unicorn on the Ars Electronica Blog:

Lucy McRae with Lotje Sodderland (GB) – The Institute of Isolation, 2016
Film duration: 9 minutes 38 seconds
In this observational documentary, Lucy McRae tells the story of The Institute of Isolation, a fictional organisation that offers people the chance to optimise their bodies. Inspired by current developments in genetics and medical technology, McRae examines how the human brain and body might be shaped in the future through sensory deprivation and extreme isolation.

Trailer of the fictional documentary "The Institute of Isolation" by Lucy McRae and Lottje Sodderland.

Credits: Developed at Ars Electronica Futurelab (Claudia Schnugg, Michael Mayr, Veronika Pauser, Andreas Jalsovec und Christopher Lindinger). Special thanks to: Juan Enriquez, Ricardo Bofill, Professor Nikolas Rose, Professor Emmanuele A Jannini, Royal Botanic Gardens Kew, Rombaut shoes, GSK Human Performance Lab, University of Southampton, Dr. Steve Dorney, Dr .Peter Glynne-Jones, La Sainte Union Catholic School, Fischauer Thermalbad, Klinische Abteilung für Thorax- und Hyperbare Chirurgie, LKH-Universitätsklinikum Graz, Oberösterreichische Gebietskrankenkasse, Outro Studio, Mark Ruffs and Daniel Gower.
More information about Lucy McRae: https://www.lucymcrae.net/
Read more on The Institute of Isolation on the Ars Electronica Blog:

Jakob Illera and Lea Illera (AT) – BeBots, 2016
Speculative design objects made from 3D-printed resin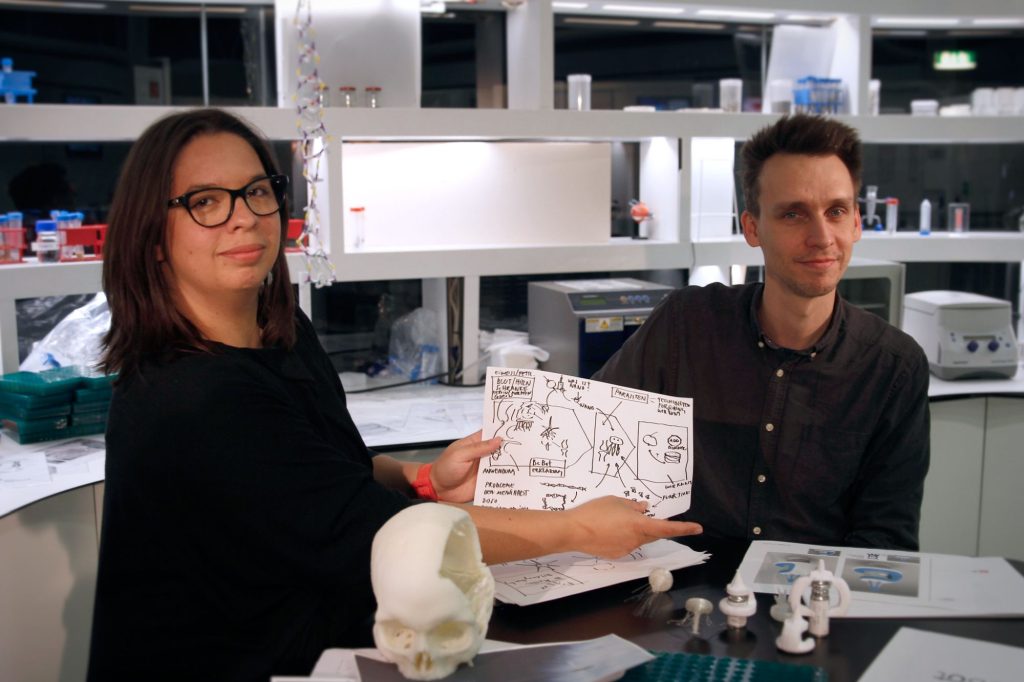 Would you insert a robot inside your body if it improved your health? Artists Jakob and Lea Illera have created the BeBot, an imaginary 'nanobot' that manipulates the nervous systems to suppress our conscious and subconscious desires. Designed in response to the growth in diseases like diabetes and obesity, BeBots examines a future where everyone can use DIY medical solutions to manipulate their thoughts and feelings.
Credits: Developed at Ars Electronica Futurelab (Claudia Schnugg und Christopher Lindinger). Special thanks to Christian Kittner (Inhaler-Design), Elisabeth Leuthner (graphic design), Werner Pötzelberger (Nanobots charakter-design und 3D-modelling) and Marlies Burkhard.
More information about Jakob & Lea Illera: http://www.inseq.com/ullCms/show/inseq
Read more on BeBots on the Ars Electronica Blog:

Read more on SPARKS on the Ars Electronica Blog:

Related Projects
Take a look at some of our other projects
From our never-ending list of ideas and concepts we have compiled a selection of works related to the topics addressed in this project. An overview of all our productions, cooperations and projects can be found in our continuously growing project archive.