Inspire creative thinking and collaboration within your organization, future-proof your mindset, unlock your company's technological potential and discover actions to assume social responsibility: Collaborate with the Ars Electronica Futurelab in your own, custom-fit innovation workshop!

We bring together
a unique artistic approach,
diverse experts,
cutting-edge technology,
practical outcomes and
a new compass for navigating the future.
Whether we work with a startup fresh off the ground or an established multinational corporation: Every innovation workshop by the Futurelab is tailored to our partner's needs in a joint process, leading to a personalized, specific result. This can range from artistic R&D on AI, big data, drones, biotech, green innovation and more, from designing exhibitions or workshops engaging with the public to a holistic approach: With our innovation workshops, the Futurelab experts can help create a corporate culture of innovation thinking, creative problem solving and collaboration.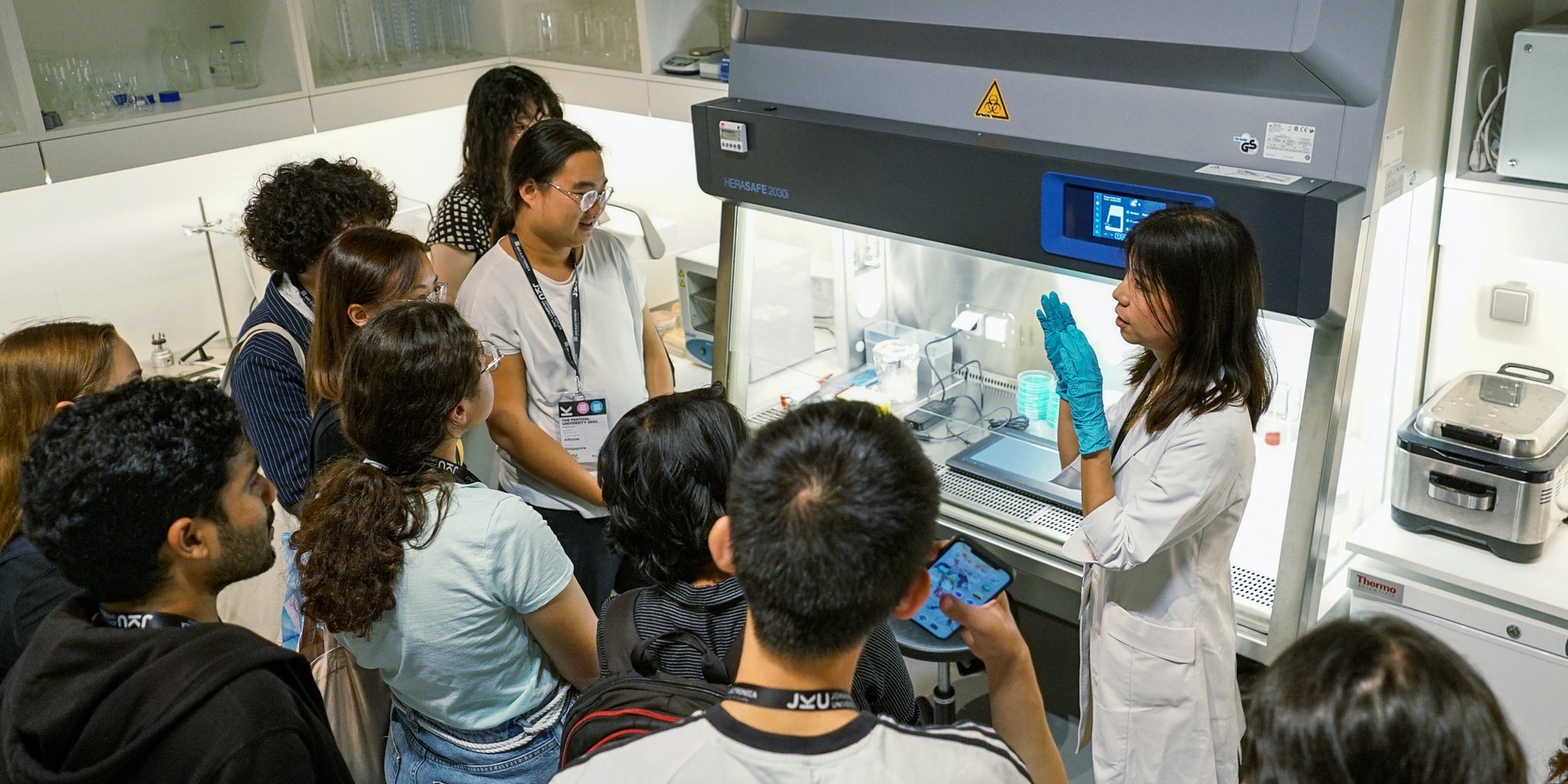 Biological Creativity Workshop , photo: Robert Bauernhansl
Life Ink Demonstration, photo: Jochen Manz / Wacom Co., Ltd.
FAQ
The Ars Electronica Futurelab offers different types of workshops, tailored to our partner's needs. Most commonly used is our very own Art Thinking approach as a highly effective method of applying artistic thinking and an artful view to a broad range of challenges. Furthermore, we offer innovation workshops based on future vision and future narratives, ideation and creative vision, as well as our Creative Question Challenge to inquire into creative ideas via a 30-minute dialog.
Our workshops are designed to be interactive group activities, led by a team of Futurelab experts on different topics, from arts and future narratives to science and technology. The best results come from working with a diverse team on our partner's side, to bring together manifold visions and professional experiences. By emphasizing the importance of every participant's voice, our workshops pave the way to truly innovative questions, fresh ideas and new visions.
Depending on the request, the workshops can be short-term applications designed to refresh corporate thinking, but they are most effective when applied as a process over an extended period of time with specific results, ranging from high-tech prototypes to art installations. In this way, our singular "couture piece" develops into a whole collection, a versatile showroom and an artistic laboratory.
Depending on our partner's needs, the Ars Electronica Futurelab chooses one or more people from our team of artists, designers, researchers and developers to lead the workshop and serve as a long-term support and contact for our partner. Our experts range from audiovisual to virtual reality artists, from specialists on Art Thinking and future narratives to AI programmers, biotechnology researchers and much more.
As an artistic R&D lab, we cover a broad range of topics like the use of and communication with artificial intelligence, bioengineering, robotics and drones, automated systems and swarm intelligence, big data, green innovation, interactive technologies, new aesthetic forms of expression and media architecture, as well as virtual, mixed and extended reality. In every case, an artistic approach is at the heart of the Ars Electronica Futurelab's work, as well as placing the human being at the center – considering the social aspects of technological developments and innovation.
Some clients approach us with a new kind of technology, to add meaning to knowledge and explore new application areas, using our artistic approach. Other partners come to the Futurelab to find new ways to communicate with the public. And some of our collaborators look for an even more profound impact when working with the Ars Electronica Futurelab: the creation of a corporate culture based on a positive impact on society, innovation thinking and creative problem solving, as well as interdisciplinary collaboration.
Inquiries can result in prototypes, exhibitions for our partner's headquarters, workshops, virtual reality applications, artistic performances, or exclusive presentations that can be shared with the audience at high-profile events like the Ars Electronica Festival. The most fruitful workshops lead to a long-term cooperation with different iterations of prototypes, ever evolving insights and outcomes.
Since every vision is different and each outcome is tailored to our client, every workshop is calculated individually. At our initial talks, getting to know your questions and goals, we are happy to provide you with an estimate!
Most of the Ars Electronica Futurelab's collaborative work started with one of our workshops on innovation and future vision. Over the years, we have worked with partners such as CERN, MIT-Medialab, Tsukuba University, Royal College of Art, Queensland University of Technology, Johannes Kepler University and Keio University as well as Intel, Hyundai, Siemens, BMW, Wacom, Audi, NTT, VW, Nikkei, Daimler and Toyota.
Some of the high-profile projects based on workshops: