The eye has always played a vital role in human history, whether as organ of vision or as pivotal cultural symbol in the arts across time. In digital and new media art especially, it becomes a "third eye", that is, the camera that translates electromagnetic stimuli into light perceptions that give shape and colour, not unlike the sensory organ itself.
The Ars Electronica Garden St. Stefan ob Stainz takes us on a journey to Sylvia Eckermann's public art project AUGENSCHEIN. AUGENSCHEIN takes the eye as a symbol for how our society relates to vision and visualisation, in its encouraging and more dangerous aspects.
AUGENSCHEIN
Though seeing is the paradigmatic sense of our time, it is not an objective process. It is influenced by our beliefs and ideas, conventions and morals, norms and objectives, interests and suppressions, memories and fantasies. At the same time, the eye and the sense of seeing are vital for the socio-cultural process we call individualisation.
The "power of the eye" embodies a host of different senses, the meanings between which can be far apart, as with the curiosity to see the world ("Schaulust" in German), the visualisations of science and technology, and the reveries and revelations of one's innermost thoughts. The eye represents consciousness and insight, providence and embracing love, but also voyeurism, superstition and possession. It is a symbol of enlightenment, the sciences and progress as well as fantasies of omnipotence and conspiracy theories. Metaphorically, it stands for the all-seeing eye of God as well as surveillance technologies, for vigilance and focusing on the basics, as well as the beauty of the visible world.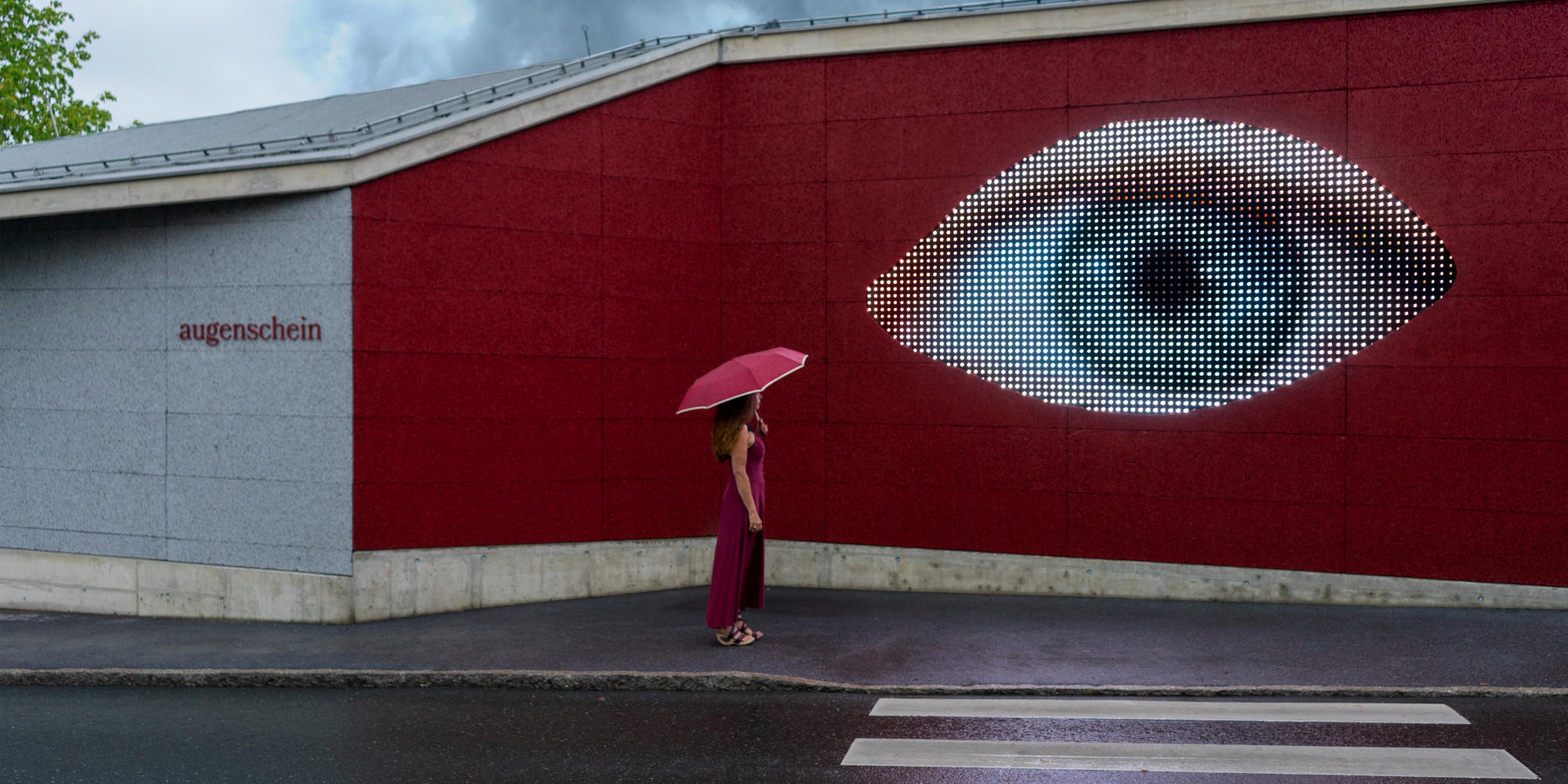 Project Credits / Acknowledgements
AUGENSCHEIN. Sylvia Eckermann (AT). LED Mesh Screen: LDDE Lighting Ideas Vienna (AT). Production: Bela Eckermann (AT)
Biography
Sylvia Eckermann (AT)
In Sylvia Eckermann's work, a discursive engagement with form and media culminates in critical artistic reflections about our entanglement as individuals in current socio-economic situations. Eckermann works with various media including digital and physical environments, installations, videos, objects, and sculptures. Eckermann is the first recipient of the City of Vienna Award for Media Art (2014) and was awarded the Austrian State Prize for Media Art (2018). She lives and works in Vienna AT.