Die Creative Question Challenge (CQC) ist ein neues Brainstorming-Format, bei dem die ReferentInnen in einem 30-minütigen Dialog kreative Fragen erforschen und präsentieren.
Speakers: Lauren Lee McCarthy (US), Paolo Cirio (IT)
Moderator: Kazuko Tanaka (JP)
Video
Biographies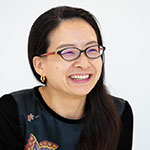 Kazuko Tanaka (JP):
Community Producer, VoiceVision Inc.
Co-Founder, Future Innovators Summit, Ars Electronica & Hakuhodo
Kazuko is a Community Producer and a trained Facilitator specializing in planning and total producing for internal and external co-creative communities and dialogue development for companies and local groups. Founder Hakuhodo Working Mom's Link, an external community of over 600 participants. Jury for Prix Ars Electronica Digital Communities 2016, 2018. Mother of 2 sons, 1 daughter.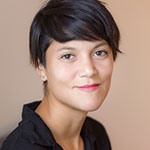 Lauren lee McCarthy (US):
Lauren Lee McCarthy is an LA-based artist examining social relationships in the midst of surveillance, automation, and algorithmic living. She is the creator of p5.js, an open source JavaScript platform that aims to make creative expression and coding on the web accessible and inclusive for artists, designers, educators, and beginners. She is Co-Director of the Processing Foundation, a non-profit whose mission is to promote software literacy within the visual arts, and visual literacy within technology-related fields—and to make these fields accessible to diverse communities. She is an Associate Professor at UCLA Design Media Arts.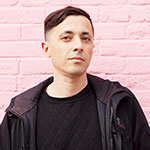 Paolo Cirio (IT):
Paolo Cirio engages with the legal, economic, and cultural systems of the information society. His works investigates social fields impacted by the Internet, such as privacy, democracy, intellectual property, and finance. He shows his research and intervention-based works through photos, installations, videos, and public art. Cirio has exhibited in international museums and has won prestigious awards. His artworks have been covered by hundreds of media outlets and he regularly gives public lectures and workshops at leading art festivals and universities worldwide.