Have You Seen Her…? (Originaltitel: La has visto…?) ist ein partizipatorisches elektronisches Kunstwerk, das eine poetische Geste anstrebt, zeugend von der Suche und der kollektiven Forderung nach der Anwesenheit unserer vermissten Frauen, die Opfer von gewaltsamem Verschwinden in Mexiko sind. Das Projekt besteht aus drei miteinander verknüpften Phasen: Zunächst eine Beteiligungsphase, in der versucht wird, durch eine Reihe von Textilstreifen mit den Identitäten der Verschwundenen und einer Tonaufnahme-Interface in Form einer Textilskulptur, eine Polyphonie von Stimmen rund um den Satz "La has visto…?" zusammenzubringen.
Der zweite Teil besteht aus einem interaktiven Textil, das die vorherigen Textilstreifen trägt und die Stimmen daraus akustisch verstärkt. Abschließend folgt eine Reihe von Aktionen im öffentlichen Raum, bei denen dieses elektronische Textil aktiviert wird, wodurch Interaktionen mit den Menschen in der Umgebung der/des Trägerin/Trägers durch die Übergabe dieser Textilstreifen gefördert werden sollen; so lange, bis es vollständig abgebaut und zum Schweigen gebracht wird, um seinen Zyklus für die Zusammenstellung von Stimmen neu zu starten, die fordern und fragen: "La has visto…?"
Biography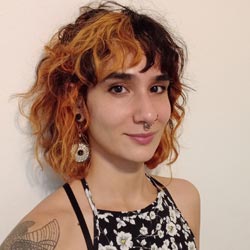 I am a Latin American, feminist and multimedia artist from Veracruz, Mexico. Through my work I seek to generate critical dialogues between art, design, pedagogy and technology. My processes are woven through participatory practices and micropolitical action in the public space. I am part of Medialabmx where I explore the materiality of textiles and electronics as tactical means for feminist activism and collective action. My work has been featured in Mexico, UK, Brazil, Japan and Colombia
Credits
Project by: Dora Ytzell Bartilotti (MX) [Original idea and conceptualization, textile design and production, performative actions, programming and electronics]
Collaborators: Christopher Galicia (MX) [electronics and programming], Valeria Valdez (MX) [mask], Ingrid Cota (MX) [sewing textile strips]. Special thanks to Leonardo Aranda for being emotional, conceptual and technical support.