2022 Ars Electronica Festival
Linz, September WED 7 – SUN 11
One of the largest stages for media art, an experimental field for the next generation, a showcase for creativity and innovation – Ars Electronica is a unique festival for art, technology and society worldwide.
From 7 to 11 September 2022, the Ars Electronica Festival in Linz will once again be ready. "Welcome to Planet B" is this year's theme, and much of it will be understood as an invitation and call to contribute something to "Plan B", with which we can secure a future worth living for ourselves and all those who come after us. Planet B is not another place to which we can flee. It is the cipher for another life – on and with this planet. Whatever we do, or don't do, will have massive consequences and we need to prepare for those consequences.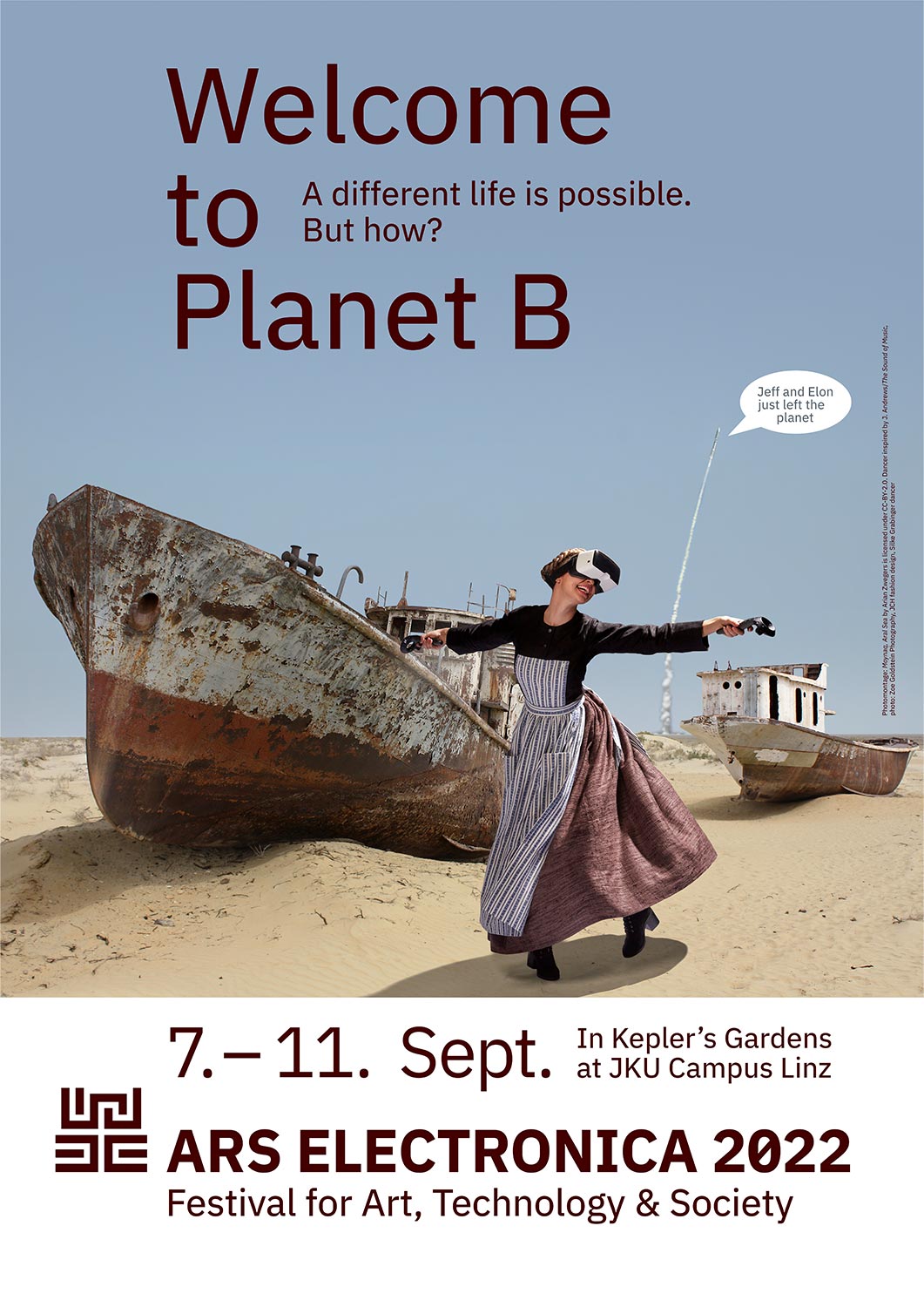 Festival for…
Festival Days
WED September 7, 2022: Opening Day
The first day of this Ars Electronica is all about openings. And over the years, as the Linz festival has developed an ever-increasing gravitas in the rapidly expanding universe of art, technology and society, there have been many. Let's start in KEPLER'S GARDENS on the campus of Johannes Kepler University Linz, the central venue of the 2022 Ars Electronica Festival:
1pm sharp, the doors open at the CyberArts exhibition, which once again brings together the year's best Prix Ars Electronica award-winning art projects in one place – including Golden Nicas like the Avatar Robot Café by Ory Yoshifuji and Ory Lab (JP), the interactive character "Being" by Rashaad Newsome (US), and with "Bi0film.net: Resist like bacteria" by Jung Hsu (TW) and Natalia Rivera (CO) a network of umbrellas for civil resistance.
With the STARTS Prize exhibition, the Mensa building hosts another showcase of outstanding collaborations between players from science, technology and the arts. "Antarctic Resolution" by Giulia Foscari (IT), for example, draws attention to the dramatic situation of the continent of Antarctica, so inconspicuous in our minds, with her extensive collection of facts. Holly Herndon (US), in turn, presents her project "Holly+", a true masterpiece of what machine learning is already making possible in the field of music.
The exhibition of the Linz Institute of Technology (in short, LIT) in the Learning Center celebrates the creative encounter of research and art at the Linz location. For example, "Re-wasted" by Martin Reiter (AT), Jörg Fischer (AT), Johannes Braumann (AT) and Florian Nimmervoll (AT) takes a critical look at the way we deal with plastics, while "Transforming Sound and Material" by Mark Hlawitschka (DE) and Moritz Simon Geist (DE) provides a hypnotising soundscape.
"STUDIO(dys)TOPIA — at the Peak of Humankind" is the title of this year's theme exhibition in the Science Park, which focuses on the encounter between two disciplines – art and science – whose essence is to arrive at possible answers and solutions despite contradictions. For example, Kat Austen (UK/DE) and Fara Peluso (IT/DE) present "Ouroboros", a record made of biomaterials, as it could be used in a resource-saving world. "Living Dead" focuses on the biological diversity of our planet and Laura Deborah Cinti (IT/ZA) goes in search of a female partner for one of the rarest plants on earth.
The Science Park will also be transformed into an international guest house for this year's partner institutions from New York, Barcelona, Tokyo and many other places around the world with the artistic "Garden Partner Exhibition". In the two pandemic years, we stayed connected online, now we are trying to meet physically again. The focus is on the question of "But How?" – a question that of course must include many perspectives from the countries of this world.
Between all these exhibitions in KEPLER'S GARDENS rests the Sound Park, whose time-honoured trees radiate a serenity that stands in peculiar contrast to the hectic – and fleeting? – of our technologically saturated world. An ideal setting for the sound artist Bill Fontana (US), who plays with the sound worlds and resonances of the equally venerable bells of Notre Dame in his project "SILENT ECHOES_NOTRE DAME".
In any case, the spacious area of KEPLER'S GARDENS still offers plenty of room for a not insignificant group of people whose voices should be heard much more: At create your world, the young, curious and future-oriented next generation gathers and presents its ideas and projects for the near tomorrow. Packed are creativity, the joy of experimentation and activism.
Ultimately, together with our partners like Hakuhodo, BRANTNER Green Solutions and AfB, we reflect on a strategy to make festivals like this sustainable: In the Transformation Lounge, we ask ourselves whether it is still responsible to hold an international event of this dimension at all. Does a festival with its ecological footprint still fit into our present? What would a festival on "Planet B" that is climate neutral look like?
A few streetcar stops away, in Linz city center, the number of openings is not unstoppable. The Art and Culture Mile on the Danube forms the second festival hotspot. The LENTOS Kunstmuseum provides insight into the young media art scene in Latin and South America and, in collaboration with the Cisneros Fontanals Art Foundation (CIFO), presents, among other things, the sound installation "Chimera, Expanded Bodies" by Amor Munoz (MX) or the project "Have You Seen Her…?" by Dora Ytzell Bartilotti (MX), which draws attention to disappeared women in her home country of Mexico.
The University of Art Linz and the Atelierhaus Salzamt are bringing together perspectives from more than 20 art universities from around the world whose students are participating in this year's Ars Electronica Campus. Among them are HTW Berlin, CINETIc Bucharest, SAIC Chicago, London College of Communication, K'ARTS Seoul, ArTeC Paris and University Wellington, to name just a few. The Interface Cultures master's program, which is based in Linz, will be spotlighting the artists studying at the local art university in its tried-and-tested exhibition "Von schwarzen Schwänen" ("Of Black Swans").
Uwe Rieger (DE/NZ) and Yinan Liu (NZ) experiment with light and shadow at the southernmost point of the festival mile and invite you to a spectacular journey of holographic 3-D animations with "LightSense" in Linz's Cathedral of St. Mary.
With its exhibitions such as "Understanding AI" and "Global Shift," the Ars Electronica Center not only addresses current issues in art, technology and society, but also, thanks to promising collaborations with artists and renowned institutions, once again fills the hard disks of its Deep Space 8K with exciting and new content. The immersive projection room, recently equipped with new laser projectors and the most powerful graphics cards, will set the stage for a packed program every half hour from the very first day of the festival.
Admittedly, this all-day opening round will take its toll. Nevertheless, there should still be some energy left in the evening to join the official festival opening in the beautiful castle courtyard in KEPLER'S GARDENS! Here you not only meet old friends and make new acquaintances. The Norwegian artist Jana Winderen (NO) will provide an impressive evening with her performance "Listening Through the Dead Zones" as well as the Japanese pianist Maki Namekawa (JP), who will attract attention with several piano solos!
THU September 8, 2022: Futurelab Day
The Ars Electronica Futurelab is the think-and-do tank of the Ars Electronica, developing new concepts for a future society for more than 25 years now. The lab acts in an inspiring field of tension between disciplines and transnational cooperation, all the while placing humans at the center of its research.
As part of the "Open Futurelab" program, this year once again features an entire "Futurelab Day": Thursday's extensive program is aimed at all people who want to explore and actively shape the future, based on the Ars Electronica Futurelab's work. This year's theme is "Creative Resilience for a Planet B": With many crises at hand, how can creativity, art and technology support society to through crises and aid in overcoming challenges in order to actively create a positive future together?
The Futurelab Day starts off with Morning Inspirations: Friends, partners and members of the Ars Electronica Futurelab share an open discussion with the public. The Club of Rome starts the Afternoon Experiences, where the public is invited to symposia and open discussions. Guest speakers include climate activist Selina Neirok Leem and environmental scientist Ernst Ulrich von Weizsäcker, artists, scientists and a wide range of Futurelab partners such as BMW, Cisco and Nikkei. The Afternoon Experiences include symposiums on "Work of the Future", "Media of the Future" and "Humanity of the Future", a wide range of unique workshops on creativity and the future as well as Guided Tours by lab members. At the Night Performances, the Futurelab Day ends with unique performances in the Deep Space 8K, highlighting the latest productions of the Ars Electronica Futurelab by it's members and guests.
FRI September 9, 2022: STARTS Day
The European Commission's initiative needs no further introduction. Science, Technology and Arts (S+T+ARTS) form the innovative triangle in which numerous prototypical projects and cooperations take place that show what innovation must achieve in the 21st century. Innovation for and from Europe – that's what STARTS Day is all about. The focus is on creative minds and groundbreaking cooperation projects between science, technology and art.
As part of the festival, the STARTS Prize exhibition is not only a great show. It will be the thematic starting point for a full day of lectures, conferences, workshops and performances around innovation for the 21st century. The high-profile STARTS 2022 lineup and part one of the themed symposium at KEPLER'S GARDENS include names of two STARTS Prize winners Giulia Foscari (IT) and Holly Herndon (US). In addition, composer Charles Amirkhanian (US) will deliver a eulogy on artist and this year's Visionary Pioneer of Media Art, Laurie Anderson (US).
The Ars Electronica Center demonstrates the potential of bringing together a technology like Deep Space 8K and digital versions of masterpieces from the Vatican Museums and the Louvre. For example, the co-production of Grand Palais Immersif and Musée du Louvre brings a digital, immersive version of Leonardo da Vinci's "Mona Lisa" to Linz.
After two years of virtual events, the Ars Electronica Center will also host the Expanded Animation Symposium of the Hagenberg Campus of the Upper Austria University of Applied Sciences (AT). Over the course of three days, several international artists, researchers and developers will come together in Linz to discuss current processes of change in the broader field of animation. The program will be accompanied by screenings of the Ars Electronica Animation Festival.
On Friday afternoon, KEPLER'S GARDENS will be transformed into a very special place to see and hear, when the ensembles of the Bruckner Orchestra (AT) will spread out at several locations in the festival area. The concerts from small groups weave together to form a tapestry of sound that every visitor can enjoy on their way from A to B.
The Ars Electronica Award Ceremony in KEPLER'S GARDENS will not only bring together the winners of the 2022 Prix Ars Electronica 2022 and the 2022 STARTS Prize, but also Sarah Newman (US), Kasia Chmielinski (US), Matthew Taylor (US) will receive the "Ars Electronica Award for Digital Humanity" from the Austrian Ministry of Foreign Affairs for their "Data Nutrition Project". The musical part of the evening will be performed by the Serbian LP Duo (RS) and the musician and media artist Arash Akbar (IR) from Tehran.
SAT September 10, 2022: Plan B Day
Even before the festival begins, 200 students from more than 70 countries have spent four weeks at the Festival University organized by Ars Electronica and JKU spending time with JKU scientists, Ars Electronica artists and many other high-ranking experts from all areas of art, technology, science and society. They present their ideas and insights gained in the search for an international constitution for climate protection in a realistic simulation of an international court of justice.
"STUDIOTOPIA – Art meets science in the Anthropocene" is an initiative that aims to promote cooperation between cultural and research institutions, universities, innovation centers, creatives and citizens. In the second part of the thematic symposium, which will take place in KEPLER'S GARDENS, participants are invited to think creatively and critically about the ecological and socio-political implications of the Anthropocene. The panel will include Bernd Fesel (DE), Director of the European Creative Business Network (ECBN), Alexandra Antwi-Boasiako (DE) from FILMFEST Hamburg, innovation expert for arts and technology Bradly Dunn Klerks (NL/BE) and Olga Tykhonova (UA) from Museum Booster. The Branch Magazine Panel will address how collaboration rather than competition, craft and technology, and a sustainable and equitable Internet can support all communities and actions that pursue the goal of an alternative future for our climate. Babitha George, Shannon Dosemagen, Camila Nobrega and Anasuya Sengupta discuss.
Parallel to the conference program, the create your world Ceremony will honor the award winners of the younger generation – first and foremost, 19-year-old award winner Mary Mayrhofer (AT) will receive the Golden Nica of the Prix Ars Electronica for "Die schwarze Decke ("The Black Blanket,") with which she has succeeded in overcoming depressive phases and also self-confidently addressing this in public.
While the university buildings of KEPLER'S GARDENS will once again host numerous exhibitions, families, children and young people will romp around in the green parks, which will always invite them to linger in between. For the physical well-being provide on the five festival days not only local food stalls but on Saturday also an organic farmers' market of Bio Austria with delicious delicacies from the region.
There is plenty of room for sound art at Sonic Saturday in the premises of the Anton Bruckner Private University of Upper Austria, which are ideally equipped for this purpose. "Laurie Anderson in Concert" is the highlight of the evening at KEPLER'S GARDENS: Laurie Anderson (US), Visionary Pioneer of Media Art 2022, is a musician, composer, filmmaker, writer, and media artist, and is one of those rare people who has not only traversed many genres, but also knows how to combine them. The evening will be complemented with another musical journey by the orchestra of the Filharmonic Brno (CZ) conducted by Dennis Russell Davies (US).
SUN September 11, 2022: Prix Day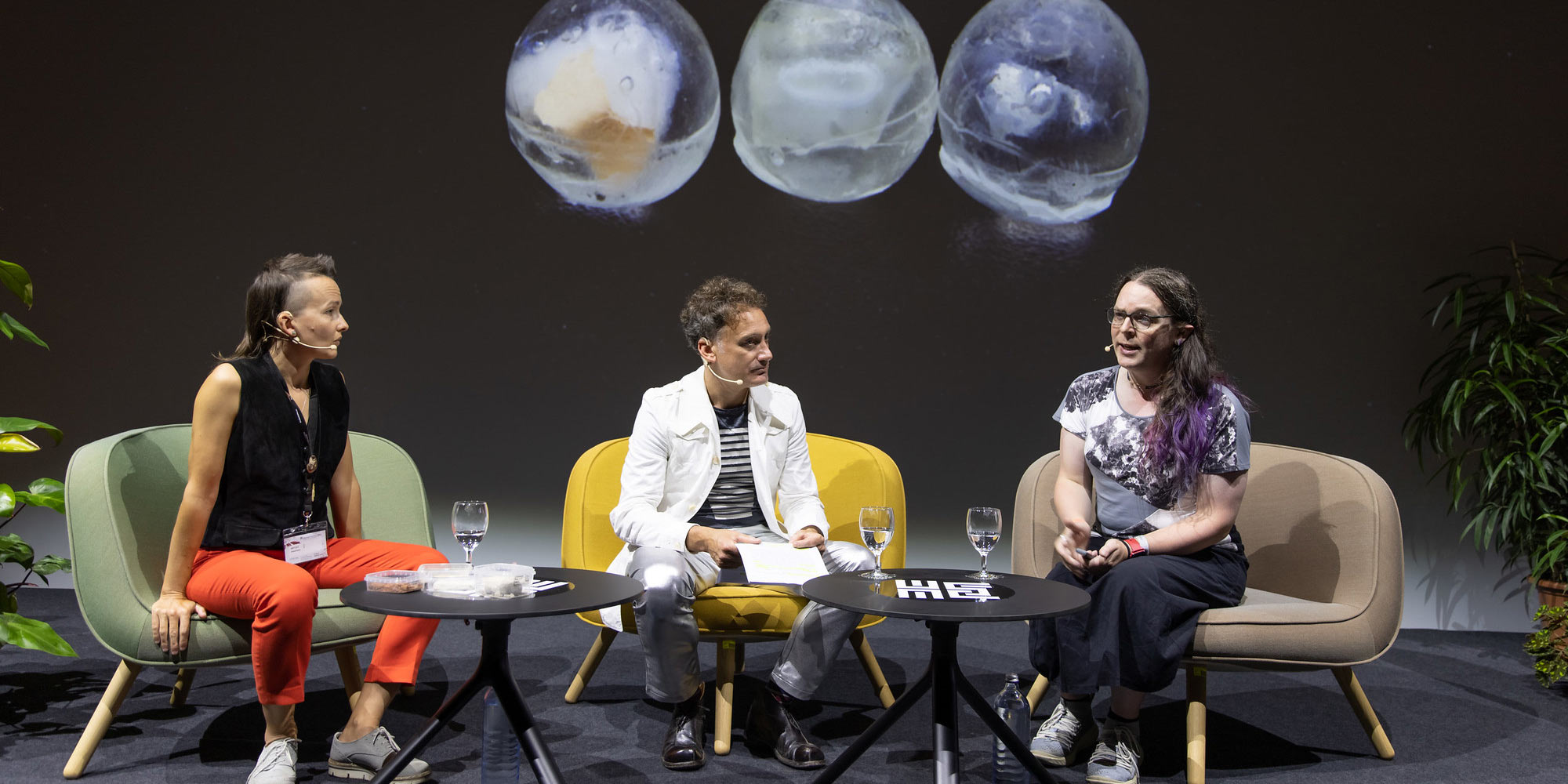 Ars Electronica is one of the world's top addresses for media art. At the festival, you'll meet the Who's Who of the international media art scene as well as young shooting stars who are just starting to make a name for themselves. While the CyberArts Exhibition presents outstanding artistic works that attract a great deal of attention every year, the Prix Forums feature the award winners themselves. In the categories "Computer Animation", "Interactive Art+" and "Digital Communities" there will be open discussions led by the jury and moderated by Isabelle Arvers (FR), José-Carlos Mariátegui (PE/UK) and Thomas Gegenhuber (AT).
Maki Namekawa (JP) will accompany the last day of the festival in KEPLER'S GARDENS with soothing piano sounds. For those who have not yet made it, this Sunday will be the last opportunity to visit exhibitions or events that have not yet been visited, or to be inspired to create further impulses for your own "Plan B".
Even though the physical gates of the 2022 Ars Electronica Festival close Sunday evening, one exhibition will remain open even longer: State of the ART(ist) is a new initiative launched by Ars Electronica and the Ministry of International and European Affairs to enable the unfolding of artistic freedom within a secure framework. Anyone who wants to visit the virtual art gallery populated with contributions from around the world can do so even after attending the Ars Electronica Festival.
Enough input for a plan(et) B? Then it's time to do something!