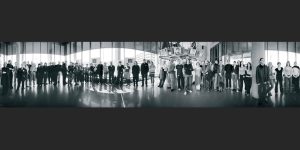 COMPUTER ANIMATION / VISUAL EFFECTS
Rita Street (US)
Rita Street is the managing director of Radar Cartoons and the out-of-house entertainment producer for the Los Angeles-based design house Mighty Fine and the co-producer of The Nicktoons Film Festival. She is the founder of Women In Animation and a board member of ASIFA-Hollywood.
Shuzo John Shiota (JP)
Shuzo John Shiota joined Polygon Pictures in 1999, where he spearheaded the company's transition from a boutique studio to a full-capacity animation services studio. Polygon now houses 60 artists and is renowned worldwide for its animation prowess as well as for its efficient production pipeline. Shuzo was appointed president and C EO of Polygon in June 2003.
Boo Wong (US)
Boo Wong is head of the CGI department of the NYC production house Curious Pictures. Prior to working in digital production, Boo Wong, spent eight years immersed in the world of modern dance. In addition to choreographing original work for companies, she performed and studied under Sankai Juku, Doug Varone, and Merce Cunningham. She earned a degree in Electrical Engineering, with an emphasis in computers, from California State University, Fullerton, CA.
Samuel "Lord" Black (US)
Samuel "Lord" Black holds a Bachelor's Degrees in Electrical Engineering and Computer Engineering from the University of Michigan, and a Masters Degree in Computer Science from the University of North Carolina. He is currently the Chair of the SIGGRAPH 2005 Computer Animation Festival. He works in animation voice-over with credits including Monsters, Inc. and The Incredibles NSA.
Dietmar Offenhuber (AT)
Dietmar Offenhuber, born 1973, graduated with a degree in architecture and has been working since 1994 in the fields of animation, virtual environments, and digital architecture. Between 2002 and 2004 Dietmar worked as key researcher in the Interactive Space department at the Ars Electronica Futurelab. Since Fall 2004 he teaches animation at the Polytechnical University of Hagenberg in Austria.
DIGITAL MUSICS
Naut Humon (US)
Naut Humon is the director of operations for the RECOMBINANT MEDIA LABS in San Francisco. This network of A/V based actions houses the Surround Traffic Control Cinesonic system for performance exhibitions and international residencies. He is also producer and curator for the Asphodel label along with his own projects for speaker-screen installations.
David Toop (UK)
David Toop is a musician, writer and sound curator. He has published three books, currently translated into six languages. His first album was released on Brian Eno's Obscure label in 1975; since 1995 he has released six solo albums and curated five acclaimed CD compilations for Virgin Records. As a critic and columnist he has written for many publications. Currently he is a Visiting Research Fellow at the Sound Department of the London Institute.
Gordon Monahan (CA/DE)
Gordon Monahan, born 1956. Since 1978, Monahan has designed multimedia sound installations and performances, predominantly with loudspeakers, videos, self-designed kinetic machine sculptures and piano. His sound installations and performances include Earworks (1983), Springworks (1990), Music form Nowhere (1992) and Sound and the Machines that make them (1994).
Alain Thibault (CA)
Alain Thibault born 1956. His music has been performed in Canada and abroad. In 1982 he received top honors in the electroacoustic category of the CBC National Competition for Young Composers. In the area of multimedia, he has collaborated with visual artists and has participated on a variety of performances, theater productions and concerts, both as a composer and/or synthesizer programmer.
Yuko Nexus 6 (JP)
Yuko Nexus 6, born 1964, attended Kansai University in Osaka, Japan and holds a B.A. Degree in Sociology. She has frequently performed in Asia, Canada and the US. She has been a part-time lecturer at Chukyo University since 2001 and a part-time lecturer at Nagoya University of Arts and Sciences since 2002. Kitamura has been a member of Women's Performance Art Osaka since 2001.
INTERACTIVE ART
Scott deLahunta (NL/UK)
Scott deLahunta is a writer and researcher (with Writing Research Associates and Dartington College of Arts) in the field of overlap between the practices associated with live performance and emerging technologies.
Elaine W. Ng (HK/US)
Elaine W. Ng, independent critic and curator. From 2001-2002 she was the General Manager of Videotage. She is a contributing editor for Leonardo Electronic Almanac and editor of Art Asia Pacific.
Benjamin Weil (FR/US)
Benjamin Weil is Curatorial Chair of Eyebeam, and media curator at the San Francisco Museum of Modern Art, In 1994, he co-founded ada 'web. Prior to that, he was among the founding members of The Thing (1991), an interactive computer network that focuses on contemporary art and cultural theory.
Fumihiko Sumitomo (JP)
Fumihiko Sumitomo, born 1971. MA in Culture and Representation Course, Graduate School of Arts and Sciences, The University of Tokyo. Recent exhibitions include "Out the Window" (Japan Foundation Forum, 2004), "Reactivity" (ICC, 2004), "Art Meets Media: Adventure in Perception" (ICC, 2005). Contributed essays on contemporary artists and museum studies.
Edwin van der Heide (NL)
Edwin van der Heide graduated from the Institute for Sonology at the Royal Conservatory in The Hague in 1992. His current work is hard to define in the traditional terms of music, sound art or media art because he is permanently working on the edge and the characteristics of the used medium. In this sense the medium does not just mediate but is being explored, redefined, and finally composed with a musical approach involving a new communicating language.
NET VISION
Cornelia Sollfrank (DE)
Cornelia Sollfrank is an artist whose central concerns in her conceptual and performative works in "mixed media" are the relation between art and politics, subversive potential of new media art, the advent of a new image of the artist in the information age, gender-specific handling of technology, as well as networking and communication as art.
Karel Dudesek (UK/AT)
Karel Dudesek is an ex-performance artist, musician, TV and radio activist, currently he is professor at the Ravensbourne College of Design and Communication, London, leading the postgraduate courses in Interactive Digital Media and Networked Media Environments. Dudesek became known with Minus Delta IUPA, Van Gogh TV and the Ponton Media Lab.
Golan Levin (US)
Golan Levin is an artist, performer and engineer interested in the exploration of new modes of reactive expression. His work focuses on the design of systems for the creation, manipulation and performance of simultaneous image and sound, as part of a more general inquiry into formal languages of interactivity, and of nonverbal communications protocols in cybernetic systems. Presently he is Assistant Professor of Electronic Art at Carnegie Mellon University, Pittsburgh.
Tomoe Moriyama (JP)
Tomoe Moriyama studied art history and received an M.A. degree at the University of Tsukuba. Since 1989, she has organized over 30 exhibitions on media art and pre-cinema history. She is an invited researcher of The University of Tokyo, as well as a lecturer of media art at Waseda University in Tokyo. She is a jury member of Digital Contents Grand-Prix of the Ministry of International Trade & Industry, and a councilor of the Virtual Reality Society Japan.
Ed Burton (UK)
Following a degree in architecture at the University of Liverpool, he studied for an M.A. in digital arts at the Middlesex University Center for Electronic Arts. His M.A. work on computer models of young children's drawing behavior subsequently became part of a Ph.D. research project on artificial intelligence, dynamic systems and developmental psychology. Ed joined Soda in 1998 and authored the Java toy sodaconstructor.
DIGITAL COMMUNITIES
Danah Boyd (US)
Danah Boyd a Ph.D. student with Peter Lyman at SIMS (University of California, Berkeley) researching articulated social networks, trying to understand how people present their digital identity, negotiate social contexts and articulate their relationships in the YASNS (Yet Another Social Network Service) Phenomena.
Hong Feng (CN)
Hong Feng, born 1968, studied mathematics and Pansystems Methodology. Feng and two colleagues founded RON's Datacom Co., Ltd. in May 1995. Since then, he's been exploring how to build a successful business model based on free software. He is a freelance writer and author of four books, including Free Software: New Game Rules. He publishes FREE SOFTWARE Magazine (FSM)..
Anita Gurumurthy (IN)
Anita Gurumurthy is a founding member of IT for Change. She is also a Research Consultant at Indian Institute of Management Bangalore and currently involved in a national level research study in India that seeks to map partnerships between the government and NGOs in the domain of health delivery. She is also the author of Gender and ICTs, a publication that is part of the cutting edge series from BRIDGE, IDS Sussex
Andreas Hirsch (AT)
Andreas Hirsch is a specialist in conceiving and engineering cultural systems. Two decades of work for leading cultural organizations in the arts, theatre, music, film, literature and the media include conceptualizing and curating as well as developing and managing projects. He has created numerous media environments and online projects.
Joichi Ito (JP)
Joichi Ito is the founder and CEO of Neoteny, venture capital firm focused on personal communications and enabling technologies. He has created numerous Internet companies including PSINet Japan, Digital Garage and Infoseek Japan. He is member of the board of Creative Commons, a non-profit devoted to expanding the range of creative work available for others to build upon and share.
Jane Metcalfe (US)
Jane Metcalfe is the former president and co-founder of Wired Ventures Inc. With her partner Louis Rossetto, she created and managed this diversified media company whose businesses included among others Wired Magazine and Wired Digital Inc. She is currently a partner in Força da Imaginaçao, an independent investment concern with interests in technology, media and real estate.
U19 – FREESTYLE COMPUTING
Sirikit Amann (AT)
Sirikit Amann, born 1961, studied political science, theater arts and economics in Vienna, Munich and Boston. Since 1987 she has been working at the OKS (Austrian Cultural Service, now Kulturkontakt) where she mainly specializes in applications of new media and ICT. She has participated in selected national and international projects centering on "new media in art/culture with a special emphasis on e-learning" and with a particular focus on young people.
Thomas Köner (DE)
Thomas Köner, born 1965, works with sound art, film music, video, remix radio-play and audio-videoinstallation. Between 1987 and 1992, Köner attended the Musikhochschule Dortmund. In the field of film and video, Köner collaborates with Yann Beauvais and Jürgen Reble. The author of more than 60 solo, collaborative and film music CDs, Köner has won several prizes at festivals around the world.
Tereza Szente (AT)
Tereza Szente studied visual media / graphic design and photography at the University of Art and Industrial Design in Linz. She teaches courses for visual communication and multimedia at several institutions. She has lectureships at the University of Art and Industrial Design in Linz; at the FH Hagenberg, a technical college for computer science and media; and the HBLA, a secondary school for creative design in Linz.
Gerlinde Lang (AT)
Gerlinde Lang has been working for fm4, a radio station for youth and culture, since 1998. She is presenter of the magazines "connected", "update" and "homebase", and author of the fashion column "glamorous", which although non-normative is astonishingly influential. She is head of the information technology department, called "digital underground", which also broadcasts "IT news" on fm4 every afternoon.
Christopher Lindinger (AT)
Christopher Lindinger studied computer science at the Johannes Kepler University in Linz. He developed educational software and control software for large industrial plants until 1998. He has been a freelance developer of virtual environments, computer graphics and computer vision at the Ars Electronica Futurelab since 1998, and head of its Virtual Environments research group since 2001.
[THE NEXT IDEA]
Wilhelm Burger (AT)
Wilhelm Burger is the director of Media Technology and Design at Hagenberg Polytechnic University. He studied computer science at the Johannes Kepler University in Linz, the University of Utah and the University of California at Riverside. Before his appointment, he worked as a developer of visualization software for ultrasound equipment, and as a researcher and developer of vision-based navigation for autonomous land vehicles.
Horst Hörtner (AT)
Horst Hörtner studied telematics at the Technical University in Graz. He has worked on developing real-time control systems and on art projects. He is the co-founder of the group Xplatz and has worked for the Seville EXPO, documenta IX, austromir and others. Since 1995 he is the technical director of the Ars Electronica Center in Linz.
Gustav Pomberger (AT)
Gustav Pomberger is a professor for computer science at the Johannes Kepler University in Linz and is head of the Institute for Business Informatics and of the Software Engineering Group. He has taught at the University of Zurich, the ETH Zurich, the University of Regensburg and the Technical University in Vienna.
Daniela Pühringer (AT)
Daniela Pühringer is working in the communications department of the VOEST-Alpine. Her emphasis is on the organization of events. For instance, she has been head of organization of the VOESTIVAL, which is a major cultural event in Upper Austria
Christa Sommerer (AT)
Christa Sommerer is an internationally renowned media artist working in the field of interactive computer installation. She currently is Professor for Interface Cultures at the University of Art and Design in Linz Austria and at the IAMAS International Academy of Media Arts and Sciences in Gifu, Japan.