Golden Nica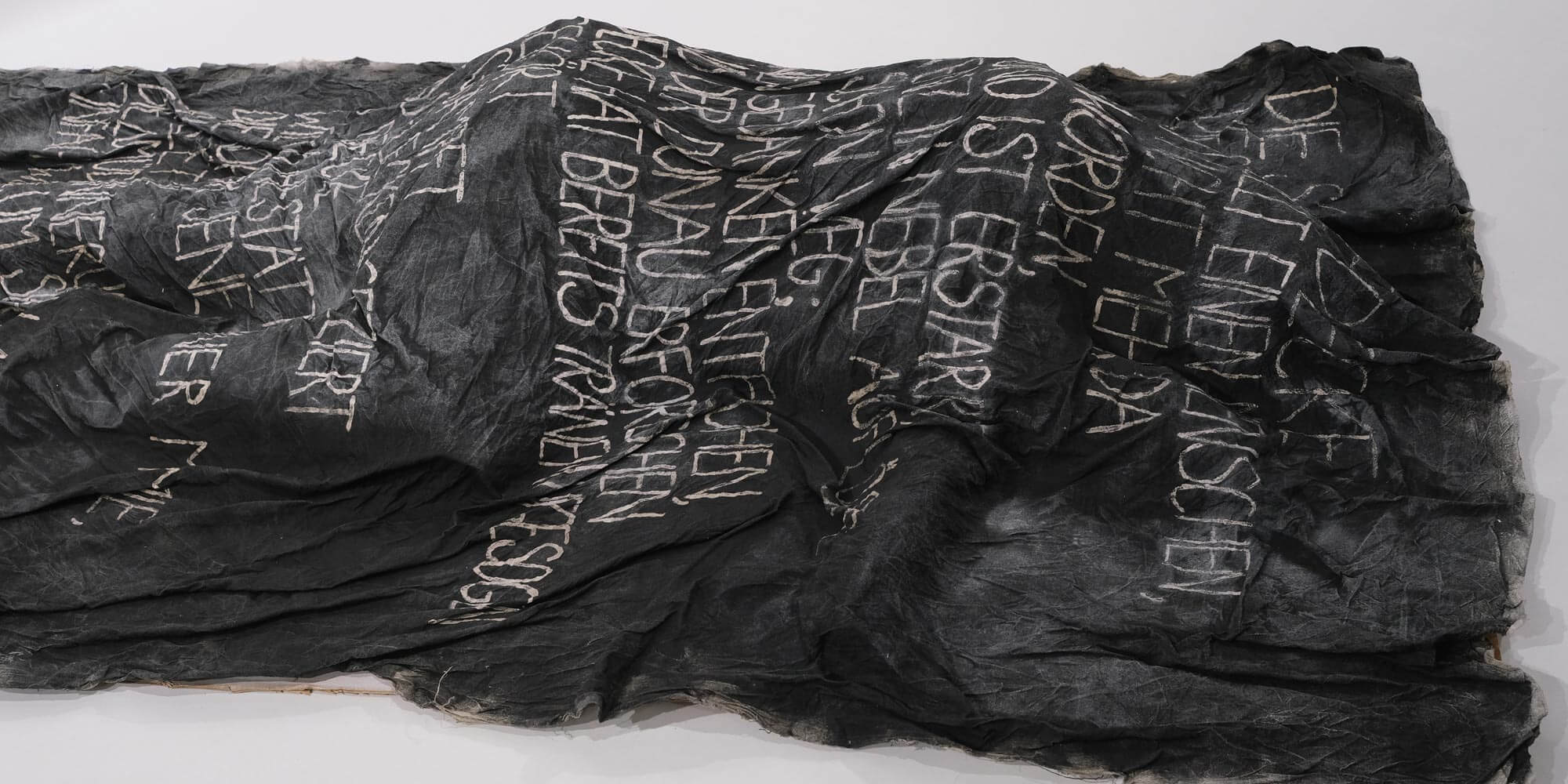 A black blanket on the floor, recognizable contours of a person apparently lying under it, and on the blanket, in white letters, a text about the blanket as a metaphor for depression: In its unambiguous and uncompromising character, this sculpture is a direct kick in the gut. It initially renders one speechless, but then it triggers a discussion and reflection about mental health, the many taboos surrounding the topic, the current situation for youth, and the lack of psychological support for them. It requires courage and strength to confront depression with such openness. And doing this in a way that really gets under the viewer's skin also requires artistic talent. But Die schwarze Decke (The Black Blanket) is not merely an oppressive work; it also gives hope, because it shows how one can use art to give expression to thoughts and feelings in a manner that makes them comprehensible even to strangers. And it shows that art is a crucial means for processing and also for educating. These are the kinds of works that the young artists have to get out of their system because they have no other choice; works that on the one hand make this category an important platform for young creative types and on the other make it possible for the general public to see the current thoughts and feelings of the coming generation as if through a magnifying glass. Die schwarze Decke has much to say about what it is like being young in these times. But it also tells us a great deal about the strong artist behind this work.
Young Professionals (14 – 19 years)
Young Creatives (<= 14 years)
Jury Statement
The Kids Are Not Alright
Sirikit Amann, Reni Hofmüller, Martin Hollinetz, Conny Lee, Martin Retschitzegger
The past several years have placed great demands on all of us. As if the life-threatening environmental catastrophe that we as a society have been knowingly heading for, and the pandemic that has been determining our day-to-day life for nearly three years were not enough: there is now a war taking place in Austria's immediate vicinity as well. While all of this unnerves and stresses us all, it nonetheless affects some of the population more than others, particularly the generation of young people. In the course of the pandemic, they were required to put their own needs on the back burner, behind those of other demographic groups as well as those of business and tourism. Their need for contact with their peers was denied, as was their right to a friction-free school education. Their right to protest climate crimes that have a direct effect on their future was simply put on hold. Particularly in childhood and adolescence, when every year represents its own era, many children and young people bravely carried on, despite being denied many crucial experiences in their life. Consequently, in the past two years, the pandemic was naturally also a prominent topic in the projects that were submitted for the Prix Ars Electronica in the u19–create your world category. However, until last year, the focus was still on devising solutions and developing ideas to avoid becoming lonely and desperate. But this year, the tone changed drastically: The dominant theme of this year's entries was the alarming mental state of the young generation. They are not simply sad or angry; their health and their very existence are at stake.
Mental health issues that developed, or that were brought on by experiences made during the past years, the feeling of falling apart as a person, and drug and alcohol addiction was a sad common thread running through this year's entries. It was therefore important to us, the jury, to also reflect this thematic focus in our selection of the winning projects and particularly of the Golden Nica.
The situation is dramatic, and this year's u19 projects should both serve as an outcry as well as elicit one—on the part of the viewers, the public, but also and in particular policy-makers, who must urgently take measures to help the future generation. For what we in the jury have seen is only the tip of the iceberg. After all, those young people who submitted projects at least still have creative means and methods for giving expression to their emotional state and for coping with it. But how many others do not have these possibilities?
Normally, the u19 category leaves us with a feeling of confidence that in the future, young people and their ideas, dynamism, and fresh energy will fix everything. This year, this feeling must give way to the worry that these young people are simply at the end of their tether. They are exhausted by always having to be understanding and sensible, by tilting at metaphorical windmills and being ignored by the public. Many kids are not, in fact, alright, and if we want to again look to the future with confidence, we must become active right now in order to provide help. We as a society cannot give young people the feeling that it will be up to them alone to sort out this mess when it is finally their turn to run things. We all must work together in solidarity to ensure a brighter future.
This year's projects for the u19 category thus demonstrate particularly impressively how important art and creative expression of all kinds are for us humans. It is evident with many works that they were not created in the context of a specific task but rather that they virtually exploded out of the young people like steam from a whistling overpressure valve. Art, in addition to social contacts, is presented in many of the projects as a solitary ray of hope. This year as well, there was a preponderance of film submissions, which on the one hand is certainly due to the fact that a good smartphone is now sufficient to produce high-quality videos, but on the other also because the gaze of young people has been shaped by various image-heavy online platforms. At the same time, another trend has become evident as well, namely an increased longing for analog media. After the many hours spent in front of a computer screen because of the pandemic, there appears to be a great urge to again create something tangible and to pursue more classical art forms.
Something that was scarcely represented among the entries, on the other hand, was video games. This is very regrettable, as there are creative developers out there whose games address social and political issues or are simply fun to play. We hope that they will submit their games again next year. We in the jury would be very interested in them. The research work behind a project is also something we would like to see a lot more of. The finished project would often be much easier to assess if the participants included the project process in their submission.
This year's u19 projects, above all the Golden Nica, should demonstrate how art and creativity can serve to give expression to something for which we have no words. And they should initiate a dialogue between the viewers and their children, between audience and artists, and above all between those affected and those responsible.
The Golden Nicas of the Young Generation since 1998