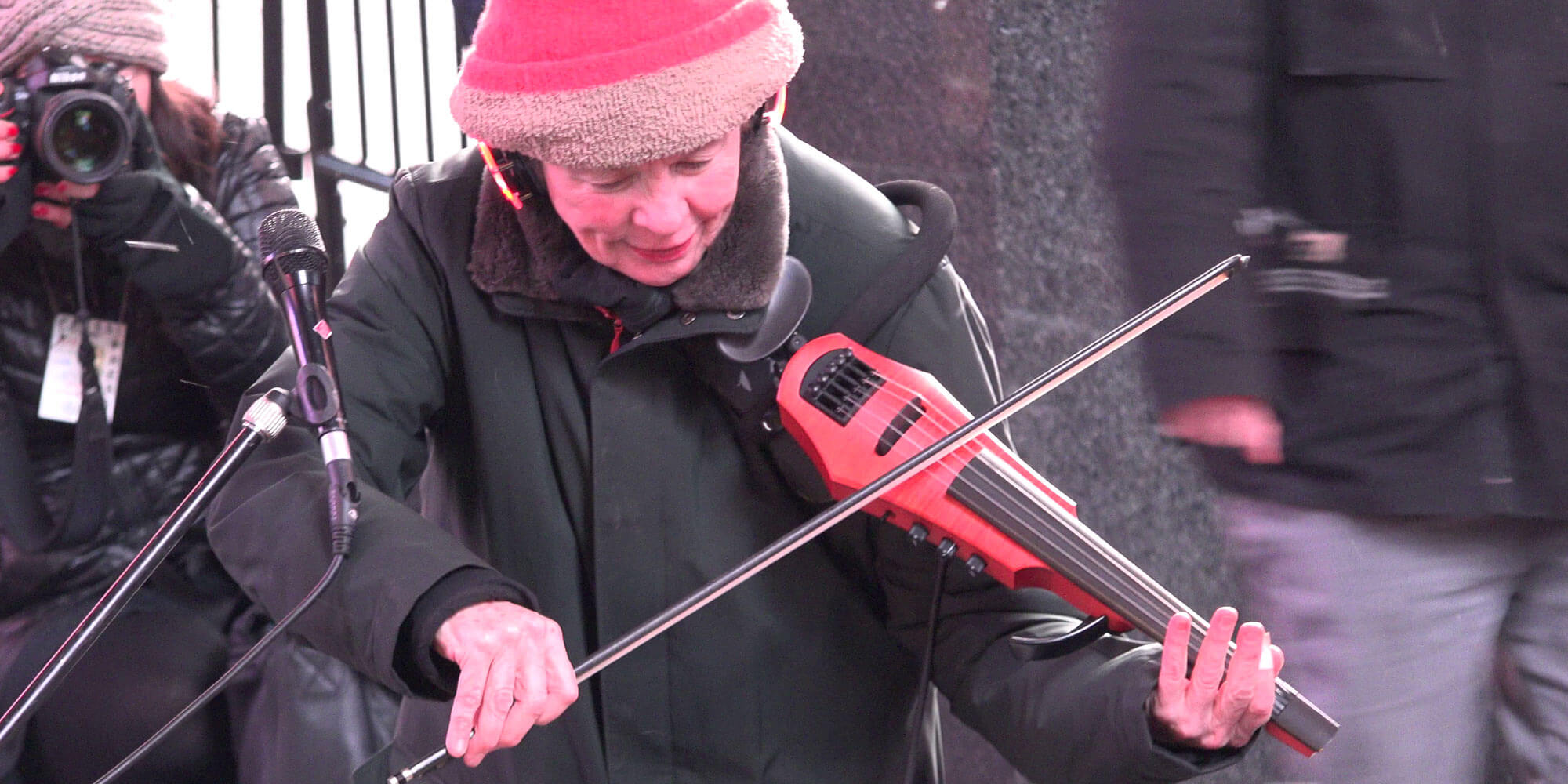 Credit: Alex Lozupone, Creative Commons Attribution-Share Alike 4.0 International
Laurie Anderson (US)
In Laurie Anderson, an artist based in New York, Ars Electronica 2022 honors a "Visionary Pioneer of Media Art" whose wide-ranging work always revolves around the relationship between people and technology and is characterized by a high degree of socio-political commitment.
A musician, composer, filmmaker, author and media artist with an unusual ability to traverse and combine various genres, she has become an influential and style-defining icon of avant-garde media art.
Born on June 5, 1947 in Glen Ellyn, Illinois, she began playing the violin as a child and played violin concertos with the Chicago Youth Symphony Orchestra. In the mid-1960s she went to New York, where she studied at Barnard College and then specialized in fine arts at Columbia University.
Her first performance art piece — a symphony played on car horns — was performed in 1969. Beginning in the 1970s, she established herself as a performance artist, created her first media installations, and began to develop her very own style of performative storytelling. In 1977, her first songs appeared on record, and with "Oh Superman" and her first album "Big Science" she became suddenly famous in 1981/82, reaching number two in the British charts. From the analog electronics of her early interfaces and instruments to the first digital synthesizers and samplers, she was never content with the existing possibilities of the devices; instead, she developed and built her own personal instruments as a pioneer of electronic music.
Violin and voice were her instruments of choice from early on, as well as the objects of her constant experimentation and exploration. One of her legendary inventions is the "Tape-Bow Violin," a violin that she converted into a tape recorder by stringing a piece of tape on the bow and mounting the tape head on the bridge of the violin, building on the practice of tape loops and collages of early electroacoustic music to create an instrument for her live performances. Her use of the vocoder, with which she transposes her voice into the electronic sound world and generates the absolutely unmistakable signature sound that is her artistic trademark, is style-defining.
She developed numerous performances and elaborate multimedia stage productions, such as the 8-hour solo opera "United States I – IV" in 1983 or "Songs and Stories for Moby Dick" in 1999.
The tour for the 2001 album "Life On A String" stopped at New York's Town Hall a few days after the attacks on the World Trade Center. Laurie Anderson decided to let the concert take place despite the dramatic events and incorporated some of her older songs. "I've often written about loss, betrayal, death, technology, anger and angels. I felt like I wrote the songs just yesterday … And now all of a sudden I'm singing about the absolute present."
In 2002 she became NASA's first artist in residence. The tour that emerged from her work there was called "The End of the Moon."
In 2008/09, the performance project "Homeland" was performed worldwide in a two-year tour, and the album for it was released in 2010.
She has a special affection for dogs. In 2010 she played the first concert exclusively for four-legged friends at the Sydney Opera House. In 2015, under the title "Heart Of A Dog," she released an album and another film, which was selected at the Venice Film Festival, among others.
In 2018, on "Landfall," she describes her experience with Hurricane Sandy, which ravaged Central and North America in 2012 and destroyed most of her belongings.
Laurie Anderson has published several films and books in addition to her career as a musician and singer, and her visual work has been featured in major museums around the world. In recent years she has designed VR installations and composed orchestral music. In 2021, she was named the Charles Eliot Norton Professor of Poetry at Harvard University.
The "Visionary Pioneers of Media Art"