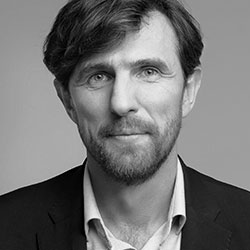 Björn Geldhof (UA)
Artistic Director of the PinchukArtCentre
Geldhof has curated numerous projects internationally, including: Ukrainian National Pavilion at the 56th International Art Exhibition – La Biennale di Venezia (2015), Future Generation Art Prize exhibitions in Venice (2011, 2013, 2017, 2019) and This is Ukraine: Defending Freedom, an official collateral event of the 59th International Art Exhibition – La Biennale di Venezia (2022). He has curated many solo-exhibitions and thematic exhibitions, such as China China, Fear and Hope, Loss: in Memory of Babyn Yar, Suns and Neons above Kazakhstan, Democracy Anew, Fragile State, and The Forbidden Image and has worked with among others: Damián Ortega, Olafur Eliasson, Anish Kapoor, Ai Weiwei, Jenny Holzer, Berlinde De Bruyckere, Tony Oursler, Jake & Dinos Chapman, Shilpa Gupta, Michelangelo Pistoletto, Marina Abramovic, Santiago Sierra, and Carlos Motta.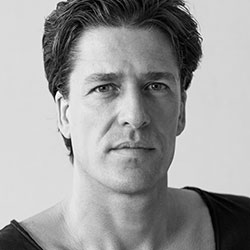 Boris Magrini (CH)
Head of programme and Curator at HEK (House of Electronic Arts)
Boris Magrini is head of programme and curator at HEK (House of Electronic Arts). He studied art history at the University of Geneva and completed his PhD at the University of Zurich. Curated shows include Earthbound (2022), Radical Gaming (2021), Entangled Realities (2019), and Future Love (2018). His book Confronting the Machine (Berlin/Boston 2017) examines the traditional narratives relating artistic production to technology. Some of his publications include: "Automation and Intentionality" in Automated Photography (ECAL/Lausanne, Mörel Books: 2021), and "Hackteria: An Example of Neomodern Activism" (Leonardo Electronic Almanac Vol. 20, Issue 1, 2014).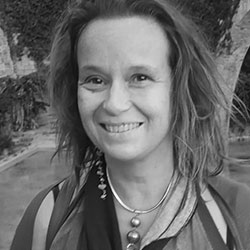 Marita Muukkonen (FI)
Marita Muukkonen (FI) is co-founder and co-director of Artists at Risk (AR) / Ecologists at Risk (ER) / Perpetuum Mobile (PM), for which she recently co-curated the symposium "Institutions and Resistance – Alliances for Art at Risk" at ZKM | Karlsruhe.
Marita has been curator at FRAME – Contemporary Art Finland, editor of FRAMEWORK: The Finnish Art Review, chairperson of the Helsinki International Artists-in-Residence Programme (HIAP) and held key functions at the Nordic Institute for Contemporary Art (NIFCA). She has curated exhibitions and events e.g in MoMA in New York, ZKM, Moderna Museet, Kiasma, Manifesta, Venice Biennial, Kyiv Biennial and Athens Biennial. Curatorial projects and publications include The Raw, The Cooked and The Packaged; The Arts Assembly; The Square; The Artists at Risk (AR) Pavilions. She is also a contributor to art publications.
Jury Statement 2022
The jury reflected on what it means to be an artist at risk and considered this situation as one of the main criteria for the selection of works. There are clearly very different situations and contexts. The State of the ART(ist) call was motivated by the desire to stand in solidarity with Ukrainian artists, but it was extended to all silenced and threatened artists worldwide.

Currently, being at risk in Ukraine means life-threatening danger due to the war, but it is not a situation of persecution, violation of artistic freedom, or political repression, as is the case in other countries for dissident artists / artists at risk. This is why we adopted different criteria for different situations and countries. A second important criterion concerns the work of the artists; we prioritized works that strengthen democratic values, human rights including environmental rights, and are close to activist methods. Collaborative approaches similar to tactical media and strategies of resistance were also favored. As few such works were submitted, we have included works that are more traditional, such as video essays and installations, but include a critical discourse.

The jury recognized the urgent need to stand in solidarity with Ukraine and its artists in the time of brutal Russian invasion. Also, the majority of the submissions were from artists from Ukraine. The jury wished to have had more submissions from persecuted and silenced artists from around the globe, who are often more difficult to reach. Among the selected artists, there are a few collectives and artists from Burma, Hong Kong and Syria, who fit the criteria described above and demonstrate a variety of resistance strategies. These just give a tiny glimpse of ongoing persecution and violations of artistic freedom, as well as forced displacement of artists worldwide.

We want to express the deepest respect for all artists who risk their lives to stand up for artistic freedom, basic human rights, totalitarian governments, and continue to create art in the middle of the war, and other unimaginable hardships. The jury recognized the urgent need to support Ukraine and its artists.

Boris Magrini (CH), Björn Geldhof (UA), Marita Muukkonen (FI)
Advisors
Larissa Agel (AT/DE): Lives and works in Vienna. She works as a freelance curator, is the project coordinator and general manager of tranzit.at and part of the steering group of Office Ukraine. Shelter for Ukrainian Artists.
Irene Agrivina (ID): Open systems advocate, technologist, artist and educator, Irene Agrivina is one of the founding members and current directors of HONF, the Yogyakarta-based arts, science and technology laboratory. Created in 1998, HONF aka the 'House of Natural Fiber' was born out of the social and political turmoil against the nepotism and corruption of the Suharto regime.
Agnes Aistleitner Kisuule (UG): General Partner at First Circle Capital a Venture Capital Fund investing in African Tech Companies. Prior serial entrepreneur and recipient of the Golden Nica 2012.
Bermet Borubaeva (KG): Researcher, curator, and artist from Bishkek, Kyrgyzstan, co-founder of Bishkek School of Contemporary Art. After her graduation from the ArtEast School of Contemporary Art in 2009 she participated in a number of Central-Asian region and in international art projects in Moldova, Switzerland, Poland, Serbia, Netherlands, USA, Mexico, etc. In her multi-faceted practice, she engages with the politico-economic issues of food production and conservation, labour, migration, urban environment, and gender emancipation.
Rashmi Dhanwani (ID): leads the Art X Company, a strategic consultancy for the cultural sector focused on strategy, audience development and sector research. Prior to founding Art X, Rashmi has worked with NCPA Mumbai, Breakthrough in Delhi, the newspaper Daily News and Analysis (DNA); Kalaghoda Arts Festival, and The Goa Project.
Michaela Geboltsberger (AT): Art historian, curator, part of the steering committee of "Office Ukraine" and founder of the residency program "Solidarity Belarus".
Christophe de Jaeger (BE): Art historian and curator specializing in media art and collaborative practices between art and research, he has realized projects in Belgium, the USA, Shanghai (China), and Milan (Italy). He is also coordinator of the department BOZAR Art & Research (Center for Fine Arts Brussels) and founder of GLUON, a platform for art, science & technology (Brussels).
Ruthia Jenrbekova (KZ): She works as an interdisciplinary post-studio artist and cultural organizer. She is co-founder of krёlex zentre (together with Maria Vilkovisky). Fields of interest are: cultural ecology, material semiotics, arts-based methodologies, trans-feminism. Currently a PhD candidate at the Academy of Fine Arts Vienna. Lives and works in Almaty and Vienna.
Alona Karavai (UA): Cultural manager from Ukraine working with visual art, electronic music and new media. She co-founded project space "Asortymentna kimnata" and online media and online archive about art "post impreza".
Kilian Kleinschmidt (DE): International networker, development and migration expert with 30 years of experience in a wide range of countries, emergencies and refugee camps as United Nations official, Aid worker and Dip-lomat. Since 2016 he is the CEO of the group of enterprises "Innovation and Planning Agency Switxboard" in Austria and Tunisia and the not-for – profit organization IPA USA.
Tatiana Kochubinska (UA): Independent curator, writer, researcher, and lecturer with main expertise in Ukrainian contemporary art. She has curated the Research Platform of the PinchukArtCentre aimed at creating the digital archive of Ukrainian contemporary art.
Siarhei Liubimau (BY/LT): Associate Professor, co-founder and lead of the Laboratory of Critical Urbanism at the European Humanities University in Vilnius.
Ana Carolina de Moura Delfim Maciel (BR): Researcher and professor in Postgraduate Multimeios Department at UNICAMP/BRAZIL. Trained in history, audiovisual and memory studies, she has been also working as a director of film documentaries. She is currently the coordinator of research centers at COCEN/UNICAMP, President of Refugee's Chair "Sérgio Vieira de Mello" (UNICAMP/UNHCR) and coordinator of MemoriasCovid 19 Platform (UNICAMP/FAPESP).
Oleksandra Nabieva (UA): Graduated from the National University of «Kyiv-Mohyla Academy» (Kyiv, Ukraine) with a Master's degree in «Theory and history of culture.» Researcher, cultural critic, and independent author. Curator of DOCU/SYNTHESIS, an interdisciplinary program of Docudays UA that explores the boundaries of documentary, working with new media, audio, video, analogue, and digital art.
Leila Nachawati Rego (ES/SY): Spanish-Syrian writer and human rights defender. She is a communications officer at the Association for Progressive Communications and a professor of communications at Madrid's Carlos III University, where she recently completed her PhD in Media and Conflict. She is the co-founder of news portal on Syrian civil society SyriaUntold and has published a novel on the 2011 uprisings in the Middle East and North Africa, "When the revolution is over".
Helena Nikonole (RU/TR): New media artist, independent curator and educator currently based in Istanbul. Her field of interests embraces hybrid art, bio-semiotics and Artificial Intelligence. One part of her work is dedicated to utopian scenarios of post-human future while another is focused on dystopian present and critical approach to technology.
Daria Parkhomenko (RU): Curator and founding director of LABORATORIA Art&Science Foundation (since 2008) – the first exhibition and research centre in Russia focused on constructing platforms of interdisciplinary interaction between contemporary art and science.
Ursula Maria Probst (AT): Cultural worker for the cultural center fluc Vienna, public art lower Austria, KÖR; with projects in Myanmar, Vietnam, China, Ukraine, Panama, Cuba, Brasil, Chile, Bulgaria, Austria.
Oleksiy Radynski (UA): Filmmaker and writer based in Kyiv. His films have been screened at International Film Festival Rotterdam, Kurzfilmtage Oberhausen, Docudays IFF, the Institute of Contemporary Arts (London), and S A V V Y Contemporary (Berlin), among others, and have received a number of festival awards. After graduating from Kyiv-Mohyla Academy, he studied at the Home Workspace Program (Ashkal Alwan, Beirut). In 2008, he cofounded Visual Culture Research Center, an initiative for art, knowledge, and politics in Kyiv.
Maryam Razi (IR/US): Independent curator, eyewear craftswoman and designer based in Southern California and Tehran, with special interest in intersections of transdisciplinary innovative projects involving art, science, technology, and culture.
Farah Salka (LB): Beirut-based Lebanese-Syrian feminist organiser. She is the Executive Director of the Anti-Racism Movement (ARM) in Lebanon and works on organizing with migrant communities and particularly migrant women and migrant domestic workers. Farah is an advisor to MamaCash, the Equality Fund and the A-Project in Lebanon.
Hedwig Saxenhuber (AT)
Georg Schöllhammer (AT)
Mustafa Sheta (PS): Ex-political prisoner. He has long and extensive experience in the Palestinian civil sector as a researcher, journalist and coordinator for various organizations and projects; such as Interpeace (UNOPS/UNDP), Palestinian Refugee and Diaspora Center (SHAML), Bisan Center for Research and Development and Muwatin Institute for Democracy Study. He is a member of the Board of directors of PPAN, and in June 2016 he became the General Manager of The Freedom Theatre.
Caroline Sinders (US): Award winning critical designer, researcher, and artist. She's worked with the Tate Exchange at the Tate Modern, the United Nations, Ars Electronica's AI Lab, the Harvard Kennedy School and others.
Eric Siu (HK): New media artist who has a broad interest in device art, interactive art, kinetics, installation, video and animation. He is currently based in Tokyo and works as a creative director for Great Works Tokyo advertising agency.