So, let's continue spotlighting the labs offering "New Views of Humankind." Today, we'll profile BioLab, the go-to place to find out about biology, genetic engineering and R&D dealing with life itself down to its most minute components.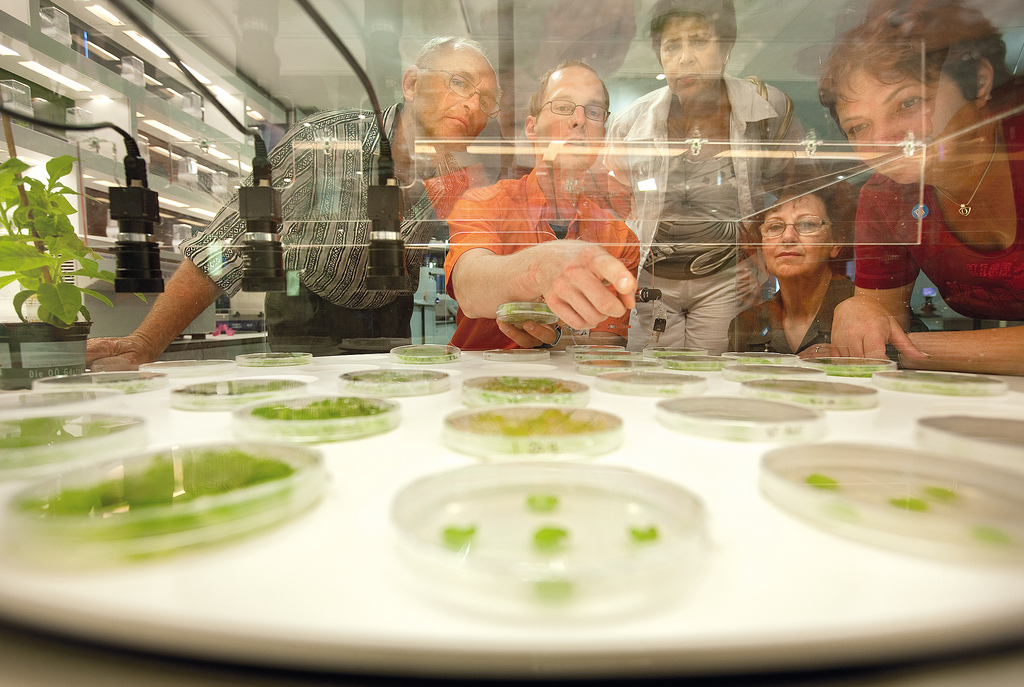 BioLab closely resembles the typical picture people have in mind of a laboratory. Here, you'll find all sorts of equipment, stuff that most of us would have a hard time telling apart from a coffeemaker or a fridge. Test tubes and containers holding seedlings and specimens adorn the shelves. But there's one big difference between BioLab and a "real" laboratory: the fact that everybody's welcome here. In stark contrast to facilities that code locks, fingerprint scanners and other such security infrastructure make into hermetically sealed-off spaces, the AEC's BioLab is always an open house.
What's to be discovered here? Well, you might start off by venturing into a world that can only be explored with the help of high-tech optics. In the images provided by a reflected light microscope, you can get lost in the dense jungle of your own scalp and marvel at your skin's structure. Or maybe you'd rather get grossed out by a close-up look at pimples and other blemishes!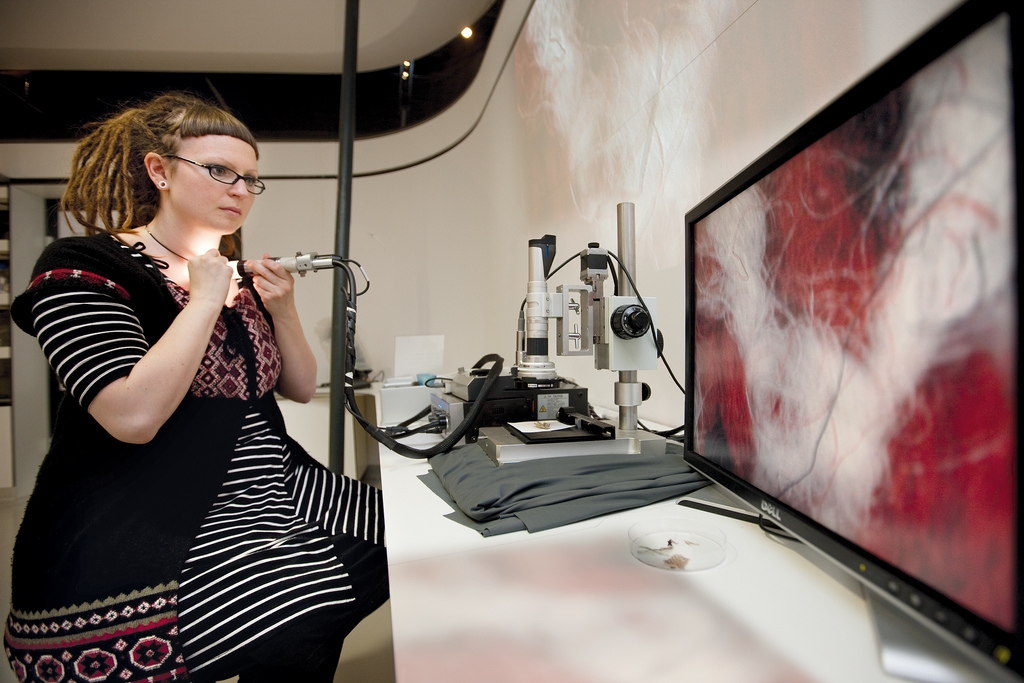 Once you've completed this detailed examination of your exterior, you can move on to the transmitted light microscope and focus on the internal structure of a hair or other things that are thin enough to be penetrated by light. Among the specimens you can check out is a sliver of an optic nerve, which means you can see what you see with, so to speak.
Then it's time to really get down to business. An electron microscope delivering up to 24,000x magnification lets you behold red blood cells. Linz's Central Blood Bank is using this microscope in cooperation with the Ars Electronica Center to conduct research on the decay and life expectancy of these blood cells. Stefan Schwarzmair, the man in charge of the BioLab and its director of research, would be pleased to provide a comprehensive briefing.
Once you're done looking into the microscopes, there's lots more to do. In one of the special workshops, you can try your hand at plant breeding—though not with the garden variety methods human civilizations have been using since time immemorial. In BioLab, you put little pieces of a tobacco plant into a culture medium and, in time, a leaf segment will give rise to a complete plant. This is a nifty trick, though one that unfortunately (or maybe Thank God!) doesn't work as easily on higher life forms and human beings. Nevertheless, this cell culture technique also constitutes the basis for so-called therapeutic cloning, the aim of which isn't to cultivate entire organisms but rather to generate "replacement parts" for people who are gravely ill or severely injured.
A visit to BioLab is definitely a rewarding experience. I mean, let's face the facts about what we learned in biology class in school—if it's not totally outdated, then it's at least, shall we say, rather retro. This subject is simply fascinating and, after all, what we're talking about here is the very fundamentals of life itself. And you get to wear a cool white lab coat too.
By the way—Stefan Schwarzmair will be authoring an occasional column on biology, genetics and other related subjects. We're very much looking forward to the launch!