Summer hasn't even begun yet and we're already looking forward to its final month. But it's easy to see why: u19 – CREATE YOUR WORLD, the 2012 future festival of the next generation, is set for August 30-September 3. This year, the Kinderfreunde, Upper Austria's youth advocacy organization, is even offering the opportunity to spend a whole week in Linz for an intensive Festival experience. 
From Sunday, August 26 to Sunday, September 2, 9-13-year-olds have a unique chance to get a behind-the-scenes look at CREATE YOUR WORLD and the Ars Electronica Center. Participants can give free rein to their creativity, technical skills and interests, and have their say about the world that's coming their way. They can look over the shoulders of stars of science and art as they go about their work.
Tinkerers and tech-heads will have fun checking out new gear and playfully putting it through its paces. Hands-on discovery is the name of the game here. Young reporters can join an open editorial staff to experience how radio & TV broadcasting works and how to write journalistic copy. Creative spirits can live out their fantasies and sow some wild artistic oats.And just sort of in passing, you can get informed about issues of great future importance and find out how to get involved. There's something for everybody!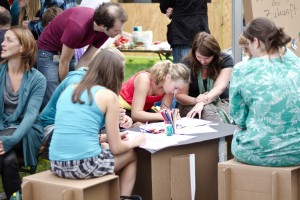 One special highlight of this vacation week is actively participating in the world-famous Linzer Klangwolke. At a Klangwolke workshop, you can join crews at work on a whole alphabet of colorful LED letters, and compose your own pieces of music that will be presented to an audience of over 100,000 at the voest alpine Klangwolke.
Besides the Festival's many attractions, there's the opportunity to discover Linz itself, the City of Steel and European Capital of Culture. But there'll also be lots of time for fun & games or just kicking back at poolside and enjoying the last few days before another summer recess is history.
You can get more info and get signed up here or at the Kinderfreude website.