We'll be taking a very innovative and interesting approach to our "Out of Control" exhibition this coming Sunday, May 20 at 8 PM—an online treasure hunt in cooperation with Jananas Gold!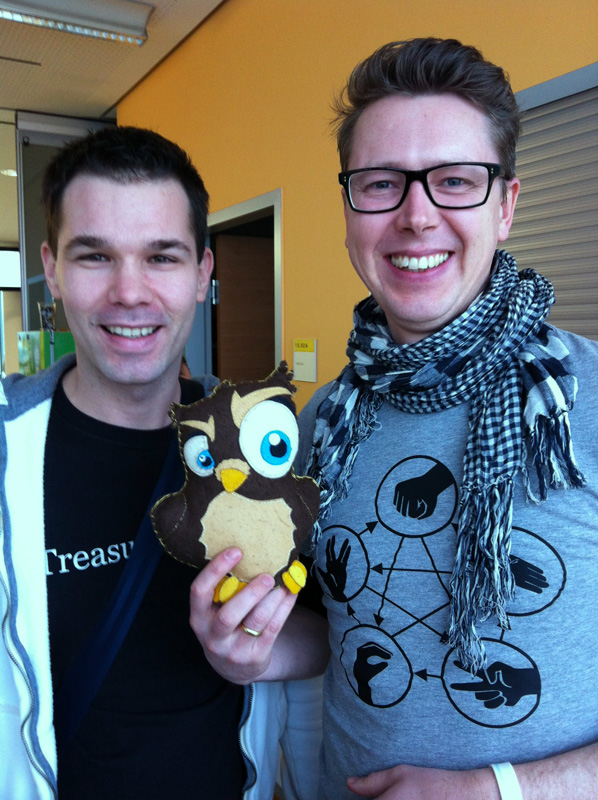 René Voglmayer and Michael Weberberger, Photocredits: Robert Lender (www.robertlender.info)
The answers to six riddles—all having to do with the question "What does the internet know about me?"—will lead hunters to the location of the treasure they seek. All the action is virtual and online, so you can join the fun right from the comfort of your own couch.
We caught up with the co-founders of JananasGold.com, Michael Weberberger and René Voglmayer, to find out just what Janana's Gold is all about.
We're happy to be working together with you. Now give us brief run-down—What is Janana's Gold?
In a nutshell, it's an online treasure hunt. Everything takes place on the internet; you don't have to go anywhere. You take a trip around the world, but it's a virtual one using Google Maps. The object is to solve six riddles, all of which are related to a particular theme. And this Sunday, it's "Out of Control." Each solved riddle gets you a portion of the coordinates; solving all six gets you to the spot you're looking for. The ones who get there first share the treasure— the prizes, that is. Up for grabs this time are an Ars Electronica Festival ticket, the 2011 Cyberarts catalog (including DVD), one-year passes to the AEC or free plays on Janana's Gold.
Sounds interesting. What are you allowed to use to solve the riddles?
Anything you like—above all resources available online like search engines, tools and sources. And that's precisely the concept behind Janana's Gold. Practically all information that humankind possesses is available online today. This still amounts to a revolutionary development. Those who are good at doing research online will have a lot easier time of it living in our modern world. Now, our online treasure hunt provides a very entertaining way to sharpen those skills. And to reward the most skillful participants with prizes.
Does the name Janana's Gold also have something to do with that? What does it mean?
Yes, indeed it does. "Jñāna" means "knowledge" in Hindi. Janana is derived from that word, and can be interpreted as "golden knowledge." That why we've named our mascot, the wise little owl, Janana.
So you don't just do this with us this Sunday. When does Janana's Gold hold other treasure hunts?
We stage a Live-Event every Sunday. It always begins at 8 PM. That's when the riddles are unveiled and the solving can begin. The fastest hunters usually need about 20 minutes.
Plus, there's our archive, where you'll find all the treasure hunts held thus far including the solutions. Which means you're not limited to Sundays; you can attempt the riddles at any time, even after the actual treasure hunt. So, this is a great place to gain experience and have fun solving riddles.
How did you come up with this idea, and where are you taking it?
We got the idea from our friends. They gave both of us a treasure hunt as birthday presents. And the Web really helped completing the tasks. At the end, we knew where we could pick up our birthday presents.
We've long been fascinated by the fact that humankind's knowledge is Archiv"archived online. As well as by how this is changing our society. The treasure hunt idea brings the two together, and provides a really exciting and entertaining way for people to improve their search skills.
We welcome every treasure hunter ready to face the challenge—either competing for prizes in the live events or simply doing it for fun in the archive. The fact that more and more people are involved in online searches and are improving their search skill with us confirms the wisdom of our concept and is a source of tremendous satisfaction to us.
Thanks a lot for this glance behind the scenes. We're very much looking forward to finding out who finishes in the Top 10 in our treasure hunt on Sunday!
Anybody else who'd like to participate for free can use the coupon code "JGaec" to get a ticket. This offer applies to the first 100 people to register.