by Alex Cabunoc and Ji A You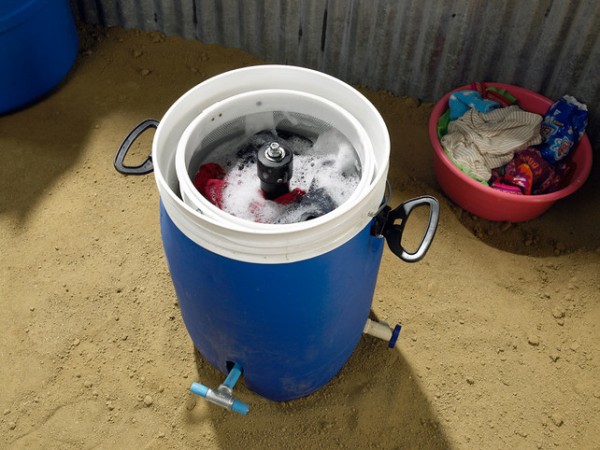 GiraDora, is a human-powered washer and spin dryer that increases the efficiency and improves the experience of hand-washing clothes for people living without access to running water.
The user sits on the drum-like appliance and pumps the pedal with her foot, which agitates, cleans, rinses, then spins-dries clothes. Local assembly and an innovative business plan with three revenue streams for micro-entrepreneurs provide supplemental income. For under $40, GiraDora's comfortable and ergonomic operation more than doubles productivity, increases health, instills dignity, and affords opportunities to begin breaking the poverty cycle.
BENEFITS
INNOVATION: GiraDora is the only human-powered washer & spin dryer for families earning $4-10/day
PRODUCTIVITY/HEALTH: GiraDora's upright operation more than doubles productivity & boosts health. Sitting in a more ergonomic position reduces back pain. Its ability to wash, rinse and spin dry clothes removes hands from painfully cold water and eliminates the risk of tenosynovitis from wringing clothes.
RESEARCH/TESTING: From field research in Peru, GiraDora is based on the most pressing needs. Families tested prototypes and shared ideas to drive the final design.
DESIGN: Blend modern form language with elements from water barrels found in slums. Base color palette on Peru's "Cultura Chicha" known for bright colors and folk patterns
SOCIETAL: With 46% of the world's population without running water, GiraDora's increased productivity, ease of use, and income generating abilities creates significant impact.
REVENUE/IMPLEMENTATION: Reach a wide market with a product specifically for the underserved. An innovative business plan provides 3 revenue streams:

 GiraDora increases earning potential to those providing laundry services
Its compact size makes it ideal to rent
Owners can easily transition into sales reps, selling to the community.
Credits: Design Team: Alex Cabunoc (United States), Ji A You (Republic of Korea)
Course: Safe Agua Peru
School: Designmatters, Art Center College of Design
Safe Agua Faculty: Julka Almquist (United States), Liliana Becerra (Columbia), Daniel Gottlieb (United States), Penny Herscovitch (Canada)
NGO Partner, Innovation Center, Un Techo para Mi País: Julián Ugarte (Chile), Askan Straume (Chile), Andrés Iriondo (Chile)