The new Amagerforbraending Waste-to-Energy plant is an innovative model in the fields of waste management and energy production. It will be complete in 2016, just 3 km from downtown Copenhagen and seeks to change the way waste management and energy production is understood. Rather than hiding drab industrial processes, the plant hopes to re-connect the Danes to the issues behind waste management. The architectural concept by BIG architects, will convert the plant into an artificial public landscape, drawing the people of Copenhagen in.
Berlin based artist group realities:united has designed a modified exhaust system for the plant. It transforms the smoke emitted into a symbol of the path our waste follows into the atmosphere. Instead of a steady stream of exhaust, the plant emits one giant smoke ring for each 1/4 ton of CO2 it produces. The rings are 25m in diameter, and 3m high. As they rise and cool, the water within the gas clouds condenses to reveal each ring shortly after it floats away from the plant.
The mechanism to create these rings is simple: An elastic cylinder on the roof expands to store the exhaust. When 1/4 ton of CO2 has filled the drum, a shutter opens, and the drum contracts, expelling the gas into the sky. While leaving the drum, the gas begins to rotate due to the friction between the air and gas particles. The rings are stabilized by the motion of the particles as they float off into the atmosphere, slowly dissolving.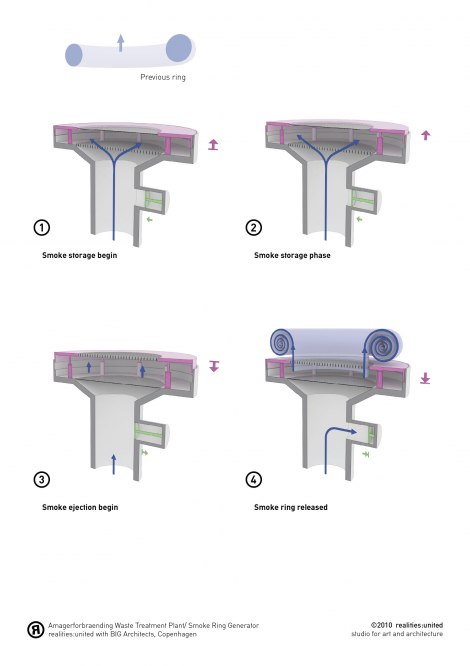 "Big Vortex is a groundbreaking work of public art that has the potential to resonate far beyond the borders of Denmark and engage audiences worldwide. […] Combining clarity with poetry, Big Vortex exemplifies a whole new direction for discussing eco-political matters that can sometimes seem overwhelming to the citizen looking for answers." Elmgreen & Dragset, artists, Berlin
The smoke clouds reinstate an archaic communication method to transport a simple fact: 250kg of carbon dioxide have just been released into the atmosphere. On a clear day, this message –released as an endless stream of rings- will be broadcast throughout the city.
This solemn procession gives the abstract emissions debate shape and scale; people can see it, and count it.
Even if the new plant will reduce environmental impact to a minimum: at the end of the day the absolute emissions output matters.
[vimeo 40229132 w=600h=400]