Radio FRO 105.0, free radio for Linz, has been organizing workshops since 2006 at which people with—as well as without—handicaps/impairments can learn the basics of broadcasting. One of the major challenges in a studio is posed by the mixing console and its faders, knobs and switches, some of which have to be operated simultaneously and with great precision. This is a substantial hurdle to master, and one even more daunting for people whose motor skills are limited. The Ars Electronica Futurelab was recently commissioned by Radio FRO to develop a mixing console that features only push-buttons and thus provides substantially more barrier-free operation.
openAIR – Accessibility in Radio Production is the name of the software & hardware solution that substantially facilitates the operation of a studio—and not only for handicapped people. Its 10 push-buttons, which resemble the ones on amusement arcade video games, can carry out a wide array of commands, and the user-friendly software designed without submenus shifts a variety of important functions to push-button operation—for instance, fade in/fade out, muting a microphone and returning it to normal pick-up, and toggling between audio sources such as a CD player and a turntable. This enables the operator, for example, to fade in four microphones at the push of a button while simultaneously fading out the music, a procedure that would call for handling at least five controllers on a conventional mixing console.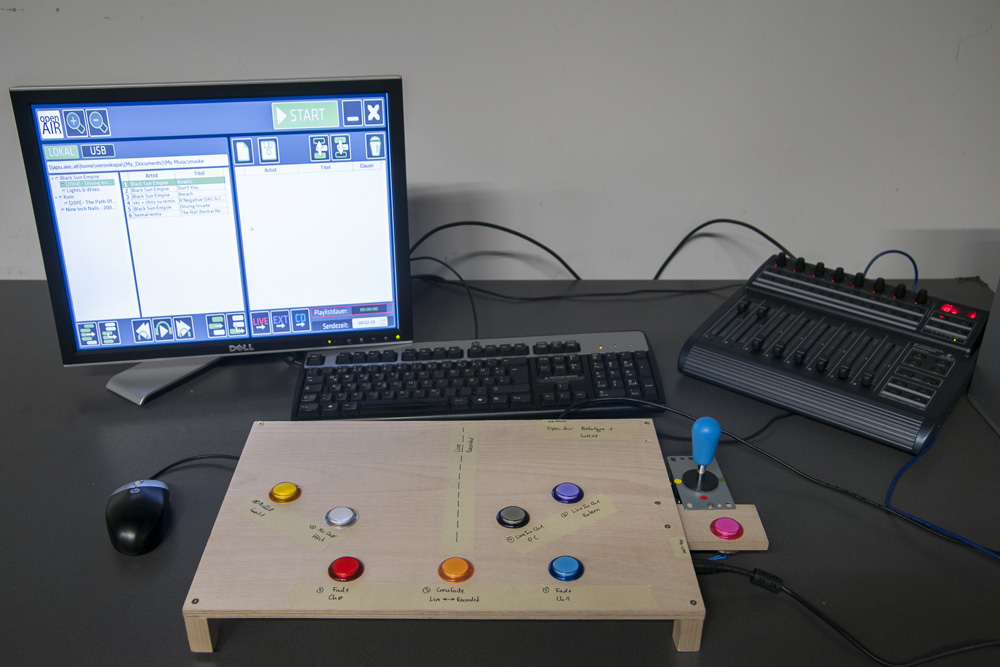 In addition to storing a vast array of functions to memory, the entire sequence of a live broadcast can also prepared in advance. You can arrange playlists of the songs you'd like to air, insert slots for live conversations, and determine which functions you'll need, which means that you can prepare for a lot of the operations called for during the live broadcast of a show and thereby make these production steps much less stressful than when they have to be performed while you're on the air.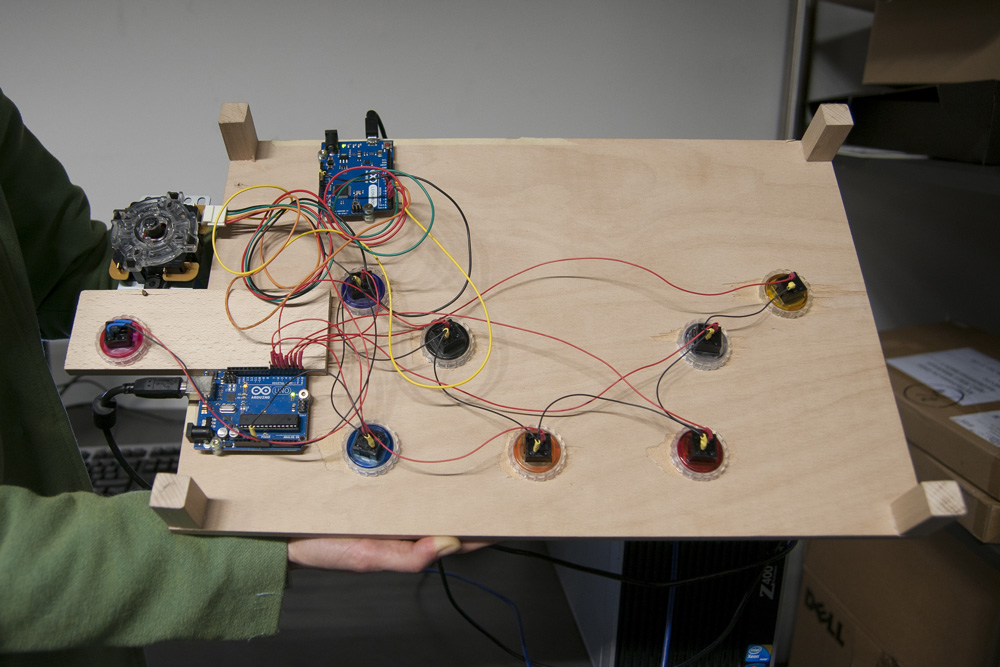 Next to the push-buttons, there's a joystick instead of a mouse. And like the push-buttons, the joystick is controlled by an Arduino board and allows for very precise manipulation of the computer cursor.
This mixing console is already in use in Radio FRO workshops. And it's been submitted for prize consideration to SozialMarie, the award for social welfare innovation. Nevertheless, it's not only for use in barrier-free studios; it's also a splendid choice for an in-home sound studio. The system architecture is conceived as open hardware and can thus be copied, modified or expanded by anybody interested in doing so—for instance, you could integrate MIDI commands to control devices like software synthesizers.
Sabina Köfler, the project manager at Radio FRO, expressed satisfaction with the outcome. "One of the key aspects of what we've come up with is the fact that production costs could be kept to a minimum while simultaneously achieving an enormous improvement in the usability of studio technology." openAIR is another example of how comprehensively high-tech can influence people's everyday lives. It provides access to radio production to people with limited mobility, access that, in the absence of such innovations, might be completely denied to them.
Technical implementation of openAIR was by Veronika Pauser and Michael Platz.