When you sit face-to-face with Tosca—that is, the duo of Rupert Huber and Richard Dorfmeister—you're enveloped by a certain sense of composure. Both musicians have accomplishments to their credit; they're consummate artists. But at the same time, there are these facial expressions—when they discuss their new album, upcoming concerts, expressive possibilities now available to them on stage. Suddenly, there's a radiant glow, enthusiasm that can't be simulated. It shows that Tosca isn't anywhere even close to resting on their laurels and is still burning with artistic energy. Including the prospect of joint projects with the Ars Electronica Futurelab.
Men and their hats. Richard Dorfmeister, Rodney Hunter (right) and J. J. Jones (left) are preparing for the rehearsal in the Deep Space.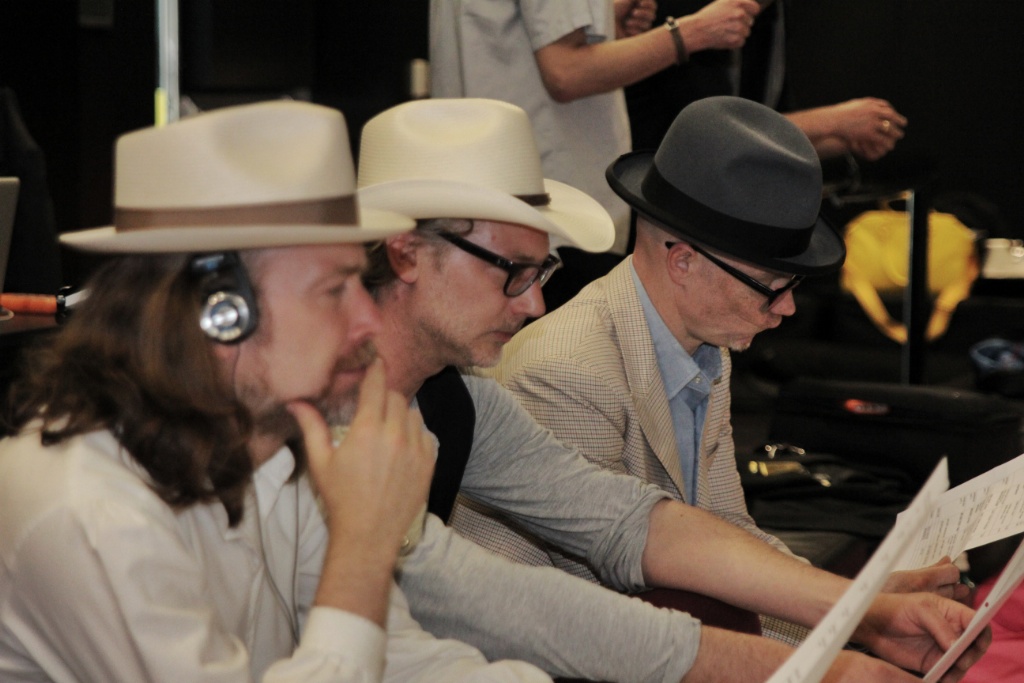 As the outcome of a four-year creative phase, "Odeon" is the fifth studio album by the Viennese duo that doesn't actually even need an introduction—after all, they're virtually synonymous with Viennese electronics, a term they themselves coined.
This album is darker than their previous works, even if the two musicians don't see it that way. They've "musically summarized a particular period of their lives," as Richard Dorfmeister puts it. "Over the years, we've developed a certain style, which we hone and polish. Darkness has perhaps become a cliché to a certain extent. Mostly, we try to do what we like. Naturally, we try to let our lives flow into it. Whether it's darker or not, you can see it any way you want. We don't see it as dark. For us, it's positive. We have a good time when we make music." Rupert Huber: "This is how we sound when we feel good."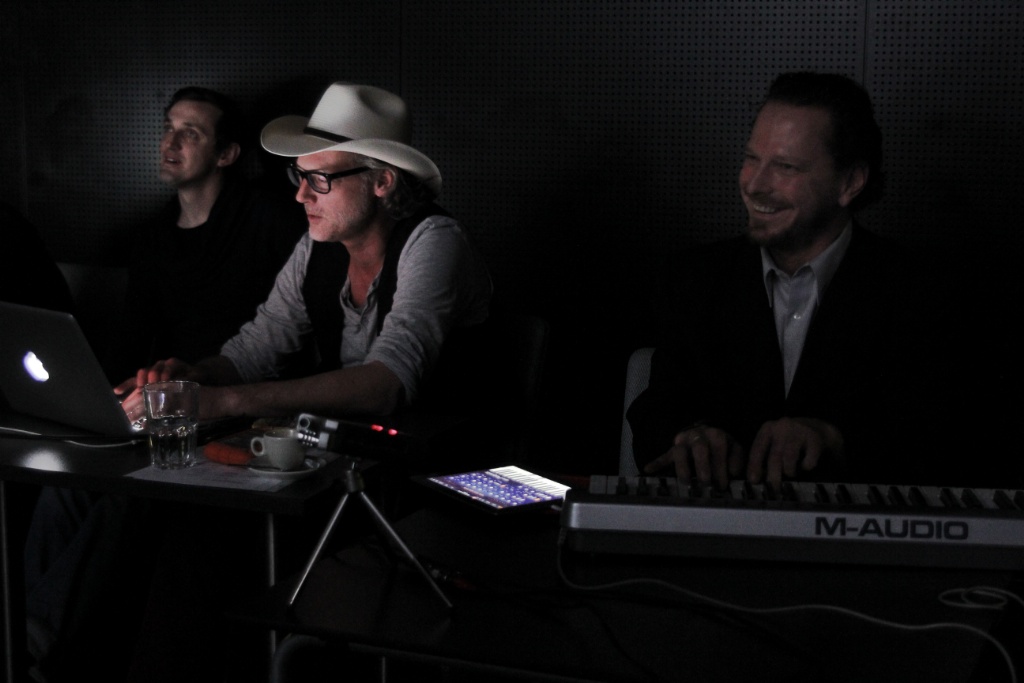 Michael Mayr (l.) is going to go on tour with Tosca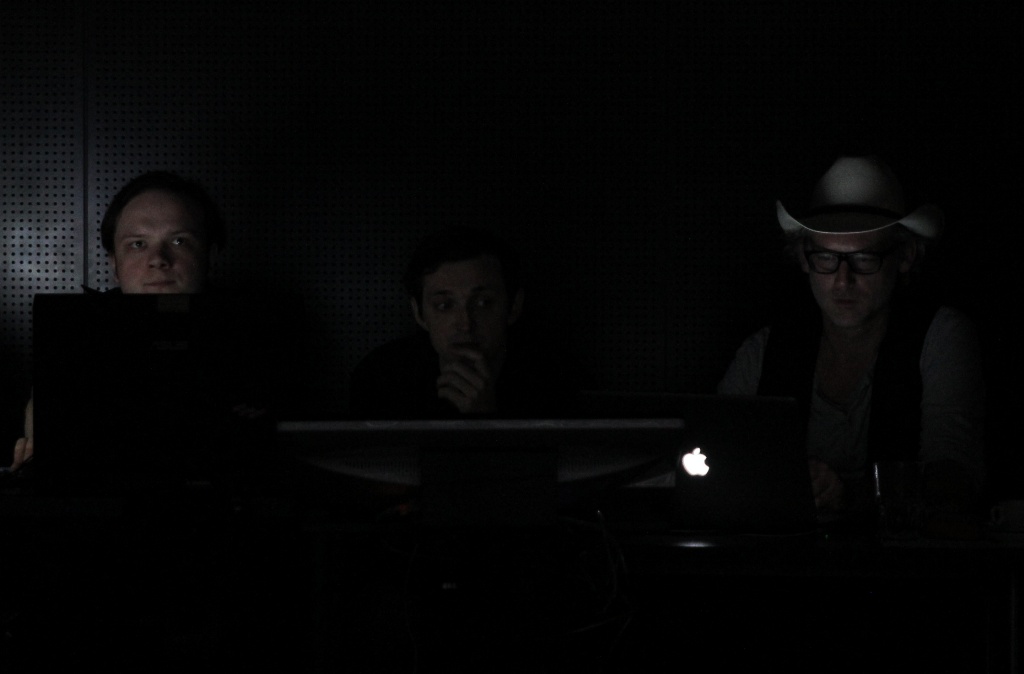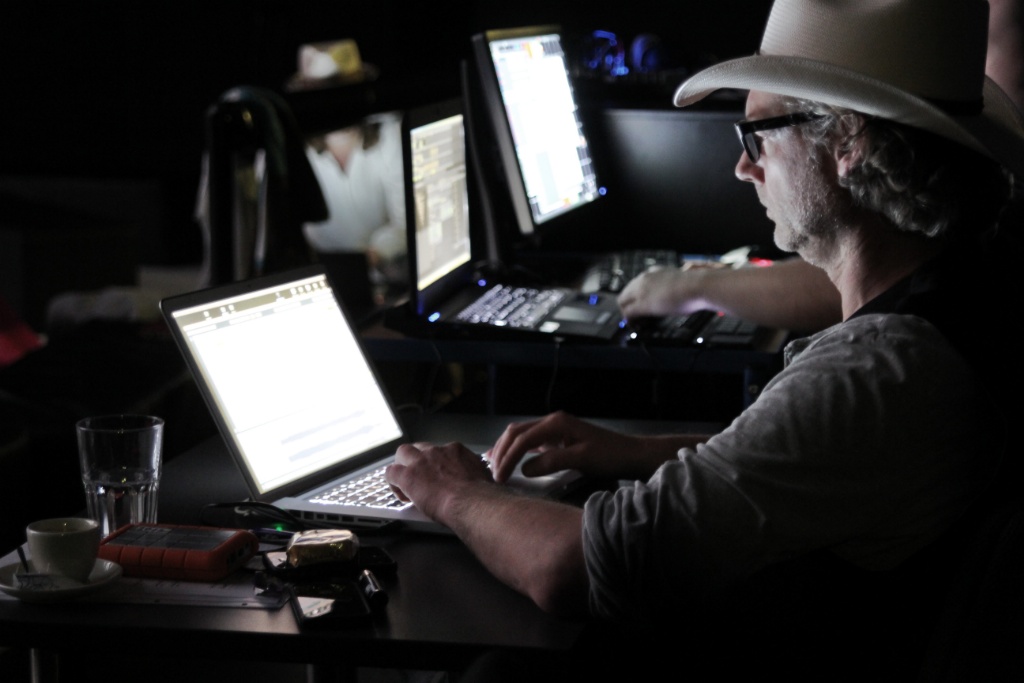 The album is now going on tour. "We're proceeding from the 'Odeon' idea and now producing an expanded, improved version of the 'Odeon' performance." One improvement in comparison to the recording session is, of course, the visual component. And that is truly something to behold!
Richard Dorfmeister: "We took advantage of the opportunity to do something new with the visuals, in that Ars Electronica takes a completely different approach."
Rupert Huber: "Actually, the way it came about was that I was very happy about Horst Hörtner (director of Ars Electronica Futurelab) building me a stele that reacted to the frequencies of my piano. That just happened to have been during the Vienna Art Fair, so we set it up there, simply as a statement, as an object in the art area. Then, coincidentally, Horst attended our 'Odeon' performance.
To tell you the truth, I had never been completely satisfied with the visual component—though not so much with the content itself, but rather with the technical approach. The visuals were always much too loud, much too flashy, garish. That actually didn't work for our music because of the stark, overwhelming glare. The whole aesthetic was simply brightness.
So, at the concert, I was chatting with Horst, because he liked it. And we came up with light & shadow. That's how it came about. The idea is to build a space instead of screening projections. This isn't a matter of visuals, but rather architecture. The image allows for more developmental latitude, changes into itself. It corresponds to what we like, to what goes together optimally with the music."
J. J. Jones is exploring the Deep Space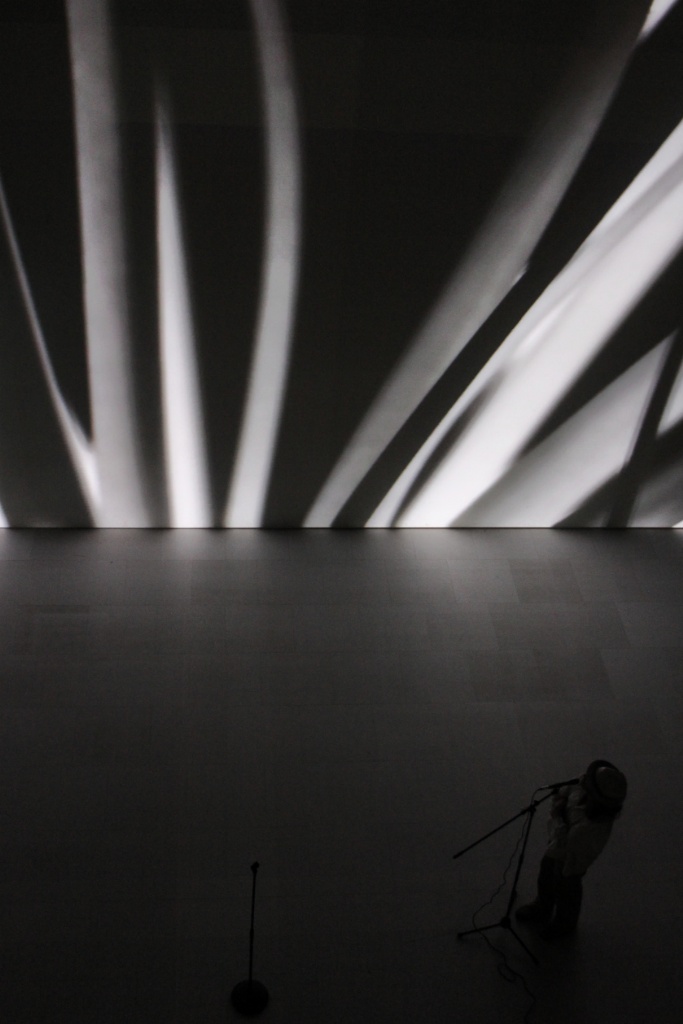 Live, the visualizations are based on two components. On stage at the Musiktheater in Linz, there are five of the above-mentioned steles, which react to certain frequency bands from Rupert Huber's piano and/or sound-effect loops. The technical basis for this arrangement is provided by so-called Linzer Schnitten, which illuminated the letters that had top billing at the 2012 voestalpine Klangwolke and were also used by Tosca in the past. Hopefully, the steles will also be a part of the upcoming tour. On this subject, Tosca says that they're "still involved in constructive negotiations with management."
Linzer Schnitten in Horst Hörtner's hands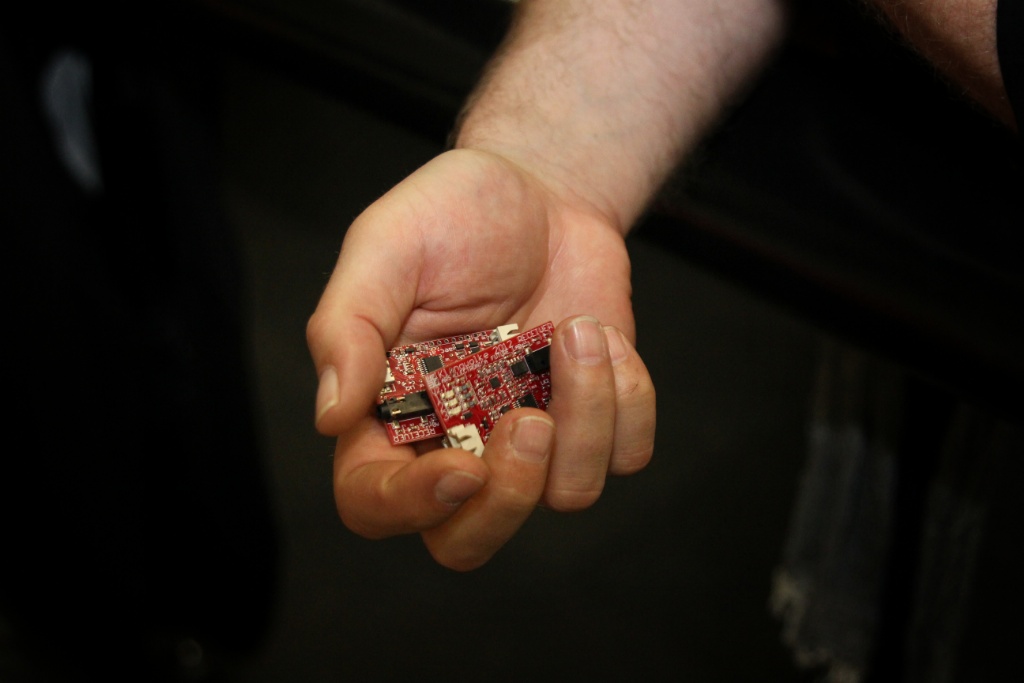 The second component consists of projections that are produced live by the Ars Electronica Futurelab's Michael Mayr. He'll be accompanying Tosca on tour, which is crucial since the music and the projections feed off one another. Richard Dorfmeister: "We intentionally turned the space over to him in order to have a certain space in which to improvise." Rupert Huber: "It really does sound like we're playing together. We understand each other, and reciprocally influence one another."
April 17 at Musiktheater Linz is the first of five scheduled concert dates. Info about subsequent gigs is online at Tosca's website.
Tosca talk about their album "Odeon" track by track
[youtube http://www.youtube.com/watch?v=7GSBJKVVJdc&w=560&h=315]