On the market square in Linz's Urfahr neighborhood, cars have been temporarily banished once again to make more room for pedestrians and stands. And that means the Urfahr Spring Fair is open, so it's time to pitch the Linz Changes tent for a close-up look at this city and the people and businesses that call it home. Ars Electronica Futurelab Director Horst Hörtner gave us a tour of the new and expanded installations.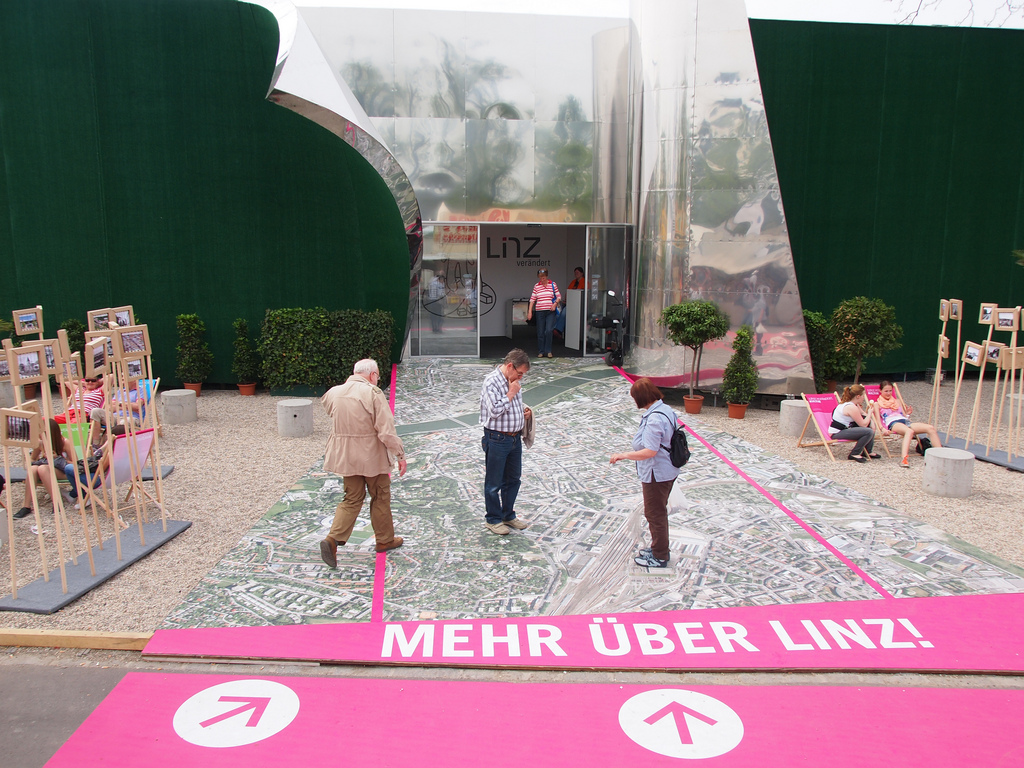 "The Linz Changes tent is all about getting across information. We provide access to an incredibly complex and comprehensive body of data about the City of Linz. We show how this urban organism functions, and we do it in a way that's fun and appealing."
This time around, the theme is Linz as cultural hub. We showcase the many facets and tremendous range of Europe's 2009 Capital of Culture. We cover the whole spectrum—the Tabakfabrik, the Musical Theater, the Ars Electronica Center and the stadium affectionately known as Gugl, the indie scene as well as established institutions. In only a few years time, Linz has made quite a name for itself in European artistic and cultural circles. And considering how many new venues have been built over the last 10 years, you really have to look long and hard worldwide to find another city that has brought such ambitious plans to fruition.
"Linz as a City of Culture" is a detailed account of what this town has to offer. An array of screens features scenes from Brucknerhaus productions, events at Gugl, Klangwolke musical extravaganzas and lots more. For a city with a population of only about 200,000, there's a lot happening in Linz.

One of the main events is the Linz Marathon. Horst Hörtner's personal best time is somewhere among the megabytes. And there's also room for improvement in his time for the Finger Marathon, a challenge that visitors to the Linz Changes tent can take. Loping back and forth on a touchscreen, a game avatar with the player's own face trots past the city's sights and highlights. And when you cross the finish line, your face covered in sweat, you're left wondering how it's possible that you took four times as long as the fastest set of fingers. If you're ready to give it a go, Have Fun is all I have to say!
Linz by the Numbers and SimLinz get across the facts & figures, whereby SimLinz in particular takes an innovative approach here. "Our aim was to employ old, familiar cultural techniques to present extremely complex statistical relationships in a very clear, intuitive way. Leafing through a book and reading the contents are things that humankind has been doing for centuries. Same goes for writing with a pen. You scan through the various topics—demographics, energy, culture—and it's easy to interlink the respective layers of information. Here, the books are arranged as they would be in a library. You simply take the one that appeals to you the most and start browsing."
Another cultural technique that's been around a while is the postcard. In Linz Views, they let you take a peek at the past. You take one of the postcards featuring an old photo of Linz and lay it down on the table, and you see what's become of that place in the meantime. You immerse yourself in the urban development process and get stark impressions of how dramatically the city has changed.
If you've ever wondered what you'd look like as a guitarist, a trombonist or a violist, then the "We Are Culture" installation is your big chance. You can mix and match the photo components—head, trunk and legs—and then reassemble them, choosing from your own as well as those of various musicians, Linzers in general, and other visitors to the tent.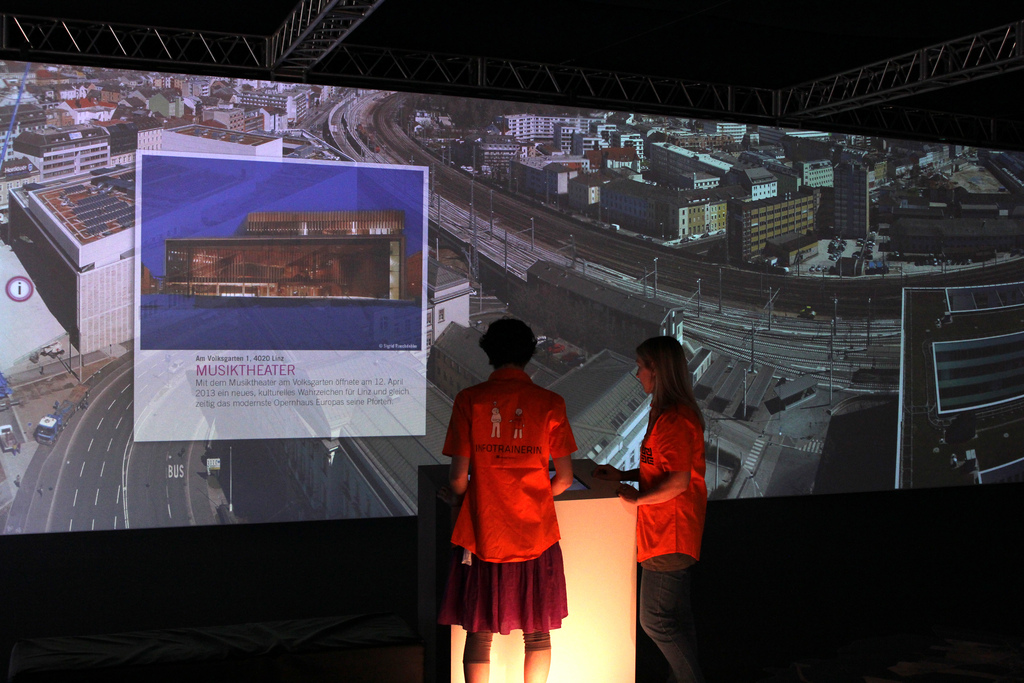 Just how diverse the inhabitants of this city are is demonstrated by "Linz.Living.Together," a project produced jointly with Import/Export. Immigrants from all over the world tell about their life in Linz, and compare and contrast their native countries with their current homeland.
And speaking of homeland: On a jumbo-format screen, you can behold striking panoramas of Linz from interesting points of view—for instance, from high atop the Ars Electronica Center—and, in doing so, discover new details and new perspectives. And if you'd like to get a bird's-eye view of your own home, all you have to do is look down at the floor of the Linz Changes tent, which is covered by a gigantic print of a very recent aerial photograph of the whole city.
Finally, if there's something on your mind that the city administration definitely needs to know, then head for the Shadowgram installation near the front entrance. This year's theme: The Future of Linz. The messages will be collected and evaluated, and even if your ideas aren't ultimately implemented, they nevertheless make a powerful impact along with all the other shadows and communiqués that other tent visitors have left behind.
The Linz Changes tent is open daily from 10 AM to 7 PM through Sunday, May 5, 2013.
More info