The u19 – CREATE YOUR WORLD Manual provides user-friendly ways to have your say in configuring today's and tomorrow's world, and to link up with others to collaboratively implement creative ideas. And now there's an online databank to make it even easier! This is where you can post instructions for all kinds of artistic, scientific, social and technological products or projects and share ideas so others can try them out. At the same time, you get access to great opportunities to take a proactive approach to making your mark on your world. DIY World Design is for everybody!
Here's the story right from the beginning:
u19 – CREATE YOUR WORLD is Ars Electronica's festival for kids, young people and anybody else interested in co-determining how the world works, today and tomorrow. The colorful festival village round about the Ars Electronica Center is a playground for ideas, concepts, experiments and solutions to fascinating problems. It all takes place in open workshops, labs, newsrooms and other open-access spaces. During our preparations for last year's festival, we came up with the idea of the u19 – CREATE YOUR WORLD Manual as an alternative to a conventional festival catalog. In 2012, our project associates didn't just send us info and images about their respective project; instead, they submitted DO IT YOURSELF instructions about something or some idea that's a reasonable, useful and interesting example of what their Open Lab is all about. This became a collection of all kinds of practical applications—like how to generate electricity from a lemon, build your own electric cart or organize a green event.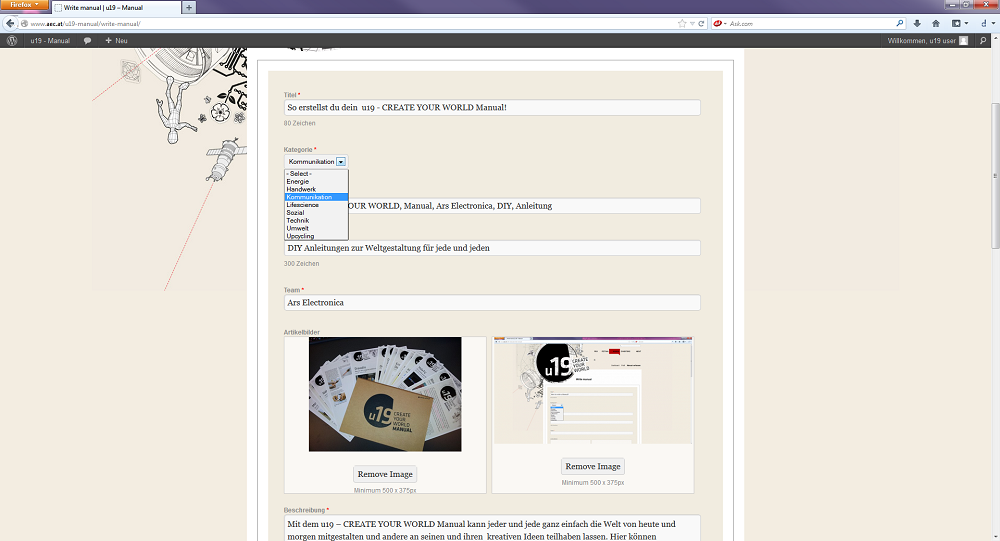 Visitors to the festival village could collect a variety of manuals as a way to take the festival home with them and, in the privacy of their own home, develop their own ideas for the future and derive inspiration for their own projects. Now, in order to make these useful and creative brainstorms easily accessible to others, the manual is available as an online tool. This is a totally convenient way to give and get instructions for launching DIY projects in the fields of life science, the environment, technology, handicrafts, energy, upcycling, social welfare and communication. Everybody can share their individual insights and skills with other users. People can cooperate to make one another's life easier, better or simply more attractive, and work together to improve the world of tomorrow.
Interested? Try out and write your own u19 – CREATE YOUR WORLD Manual. We are looking forward to it!