Writing for the online art project WIR SIND HIER (Opening Festival Ars Electronica 2013), David Dorrell reveals why the modern world is a sinister place, and how it could have gotten so far.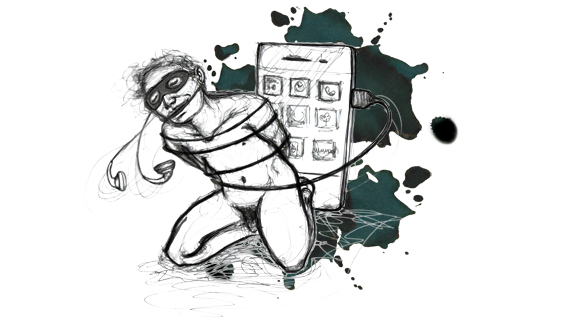 David Dorrell inspires a mighty sense of terror with his diagnosis of the here-and-now. Astonishingly, he succeeds by doing nothing more than listing current social, economic, and political developments. Be it emerging nationalism, rampant unemployment, the breakdown of European social infrastructure, or globally-deployed surveillance techniques, drone attacks, and the palpable reversion to authoritarian forms of government – what kind of dystopian world have we come to?
From this starting point, Dorrell picks out the historical threads that have woven themselves together to form today's network of government, military, secret service and participating major enterprises. This tangled network distributes feelings of powerlessness to every individual, weakening the belief in a future within our control. Dorrell pinpoints the terrorist attacks of September 11, 2001 as the moment that the past and future met head-on. From that point onwards, history became something unchangeable: something that happens to some people and consumes others. And the consequences (creating a torture prison at Guantanamo Bay, the war in Afghanistan, institutionalized surveillance) have been known since the Middle Ages.
What is most striking about the article is the unusual combination of sources Dorrell pulls together for his concise analysis. He chronicles developments in the genre of science fiction running parallel to the metamorphoses in history. His analysis lays out the paths that a huge number of works of science fiction have described, nearly prophetically: the dubious progress made in the fields of surveillance and censorship – without overlooking our own responsibility, or how easily we are seduced by the digital world. The multiple pop-culture references (such as The Matrix, Robocop, Running Man and Enemy of the State) are entertaining, of course; fortunately, these references are not used as an end in themselves, but rather serve as references – they pertain either to the theme or to the transformation of pop culture itself.
If you're looking for a detailed, relevant and fascinating overview of where the individual stands in today's times, politics, and culture, visit this page: