Schizophrenia Taiwan is one of the exhibitions of TOTAL RECALL – The Evolution of Memory, stationed in the Tabakfabrik. It's topic is a country whose people live in a constant crisis of identity. The curators tell you why it is like this.
TOTAL RECALL is the first stop of Schizophrenia Taiwan, the exhibition will be moving on afterwards and visit different cities. How did this exhibition start out?
Pierre Bongiovanni (FR): Schizophrenia Taiwan is not only Schizophrenia Taiwan, but it's the schizophrenia in the world. Taiwan is a small country with a big city, big history, Taiwan is like an extract of all the contradictions in the world, but it is really schizophrenic, it's visible everywhere. If we work with this reality, we can understand what is going on in the occidental world better.
So what are the things that make Taiwan schizophrenic?
Pierre Bongiovanni (FR): For example, Taiwan has a chinese civilization that came from continental China, it's in the spirit. They are not communists, they are not capitalists, it's a Chinese population with Japanese culture. There's 14 languages, 14 cultures, but they all come from China, they are 3000 years old. So there's Chinese culture, Japanese culture, aboriginal culture, technological culture, what do you do with that?
Chien-hung Huang (TW): So if you compare our country to western countries, where your contemporary life might be fragmented, but you have some kind of tradition, a social system, a balanced state-system to tackle the fragmented life. But living in Taiwan, there's so many different tribes, so many different commodities, we have no certain identity. We are not Chinese or any other country. So we receive a lot of different information from outside, everyone tries to compose something out of this, their own world. There are so many different compositions, some very strange as well.
At the same time we live in big tensions with China and individualization is very important in our civilization, there's no common identity.
I-Wei Li (DE/TW/CA), Pierre Bongiovanni (FR), Chien-hung Huang (TW), Ching-Wen Chang (TW)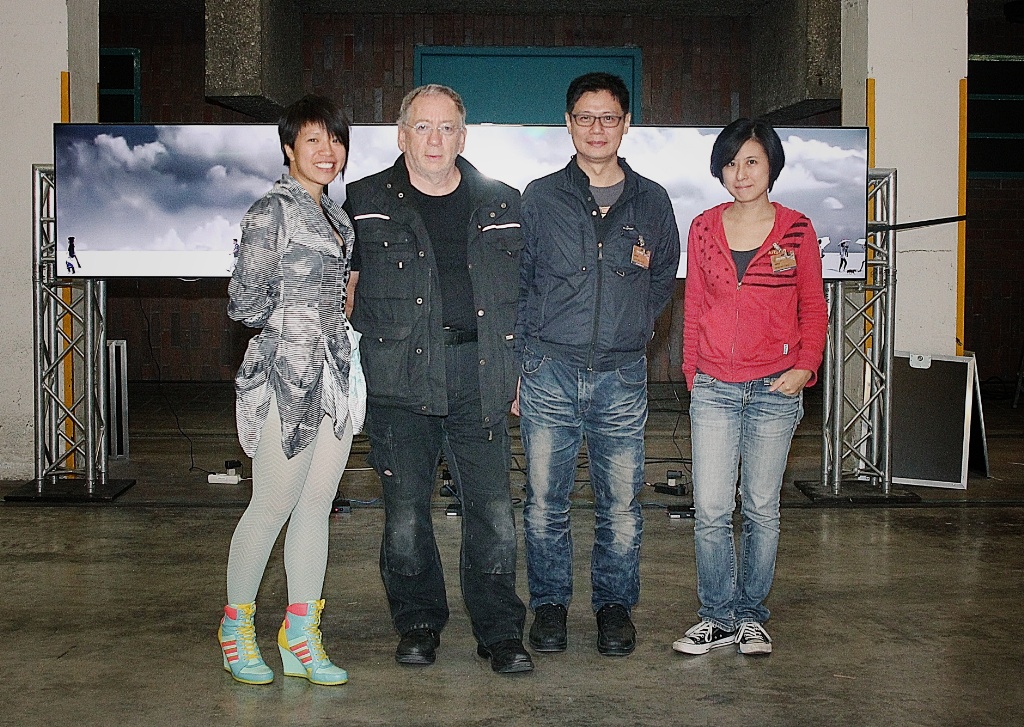 One big thing about Taiwan is technology, it is one of the biggest producers of high-tech-technology, how did you manage to achieve this?
Ching-Wen Chang (TW): We see Taiwan as sort of a satellite working around the whole world. We are absorbing all the images sent from different parts of the world. At the same time Taiwan composes those images and sends them back into the world. So Taiwan is part of this world, of course, but sometimes it lives outside of it, it's a very interesting situation.
I-Wei Li (DE/TW/CA): We have a very special relationship with world, through the technology we produce, we are very well connected, and have both the inside and outside perspective on many things. But at the same time, because of our difficult political situation where we are considered as a non-country a lot of times, we are positioned as something else, it's not completely clear how to deal with Taiwan. This gives us the unique opportunity to build connections, both with the inside and the outside-world. And you will see this in the exhibition.
Chien-hung Huang (TW): We have a very special production method in Taiwan, the OEM-method, you might know it from computer-hardware. It's very interesting because we can't have a definitive identity like a big brand. In our contemporary society it's a very intriguing concept, you work for something, but can't really put your name on your project. There's a lot of creativity in OEM-processes, but no identity. In an international discourse, we talk a lot about creating a common identity, to have long, peaceful relationships, but I think in Taiwan we proof that you can get along quite well without identity.
The Unconscious Voyage / Wan-Jen CHEN


I-Wei Li (DE/TW/CA): What I want to add about the OEM-process is that during the whole creative process, there's no designated authorship, everybody creates in collaborational process, the factory is your living-room, the whole family is involved, making cables, connections, this is how Taiwan pulled through the very poor economical situation in the 1950s and 1960s. Now we have advanced from that, a lot of high-tech, a lot of export.
Coming back to the exhibition, the artists we have chosen are members of a young generation, they were born between the Color-TV-era and the smartphone-era, they are very connected, constantly on Facebook, Twitter, etc, etc.
For them, when they look back, what happened to the generations before them, wheter it is their parents, their grandparents, they are much more willing to take a risk, much more willing to look critically at the history. For them it's no problem to claim the signature on their work, they have their own style, they are very unique.
Each piece is a mash-up in its self, a different composition of your own identity, a composition in relation to Taiwan, you will see the diversity, there's really high-tech-projects, and really low-tech-projects, but there's no problem that they exist in one space. In fact I think it represents Taiwan, the spirit of the schizophrenic nature, the way we operate.
I think we are very good at handling a crisis, because we lived in a crisis for so long, we are very elastic, we are very good in dealing with tension. Diversity doesn't mean that you lose your own identity, it doesn't mean that you compromise, you still have your own voice.
How we have progressed through the OEM-process, how we were willing to share, how even in this exhibition, if you look at the artists and how they work at each other's artwork, how everybody helps everybody, I really think that this is very unique. They are very open and tolerant, again coming back to the satellite-metaphor we talked about before.
You can't really point out any highlights of the exhibition, it's in itself an artwork, working together. The reason why I put my stamp on this is because of the dialogue that we create between the artworks. It is necessary to experience the whole thing. Then, depending on your own personal schizophrenic level, you will connect with the works and I am sure there's a lot to keep you interested. It is very immersive, I would say it can lead to contemplation.
I would like the audience to think about their own situation, to remember where they are in their lifes, where they are from, their political situation, the cultural exchange they have. Taiwan is a window, the exhibition provides you with windows, and we hope you feel the connection.
The opening of Schizophrenia Taiwan is on September 5th at 5pm in the Tabakfabrik, if you can't make it, the exhibition is open until Monday, September 9th.