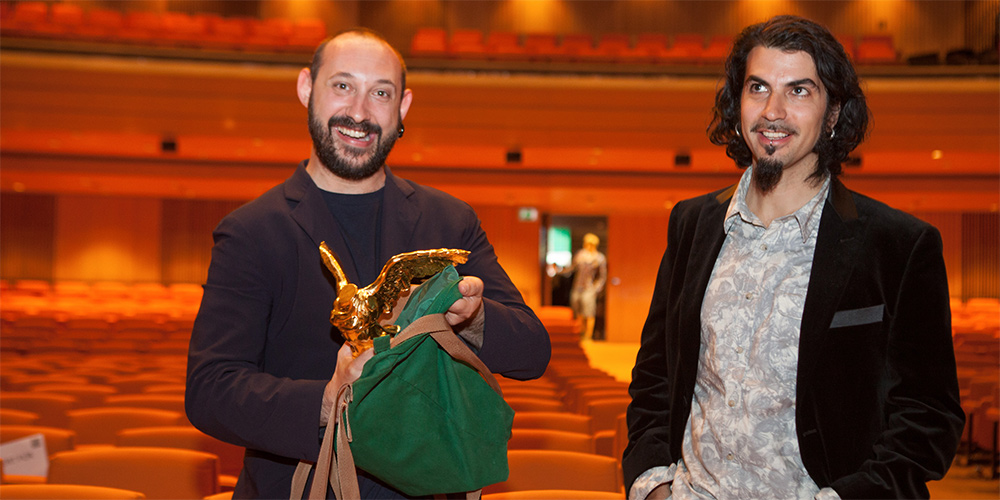 Artists Davide Quayola (left) and Memo Akten (right) with their 2013 Golden Nica statuette. Photo: Tom Mesic
A visually impressive animated work entitled "Forms" wowed the 2013 Prix Ars Electronica jury and garnered the Golden Nica grand prize in the Computer Animation/Film/VFX category for its creators, visual artists Davide Quayola (IT) and Memo Akten (TR). This year, prizewinner Davide Quayola will be one of the five experts judging the submissions in that category.
Constantly on the Move
"Forms" is an animated study of movement sequences of top athletes in action. The artists filmed swimmers, divers, high-jumpers, pole-vaulters and gymnasts while they competed in their respective events, analyzed their movements and body language, and translated these images into abstract, three-dimensional sculptures consisting of rods, spirals, cubes and balls. Their folding and unfolding, extrapolations and rotations are underscored with metallic clicks and crunches that further intensify the feeling of motion.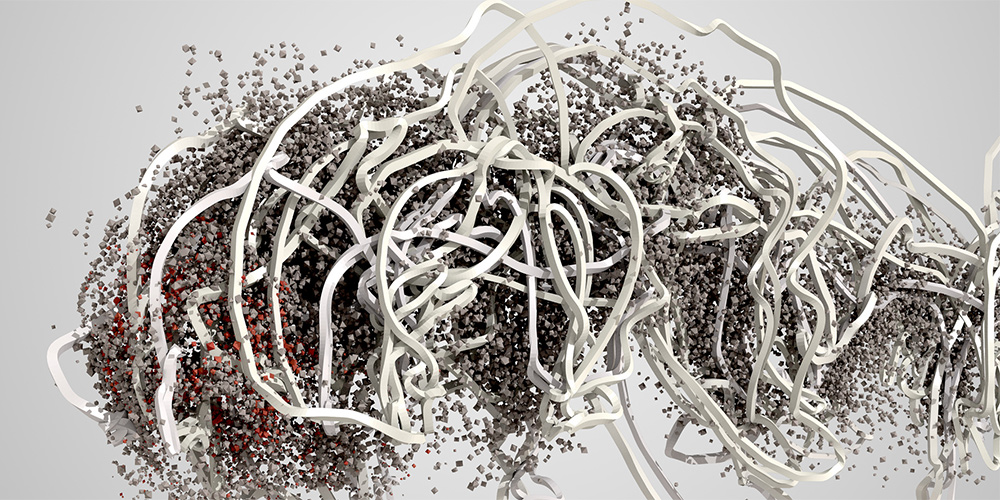 "Forms" was honored with the Golden Nica in the Computer Animation/Film/VFX category
More than "just" a Golden Nica
Every animated film—no matter how superbly done—fails to achieve its purpose if it's not seen by as many people as possible. This is precisely why the most outstanding works of animation submitted for Prix Ars Electronica prize consideration are not only made available online in the Ars Electronica Archive; they're also screened by the Ars Electronica Animation Festival both at the Ars Electronica Center in Linz and, thanks to the cooperation of Austria's Ministry of Foreign Affairs, at numerous embassies and Austrian Cultural Forums such as those in Great Britain, Poland, Brazil, Russia and Germany. Taking part can yield interesting opportunities, as Quayola himself recently discovered. As a Golden Nica winner, he was invited to attend the Ars Electronica Festival, where he was able to showcase his animated work to experts in the field and the general public. The trip was a rewarding experience, Quayola noted in retrospect: "Yes, it is always nice to meet in physical form some of the people you regularly deal with and follow over the internet."
[vimeo 38017188 w=580&h=310]
His brother's study of architecture was his gateway to animation
Quayola has exhibited his work in Los Angeles, New York, Moscow and, most recently, in Eindhoven, The Netherlands. His brother's university studies are actually what brought him to animation: "When my older brother studied architecture in the late 90s I got very interested form and geometry, and then started using the computer to explore such interests." In fact, he doesn't even consider his work as animation, but "rather more as some sort of time-based sculpture." He's currently working on a new series of physical sculptures using 7-axis CNC machines—high-precision, computer-controlled machine tools that can produce extremely complex forms. And then in early May, it's off to Linz for the Prix jury deliberations.
Due to popular demand, the 2014 Prix Ars Electronica entry deadline has been extended to Friday, March 21, 2014, 11:59 PM Central European Time. Additional info about submissions is online at ars.electronica.art/prix.