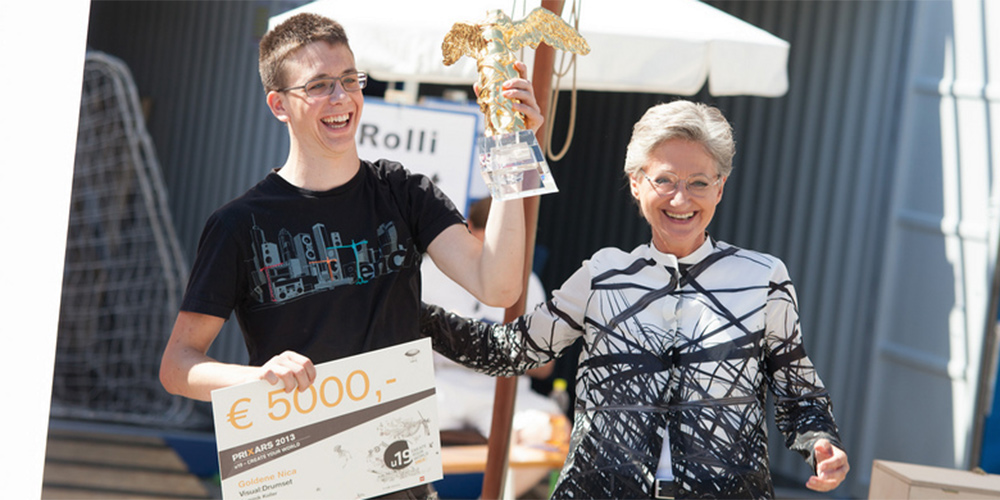 Last year, Dominik Koller won the Golden Nica in the category "u19 – CREATE YOUR WORLD" with his Visual: Drumset.
Launched in 1998, the Prix Ars Electronica's u19 – CREATE YOUR WORLD category is dedicated to young people age 18 and under. This is a great opportunity for involvement by youngsters—individuals, groups of friends, or whole school classes—who can present their concepts and concrete ideas for the world of tomorrow and take the first step to bringing them to fruition. Once again in 2014, the best one will be singled out for recognition with a Golden Nica statuette.
Sirikit Amann has been a u19 mainstay since the very inception of this category in 1998, and is once again serving on the Prix Ars Electronica jury. She's been, in her own words, "passionately involved in art and culture" since the '80s. After studying political science, theater and economics, she worked for many years as a culture manager, and is now an expert on cultural affairs in the Austrian Federal Ministry of Art and Culture. We recently had a chance to talk to Sirikit Amann and benefit from her many years of experience assessing submissions to this Prix category.
When you look back over the last 10 years, what are the issues and themes that really get people charged up today as compared to a decade ago?

Sirikit Amann: What's really striking—and at the same time, rather to be expected—are the issues that have made a strong impact on society as a whole: the Balkan War, 9/11, violence and the Arab Spring, to name a few. The process of coming to terms with the environment and its ecological, political as well as personal consequences are topics that have been present throughout the history of u19, but have really come to the fore in recent years.
Another area is love—fulfilling relationships, spurned advances and all their side effects—treated in works of animation, real films and blogs. Most of the entries submitted for prize consideration conform to the dictates of a self-imposed coolness factor, according to which love is often considered uncool and depicted in a distanced way, though the longing with which it's pursued still manages to come through.
Many entries could be subsumed under the heading "Funblock." Offbeat, creative ideas like real-life action modeled on computer games, and animated shorts crawling with strange animals, humanoid creatures and aliens illustrate the extraordinary imaginativeness of youngsters who've grown up with the computer.
It's interesting to observe the shift in the significance of Web applications for young people. In the early days of u19, we were confronted by hundreds of Web entries, but this has subsided in recent years in favor of animated, interactive and interdisciplinary submissions. The website still serves as a form of documentation or as a carrier medium for downloads, but even here, youngsters increasingly have recourse to platforms like YouTube.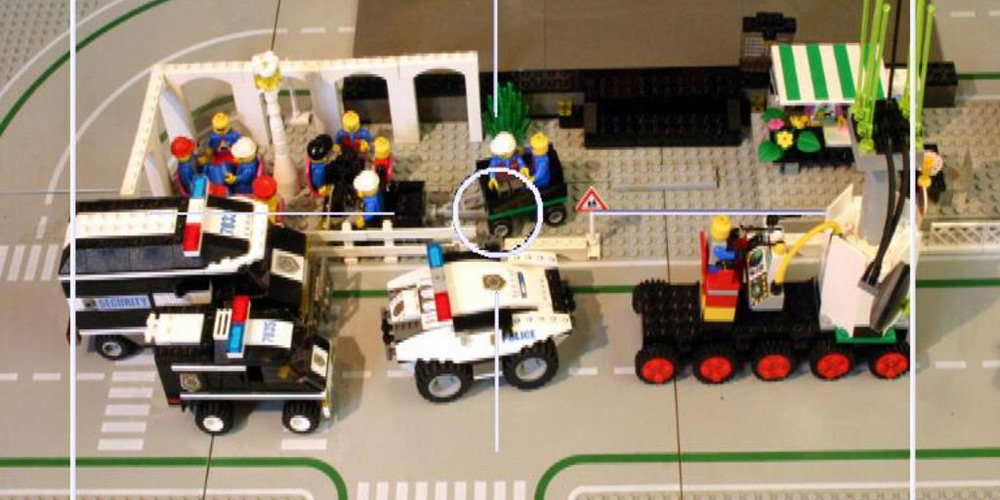 An animated film entitled "Abenteuer Arbeitsweg" garnered Prix honors in 2006 for Ehrentraud Hager, Alexander Niederklapfer, David Wurm and Magdalena Wurm.
The possibilities of submitting entries in this category are highly diverse—the jury considers completed works as well as interesting concepts for the world of tomorrow. What's especially popular now, and how can little kids take part?
Sirikit Amann: u19 is a miniature universe with its own submission possibilities, which are so wide-ranging and so diverse that, year after year, the jurors are simply amazed at the array of subjects, the excellence of the works, as well as the attention to detail and the seriousness of the effort that went into them.
Among the youngest competitors, computer graphics have been very popular. But here too, there's a trend towards motion pictures—whether in the form of sequences of slides that are then animated or the ever-popular short films featuring a cast of plastiline or Lego figures.
Many creative young people take part in the u19 competition year after year, and many develop a unique, individual style that jurors come to recognize. As for me, I look forward to encountering these works every year and beholding the progress these youngsters are making, because they often offer us an up-close-and-personal look at the human beings behind the works.
As a juror, it's very important for me that little kids can take part, because covering the whole age group spectrum is part of u19's mission.
The watchwords applicable to all entrants are that everyone should take advantage of the opportunity to get involved. We don't only take so-called professionalism into account; key elements are the example a work sets for other, the feeling of self-esteem, strengthening the personality of the individual or the group, the work's originality, social competence and creative expression. This isn't a matter of submitting the most perfect "thing" but rather the most convincing idea.
Karola Hummer was honored in 2002 by the Prix Ars Electronica's u19 category for the drawings she rendered using mathematical functions on a TI-92 pocket calculator.
It must be a really hard job singling out one grand prize winner. What, in your opinion, characterizes a Golden Nica winner in the u19 – CREATE YOUR WORLD category?
Sirikit Amann: I've struggled with this challenge through the jury deliberations every year since u19 began. There are a total of 15 prizes—a Golden Nica, 2 Awards of Distinction, a u10 and a u14 prize, and 10 Honorary Mentions—so u19 has a somewhat broader basis to honor achievements by all age groups.
It's not so easy to describe what characterizes a work that's worthy of being singled out with a Golden Nica. Sometimes, you see it the first time you set eyes on the work—this is the one, no question about it! Occasionally it takes several viewing for the jurors to make up their minds—maybe because the work is a little more demure, not so bombastic. And once in a while there's a compromise involving the top three.
For me, a Golden Nica recipient is a work that displays depth, that implements its concept in an outstanding way, and that sets a good example. CREATE YOUR WORLD puts forth a motto that can be interpreted in a variety of ways. A Golden Nica prizewinner has that certain something that sets it apart from a lot of other outstanding works. So the recipient of the Golden Nice always has to be considered in the context of the other entries submitted in that particular year.
In the u19 – CREATE YOUR WORLD category, youngsters under age 19 can implement and present their concepts and ideas for the world of tomorrow. Anyone who's 18 or under and lives in Austria has until April 2, 2014 to submit an entry to the 2014 Prix Ars Electronica!