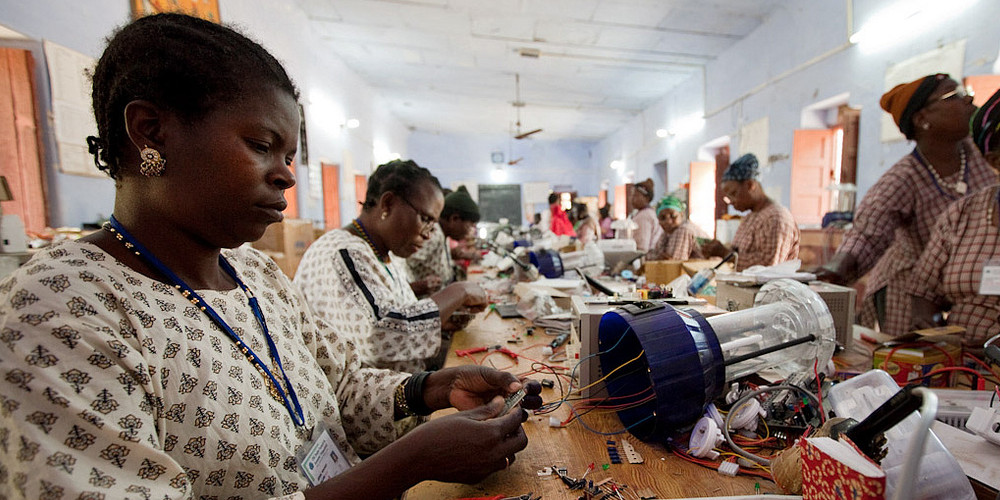 Project Solar Mamas – "I have seldom encountered a project that inspired me as much as this one has," said Gerfried Stocker. (Credit: UN Women/Gaganjit Singh)
This year's Ars Electronica Festival is set for September 4-8. It's being conceived as "a festival of extraordinary, creative, innovative ideas," in the words of Ars Electronica Artistic Director Gerfried Stocker. "This will be a celebration of people and the amazing concepts they come up with."
Two examples of incredible projects that Gerfried Stocker cites as sources of inspiration for this year's festival theme, "C … what it takes to change," are Projekt Daniel and Solar Mamas. "These two examples inspire me because both have a lot to do with technology, albeit technologies that, basically, the way they're used in these projects, are pretty simple. When it comes to finding examples of how technology can strengthen and develop human beings and communities, these two examples come to mind first of all." And that's reason enough to take a closer look at them.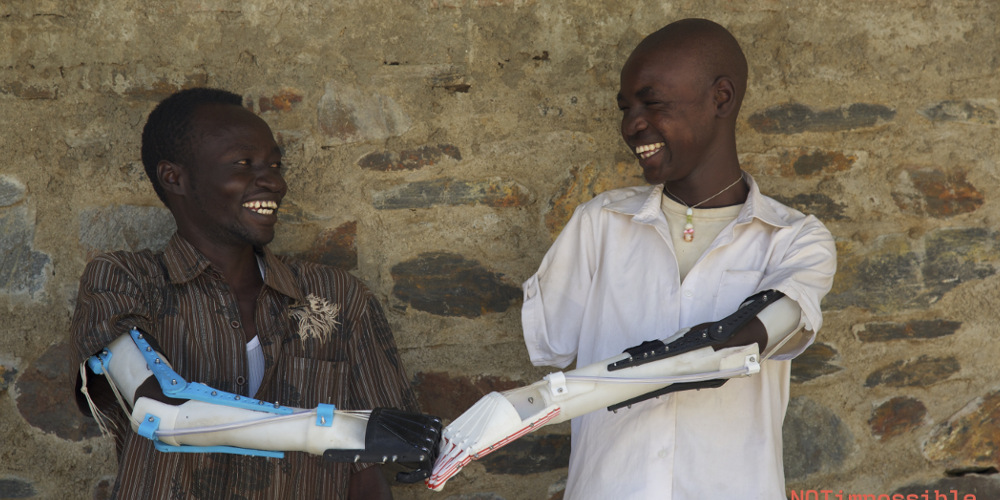 Mohammed and Daniel with prosthetic hands from the 3D printer (Credit: notimpossiblelabs.com)
Prostheses from the 3-D printer – Project Daniel
Project Daniel is Mick Ebeling's second outstanding effort. He was the driving force behind the development of "The EyeWriter" project that the Prix Ars Electronica honored with a Golden Nica in 2010. The EyeWriter is an open-source collaborative endeavor to develop artistic techniques for people with neuromuscular disorders and injuries. The actual EyeWriter device is a very moderately priced set of tracking glasses with customized software. An EyeWriter enables artists and graffiti writers suffering from various forms of paralysis due to amyotrophic lateral sclerosis (ALS) or other neuromuscular conditions to draw by using only their eyes. This technology was singled out for recognition by Time Magazine as one of the Top 50 Inventions of 2010, and was featured in a prizewinning documentary film entitled "Getting Up."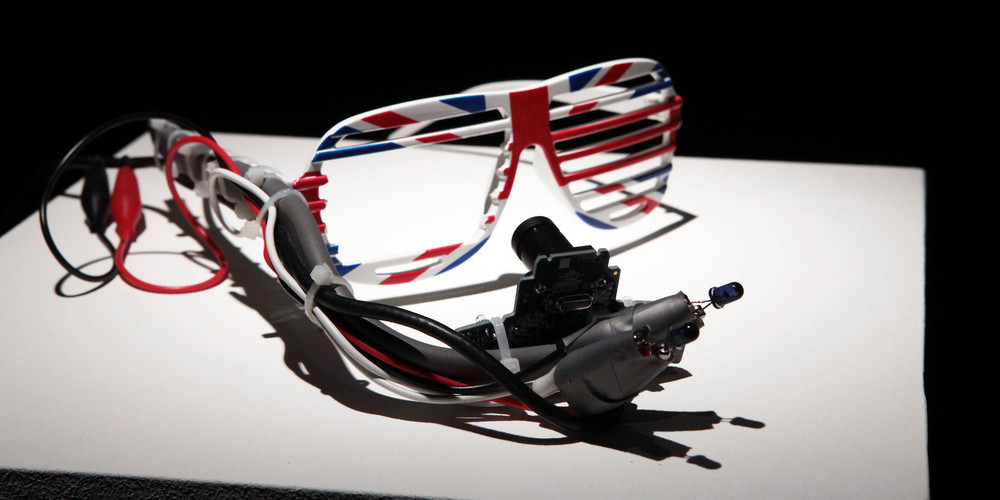 The EyeWriter (winner of the Golden Nica 2010)
By setting up Project Daniel, Mick Ebeling established the world's first 3-D printer lab that can turn out prostheses. The first three-dimensionally printed-out arm prosthesis was produced in the California headquarters of a company named Not Impossible, and was financed by crowdsourcing. The recipient of this first arm prosthesis was Daniel, a 16-year-old boy in South Sudan who lost both arms in a bombing raid at the age of 14. His new arm prosthesis enabled him to feed himself for the first time in two years. What's extraordinary about this project is that, in the meantime, the lab has been set up in South Sudan and is serving simultaneously as a training facility for locals to learn to three-dimensionally print out and assemble these prostheses themselves.
The laboratory also serves as a training facility for locals (Credit: notimpossiblelabs.com)
No sooner had the Project Daniel crew departed, than the local technicians they had trained had already turned out two more prostheses themselves. In other words, sustainability is built into this project even when the original crew isn't on site. It's nothing less than a historical milestone that such a project can be so successful in a country in which conflicts escalate to the extreme and the local population didn't even have computer skills to say nothing of familiarity with 3-D printer technology. And this, in turn, gives rise to hope that this project can also get established in other countries in which aid of this kind is so desperately needed. "We believe that Daniel's story can launch a global campaign. All the specific requirements that go into a prosthesis are being made available on an open-source, free-of-charge basis by Not Impossible to enable anyone in need anywhere in the world to get access to technology for the best purpose imaginable: to restore human beings," Mick Ebeling said.
No Problem! The Solar Mamas of Rajasthan
Solar Mamas is what they call themselves, these women who are trained in a village in India to be solar engineers. Sometimes they call themselves No Problem Mamas, since these are often the only English words they've learned in the developing countries they're from—for instance, Peru, Bhutan, Angola, Myanmar, Iran and Korea. They're all from small villages that are hard to reach with aid designed to fight the war on poverty.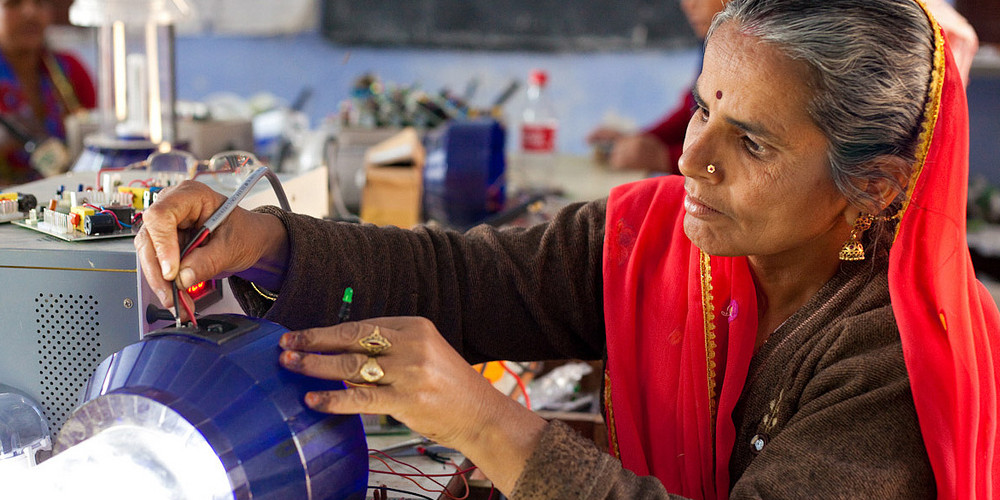 Women are trained in a village in India to be solar engineers (Credit: UN Women/Gaganjit Singh)
But about 11 years ago, Sanjit Bunker Roy created a project to train women as solar engineers. He came from a wealthy background and had attended one of the country's elite universities. Nevertheless, while doing volunteer work during a famine, he decided to make his home from then on in Tilonia, a poor village in the Province of Rajasthan in Northern India, and devote his life to helping the needy. He founded the Barefoot Movement whose mission is to give the most destitute members of society the possibility of providing food for themselves. The number of Barefoot Colleges has since grown to 13.
The aim is to provide educational opportunities for people who otherwise couldn't afford them. Villagers take courses to become teachers, physicians, engineers, architects, blacksmiths and bricklayers. The biggest challenge posed by this effort is that most of the students can neither read nor write. Roy's response was to develop a teaching method that gets along with the letters of the alphabet and mathematical formulas, and also includes traditional wisdom. In going about this, Roy rejects the top-down philosophy in which teachers have to be certified experts. His trainers are normal people from Tilonia and the neighboring villages.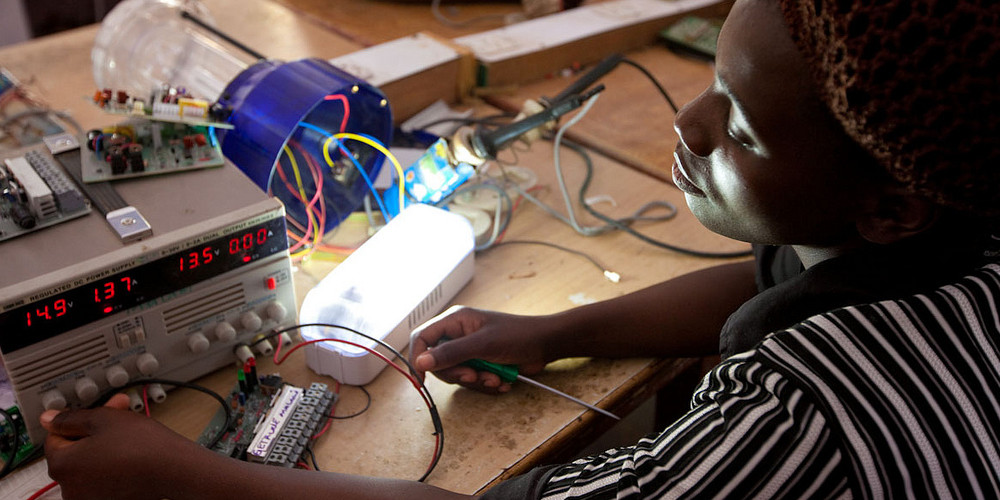 The result of the project: plenty of valuable electricity for their families and neighbors, and lots of self-assurance for themselves. (Credit: UN Women/Gaganjit Singh)
Over time, Roy noticed that most men, as soon as they had received some training, left their villages and moved to big cities, so he decided from that point on to focus more on women—women who were the sole breadwinners for their children and grandchildren, and therefore had to stay put in their native village. Now, he travels to villages throughout the world and recruits women to accompany him and to learn how light and electricity can be generated via solar energy. During their six-month training course, women learn to assemble lamps and cookers, parabolic mirrors and solar elements. Then the plan goes like this: each woman returns to her village, where she is compensated by the other villagers from a community fund into which the villagers pay the money they had previously spent on candles and kerosene. To date, 700 women from 40 countries have gone though this training. The end result: plenty of valuable electricity for their families and neighbors, and lots of self-assurance for themselves.
"I have seldom encountered a project that inspired me as much as this one has," said Gerfried Stocker. "Because it's not just a good example of how solar energy is finally being brought to these villages. Inherent in it is an entire social transformation process. This is something extraordinarily important, especially now when we're so often confronted by these shocking news stories illustrating how women are dealt with in India. This project offers a stark contrast. Here, you have the feeling that it can accomplish a lot more. Here, something's happening directly—by people, for people."
http://www.youtube.com/watch?v=oGMgHZ1WzxA
There'll be a lot more extraordinary, creative, innovative projects on display at the 2014 Ars Electronica Festival that will be held in Linz, Austria September 4-8. In the coming weeks and months leading up to the festival, we'll describe a few more projects here on our blog. Details are also available online at ars.electronica.art/c/en/.