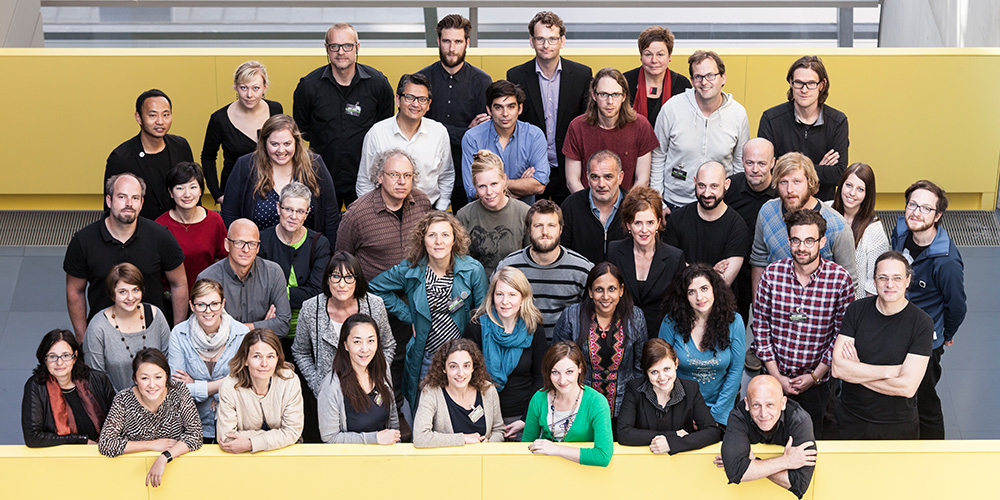 25 jurors and the team of the Prix Ars Electronica are looking for the winners of 2014 (Photo: Florian Voggeneder)
Selecting this year's Golden Nica, Award of Distinction and Honorary Mention recipients confronted the juries with a daunting task indeed, but they mastered it with flying colors! Three days long—May 2-4—25 jurors intensively deliberated in the conference rooms of the Ars Electronica Center and the Futurelab to select those who'll be honored in 2014 with this important media art prize.
From India to Chile, from Curators to Futurists
With their multifaceted cultural backgrounds, multifarious personal experiences, and highly diverse occupations and places of origin, the Prix jurors create an extraordinarily rich atmosphere. And every year, as they go about their work, all eyes in the media art scene are focused on Linz. The 2014 conclave's participants came from India, Singapore, Japan, Chile, Denmark, Germany, Greece, Great Britain, The Netherlands, Italy, Austria and Spain. The jobs they're now going back to include professor, software developer, cultural producer, futurist, curator, photo artist, urban planner and screenwriter.
The weekend agenda was jam-packed. By the time it was over, each and every project was discussed and evaluated. The jurors introduced concrete arguments and reasons why a particular entry should or shouldn't advance to the next round. Negotiations were governed by strict criteria; the decision-making wasn't always easy. On Friday, the juries began whittling down the many submissions to a short list. What made this possible was time invested in advance—thorough, industrious preparatory work.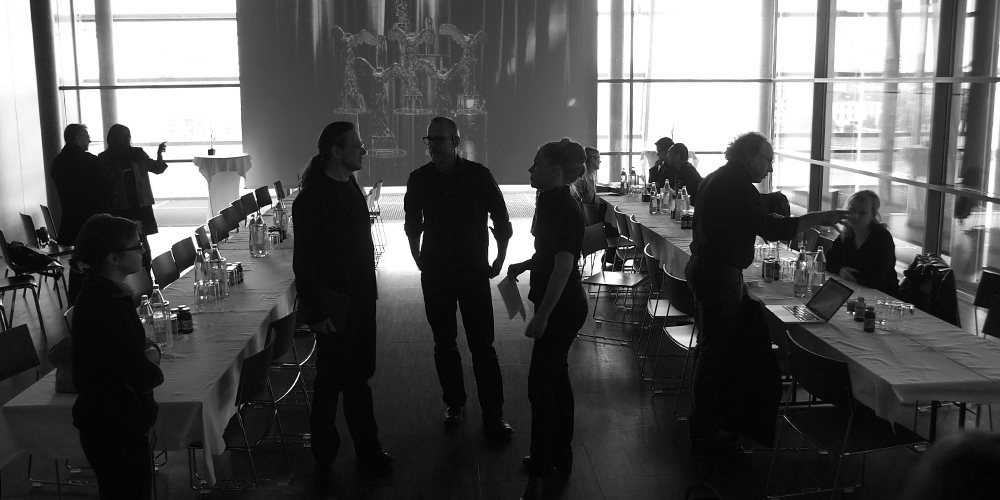 On Sunday, May 4th, 2014, the winning projects were presented.
An Exciting, Labor-intensive Weekend
On Saturday, it was time to start going into detail. What followed were hours of intense argumentation to determine who would make the next cut. Favorites began to emerge. And it also became clear that it would take until Sunday to make some difficult decisions. Many jurors took a tried-and-true approach to making up their mind: "Let me sleep on it one more time." At 9 AM on Sunday, they were at it again. Lunch was postponed and abbreviated, since further discussions were necessary in a number of cases. And—especially important—each group also had to jointly prepare a Statement of the Jury justifying the choices they ultimately made.
At 4:30 PM, the waiting was over: the jurors handed over their respective lists to the Prix administrators. First up was [the next idea] voestalpine Art and Technology Grant, followed by Digital Communities, u19 – Create Your World, and Interactive Art. Finally, the jurors in the Computer Animation / Film / VFX category hosted an assembly in the Ars Electronica Center's Deep Space. We're not allowed to reveal the results at this point—after all, some winners haven't even found out themselves yet! All the names of the 2014 Prix Ars Electronica honorees will be announced on June 2, 2014 at a press conference in Linz.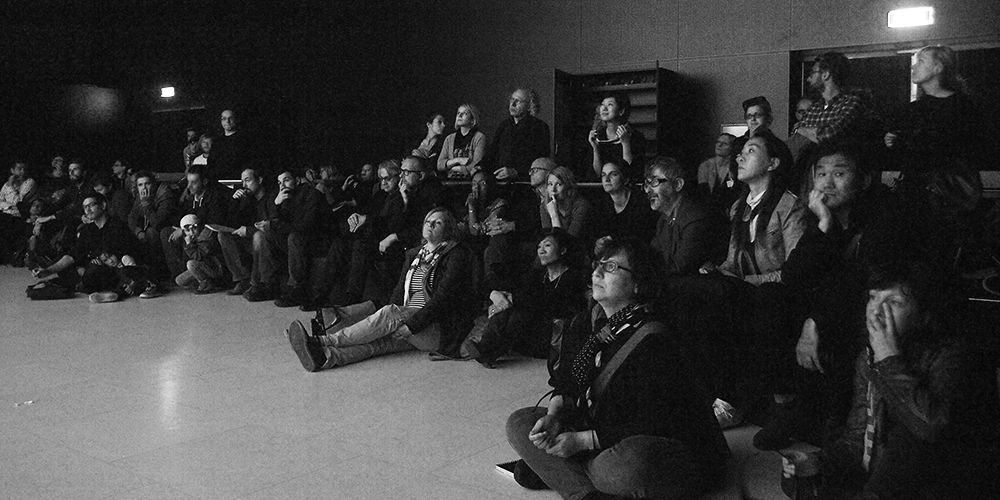 The animations were presented inside the Deep Space of the Ars Electroncia Center.
"We profit from this the whole year long"
For a recap and analysis, we asked Ars Electronica's artistic director to give us his take on how the jury weekend went. "My impressions are outstanding," said Gerfried Stocker. He describes the jury sessions as one of the most exciting weekends of the year at Ars Electronica. "You know that there's an incredible amount of potential inherent in the submissions. And on this weekend, all the energy embodied by these entries coalesces in the Ars Electronica Center. Not only the projects submitted for prize consideration come from all over the world; the juries as well are made up of international experts. Being on hand for this, listening to how they go about their deliberations, how they give a tremendous amount of thought to applying the criteria and insightfully assessing the individual projects, this is really an amazing experience!"
"Every year, the coming together of the juries is a great opportunity to behold and grasp the essence and the actual point of media art. This is such a beautiful and valuable job, work we can profit from throughout the year."
The pledge to maintain confidentiality will be honored scrupulously until the results are announced at the press conference on June 2, 2014. However, Gerfried Stocker did go so far as to whet our appetite for an especially outstanding array of winners. "I'm totally impressed as far as the quality is concerned. These are really exciting projects from far-flung regions of the world. In this connection, it's once again very interesting to see that, even though this is a highly globalized artistic genre in which, of course, people work with identical media and the same technologies, the themes their projects take up and the narratives they entail are nevertheless country-specific to a great extent. Above all, they differ with respect to their political approaches."
What is the high quality of the projects in each category attributable to? "For one thing, this probably has to do with the fact that there are more educational institutions offering media art, the upshot of which is a certain virtuosity in working with these media. And, I must say, year after year, I'm particularly fascinated by the projects submitted for prize consideration in the u19 – Create Your World category. When you consider the work these youngsters are doing, you realize that it's not only technically but on a social and artistic level too that they can keep up with the pros. And seeing that young people are dealing so intensively with such important issues is a very positive sign of the times."
To offer a fascinating pastime over the coming days while we're all waiting in suspense to learn the names of the Prix's 2014 prizewinners, the Ars Electronica Blog will be posting a series of inspiring interviews we managed to conduct with jurors this weekend. Caught on the run to the next session or maybe while enjoying a coffee and a smoke out on the deck, buttonholed in an elevator, while waiting in line or just lounging during a few spare moments between appointments, some very interesting people had some very interesting things to say. Stay tuned!