If you happen to see a torrent of merry folks from diverse ethnic and social backgrounds dancing their way through downtown Linz while lip-syncing a blaring playback of ABBA's hit song "Take A Chance on Me," then you might think that Mardi Gras is awfully late this year or mass lunacy has broken out. But never mind, what's underway is merely a collective emotional experiment: a LipDub.
People of different origins, with varied interests, from diverse social strata dovetail into a current and flow through town. The emotional highpoint of the 2014 Ars Electronica Festival is a major CHANGE-based production!
This high-profile celebration of progress, creativity and innovative action is meant to be a bonding experience constantly being reinvented by happenings occurring spontaneously underway.
In this interview with Roland Krenn, the LipDub project manager lets us in on why this will be the emotional climax of this year's Festival and gives us a preview of the attractions and highlights LipDub has in store.
Roland Krenn, the LipDub project manager
So, Roland, tell us how the LipDub concept come into being?
Roland Krenn: Ars Electronica artistic director Gerfried Stocker and Festival director Martin Honzik jointly came up with this great idea of staging a LipDub as a full-scale exercise to get change underway! This year's Festival lineup is jam-packed with discussions, workshops and exhibitions having to do with the "Change" theme, but what's often lacking when it comes to initiating a process of change is for people to simply get their asses in gear, take the bull by the horns and say "OK, let's do it!" So, the idea is that staging a parade, moving en masse through the city, and firing people up is exactly what it takes to get things going!
What exactly is a LipDub?
Roland Krenn: LipDub comes from lip-synching, and refers to a music video shot in a single take in which the cast members move their lips to the song's lyrics as if they were singing it themselves. For the 2014 Ars Electronica Festival, we're organizing a type of parade during which various happenings take place and we capture the entire event on film in a single take. But to make it come off, we tweaked the original LipDub idea that you often see on the internet—we're not going to shoot our music video with a single camera; instead, we'll be capturing it from hundreds of different angles.
What made you decide not to go with the classic variant?
Roland Krenn: The point is to change points of view a little! The original LipDub format shows the parade from an external perspective. That's a typical shot that everybody's familiar with. But we want to change the point of view and capture how it looks from insiders' perspectives. That is, all the participants will be shooting while the event is going on—either with their own smartphones or with devices like video cameras they've brought along or borrowed. In this way, each participant captures the LipDub exactly the way he or she saw it. That seems a lot more interesting, doesn't it!
[youtube=https://www.youtube.com/watch?v=RVAef8T7ewA&w=610]
Why did you opt for "Take A Chance on Me" by Abba?
Roland Krenn: For one thing, because that song just seems to make people smile right away! After all, the point is to get people to sing along and get in the swing of things, so what you need is a simple song everybody's familiar with so all can join in. Plus, of course, the phrase "take a chance" in the title is very close to "what it takes to change," this year's festival theme.
So, this won't be just a run-of-the mill parade…
Roland Krenn: For sure. The LipDub is loaded with attractions. We're not going to just be parading through the city. That's why we've built various highlights into the scenario. The participants will represent a pretty interesting cross-section of society. I mean, we can't call for change and then simply organize a party. At the top of my agenda is mobilizing people, motivating them to work on behalf of some kind of change in their respective milieus—kids, seniors, parents, immigrants, whatever. We'll see what happens. But this is a good basis on which to start out.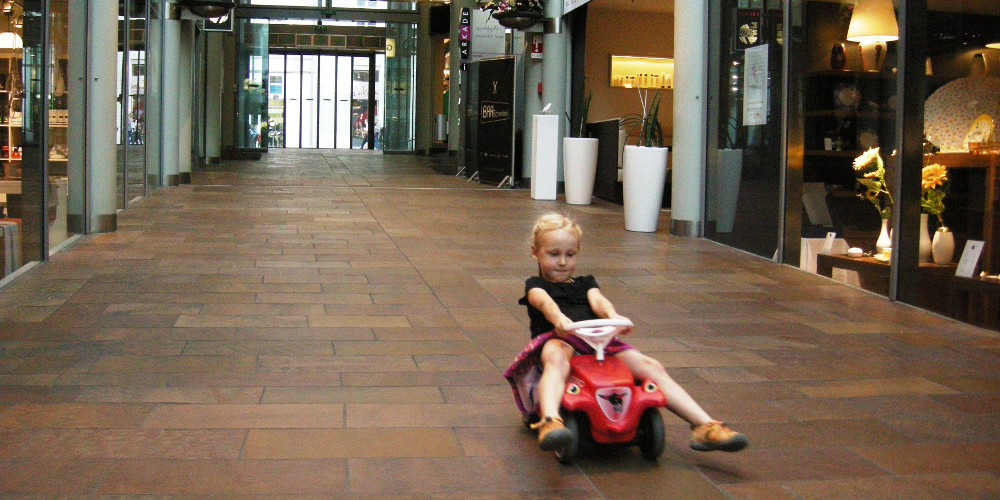 What are some of the attractions you've lined up?
Roland Krenn: The festivities kick off at 1 PM in downtown Linz on Spittelwiese near the entrance to the Akademisches Gymnasium. The first highlight stars the Linz Mountain Rescue Squad—members will be rappelling down from the top of a crane and filming as they descend.
Then we want to get families with children into the action. Kids are cordially invited to bring out their Big Wheels and Bobby Cars and take a ride down Spittelwiese.
Then we turn into the Arkade shopping mall, where we've got something cool planned with the Bar Schneiderei [combination bar & hair salon]. Just as the parade arrives, a crew of dancers seated in front of the mirrors while having their hair done will get into the act singing and dancing and join the procession.
[youtube=https://www.youtube.com/watch?v=gW1Y0SV_reQ&feature=youtu.be&w=610]
Here you can find the choreo to the dance: http://danceschool.at/LipDub. We would be happy if you would learn the dance to perform with us at the happening.

The setting of the next highlight is Springer's flower shop, which will be the source of rose petals raining down on the parade. Then, when we arrive at the Arkade's main plaza, things start to get a little turbulent for the first time as the LipDub morphs into a flash mob. At a preset signal, everybody starts to dance to the same steps, which the Horn Dance School choreographed especially for this occasion. This is a choreography with only a few moves, which have been filmed in advanced and made available online so anybody who wants to can easily learn these simple steps. That way, as many people as possible will be able to participate on site.
Plus, on the two pedestrian bridges on the Arkade's upper levels, we'll be positioning dancers from Andexlinger Dance School, who'll be dancing as couples. Plus, the Diamonds, the cheerleaders of the Steelsharks football team, are working on some special formations for the occasion.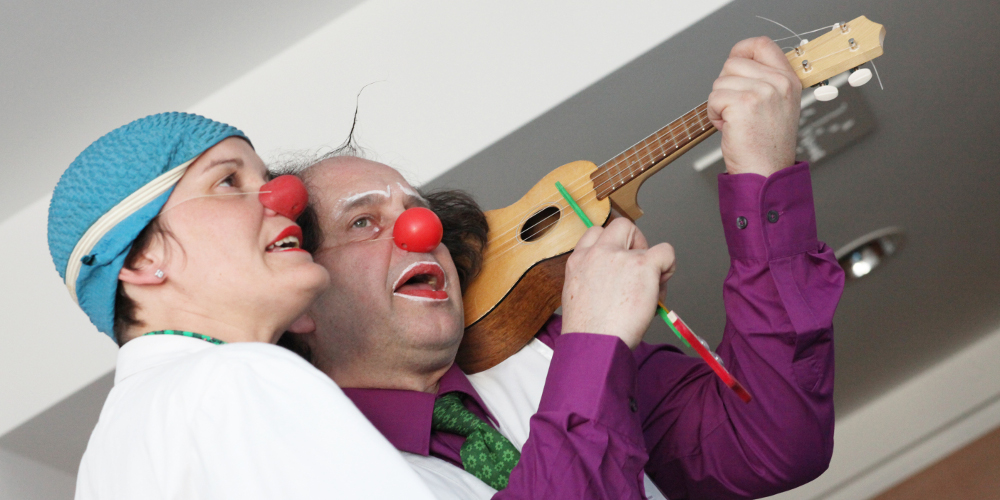 CliniClowns
Then, as the procession moves on towards Landstraße, we have something special planned on the small bridge in front of the Arkade's exit—members of the ÖTB Gymnastics Club will demonstrate some impressive juggling and acrobatic artistry.
But before we actually head out onto Landstraße, we aim to get our media partner, Life Radio, into the mix but luring some on-air personalities out of their broadcast studio on the 1st Upper Level and getting them to join the procession too.
Then, it's out onto Landstraße where things will really get on track 'cause now we'll be boarding the streetcar. The trains will be held up for a few minutes so the whole crowd will have time to go in one end and out the other. I sort of see this as a chance to change trains, in the sense of transfer from one line to another. For instance, spectators will witness cases of folks going in as men and coming out as women. But we're not going to overemphasize this gender-bending either; there'll be lots of other types of change going on too. Thus, we're presently working together very intensively with Bar Schneiderei or how they can noticeably change the hairstyles of people boarding the tram cars within a short stretch of only 2-3 minutes—for example, going in the front as brunettes and coming out the back as blondes.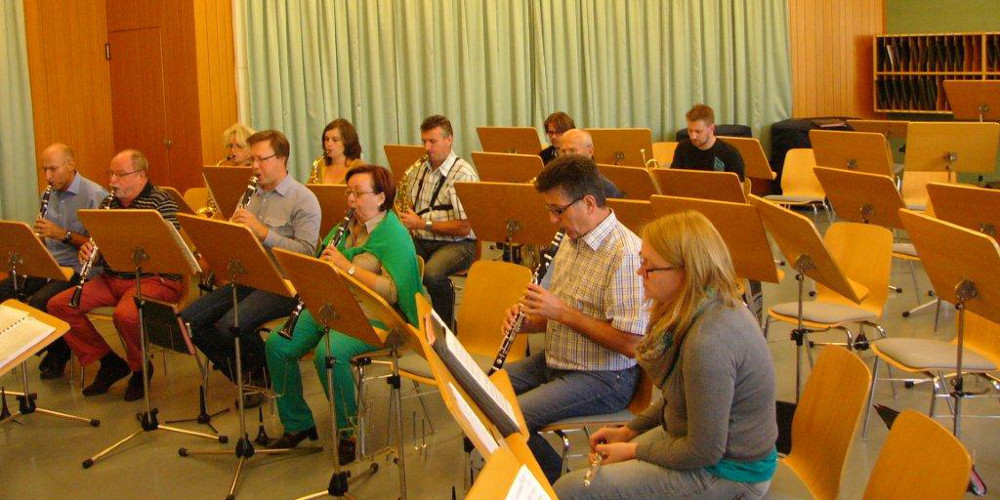 Municipal administration's band Linz
Once everyone is safely out of the streetcar, the crowd moves on in the direction of Schmidtorstraße, where the intersection with Taubenmarkt will be closed to traffic so the ÖTB Gymnastics Club can set up a giant trampoline on which their tumblers will be performing high-flying somersaults.
From Schmidtorstraße, the Magistratsmusikkapelle will come marching in playing ABBA's "Take a Chance on Me" live, and accompanied by a rain of confetti from the roof of the Humanic shoe shop so everybody really gets the feel of a kitschy, celebratory parade.
Then we'll march together with the band onto the Promenade. When we arrive at the intersection where you can turn left into the Arkade, the band will continue to march straight ahead and the assembled multitude will encounter u19 – CREATE YOUR WORLD, the special festival for youngsters whose theme is film this year. They'll be using the LipDub as scenery for a few quickie motion pictures—for instance, a marriage proposal and a crime that some young detectives have to solve.
Youth chorus Upper-Austria
Then, and only then, does the parade hang a left and move back into the Arkade. By the time we arrive at the mall's main plaza, the Province Youth Chorus will have taken up positions on the bridges on the 1st and 2nd Upper Levels to let "take a chance, take a chance, take a chance …" resound through the Arkade's corridors. Next up is a presentation that's beautiful and nicely integrative too by a group from the Manus Deaf Theater. They'll join in on this choral presentation by depicting "Take a Chance" in sign language, and thereby enable spectators to partake of this performance from yet another perspective.
And that's pretty much it. From there, it's just a short way to the inner courtyard of the Sparkasse savings bank, and that's the end of the line. The Magistratsmusikkapelle marches in again to deliver the musical grand finale, in which they play ABBA's "Take a Chance on Me" all the way to the end.
What's the biggest challenge posed by this production?
Roland Krenn: The most difficult aspect is that this is intended to be a one-take deal. There's no way to do it over if something doesn't work out. So we just hope that lots of people equipped with cameras will turn up and shoot on their own. At the moment, we're working together with Ars Electronica Solutions and the Futurelab on a "safety net" so we can be sure that there'll definitely be camera crews at every point along the way to capture absolutely everything that goes on.
When will we get to see the first videos?
Roland Krenn: Later that same evening, the first videos will already be on display at the Beehive Project on Spittelwiese. The following Monday in Deep Space at the Ars Electronica Center, we'll be screening a half-hour rough cut of the music video, as well as showing the making-of story and a few background photos about the project. A couple of weeks after that, the music video will be finished, and everybody who took part as well as anyone else who's interested will be invited back to Deep Space to check out the finished product: the final version of the music video. At that time, the determination will be made about whether there'll be a long-term installation about the project in Deep Space.
Interested in being part of the emotional highpoint of the 2014 Ars Electronica Festival? Then show up on Saturday, September 6, 2014 at 1 PM on Spittelwiese in downtown Linz and head off on a selfie trip through the inner city. Find more information:
https://ars.electronica.art/c/en/lipdub and https://www.facebook.com/events/890474197648800/