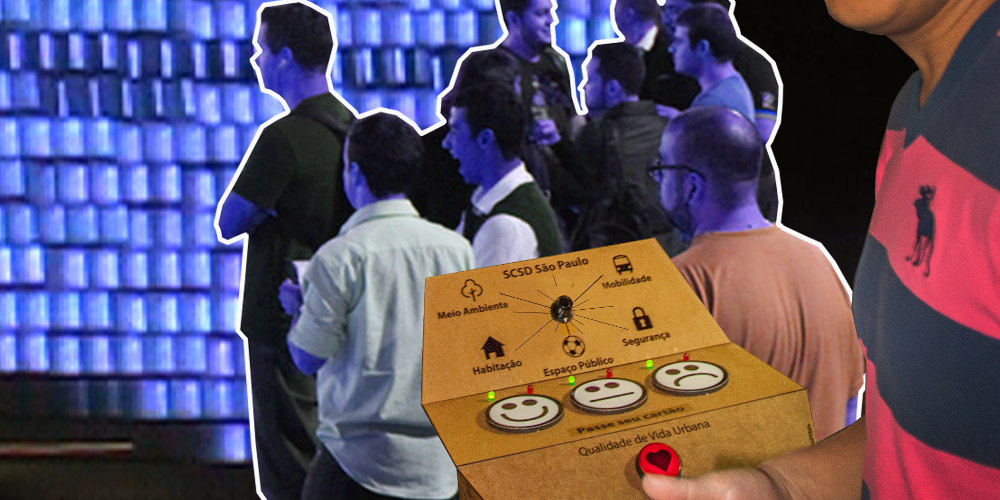 You can get an impression of the feelings and attitudes of people in Linz towards the environment, mobility, security, the housing situation and the public sphere from the Smart Citizen Sentiment Dashboard (SCSD) on the Ars Electronica Center. Like an ongoing opinion poll, the SCSD features a simple interface that gives people the opportunity to personally rate the quality of life in this city.The information thus gathered goes into a database of feelings that's translated into a visual vocabulary and depicted on the Ars Electronica Center's media façade. In this way, the SCSD makes a splendid, high-profile statement that's designed to foster an ongoing dialog about life in Linz.
In preparation for this year's festival, a workshop is being held on Saturday, August 30, 2014 at the Ars Electronica Center and all citizens of the City of Linz are cordially invited to attend. This will be an opportunity for Nina Valkanova and Moritz Behrens, the inventors of the Smart Citizen Sentiment Dashboard, to find out the most urgent challenges facing Linz today.
We recently met with Nina and Moritz, who talked to us about the urban issues that are on most people's minds, how the visualizations on the Ars Electronica Center's façade will look, and what objectives they're actually pursuing with their Smart Citizen Sentiment Dashboard.
City dwellers can use the Smart Citizen Sentiment Dashboard to call attention to deplorable circumstances and things that are troubling them. What kind of stuff are we talking about here?
Nina Valkanova: First of all, we want to make it clear that we haven't been working on creating an application just to simplify things for burghers. We're not out to develop a fix-my-street tool that enables people in a city to identify deficiencies and report them to a government agency so they're not bothered with them anymore. This is not about airing grievances; instead, we aim to give citizens the possibility to express themselves and to experience what their neighbors think about the challenges of life in the city. The media façade offers Linzers a way to share their impressions about urban life today. In doing this, we're attempting to restore to the public sphere a portion of its function as a platform where people can gather and interact.
What are the issues that city dwellers cite or discuss most frequently?
Moritz Behrens: Our experience with a similar project in Sao Paulo has shown that a few topics recur repeatedly. Tremendous importance is attributed to ecological issues as well as those having to do with public safety. Then come topics like the design and layout of the public sphere, traffic & transportation, and the housing situation. The interesting thing about this is that strong concern for these issues is evident across the social spectrum. During the time leading up to the Ars Electronica Festival, we're going to be holding a workshop that all Linzers are invited to attend. We want to use this occasion to find out what locals see as the most pressing challenges facing this city. And we're particularly looking forward to the similarities and differences in comparison to Sao Paulo.
What does the Smart Citizen Sentiment Dashboard look like and how do you use it?
Moritz Behrens: As you can well imagine, we don't want to reveal too much here. Nevertheless, we can say that it's a sort of street furniture that gives Linzers the opportunity to select one of the challenges facing Linz as defined in our workshop and to intuitively express their impressions in connection with it.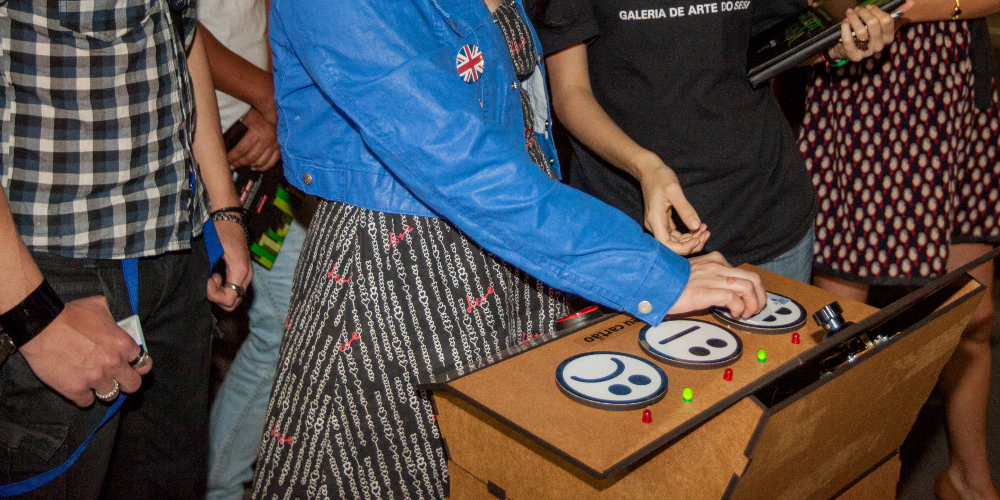 What will the visualization on Ars Electronica's façade look like?
Nina Valkanova: After sundown, the AEC's three-dimensional media façade has an almost iconic function for Linz. It's highly visible far and wide. But, in contrast to a high-definition display that permits detailed information processing, the AEC's façade has a very low resolution. A window corresponds to a pixel. So, with our visualization, we're attempting to steer a middle course between the ambient character of the façade and the informational mission of the Smart Citizen Sentiment Dashboard, and to utilize this tension and interplay to generate an attractive, appealing highlight. The impressions of the users are expressed through the use of the most elementary but at the same time most obvious means—color and motion.
How does the whole thing work technically?
Nina Valkanova: The technical operation is simple. We've integrated three different kinds of input into the Dashboard. A knob lets the user choose one of the five urban challenges that were defined in advance by the workshop participants. Two card reader devices enable users to input their personalized responses to the poll by means of a smart card. Finally, a simple pushbutton visualizes the poll results.
Why exactly do you need this kind of smart card, a MIFARE card?
Moritz Behrens: A so-called smart card enables people to express their views and attitudes about the quality of life in the city. Embedded in these credit card-format cards are a tiny chip with an ID number stored to it. Each card contains its own number. Up to now, these smart cards have been used primarily for cashless transactions (in the public transit system, for instance) or as access cards for office buildings. Actually, right now, there are more people out there with one of these smart cards in their wallets than with smart phones in their pockets. So, our mission is to expand the function of these cards by enabling city dwellers to use them to get an opportunity to express their opinions. Now, we are certainly cognizant of the risk associated with this: that personal data is generated thereby – for example, that it would be possible to identify certain behavioral patterns on the part of repeat users. And that, in turn, brings us to another point. The objective of our installation is to establish a discussion platform. We're interested in exploring the possibilities and limits of new digital technologies for participative processes in the public sphere.
Comparable projects have already been implemented in London and Sao Paulo. What was done there?
Nina Valkanova: The Smart Citizen Sentiment Dashboard originated in London. The fact that nearly every local resident there has one of these smart cards – the Oyster Card for access to the tubes and busses – and always has it on them led us to consider the possibilities that this could potentially yield. In the first installation in a museum, we confronted visitors with certain prehistoric artifacts and then polled them on some archeological questions – for instance, about ownership rules and religious tolerance. This individual balloting was conducted by a thumbs-up/thumbs-down system we're familiar with from social networks online.We first developed a sort of Dashboard for display in the public sphere for the Viva Cidade festival in Sao Paulo. There, we upgraded the system with the previously mentioned functions and, for the first time, hooked it up to the giant media façade on Avenida Paulista. In conjunction with that, we held a series of ethnographic workshops with various social groups, the aim of which was to get a realistic feel for the locals' relationship to their city and to identify the most urgent inner city challenges. Plus, we wanted to find out how we could use new digital technologies to spur these very important discussions in the public sphere and about the public sphere.
What objective are you pursuing with the Smart Citizen Sentiment Dashboard?
Moritz Behrens: We're often asked if we use the data we gather for other purposes or whether the results we obtain are empirically representative. We're not really interested in that at this point. We are fully aware that our results lack statistical validity and can't serve as the basis for generalizations. But that's not our point of departure. The very name of the project says it all – sentiment, both in the sense of feelings and opinions. We're looking into which social processes in the public sphere we can jump start by means of digital participative applications. For example, we often observe that total strangers start explaining to one another the sense of the Dashboard and its function. Very frequently, this leads to intensive discussions about how very important or utterly nonsensical such an installation is, or they end up talking about the content of the questions and the motives behind them. And then there are the ones who simply gawk at the façade and shoot photos with their smart phones in order to share impressions with their friends. But these social and, at the same time, individual modes of behavior and lifestyles are precisely what constitute the public sphere in big cities. Our ultimate mission is to nurture this quality of the commons, the urban spaces city dwellers share. And this is also why it's precisely the speculative element of our projects that gives participants the possibility to gain experience and to engage in exchange.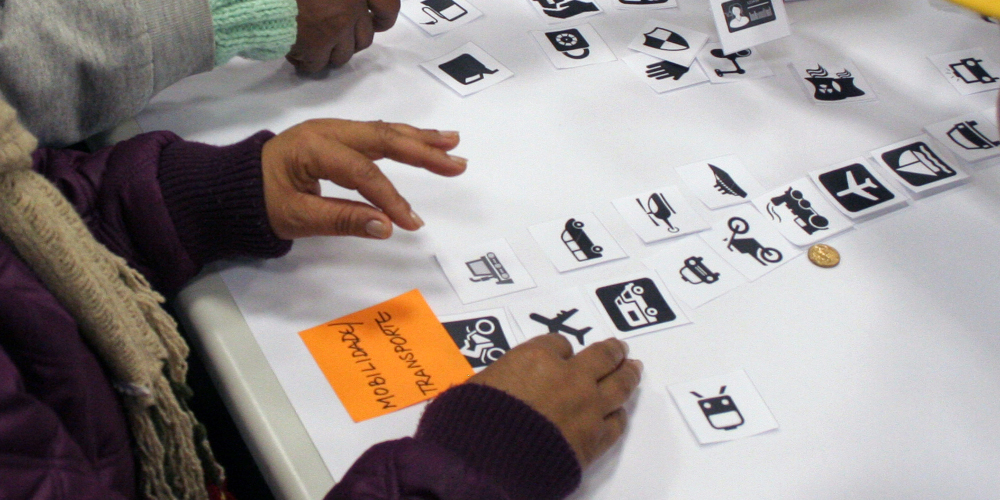 You too can take advantage of this opportunity to express yourself and find out what your fellow citizens think about the challenges posed by life in Linz. The Smart Citizen Sentiment Dashboard is available for input Thursday to Sunday, September 4-7, 2014, 9-10 PM each day, in front of the Ars Electronica Center. Details are online at https://ars.electronica.art/c/en/sentiment-dashboard/.