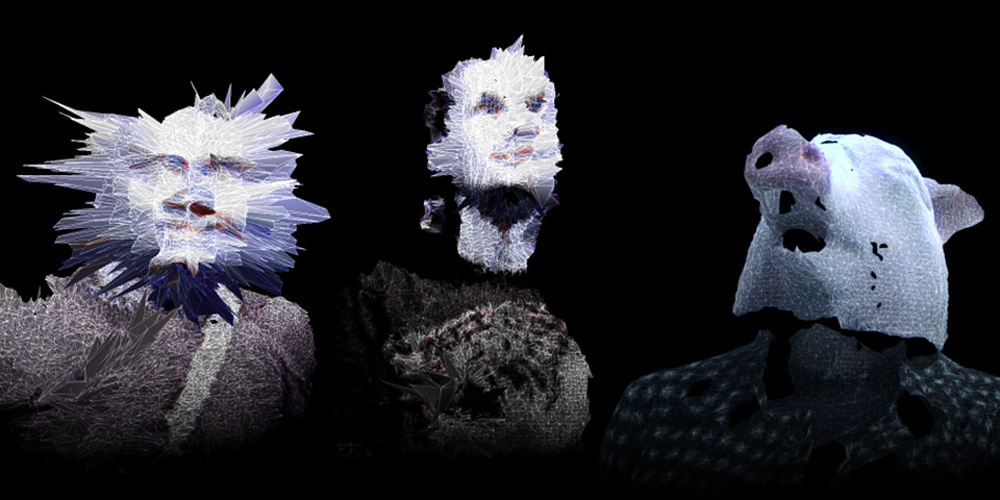 Dada was an artistic and literary movement founded in 1916 in Zürich's Cabaret Voltaire. Dadaists expressed their disdain for so-called conventional art by putting on absurd, archaic stage-based performances and composing sound-poetry that mutilated bourgeois parlance to the point of utter syllabic anarchy.
Almost 100 years after the inception of Dada, the Ars Electronica Futurelab is collaborating with media artist/musician Klaus Obermaier on (St)Age of Participation, an artistic research project financed by the Austrian Science Fund (FWF). Their aim is to carry out an extraordinary field test: transferring Dada's absurdist mentality into our modern world of high-tech.
Since 2011, (St)Age of Participation has been performing research on audience participation in stage-based media art. In 2012, "Letterbox", an initial series of participative micro-performances was presented at the AEC's Deep Space. This is now being taken to the next level at the 2014 Ars Electronica Festival with "Take a Number, Leave Your Head", an interactive club offering drinks and dada that totally eliminates the boundaries between a sphere for actors and a separate one for the audience.
We recently met with Klaus Obermaier and the Ars Electronica Futurelab's Christopher Lindinger to talk about their collaboration over many years and what they're planning for the upcoming festival.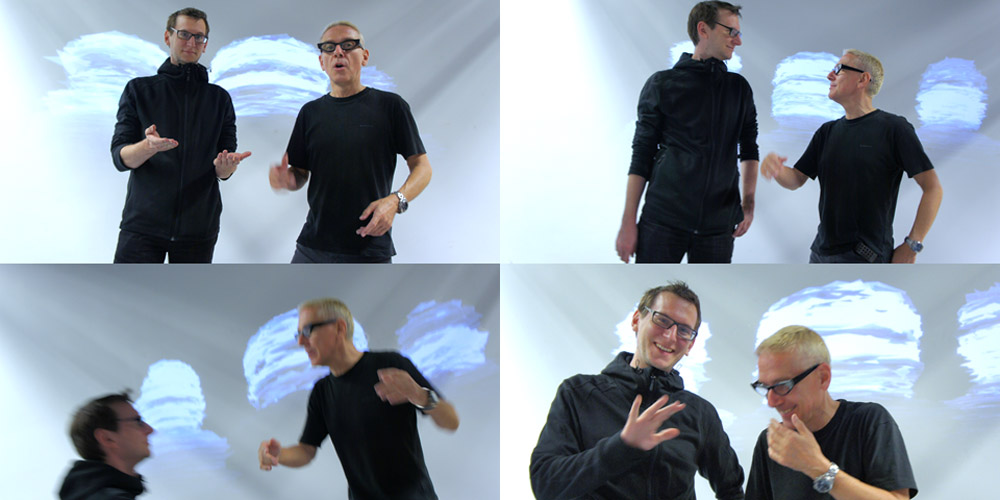 Christopher Lindinger, Co-Direktor Ars Electronica Futurelab (left) and media artist Klaus Obermaier (right) are working on the artistic research project "(St)Age of Participation" to carry out an extraordinary field test: transferring Dada's absurdist mentality into our modern world of high-tech.
Klaus, you've been collaborating with the Ars Electronica Futurelab for many years now. What have been your personal highlights?
Klaus Obermaier: The highlights are definitely the performances with which we've achieved our greatest international successes. And here I should mention that some of our collaborative works have already been on a world tour for eight or even nine years – "Apparition", for example, and our interactive 3-D version of "The Rite of Spring." We're still on the leading edge with both of them, substantively as well as technically. Even though these pieces originated several years ago, they're still considered innovative projects in the new media genre. So, this is very cogent proof of how advanced our thinking was back then. It would be really great if we could achieve that again with the work were bringing out now.
Christopher, what were the greatest challenges posed by these collaborative projects in recent years?
Christopher Lindinger: We've always striven to be on the leading edge, both artistically and technologically, to be absolutely at the forefront and to define the state of the art for stage-based media art. "Apparition" is one of the most talked-about works in this genre. So, the most exciting as well as the most challenging aspect of our collaborative pieces has been that we've always wanted to try out something new and take a shot at innovating. And this is also why we decided to conduct (St)Age of Participation, a joint artistic R&D project in which we confront current issues having to do with co-creativity, DIY and participative culture.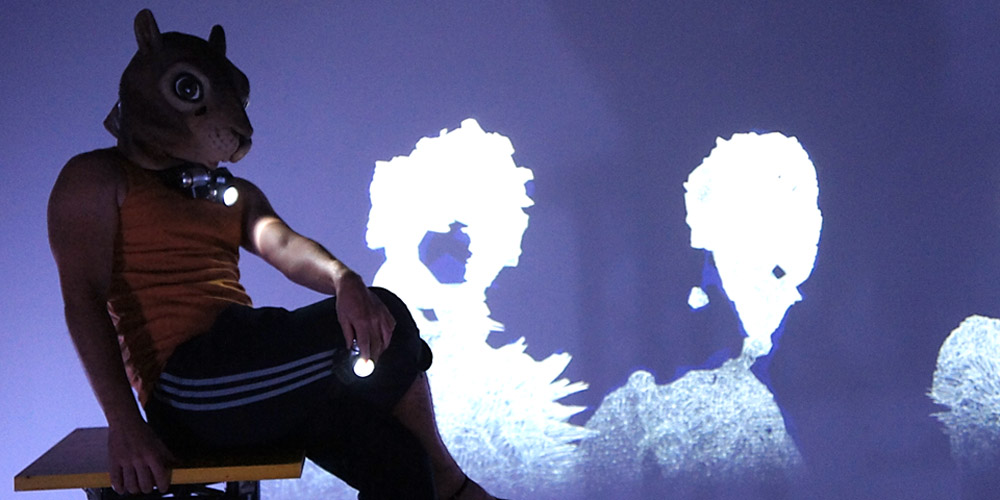 This picture was taken during rehearsals for "Take a Number, Leave Your Head". It will be interesting.
What's with the name (St)Age of Participation—above all, the St in parentheses?
Klaus Obermaier: The title obviously has a double meaning. The first is that we now live in an Age of Participation. The second is the stage, which, by no means least of all, symbolizes professional dancers, musicians and actors. In (St)Age of Participation, our point isn't that a user can interact with an installation—this is a commonplace practice at this point. Instead, we want to deal with the question of how an audience can have a rewarding experience via the use of interactive technologies as well as together with professional performers. Nevertheless, there are two reasons why this is quite a difficult undertaking. First off, you never know precisely what inputs you can expect from the audience at which point in time. Maybe today's spectators are more involved and deliver more interesting content that tomorrow's group. Dealing with this is a dramaturgical challenge. Secondly, you have to make an effort to avoid situations that might be embarrassing for the audience—for instance, bringing people up on stage without giving them the chance to say NO or just stay out of the limelight.
Christopher Lindinger: Our aim is to utilize innovative technologies to come up with new concepts to deal with precisely these kinds of issues. You could say that we're attempting to bridge the gap between a dramatic-interactive installation and a stage-based performance. Technological interfaces enable us to configure the interaction among professional performers, the physical setting and the audience members on an interesting level, one that's fun for the audience and that, due to the spectators' ability to influence what's transpiring, allows them to more strongly internalize the flow of a performance, to feel more like a part of what's going on rather than just being non-participant observers off-stage. There are a lot of questions still open. Actually, we've only just scratched the surface in identifying potential concepts, but, after all, that's what an R&D project is for.
At the 2014 Ars Electronica Festival, you're opening an interactive Dada Club entitled "Take a Number, Leave Your Head." What in the world led you to this theme?
Klaus Obermaier: There are several reasons for this. One is that this period was the first time that audience involvement began to emerge and, of course, that fits right into our concept. A second reason is that this was a time of general artistic upheaval in which normal art situations were called into question. Furthermore, we're very much interested in Dada as a theme because it gives us a lot of opportunities for experimental, absurdist approaches to content. We're interested in creating theatrical situations that the audience can identify with and really get into, and in doing this without a huge, overarching theme that almost makes you feel like you're being beaten over the head with it.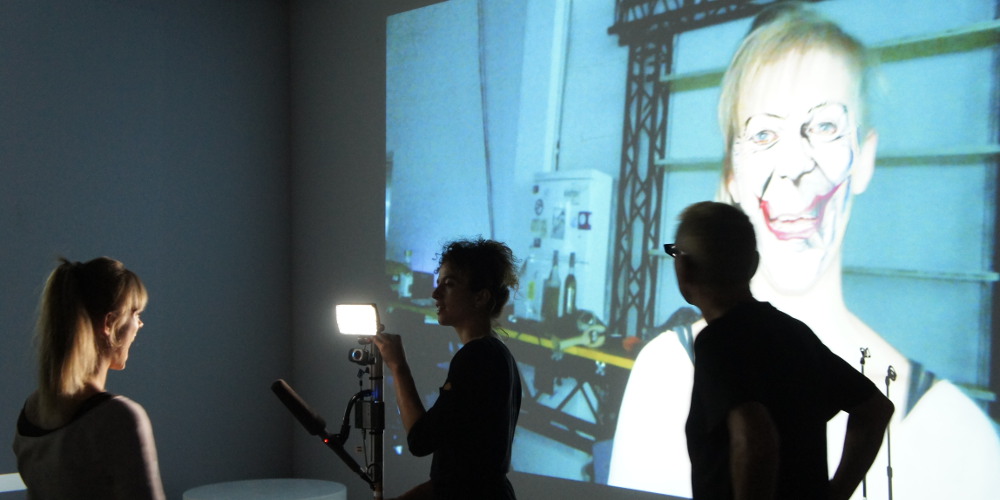 Klaus Obermaier (right) at rehearsals with the performers Barbara Vuzem (left) and Catherine Pfiel (center).
What exactly is going to take place at the Ars Electronica Festival?
Christopher Lindinger: We'll be producing "Take a Number, Leave Your Head" on Friday and Saturday at 5 PM in the Studio at the Ars Electronica Futurelab. These performances are to be seen as experimental field tests conducted in conjunction with our R&D project and not so much as finished works. We'd like to try out various things together with the audience, see what comes off and what has to go back to the drawing board. For this test, we've come up with a special setting that resembles a bar and does away with the traditional partition between the stage and audience seating. We'll also be serving drinks. The entire space will be a stage, a sort of lounge in which an array of absurd situations arise, in which Dada poetry is recited, and in which the audience is presented with various opportunities to have input into the substantive, visual and auditory configuration of their surroundings. By the way: the "Take a Number" part of the title is an allusion to the dispensers of those numbered tickets you get at the post office or the supermarket deli counter. The second part refers to the fact that visitors' heads and faces will play a major role.
Will a particular story be told or are you just going to be improvising?
Klaus Obermaier: A certain absurd atmosphere will prevail; our approach is to create a basic mood rather than telling a concrete, linear story. We've conceived various dramaturgical elements and levels of interaction but the exact point in time when they'll be employed will be decided more or less on the spur of the moment over the course of the evening. Needless to say, we'll be making an effort to steer things in a particular direction … no question about it … but nevertheless, the situations that arise present a lot of opportunities for spontaneity. This is also a very important aspect of connecting to Dada, a movement in which the openness of artistic actions and, to some extent, the role of chance were highly esteemed.
Artists, Boobs and Cities
Klaus, you'll also be showing another project in Linz during the 2014 Ars Electronica Festival. What's that all about?
Klaus Obermaier: This is an exhibition in Galerie Paradigma in Linz that includes an interactive installation, portraits of Upper Austrian artists and condensed city portraits. The whole thing is entitled Artists, Boobs and Cities, that is, ABC. The point of all three works is to illustrate how interventions into the depiction of seemingly familiar images can change our perception—for instance, an oversized representation. In this show, the interactive installation above all can be categorized in the Ars Electronica genre.
What can visitors to this installation do?
Klaus Obermaier: Interact with breasts …
Take a Number, Leave Your Head. A Cellar Club Piece with Drinks and Dada
Friday & Saturday, September 5-6, 2014, 5 PM
Ars Electronica Futurelab, Studio (Maximum seating capacity: 50)
A ticket is needed for this performance. Free tickets will be available at the cash desk of the Ars Electronica Center from 10 a.m. on Friday and Saturday. The number of audience members is limited to a maximum of 50. The performance takes place in the Ars Electronica Futurelab's Studio. The entrance to the Studio is located in the Main Gallery of the Ars Electronica Center (you will find a door in the BrainLab area). Doors open at 4:50 p.m.