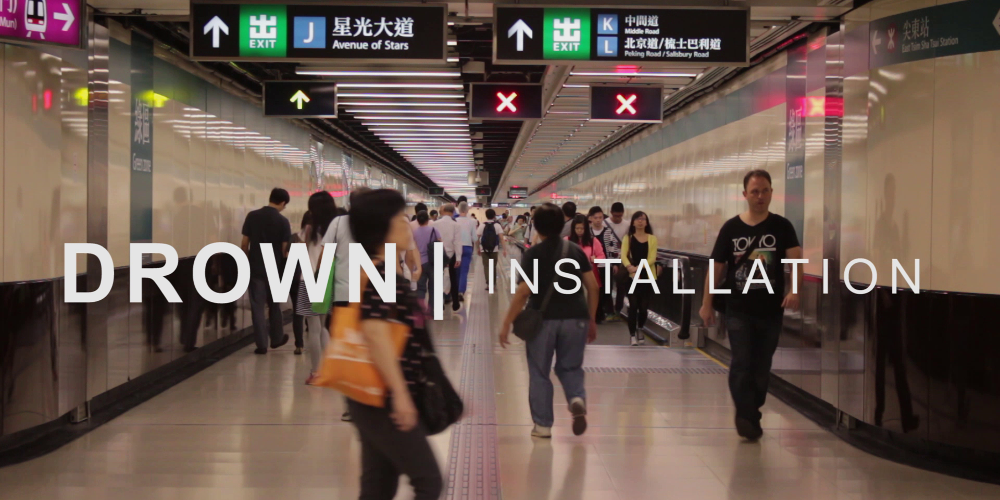 Already at the 2014 Ars Electronica Festival Chloe Cheuk and Kenny Wong delighted us with their interactive installation Iris. Now under an Artist in Residence program at the Ars Electronica Futurelab the Chinese artist duo has born a new idea for another joint project with the name Drown. Waves in a large water tank should represent a stream of people in the crowded metropolis of Hong Kong. In the interview Chloe and Kenny tell us how they came up with the idea to use waves for their project, why it is important to control these waves as symbol for controlling the chaos on the streets of Hong Kong and what further steps they now have to go to turn their idea into reality.
What's your project "Drown" about?
Kenny Wong: We live in Hong Kong and this is how we feel in Hong Kong about people, because Hong Kong is a place with a very high level of intensity. Every day we have to go into the city with lots of people on the streets and in the metros and everywhere. So we feel this kind of physical contact with people and see how the people form a crowd. So these are the keywords of that idea. And we think water waves are a very suitable medium to deliver this emotion or this feeling. So we want to use a big water tank, where the water wave can be controlled. Sometimes the wave is very chaotic and sometimes it's very reforming. Above the water tank are a few screens, which are moved by the wave and they have to try to balance themselves. On the screens are some visuals and they also try to balance themselves. So it's like balancing the chaos and we are trying to create this kind of balance. It's how we feel in Hong Kong.
Chloe Cheuk: The wave is like an abstract imagination of the flow of people. Like when you take the metro the people just go inside, squeeze together and then go outside and move everywhere. Sometimes many people there maintain order, so there is order in the chaos. This is the concept of our work. That's why we want to manipulate the water wave, because when we can control the wave, we can control the chaos and also the order. This is the main idea why we're using waves.
What will be shown on the screens?
Chloe Cheuk: We are still thinking about what will be shown on the screen, but what we are sure is that we are constantly trying to find a balance between each of the screens. We would like to show a controlled order when the wave is moving chaotically.
How does it work?
Chloe Cheuk: The screens are moved by the wave, like they are floating above it. We are trying a lot to use electronics, because there is a power inside the wave. We know a lot about this from Plymouth University, which does research about water energy, also known as hydraulic energy.
Kenny Wong: Sometimes the waves can be very uncontrollable, sometimes they can be very relaxed. We think there is a lot of potential within this work. At this stage we want to try to collaborate with Plymouth University because they have the kind of facilities we need.
Chloe Cheuk: Yes, they have a marine institute and make their facilities available to researchers or artists. At this institute they can really control the wave in a very big water tank to do some research with it. So we have seen their history and they are open for creativity and innovation with their facility. We think that maybe we have a chance when we propose our idea that we can cooperate with the researchers there and study how waves can be controlled and combine this knowledge with our concept.
What did you do during your residency at the Ars Electronica Futurelab?
Chloe Cheuk: During the residency we developed this idea. We made the proposal and some videos and did some research about water energy and wave structures and how Plymouth University uses this kind of technology to do researches about the sea.
Kenny Wong: So mainly we have done research on how such a simulated wave can be controlled and we came up with this idea and prepared a proposal.
Chloe Cheuk: Claudia Schnugg from the Ars Electronica Futurelab helped us and told us what the situation in Europe is and how we can create a good proposal for a European university, because we are from Hong Kong and we didn't know the situation here and we want to cooperate with an european university. So what we are doing now is trying to get to know the system or the rules in Europe and how we can write a good proposal and get in contact with a university. Now we have prepared a letter and also the proposal and our biographies. We are ready to send it to universities and ask them if they are interested in our work.
You are from Hong Kong and came from the Rumanian Cultural Institute in Vienna to the Ars Electronica Futurelab in Linz…
Chloe Cheuk: Actually we made our prior project "Iris" for a competition in Hong Kong. The organization is called IFVA and then after the competition Gerfried Stocker, the Artistic Director of Ars Electronica, came to Hong Kong for a talk and told us about Ars Electronica. There is a collaboration between IFVA and Ars Electronica and so there was the idea to show one work from the competition at the 2014 Ars Electronica Festival. They picked our work and furthermore they wanted to have a residency. They came up with funding from the Rumanian Cultural Institute, because they want to support Chinese artists to go to European countries to get experience.
Kenny Wong: Yes, the Rumanian Cultural Institute supported us to stay here in Linz for six weeks and then after the residency we have to go to Rumania and present our residency there.
Chloe Cheuk: The topic the Rumanian Cultural Institute gave us for the residency is how we use space in Hong Kong and what's different from Europe. They will have a conference after our residency about this topic and we will also take part in a small panel at the conference to present the results of our residency. Altogether they supported six Chinese art projects and ours is one of them. There are another five artists from China.
Can you please tell us more about your project "Iris"?
Kenny Wong: Iris is an installation. She is a hand in a computer, and when you put your hand into the black box in front of her, she will respond to your gestures. It's like a hand-to-hand communication. When we did the work, we found out that there are a lot of hand gestures. A lot of them mean something, but a lot of them are also meaningless. So it eventually creates a meaningless communication. We are also very encouraged to create different hand gestures, like a child playing with its hands.
Why did you decide that Iris is female?
Chloe Cheuk: You know technology is sometimes very cold and then I think the female gender is a bit more human.
Kenny Wong: Yes, we wanted to make it more human. The design consists of two old monitors. We wanted to make it look very old fashioned. So you don't have the immediate feeling that it's a computer. We wanted to make a very human form of communication.
Chloe Cheuk: It should feel like we have hidden a real hand inside the box. We wanted to make it like a game, but we also put a gender inside so that it's more human. We also pre-recorded the hand gestures and didn't animate them. Actually we could have used animated hands to respond in real-time, but we insisted on using the video recorded of our own hands. So it's quite handmade.
Kenny Wong: We also take snapshots of the hands of the people who put them into the box. This goes directly to our online database. Also on the wall at the Ars Electronica Center behind Iris is a projection showing the latest gestures of the installation visitors. You can also go on our website and see all the gestures.
You also are active on behalf of the pro-democracy movement in Hong Kong. How do you support it from Linz?
Kenny Wong: Here we can't do very much. We just can keep watching the news online. When we were thinking about what we can do to support them, we had the idea to make a group photo of Ars Electronica Futurelab staff members.
Chloe Cheuk: We used this picture to write a message to our friends, and an independent medium in Hong Kong spread this information on its Facebookpage and website. So Hong Kong people know about our support. The students in Hong Kong really need the support from other countries. Without their support they would feel that the protest is not making any real progress and doesn't get international attention. So it's really good if other people from outside Hong Kong support them.
We also made a presentation at Johannes Kepler University in Linz for the Web Science master degree course. Our presentation was about how the social media influence Hong Kong protesters and the students and how they can effectively respond to the government's tactics and how they can self-organize themselves with the help of social media. This is what we have done so far.

Chloe Cheuk obtained her Bachelor of Art (Honour) degree in Creative Media from City University of Hong Kong. She works simultaneously in installation, interactive media, photography and video. Cheuk focuses on the emotional connection with mechanical devices, exploring ordinary objects and their encounter to bring about dialogue and multiple implications.
Kenny Wong Chi-Chuen is a Hong Kong media artist. He received his Bachelor of Arts (Hons) in Creative Media from City University of Hong Kong in 2011. Wong puts emphasis on art and multi-discipline research to express the delicate relationship between daily experiences and perceptual stimulations. Wong is interested in exploring visual patterns, alternative perceptual states, sound textures and presenting work of art by creating new experience for audience as the form of interaction.